This simple and amazingly tasty, one pot easy chicken dinner recipe has me ready for Fall dinners. You will love this tangy, sweet and just a touch spicy, chicken.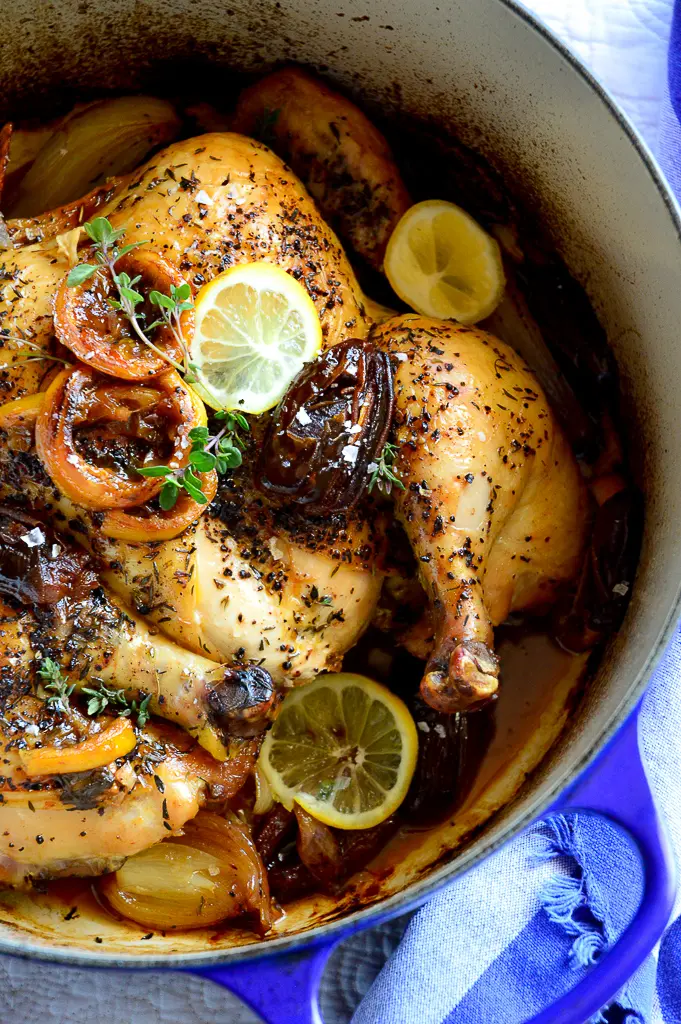 I'm always looking for easy chicken dinner recipes and this one sure fits my needs. This deliciously simple recipe is perfect for company and also for an everyday supper.
It's amazing how just a few ingredients like lemon, dates and chiles, can make this one pot chicken so fabulous.
Here in Denver it has been so hot and dry that when you walk outside it feels like a sauna. Add forest fires and their haze to the picture and it might make one wonder why one would even want to cook! Well, this dish is super simple, requires little hands on, and turns out incredible.
Whole chicken recipes are something I'm always on the lookout for. Honestly, I buy whole chickens so that I can cut them up to get equal pieces. I hate mismatched breasts, don't you? Or what about uneven thighs?
That is the truth, but I also love a good roast chicken even if it is hot outside. This lemon and date chicken may not be totally roasted in the oven, but with this method, it still turns out with a golden crispy skin.
Cooking this chicken is so easy that it might become your go to easy chicken dinner!
Have I ever told you how much I love to read cookbooks? Well, I discovered this one pot chicken recipe in the book Nothing Fancy from Alison Roman. I love this book!
There isn't anything fancy about this chicken, but the secret is that no one need know. It is that good.
A few notes: My favorite pot is my Le Creuset Dutch oven. Yes, it is an investment, but I can tell you that it will last almost forever and still will look good. (I wish I could say that about me!) Plus, it is easy to clean and truthfully, is so easy to cook in.
If you don't have dates, use prunes. There might be a small taste difference, but I can't imagine that it would change the undertones of the dish.
I do like big shallots. The shallot alleviates having to use garlic and onions, in my opinion, and helps keep things simple, which is what this chicken recipe is all about.
Those lemons? Don't go without them. They lend a tangy flavor to this little bit spicy sweet dish.
And that water? You want that so that you can have a bit of juice to serve with the chicken.
With Fall coming, easy chicken dinner recipes should show up on your table. This chicken dinner would make a wonderful Shabbat meal, too.
What to serve with this chicken? It is perfect with rice or roasted potatoes or even over egg noodles. Have a favorite green salad? Now is the time to make it.
Enjoy the clean up, because there isn't much.
Just one more thing: no need to wait for cooler nights. This chicken dinner is soul food. And we could all use a little something for the soul!
This post may contain affiliate links. Please see my disclosure policy.
More Easy Chicken Dinner Recipes:
Roast Chicken with Bread Salad
Please Pin and Share:
Print
One Pot Chicken with Dates and Lemon
Author:

Abbe Odenwalder

Prep Time:

10 Minutes

Cook Time:

70 Minutes

Total Time:

70 Minutes

Yield:

4

-

6

Servings

1

x

Category:

Main Course

Method:

Stove Top/Oven

Cuisine:

American
---
Description
This easy one pot chicken dinner with lemons and dates and a touch of pepper is meant for company, but easy enough for family. Totally tasty!
---
35 to 4lb chicken/pr 3 lbs chicken thighs or legs-bone in and skin on
Kosher salt and Fresh ground pepper
4 T olive oil, divided
1 large lemon, cut into thick slices crosswise, seeds removed
2 large shallots, halved lengthwise
6 medjool dates, pitted (about 3 ounces)
4 sprigs fresh thyme or oregano, plus more for serving
1 c water
2 t ground Urfa chile, or 1 t crushed red pepper flakes
Flaky sea salt
---
Instructions
Preheat oven to 425.
Season chicken all over with salt and pepper. Heat 2 T olive oil in a large Dutch oven over medium high heat. Place chicken in the pot, breast side up and press it lightly to make sure the skin comes in contact with the pot. (This browns the legs and renders fat.)
Cook, without moving until chicken is browned, 5-8 minutes. Do not move the chicken!
Add the lemons and shallots, placing them so they come in contact with the bottom of the pot. You may have to lift the chicken a bit. Let everything sizzle in the chicken fat until lightly caramelized, about two minutes.
Add the dates, thyme and water. Sprinkle the top of the chicken with the Urfa chile and place the lid on. Place the Dutch oven in the oven and roast until the dates are plump, the lemon is jammy and the chicken is almost cooked through, about 20-25 minutes. If you have a larger chicken, this could take a bit longer.
Remove the lid and drizzle the chicken with the rest of the olive oil and continue to cook until the liquid has educed by half and the top of the chicken is golden and glistening, another 20-30 minutes.
Let the chicken rest in the Dutch oven for 10 minutes, then transfer to a cutting board and carve. I always use my kitchen shears and cut into 4 pieces. You may want to slice up the breast though. Serve with the lemons, dates and shallots. Sprinkle with flaky sea salt.
---
Notes
The chicken can be made a few hours ahead, then kept in the Dutch oven at room temperature. If you wish to reheat it before serving, pop it back into the oven without a lid for 10-15 minutes or so.
Keywords: one pot chicken, whole chicken recipes, easy chicken, easy chicken recipes, easy chicken recipes for dinner