This red snapper fillet is baked in a bed of olive oil and topped with pine nuts, raisins and a sprinkle of black pepper. Ready to go into the oven in 5 minutes, which leaves time to make rice and salad!
Fish isn't just for Fridays though I grew up with many that thought just that. Maybe it was the Friday fish frys or the "can't eat meat on Friday" crowd that still keeps that thought in my head. In my case I could eat fish every night of the week and am only hampered by how often I go to the grocery. In this case we ate fish on Saturday night and I loved how simple this recipe was to put together. 5 minutes and this delicate snapper was placed in a bath of olive oil, topped with pine nuts and raisins and placed in the oven to transform itself a beautifully seasoned fish!
This is an old Italian Jewish recipe of the Sephardic tradition. Italian Jewish cuisine is a fusion of flavors with roots of Spanish, Middle Eastern and North African origin. Garlic, vinegar, raisins and pine nuts were traditionally used in Jewish Italian cooking over a thousand years ago. Hard to believe and I find it fascinating. This fish is a recipe from The Classic Cuisine of Italian Jews. Perfect for our Passover holidays and perfect anytime of the year.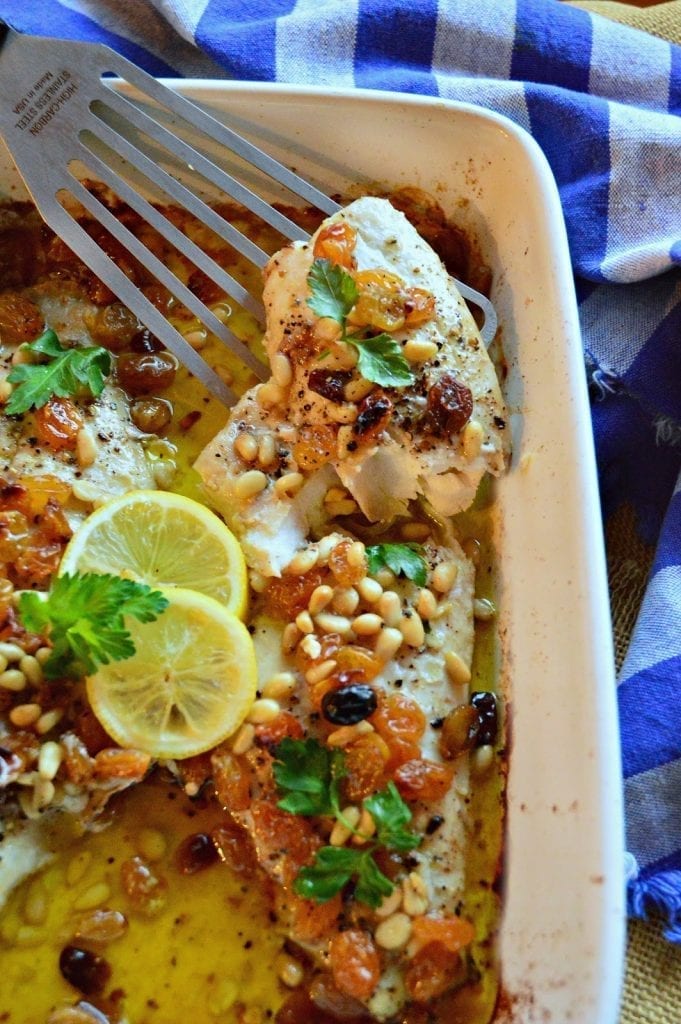 I loved the simplicity of this fish. Basically rather than braising a fish in oil on the stove top, this one is done in the oven. Don't be afraid by the amount of oil necessary, as this is what makes the fish tender and succulent. The raisins do not make this dish too sweet. I promise, Mom! Perhaps this is where the famous sweet and sour combo came from, though this did lack the definitive sweet and sour taste. Maybe it was because I embellished this fish with a good healthy grind of fresh black pepper. Which I suggest you do too!
Here are a few side dishes that might work well with this fish.
Spicy Sauteed Kale from Cookin Canuck
Tuscan Style Roasted Carrots from A Family Feast
Green Beans with Garlic Bread Crumbs and Almonds from The Food Charlatan
Plus a few more to pin…and share!

Yield: Serves 2Author: Abbe OdenwalderPrint Recipe
Fish with Raisins and Pine Nuts (Jewish Style)
Red snapper fillets become succulent after being baked in olive oil and topped with raisins and pine nuts. Throw this together in 5 minutes!
prep time: 5 MINScook time: 25 MINStotal time: 30 mins
ingredients:
1 lb red snapper fillets
Salt
1/4 c olive oil
1/2 t sugar
1 1/2 T red wine vinegar
1/3 c raisins
1 1/2 T pine nuts
Fresh ground black pepper
instructions
Preheat the oven to 400.
Pat fish dry with paper towels. Lightly sprinkle fillets with salt.
Oil a baking dish that holds the fillets and place fish in it. Dissolve the sugar in the vinegar and pour over the fish.
Pour in the oil and sprinkle with raisins and pine nuts. Grind black pepper over the top if desired. Cover with foil and bake for about 10 minutes.
Remove foil and bake for 10-15 minutes more. Most of the liquid will evaporate by the time this fish is cooked. Be sure to see if the fish flakes then you will know it is done. Please do not overcook, though is is hard to do with this amount of liquid.
notes
Feel free to double or triple amounts.
.recipe-inner{text-align:left;max-width:620px;border:6px double #009BFF;padding:20px;background:#f2f2f2;margin: 40px auto;font-family:Lato, sans-serif;}.recipe-inner a{color: #4193f0;}#recipe .recipe-name{font-size: 21px;}#recipe .info{position:relative;font-size:13px;text-transform:capitalize;border-bottom:2px solid #000;padding-bottom:7px;margin-bottom:20px}.info:after{content:";display:table;clear:both}#recipe .info span:first-child{margin-right:30px}#printbutton{border:0;margin:0;color:#fff;float:right;background:#555; padding:5px;border-radius:3px;cursor:pointer}#recipe .time{text-transform:uppercase;font-size:12px;text-align:center;background:#fff;padding:15px 0;margin-bottom:20px}#recipe .time span:not(:last-child){margin-right:12px}#recipe .time span:not(:last-child):after{content:";display:inline-block;height:10px;width:1px;background:#000;vertical-align:middle;margin-left:12px}#recipe .summary{line-height:1.7;font-style:italic}.ingredients{line-height:1.7;clear:both}.ingredients h3,.instructions h3,.notes h3{font-size:20px !important;font-weight:400 !important;margin-bottom:0;color:#000;text-transform: uppercase;}.ingredients ul{margin:0!important;margin-top:5px !important;}.instructions li{margin-bottom:15px !important;line-height:1.6;text-align:left;}.ingredients li{text-align:left}#recipe .instructions{margin-top: 30px;}#recipe .instructions ol,#recipe .instructions ol li {list-style:decimal !important;}#recipe .instructions ol{padding-left:39px;margin:0!important;margin-top:6px !important;}.posturl{border-top:1px solid #ccc;padding-top:10px;}.ing-section{padding-left:20px;margin: 10px 0;}.ing-section > span{font-weight:700}.recipe-credit{font-size:13px;border-top: 1px solid #ccc;padding:10px;text-align:center;background:#ffffff;margin:-20px;margin-top:15px;}.recipe-credit a{color:blue;text-decoration:none;}.copyright-statement{font-size: 13px;font-style:italic;border-top: 1px solid #ccc;margin-top:15px;padding-top:15px;line-height:1.6;}.notes pre{font-size: 15px;margin: 10px 0;padding-left: 20px;font-family: inherit;line-height: 1.7;white-space: pre-line;}.notes h3{margin: 0}.nutrition-info{font-size: 0;margin: 20px 0;padding: 10px;background: #fff;}.nutrition-info>div {display: inline-block;font-size: 14px;width: 20%;text-align: center;}.nutrition-info>div:nth-child(5) ~ div{margin-top: 20px;}.nutrition-info>div p{margin-top: 0;margin-bottom: 7px;}.print-options {display:none;position: absolute; top: 0; right: 0; background: #fff; border: 1px solid #ccc;z-index: 1;}.show-print-options{display:block}.print-options button { display: block; background: transparent; border: 0; cursor: pointer; padding: 10px; width: 100%; text-align: left; } .print-options button:hover { background: #555; color: #fff;}#recipe .image{width:auto;text-align:center;margin-bottom:25px;margin-right:20px;float:left}#recipe .image img{max-width:250px}#recipe .recipe-name{margin-bottom:10px;line-height:1.6;text-transform:uppercase;margin-top:0;letter-spacing:1px;text-align:left}#recipe .summary{line-height:1.7;font-style:italic}#recipe .time{background:#fff;clear:both;border:1px solid #d7d7d7}function printDiv(a,printOption){if(printOption === 'printWithOptions' || printOption === 'printWithImage') {document.querySelector('.print-options').className='print-options';}var b=document.getElementById(a);newWin=window.open(",'printwin');var c=newWin.document.createElement('style');c.innerHTML='html{font-family:sans-serif}.print-options{display:none}img{visibility:hidden;display:none;}#recipe-pinit,#printbutton,.recipe-credit{visibility:hidden;display:none;}.info{text-align:center;text-transform:capitalize}.recipe-name{text-align:center}.info span{margin-right:20px}.time{text-align:center;padding:10px;border-top:1px dashed #000;border-bottom:1px dashed #000;}.time span{margin-right:20px}.adunit,.adunitlabel,.adunitwrapper,.adunitwrapper,.chicory-order-ingredients{display:none!important}.nutrition-info{font-size: 0;margin: 20px 0;padding: 10px;background: #fff;}.nutrition-info>div {display: inline-block;font-size: 14px;width: 20%;text-align: center;}.nutrition-info>div p{margin-top: 0;margin-bottom: 7px;}.ingredients h3, .instructions h3{text-transform:uppercase !important;}';if(printOption === 'printWithImage') {c.innerHTML = c.innerHTML.replace('img{visibility:hidden;display:none;}', 'img{display:block;margin: 20px auto;width: auto;max-width:100%;}');}newWin.document.getElementsByTagName('head')[0].appendChild(c);newWin.document.getElementsByTagName('body')[0].innerHTML = b.innerHTML;newWin.print();}