This Irish Cod Fish Cakes recipe is made with milk simmered cod, and mashed potatoes. One might think these are entirely made of fish because of their flaky soft interiors. Topped with a simply homemade tartar sauce, these are a winner in my book!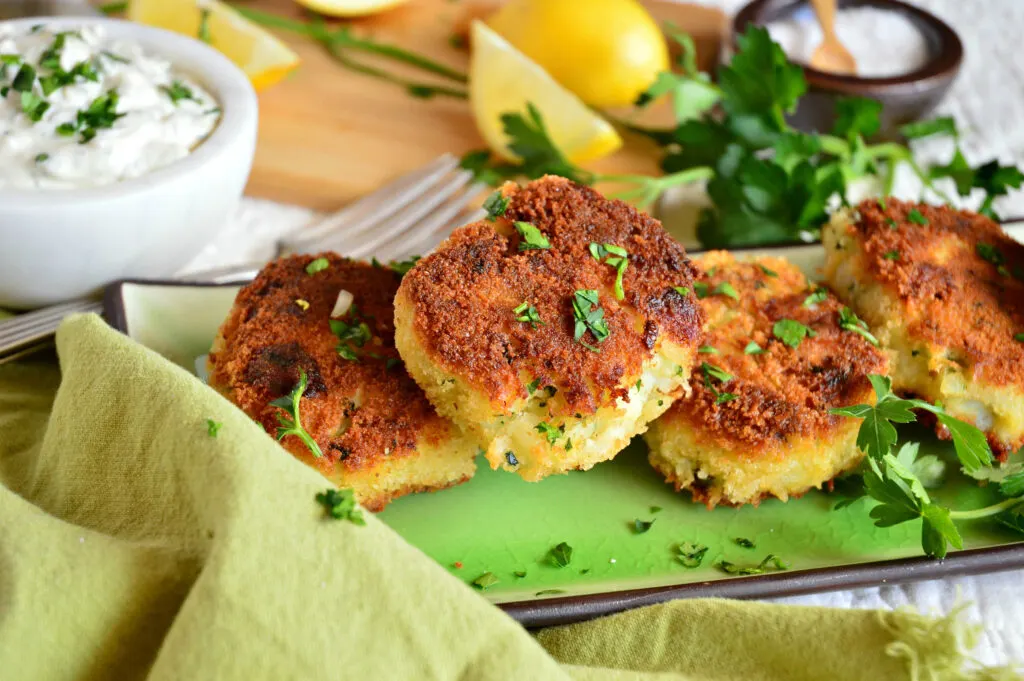 This Irish cod fish cakes recipe is savory, mellow and flaky.
They are so good that Manservant thought they were crab.
We both love crab, but these are much more economical, shall we say?
Truthfully they aren't as rich as crab and often that is a good thing!
They remind me of the old fashioned frozen fish sticks they served in the lunchroom on Fridays.
I loved those and these aren't those.
These cod fish cakes are better!
How Do You Make this Irish Cod Fish Cakes Recipe?
The cod is made rich and tender by simmering in milk, rather than water.
Fairly simple to put together but I must tell you this is a three pan dinner, because you also have to make mashed potatoes.
(Of course, you could buy your mashed potatoes!)
By combining the mashed potatoes and the fish with some savory seasoning it is easy to make the best fish cake recipe ever!
HOWEVER…I made my fish cakes recipe the day before, then chilled them overnight, so on the day I needed them it only required one skillet.
Not so bad!
These Irish fish cakes could also be served on a salad, with French fries or even asparagus, which is what I did.
I brought them to a friend for a social visit and we proceeded to have a wonderful lunch.
Fish cakes, asparagus and Irish whisky brownies for dessert make a perfect lunch.
I can't wait to do it again!
I've never eaten a fish cake before, though I have eaten crab cakes and fish sticks.
Fish cakes though, are quite popular in the British Isles and South Africa.
I say this from experience.
On my short three week jaunt there in 2012, when I thought I might be living there, I was invited to lunch with a bevy of ladies.
They all ordered fish cakes.
I ordered a salad and it was very good, but for some odd reason cod fish cakes have stuck in my head and since then I've been wanting to make them. Is that so weird?
This cod fish cakes recipe is best with tartar sauce.
So get out your spoon, folks. This tartar sauce is that good.
Just be sure to save some for the fish cakes and the asparagus and even the fries.
I can tell you I wasn't disappointed when I finally got around to making these fish cakes.
Making them in March seemed like the perfect time, since St. Patrick's Day is right around the corner.
I know many think the Irish only eat corned beef and cabbage and potatoes.
But really, they do eat a lot of fish. It is an island after all.
Which means it is surrounded by water. Which is where fish live.
Don't you know? Well, now you do.
So give yourself a break from corned beef. Eat heart healthy fish.
In cake form. I for one, love anything in cake form! And this fish cake recipe counts!
Cod fish cakes are a delicious and easy-to-prepare main course that can be made with fresh cod, lor many varieties of leftover fish.
This cod fish cake recipe is versatile and can be served with a variety of side dishes.
They are a great alternative to shrimp cakes or crab cakes.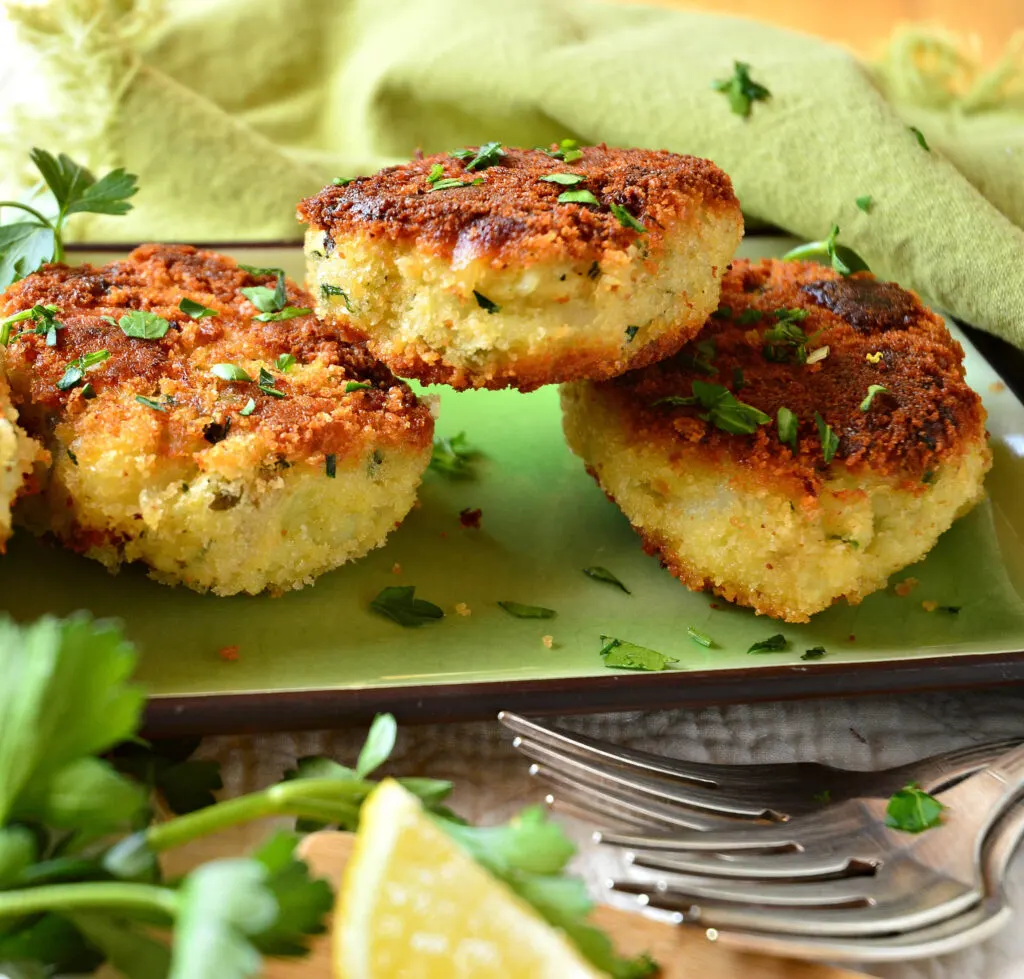 Ingredients for the cod fish cakes recipe include:
Fresh cod fillets
Mashed potatoes
Bread crumbs or Panko Crumbs
Fresh Parsley
Scallions or Chives
Bay Leaf
Milk
Lemon zest
1 egg
Vegetable oil, for frying
Tartar sauce for serving
Instructions:
Preheat the oven to 350°F. Line a baking sheet with paper towels.
If using fresh cod, cut it into large pieces and place it in a large skillet with milk and bay leaves. Cover and bring to a gentle simmer over medium-high heat and simmer for two minutes on each side. Remove from heat and let stand covered for 10 minutes until the fish is cooked through and flaky.
If using leftover fish, flake it into small pieces and skip step 2.
After 10 minutes, drain the fish and let it cool for a few minutes. Remove any bones and skin, and then flake the fish into large chunks using a fork and grind some fresh black pepper on top.
Cook potatoes to make mashed potatoes or use leftovers or your favorite mashed potatoes from the grocery.
In a large mixing bowl, combine the mashed potatoes,1 to 2 T of tartar sauce, lemon zest, parsley, chives and salt and pepper to season.
Combine the flaked fish with the potatoes and form 8 cakes.
In a medium bowl, beat the egg and dip each fish cake into the egg and then the panko crumbs.
Chill on a clean plate for at least 30 minutes and up to overnight.
Heat enough vegetable oil in a large skillet over medium-high heat. Fry the cod fish cakes in batches for about 5 minutes per side, until they are golden brown and crispy.
Use a slotted spoon to remove the cod cakes from the skillet and place them on paper towels to drain.
Serve hot with tartar sauce and lemon wedges on the side!
Traditional fish cakes are a great way to use up leftover white fish or fresh cod fillets.
I love this simple recipe that reminds me of crab cakes and my childhood lunchroom favorite-fishsticks!
Next time you're looking for a new recipe to try, give this delicious cod fish cake recipe a try!
And if you have a small green sushi plate, they are perfect served on that!
A Few More:
This post contains affiliate links from which I may or may not earn a small commission at no cost to you!
Print
Irish Fish Cakes and Tartar Sauce
Author:

Abbe Odenwalder

Prep Time:

30 Minutes

Cook Time:

10 Minutes

Total Time:

40 Minutes

Yield:

8

Cakes

1

x

Category:

Main Course

Method:

Stovetop

Cuisine:

Irish
---
Description
Irish Fish Cakes are savory cakes made with milk simmered cod, and mashed potatoes. One might think these are entirely made of fish because of their flakey soft interiors. Top with homemade tartar sauce!
---
1

lb Cod, skinned

2

bay leaves

3/4

c milk
About

1 1/2

c white or red potatoes (good for mashing)

3/4

t grated lemon zest

1

T chopped fresh Italian parsley

1

T snipped chives

1

egg

1/2

c panko bread crumbs and maybe a tad bit more

4

T Vegetable or Sunflower Oil for shallow frying
Tartar Sauce
1/2

c mayonnaise

1

heaping t capers, rough chopped

1

heaping t Dijon mustard

1

medium sized shallot, finely minced

1

heaping t Italian parsley, chopped
---
Instructions
Tartar Sauce
Mix sauce ingredients together. If you want it a bit saucier, add a little more mayonnaise. Set aside.
Fish Cakes
Lay the fish and bay leaves in a skillet. Pour the milk over the fish. It doesn't need to completely cover. Cover the skillet and bring to a gentle boil. Lower heat and simmer for 2 minutes. Turn fish over and simmer about 2 minutes more. Take fish off the heat and let stand while covered for 10 minutes to gently finish cooking the fish. (My fish was thick so I cooked it for a touch longer.)
Meanwhile peel and chop the potatoes into even chunks. Put in a saucepan with salted water. Bring to a boil and simmer for 10 minutes or until tender but not falling apart.
Lift fish out of milk with a slotted spatula and put on a plate to cool. Drain potatoes in a colander and let drain for a few minutes. Tip back into hot pot and on the lowest heat, let them dry out for about 1 minute, mashing them with a fork so they don't stick. This should end up being a light and fluffy mash,
Take off heat and beat in 1-2 T of the tartar sauce, then add lemon zest, parsley and chives. Season well with salt and pepper. Make sure these taste good!
Drain fish, grind pepper over it and then flake big chunks of it into the potato. Using your hands, gently lift the potatoes and fish together so they just combine together. Don't mix too much because you want large chunks of fish!
Beat the egg in a shallow bowl. Form 8 fish cakes and dip in egg mixture and then in the panko crumbs, patting the crumbs well onto all sides. Transfer to a clean plate and chill for at least 30 minutes and up to 1 day.
Heat oil in a large frying pan. When a breadcrumb dropped into the oil sizzles, it is ready to use. Fry the fish cakes over medium heat for about 5 minutes on each side until crisp and golden. Serve with the tartar sauce and lemon wedges!
---
Notes
Thanks to the BBC for a great recipe!
Keywords: Irish fish cakes, Irish food, fish cakes, irish recipes, fish cakes recipe