Creamed corn with basil is perfect for when those ears of corn aren't quite ready for eating off the cob. Made with garlic butter, basil and a touch of jalapeno, this creamed corn might just become your favorite corn recipe.
Corn is one of my favored foods. I love sweet, tender corn and could eat it every day if offered. It isn't quite corn on the cob season here in Colorado, so I decided to create a great side dish that I'm not sure I've made before. In fact, I think the only creamed corn I've ever eaten has come from a can. Frankly, that stuff may work good in cornbread, but I much prefer my creamed corn with basil, and especially when it is sitting next to anything fresh from the grill! After all grilling season is special, and demands the best that summer has to offer.
Since the corn I found isn't quite tender or sweet enough yet, that compelled me to whip up this creamed corn with basil and garlic butter. Chef Shamy of "Make The World a Butter Place", sent me some garlic butter that is quite out of this world and I knew  it would pair beautifully with corn. Frankly it pairs very well with most anything, including one's finger. Manservant loves this butter and has been using it for his fried eggs so I figured if I was going to cook with it I best not wait. Hence this delicious, tad bit spicy, perfectly creamed corn with basil.
It's hard to believe but 4th of July is around the corner which happens to be one of my favorite times to grill. This year Zoe will be coming home and my parents will be arriving for a short visit during that time. I can't wait to cookout which is one reason I'm participating in Cookout Week 2018. Thanks Pintertest Kitchen for putting this together! I missed out last year because my basement flooded, but no excuses this year! Read through all the great prizes and you will think it's Christmas in July. The lucky winner receives not only a new grill, but a KitchenAid mixer too!
And one more thing: I promise you will love this butter as much as I do! This clean label butter is really all about the taste. Chef Shamy has 7 different varieties and though I haven't tasted them all, I was also able to sample their honey vanilla butter. Yes, please! So fill out an entry for Cookout Week, and even if you don't, you can still get 10% off all butter orders between now and July 4th by using the code 10Butter10. Just do it. This butter rocks!
#CookoutWeek 2018 is here! During the next week, I am joining over 50 of my blogger friends to celebrate summer by posting delicious cookout-themed recipes. If you love grilling, frozen treats, picnics, berries, s'mores, campfire meals, and other summer goodies… you are in the right place!
This week, we are also hosting a HUGE giveaway thanks to our generous #CookoutWeek sponsors. Enter below to win. Here's what one lucky person  will receive:
That's a prize pack worth over $750!
To enter, follow our sponsors and bloggers on social media by entering your information below:
Here's a full list of the bloggers participating in #CookoutWeek 2018! You can find yummy recipes by checking out any of the links below:
The PinterTest Kitchen ♥ 2 Cookin Mamas ♥ A Day in the Life on the Farm ♥ A Kitchen Hoor's Adventures ♥ April GoLightly ♥ Authentically Candace ♥ Blogghetti ♥ Body Rebooted ♥ Bottom Left of the Mitten ♥ Cheese Curd In Paradise ♥ Chef Sarah Elizabeth ♥ Coconut & Lime ♥ Cookaholic Wife ♥ CookwithRenu ♥ Daily Dish Recipes ♥ Everyday Eileen</a ♥ Fairyburger ♥ Faith, Hope, Love, & Luck Survive Despite a Whiskered Accomplice ♥ Family Around the Table ♥ Fix Me a Little Lunch ♥ For the Love of Food ♥ Frankly Entertaining ♥ Frugal & Fit ♥ Get the Good Stuff! ♥ Hardly A Goddess ♥ Herbivore Cucina ♥ Join Us, Pull up a Chair ♥ Jolene's Recipe Journal ♥ Jonesin' For Taste ♥ Karen's Kitchen Stories ♥ Kelly Lynn's Sweets & Treats ♥ Mildly Meandering ♥ Moore or Less Cooking ♥ Our Good Life ♥ Oven Tales By Syama ♥ Palatable Pastime ♥ Sarah Cooks the Books ♥ Savory Moments ♥ Seduction In The Kitchen ♥ Strawberry Blondie Kitchen ♥ Sweet Coralice ♥ Tampa Cake Girl ♥ Technotini ♥ That Recipe ♥ The Baking Fairy ♥ The Beard and The Baker ♥ The Freshman Cook ♥ The Simple Supper ♥ The Spiffy Cookie ♥ The Weekday Gourmet ♥ This is How I Cook ♥ Who Needs A Cape? ♥ Wildflour's Cottage Kitchen
Comment below with your favorite cookout recipe!

Please enjoy and feel free to pass this recipe on!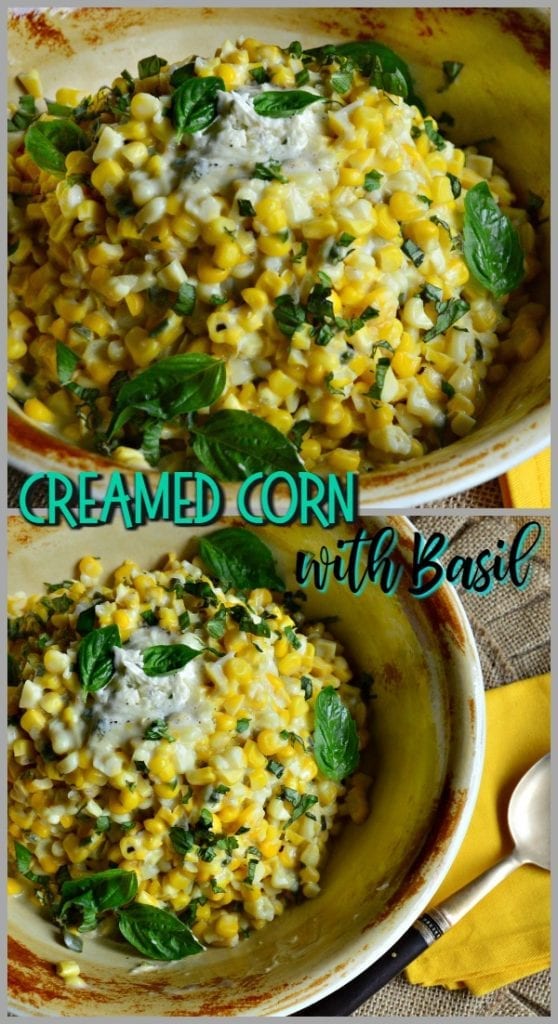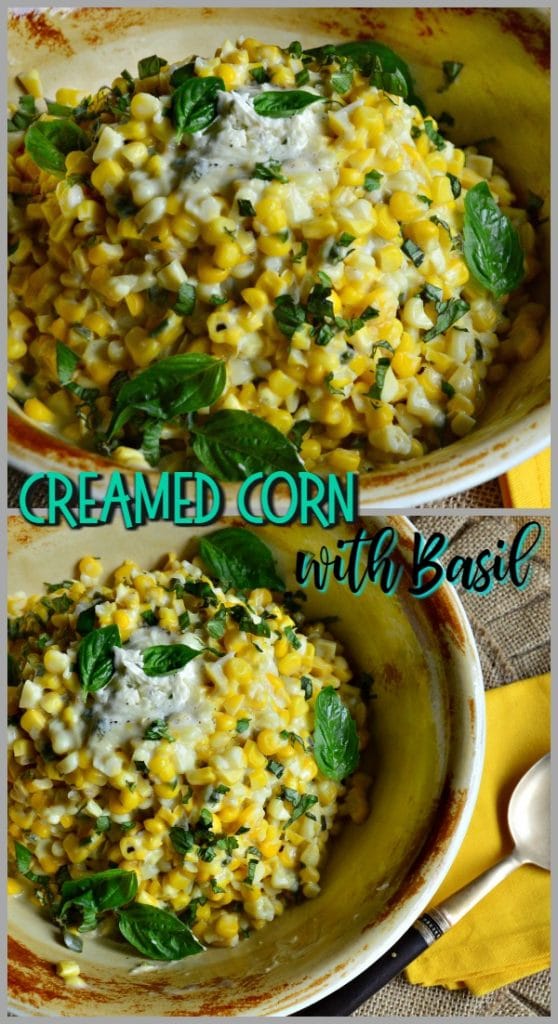 Print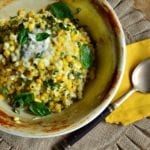 Creamed Corn with Basil
Author:

Prep Time:

15 Minutes

Cook Time:

11-15 minutes

Total Time:

30 Minutes

Yield:

4 Servings

Category:

Vegetables, Starches

Method:

Stove Top

Cuisine:

American
---
Description
Creamed Corn with basil is the perfect side dish when you want a change from corn on the cob. One taste and you just might find this is your preferred corn recipe!
---
Ingredients
1 T garlic butter (Chef Shamy)
1/3 c chopped onion
1 minced jalapeno (seeds removed if you don't want it too spicy)
4 ears of corn cut from cob or about 3 c total
2 T garlic butter (Chef Shamy)
1/4 c water
1 t cornstarch
1/2 c half and half
1 -2 T sugar, depending on how sweet your corn is
1 T basil leaves, chopped
1 T garlic butter to finish(Chef Shamy)
2 T basil for garnish
---
Instructions
In a large pot over medium heat melt 1 T garlic butter. Add onion and jalapeno and saute for about 3 minutes.
Add corn, 2 T butter and 1/4 c water and cook for 5 minutes covered.
Stir cornstarch into half and half and then add to pot along with sugar. Stir and cook about three minutes more while covered, or until corn is done to your liking. If you choose, you may use an immersion blender to blend corn mixture to your favorite texture. Stir in chopped basil.
Spoon into bowl and top with 1 T of garlic butter and garnish with more basil leaves.
Keywords: corn, veggies, side dish