Looking for baked rice side dishes? If not, you should be! Mom's Simple Oven Baked Rice Side Dish isn't really a family secret. However, the recipe wasn't written down for several generations. Time to share because this oven baked rice with its crispy edges and fluffy, soft interior is the most perfect rice dish I know!
Mom's roast always came with rice and this simple side dish often stole the spotlight away from her amazing boneless rib roast.
Made with basmati rice, this rice recipe is the best rice I know of.
It was made by my Grandma Fanny, then my mom and now me.
Mom always made it with roast as the main dish, but a roast chicken would be great with this rice side dish also.
She baked her roast directly on the oven rack so the drippings from the meat landed directly on the rice.
When the rice was ready to serve she'd stir the drippings right in.
It's hard to imagine anything that tastes better and is still one of my favorite dishes to this day.
This is a family favorite and something we asked for on any occasion.
Mom was always happy to oblige because this rice casserole, with just a few simple ingredients, made the whole family so happy.
This rice is similar to Persion tahdig rice as it produces crispy edges, a golden brown top and fluffy rice on the interior.
But Persion rice is made on the stove top and only becomes crispy on the bottom.
Mom's is made in a baking dish in the oven and becomes crispy on the sides and also on the top.
No flipping the pot, just scoop the rice, being careful to show off the crispy edges on the top of the serving bowl.
Leftover rice can be stored in an airtight container, is great reheated, and though it may not be as crispy as fresh-baked, there is no loss of flavor.
You can make as many servings as you want, but two cups is enough for 6 to 8 people.
Oven Baked Rice Side Dishes:
Grease a 13 x 9 casserole dish with duck fat or chicken schmaltz or even olive oil.
Just keep in mind that duck fat and schmaltz add a lot of flavor.
Lately I have been buying duck fat in a jar from Kroger, and always have it on hand in my refrigerator.
That being said my mom used to blob dollops of Crisco on her rice when she didn't have chicken fat available.
In that case she also sprinkled dry chicken soup granules over the top of the rice!
She was also known to sprinkle an envelope of Lipton onion soup mix over the top of the rice mixture for extra flavor.
​The best way to make this oven baked rice recipe?
Preheat oven to 450 degrees.
Begin with a 13 x 9 pan that has been greased well.
Sprinkle basmati rice evenly over the bottom of the pan.
Top with 1 medium chopped onion and a bay leaf if you want.
Pour 6 cups water or chicken broth over the top and dollop with 5 T of chicken fat, duck fat or Crisco.
Bake rice for 15 minutes and then turn heat down to 325 and bake for an additional 1 hour and 40 minutes.
If you are baking the roast with this it may be finished before the rice, in which case remove the roast from the oven and tent with aluminum foil.
When making this delicious side dish, if you are making a larger portion of rice and it dries out too fast in the oven before being fully cooked, do not be afraid to stir in a little more water or chicken stock.
Cooking times will vary depending on the quantity of rice used.
This is an easy side dish to make so forget plain white rice; this easy recipe becomes the star of the show.
What kind of rice is needed to make this perfect side dish?
As mentioned, I love using basmati rice, because it produces individual grains of rice that don't clump together.
Basmati rice or jasmine rice are a long grain rice which make them the perfect rice for this rice dish.
Short grain rice often clumps together which is not what you want in this savory side dish.
All that being said I know my mom never used basmati rice when we were kids.
I am sure she only had access to the basic varieties.
This is the original post In her words, with her original recipe, which has been updated in this post.
No need for a tight fitting lid or a rice cooker, this foolproof method for crispy rice is our family's best kept secret.
Honestly, one of the best baked rice side dishes I know of. Actually, it's the only one I know of!
​Just don't tell anyone!
Still Hungry?
Print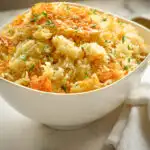 Simple Oven Baked Rice Side Dishes
Author:

Abbe Odenwalder

Prep Time:

10 Minutes

Cook Time:

2 hours

Total Time:

2 hours 10 minutes

Yield:

6

to

8

Servings

1

x

Category:

Side dish

Cuisine:

American
---
Description
The best rice dish I know of. This recipe has now been in our family for three generations. Easy to make in the oven, this rice is a family favorite.
---
2 c long grained Basmati Rice
1 medium diced onion
5 T Duck Fat, Chicken Fat or Crisco
6 c water or chicken stock
1 envelope Lipton's onion soup mix (optional)
---
Instructions
Preheat oven to 450 degrees.
In a 13 x 9 pan or casserole dish that has been well greased, sprinkle in 2 cups of uncooked long grain rice.
Dollop with the fat of your choice and sprinkle with the diced onion. If you are using the Lipton's onion soup mix, now is the time to sprinkle it on.
Add the 6 cups of water or chicken stock. After 15 minutes, stir the rice so it is well coated in the fat. Now turn the oven temperature down to 325 and bake for approximately 1 hour and 40 minutes or until the rice is crisp and golden on the top and edges. Do not stir during baking.
Remove from oven and using a metal spatula, scrape the crispy edges from the sides of the pan. Scoop the interior of the pan into a bowl and place the crispy pieces on top.
Enjoy!
---
Keywords: rice side dish recipe, baked rice recipe, baked rice, oven cooked rice, how to cook rice in the oven, rice side dish, oven baked rice side dishes