Shrimp Etouffee is a classic New Orleans dish, and though it is perfect anytime, it is especially fitting for Mardi Gras!
Shrimp Etouffee is a standard classic N'awlins recipe that combines all the elements of Cajun cooking in one dish. Yes, it has the holy trinity. Yes, it has a roux. And yes, it has shrimp. Can't go to N'awlins unless you eat shrimp. Or oysters.Or crawfish.
But let's get to the point. Every year around Mardi Gras, I love to share some good old N'awlins cooking. Whether it's Creole or Cajun or just plain old Southern cooking, well, it doesn't matter to me. That part of the world only knows one type of cooking and that's good cooking!
Last year I gave you a simple recipe for Shrimp Creole, which I hope you tried. This year let's move on to Shrimp Etouffee. My mother in law often made this with medium sized shrimp, that she got straight from the Gulf. No Gulf shrimp for me, just the freezer case. But that's OK!
And now for the holy trinity. I'm not Catholic, but surely you know that down South the holy trinity isn't just the father, son and the holy spirit, it's green pepper, celery and onions! And not necessarily in that order!
So what about that scary thing called a roux, "(pronounced ROO)"? Honestly, a roux is the beginnings of a classic gravy or a sauce such as Bechamel. A roux is made of equal parts by weight of a fat and flour. Many Cajun recipes use bacon fat or oil, but this version contains butter. It makes for a somewhat thicker sauce.
Roux's are cooked to a certain color depending on the flavor you hope to achieve. This roux is cooked to a deep brown color which gives this dish a whole lot of flavor whereas a white roux is cooked for just a few minutes to get rid of the flour taste. White roux's have the most thickening power and dark roux's the least.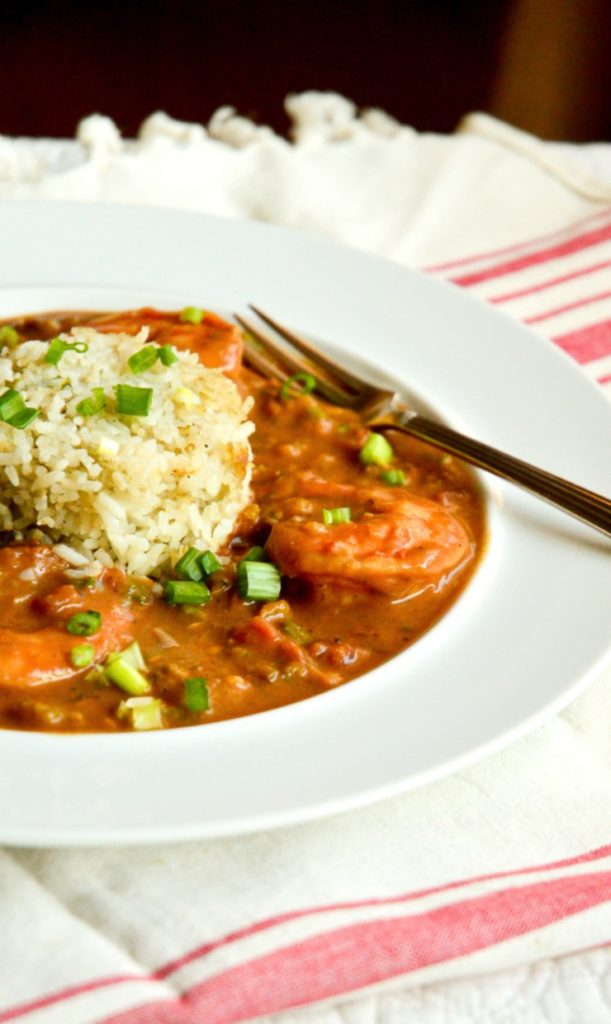 So you ready to make smothered shrimp or shrimp etouffee?
After all that's what etouffee means in French. Shrimp Etouffee is shrimp cooked in a rich, thick, silky sauce. Perfect served with rice, this dish can even be made ahead. Get your sauce finished and then turn off and set aside covered.
When you are ready to serve, bring the sauce up to heat slowly. When it's nice and warm and simmering, stir in your room temperature shrimp. Cook until they turn pink, about 5 minutes. Serve over rice. (I'm giving you an easy baked rice version to go with this!) BONUS!!!
Set the table with some Louisiana hot sauce and a few lemon wedges and be prepared to let the good times roll!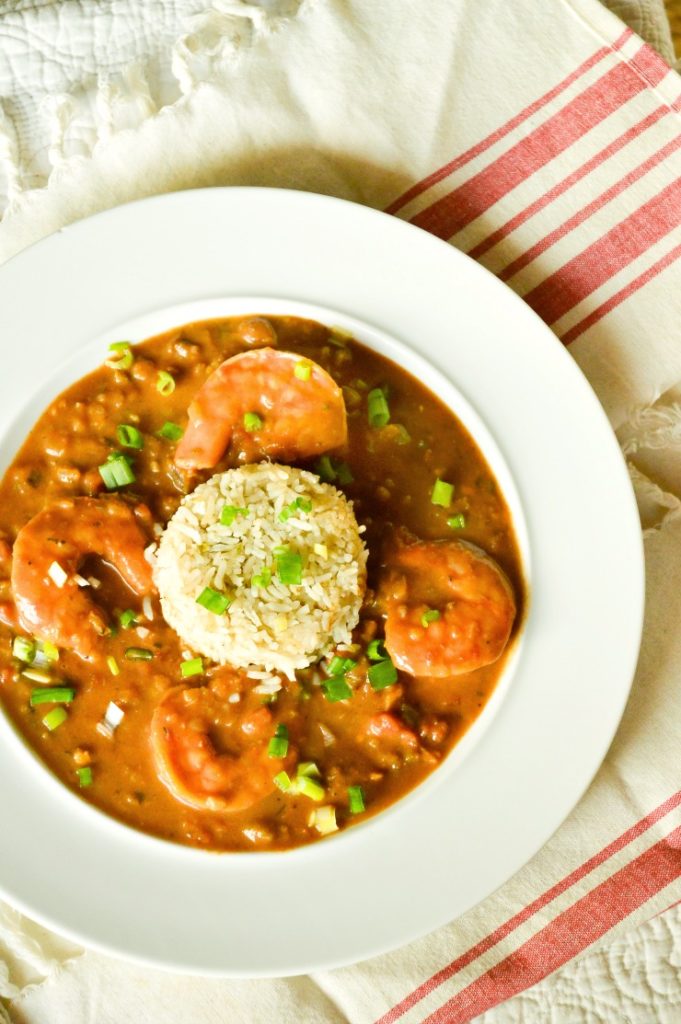 This post contains affiliate links. Please see my disclosure policy. It takes a lot to keep a blog running!
A few things I used to make this: my Dutch Oven, a good cookbook and a good loaf pan.
Please Pin and Share:
Print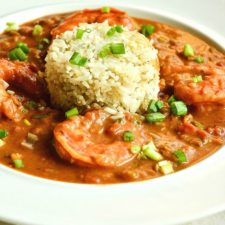 Shrimp Etouffee (Smother me in this!)
Author:

Prep Time:

30 Minutes

Cook Time:

45 Minutes

Total Time:

75 Minutes

Yield:

4

=6 Servings

1

x

Category:

Main Course

Method:

Stove Top

Cuisine:

American
---
Description
Shrimp Etouffee is a classic New Orleans dish, and though it is perfect anytime, it is especially fitting for Mardi Gras!
---
9 Tablespoons butter, cut into 9 slices
2 lbs extra large shrimp (21–25 to a pound)shells reserved
3 chopped onions with 2 c reserved for stock
3 celery ribs, chopped with 1/2 c reserved for stock
Salt and pepper
5 c water
8 garlic cloves, 2 peeled and smashed for stock, 6 minced)
1 T black peppercorns
3 bay leaves
2 sprigs fresh thyme plus 1 teaspoon, minced
1 t smoked paprika
2 t cayenne powder
1 t white pepper
1 t fresh ground black pepper
1 t dried basil leaves
1/2 t dried thyme leaves
1/2 c all purpose flour
1 green bell pepper, stemmed, seeded and diced
1 14.5 oz can diced tomatoes
3 scallions minced
2 teaspoons Worcestershire sauce
Baked Rice:
2 c uncooked rice
2 1/2 c chicken stock
2 T finely chopped onions
2 T finely chopped celery
2 T finely chopped green bell peppers
2 T unsalted butter, melted
1/2 t salt
1/4 t garlic powder
A pinch of white pepper, cayenne pepper and black pepper
---
Instructions
To make shrimp stock: Heat 1 T butter in a Dutch oven over medium heat. Add shrimp shells, 2 c onion, 1/2 c celery and 1 t salt and cook until shells are spotty brown, about 10 minutes. Add water, smashed garlic, peppercorns, bay leaves and thyme sprigs. Bring to a boil. Reduce heat to low, cover and simmer for 30 minutes. Strain through mesh sieve, pressing on solids to extract liquid. (Stock can be made ahead and refrigerated for up to three days.)
Whisk together seasoning mixture of smoked paprika, cayenne, black pepper, white pepper , thyme and basil. Set aside.
Toast flour in a clean dry pot over medium heat, stirring constantly, until it just begins to brown, about 5 minutes. Whisk in remaining 8 T butter, until melted and combined with flour. Continue to cook, whisking constantly, until deep brown, 4 to 6 minutes longer.
Add bell peppers, 1 T of seasoning mixture, remaining onion and celery and cook until veggies are soft, about 10-12 minutes.
Slowly whisk in 4 cups of stock or clam juice until incorporated. Reserve extra for another use. Bring to a boil, reduce heat to medium low and simmer until slightly thickened, about 25 minutes. Stir in additional seasoning mixture to make it as spicy as you want.
Season shrimp with salt and pepper. Add to pot and simmer until cooked through, about 5 minutes. Stir in scallions and Worcestershire sauce. Season with salt and pepper. Serve over rice with hot sauce and lemon if desired.
To make baked rice:
In a 5 x 9″ loaf pan, combine all ingredients. Mix well. Seal pan with foil. Bake at 350 until rice is tender, about 1 hour and 10 minutes. Serve immediately. However rice can also be kept hot for about 45 minutes if kept covered.
---
Notes
*I made this recipe with homemade shrimp stock. Another way is to use bottled clam broth. Both are good. If you don't want to make your own shrimp stock skip ahead in the recipe and buy 4 c clam broth.
Adapted from: Paul Prudhomme and Cooks Illustrated
This recipe has a lot of seasoning. It is not necessary if you do not prefer it spicy. Just add the smoke paprika, and a 1/4 t of cayenne powder if you prefer it less seasoned.
Keywords: shrimp etouffee, shrimp etouffee recipe, shrimp etouffee recipes
Want more Cajun Recipes? They are all here!
Another seafood recipe? This is perfect for Valentine's Day.