My Sweet Hyacinths
"The day is coming when a single carrot freshly observed will set off a revolution." Paul Cezanne
and the beginning of the novel "White Truffles in Winter".
I am working in a room filled with the scent of lavender hyacinths. They scent my entire house and they smell like spring. It is a sweet smell that makes me feel pretty. They make me happy that I planted them and they make me sorry that I didn't plant more. I put them in a vase that my son made for me in first grade that he covered in broken eggshells. My gratitude goes to Mrs. Atkinson for that Mother's Day project that I still adore.
I went to the library this week. I love the library. In fact, when I die I think I would like to be buried in the library. There are so many books I want to read and I know I will never finish them all. It is a great place to search for cookbooks and then you can try them before you buy them. I found one to share with you but first I want to tell you about the great book I read.
The title of the book is: White Truffles in Winter. The author is N.M. Kelby. The subject of the book is Escoffier. The plot is about Escoffier and his many loves including his wife, his lovers, and his food. Ohhh, I don't think I could have resisted this man. Though the book is fictional it is based on his life. And let me tell you-do not read this book if you are hungry for food or love. It is sensual in many ways. I could inhale this book. I haven't read many books that truly dazzle all senses at the same time. I'm going to read it again before I return it. And in case Mrs. Atkinson does find this blog; I know this is not In proper book report form. But, alas, I am not in first grade anymore.
And that brings me to this cookbook aptly titled "Cooking with Les Dames D'escoffier". No I did not plan this. I highly recommend this cookbook written in 2008. It is written by women chefs who must be speaking to me. In the last week I have tried several recipes from this book and have been pleasantly delighted. Maybe it is because I am lonely and reading about food makes me feel full-in many ways. But no-the truth is that this is a really good cookbook written by many famous women chefs. You will like it. And you will eat from it. And I will share this recipe from the book with you. I love potatoes and beans are healthy so it became my dinner on Saturday night. Of course you could add a piece of chicken or fish or meat or even a fried egg, but the dogs and I were happy with it just as it was.
And now I must go call my neighbor, the rabbit catcher. I have a live trap that I don't know how to set and I am damn tired of watching all these rabbits eat my sweet hyacinths.
Tuscan Beans and Potatoes
2lbs new potatoes, peeled and cut into ½" cubes
1/4c olive oil
½ stick butter
4 garlic cloves minced
1/2t salt plus more if you want it
1/4lb pancetta finely diced
1 1/2c chopped shallots
1 1/2c chopped red onions (I used white)
2 15oz cans white beans, drained and rinsed
1 c beef broth (I used chicken)
12 fresh sage leaves chopped
Fresh black pepper
Olive oil for drizzling
Pat potatoes dry. Heat oil and butter in a heavy skillet large enough to hold the potatoes in a single layer. (Or cook in 2 batches or 2 skillets). Add potatoes and sauté over moderate heat, until potatoes are golden on all sides about 25 minutes. When the potatoes are just about done add garlic and salt. Stir and then transfer potatoes to a paper towel to drain.
Add pancetta to skillet sautéing over medium heat until crisp. Add shallots and onions, reduce heat to medium low and cook until vegetables are very soft, about 10-15 minutes.
Add reserved potatoes along with beans, broth and sage. Season with salt and pepper. Cook over medium heat, stirring gently until hot. Spoon onto plates and sprinkle with sage garnish and drizzle with oil.
Before you eat figure out how to take a photo of beans and potatoes that looks appetizing. I tried!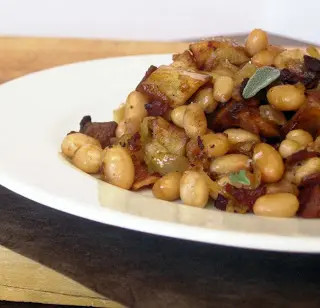 Inhale!
Photograph and Eat!