This freekeh recipe for pilaf is savory and nutty and a perfect side dish for any main course. You may even find you prefer it to rice.
This freekeh recipe for pilaf is a great change from rice.
Though I love rice, this smoky greenish grain is an awesome change.
Maybe you haven't heard of freekeh, I hadn't; that is until I went to Israel.
My friend turned me on to it and with a name like freekeh I guess turned on is apropos.
I googled it on the web and came up with quite a few articles about it but I guess I haven't gotten out much since 2009 which is when these articles started showing up on all the health food blogs.
How To Make this Freekeh Recipe:
Freekeh is made like rice.
Saute the onion, garlic and pepper in olive oil.
Add some nuts-I added walnuts, but pine nuts or almonds would work also.
Stir in the freekeh and let it toast a minute.
Add water or chicken broth and bring it to a boil.
Turn down to a simmer and cover.
Let it cook for 20 minutes. Check for doneness and then fluff.
Oh, what is freekeh?
It is a grain and probably the next hottest grain right now, compared to quinoa.
Actually, it is green wheat which is harvested while still young and then burned to extract the kernels which are is then polished and ready to eat.
Well, I guess that is it in a husk.
Freekeh was mentioned in the book of Leviticus as being the first grain to be offered as a sacrifice in the spring.
And because it is burned it has a distinctive smokey taste, though not overpowering.
You cook it as you would any grain; rice being the closest cooking method.
Besides being satisfying it is also very healthy. Tons of protein and lots of whole grain.
It would be a great substitute for couscous, quinoa, barley, rice,or bulgur.
This freekeh recipe takes well to most seasonings and is easy and quick to cook.
Being wheat, freekeh is not gluten free.
It is much higher in protein than rice, and has up to three times the protein that brown rice has.
No need to soak freekeh. It can be served hot, as in this freekeh recipes for pilaf, or cold-you decide. Jamie Oliver is a fan. (There you have it!)
What does freekeh taste like?
Freekeh has a slightly smoky, nutty taste with a chewy pleasant texture.
It can be found at Whole Foods or Trader Joe's- but I brought mine home from the source.
I can't read very well so I didn't quite understand the US Customs rules about bringing in foods of a plant nature.
Does that include spices, too?
After all, it was a long night on the plane, which hindered my understanding of the customs form. C'est la vie.
Security did confiscate my sweet smelling Israeli violet lotion that I bought for my mother and inadvertently put in my carry on.
So, if you get some jerk in the Philadelphia airport that smells good and is wearing plastic gloves, than I guess you found the confiscator.
All I can say is that the Israeli security let it pass and well, I know who I'd trust more when it comes to security.
Think of this freekeh pilaf as my spring offering, but please make sure to eat it all year long. You won't be disappointed!
(This is an updated post from 2012.)
(This post may contain affiliate links. Please see my disclosure policy.)
Need a Few More Side Dishes: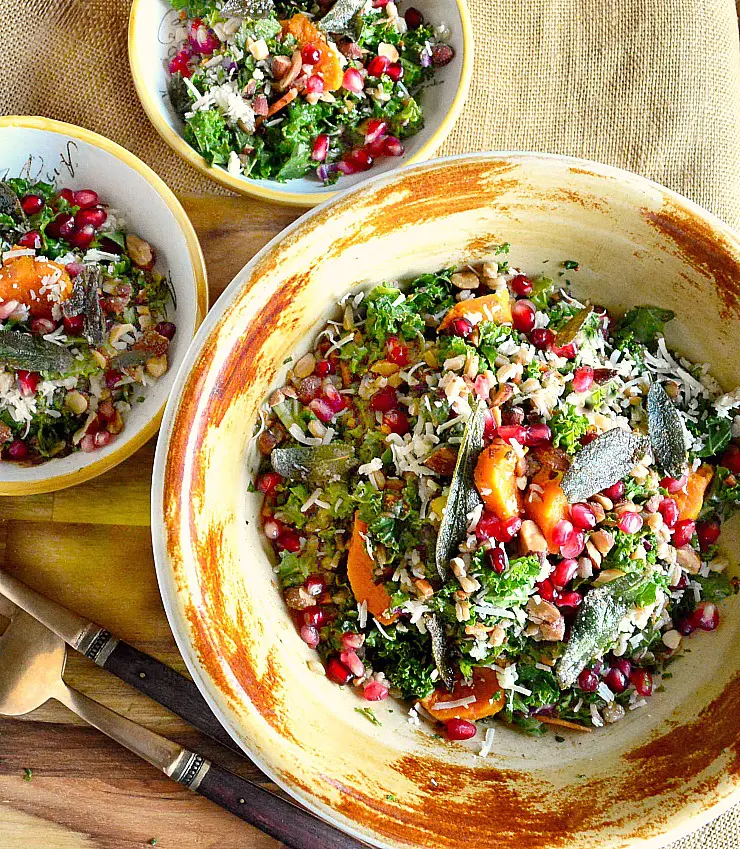 Not My Mama's Kasha Varnishkes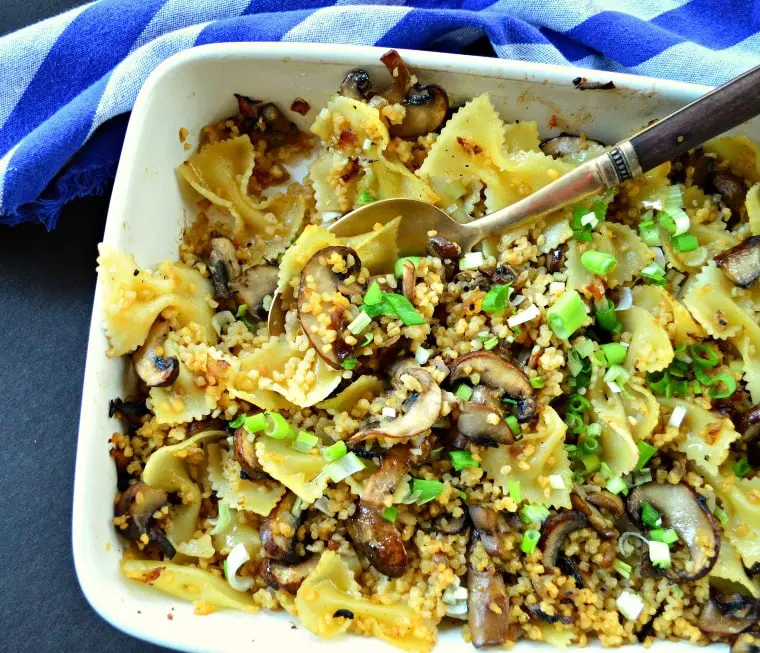 Want to buy freekeh? Trader Joe's may have it or you could check here. Want a bowl from Jerusalem to serve it in? I found this.
Print
Freekeh
Author:

Abbe Odenwalder

Prep Time:

10 Minutes

Cook Time:

20 Minutes

Total Time:

30 Minutes

Yield:

4

Servings

1

x

Category:

Side Dish

Method:

Stove Top

Cuisine:

Mediterranean
---
Description
This freekeh recipe for pilaf is savory and nutty and a perfect side dish for any main course. You may even find you prefer it to rice.
---
2 T olive oil
1/2 c chopped onion
1 clove garlic
1 diced jalapeno pepper
1 handful chopped walnuts
1 c freekeh
2 c chicken or vegetable broth
Salt and pepper to taste
1/2 t cumin
Cilantro to garnish
Raisins or apricots would also be good!
---
Instructions
Saute the onion, garlic, and pepper in olive oil.
When they start to sweat stir in the walnuts. Brown them just a bit.
Stir in the freekeh and cumin. Let cook a minute. Stir in broth. Bring to a boil and then turn down to simmer. Cover.
Check after about 20 minutes. Freekeh should be done, but if you want it softer add a bit more liquid and cook a little longer.
Season with salt and pepper and garnish with cilantro.
Raisins or sliced dried apricots stirred in would taste great too. Think of this as any pilaf recipe because all you have to do is substitute the grain.
I served this with grilled fish seasoned with sumac. My husband wanted more.
---
Keywords: freekeh, freekeh recipe, freekeh pilaf, freekeh nutrition, is freekeh gluten free, freekeh pilaf recipe