A simple overnight egg cheese and ham casserole made with English muffins, your favorite ham and Swiss and lots of eggs is great on the weekend, perfect for busy weekdays and even special holidays.
So let's be honest here. I am not a lover of ham. I have never been fond of ham.
But I don't mind the right kind of ham when it's sandwiched into English muffins or sliced and used in breakfast burritos.
But no. I am not a ham sandwich kind of person.
I do love pork in things like Italian sausage or Italian lunch meats, and if you want to slip a slice of ham into a really good sub sandwich or muffaletta, I am OK with that.
But no. Please never serve me a thick slice of ham even if it is from the Honey Baked Ham store, because I will not eat it.
I never ate ham as a child. I never ate pork as a child.
And though I will cook pork tenderloin today or use ground pork in Chinese food, I just never became a ham person.
Something about the texture, I think.
I do laugh though, because somewhere in all these years, my mother and even my brothers became lovers of the prevously mentioned honey baked ham.
But no. Not I.
However ham does have its place in this very simple, totally good and totally satisfying, egg cheese and ham casserole.
I made this when Alex was home because Manservant is on that crazy intermittent fasting thing and though it works for him, I do miss making a big weekend breakfast.
With Alex home during the months leading up to the wedding extravaganza, I did manage to throw in a few breakfasts.
And if you think about it, I do manage to throw in a few breakfasts at dinner. In fact, I do that quite often!
So with this recipe that I pulled out from who knows where, though it is attributed to Wisconsin Public Radio, I decided that it was time to make it.
I only made this with 4 English muffins, but it was so hearty, that we each only ate half of one.
This great egg bake with ham, which could be made with deli turkey or really just about anything sliced from the deli, was also eaten for leftovers during the week.
It is easily reheated!
So let's start, shall we?
How to Make an Egg Cheese and Ham Casserole:
Let's start with English muffins. Poke lots of holes in them on the top and bottom. Or you could use an English muffin bread and then you could skip poking holes! Your choice.
Butter each English muffin, on the top. Lay the bottom of the English muffin into a baking dish that has been sprayed with non-stick cooking spray. Or just use a bit more butter to grease the pan.
I used an 8 x 8″ pan and only 4 English muffins but this can be made in a larger pan, so plan accordingly.
Top the bottoms of the muffins with slices of ham. I like my ham sliced very thin but you may prefer a thicker slice, or you could even use Canadian bacon.
Now sprinkle with grated Swiss cheese and Cheddar cheese or what ever your favorite cheese is.
Just make sure it is flavorful so try to stay away from mozzarella. Leave that for your pizza.
Top with the other half of the muffin, buttered side up.
Combine milk, eggs and seasonings and whisk well.
Pour egg mixture evenly over the top of your little sandwiches. Cover with foil and refrigerate overnight.
(Or make this in the morning and bake for dinner.)
If the English muffins are not fully covered add a little more milk to the pan.
Cover with plastic wrap and press down so that the foil is touching the top of the English muffins.
The idea is to make sure the muffins really soak up the egg custard.
This casserole bakes low and slow which keeps the eggs nice and custardy.
If you'd like you can top it with a butter/cornflake mixture, but I just sprinkled some extra cheese on top.
Don't like ham? The options are endless.
Other lunch meat such as turkey, or even pepperoni can be used.
Sausage patties, crumbled sausage such as chorizo, and as I mentioned above, Canadian bacon would also suffice.
Crisp cooked bacon would also work, but I find that it isn't crisp after baking and therefore I stay away from bacon in this ham and cheese breakfast casserole.
Yeah, I only like crisp bacon and that is another story!
I'd love to hear how you made this breakfast casserole. Please drop me a note and do tell!
Other Breakfast Casseroles:
Potato, Egg and Cheese Breakfast Casserole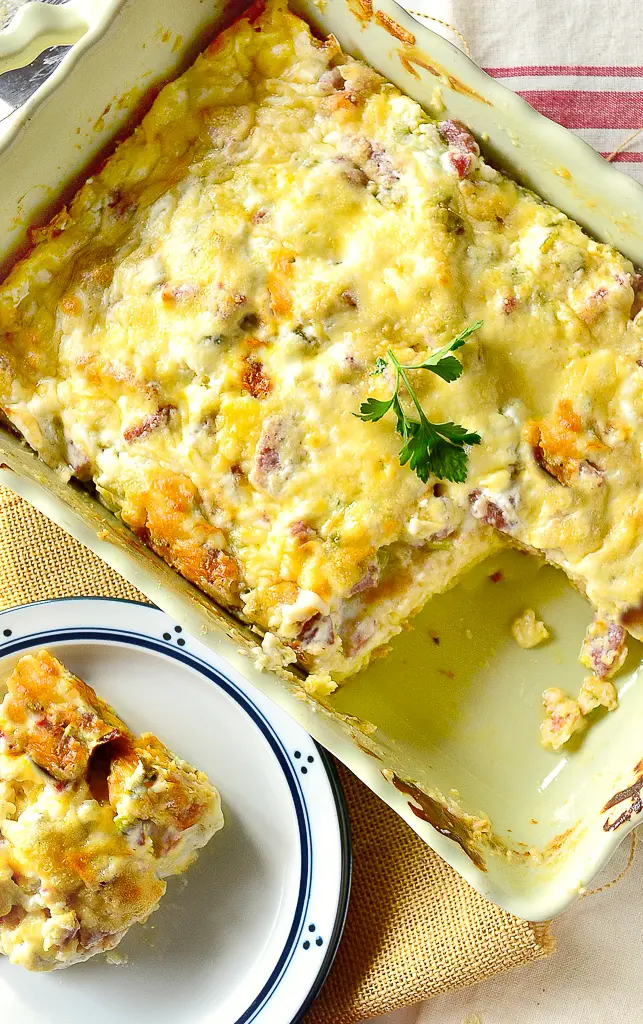 French Toast Breakfast Casserole
I'd Love it if You'd Follow Me and Pin and Share:
Print
Egg Cheese and Ham Casserole
Author:

Abbe Odenwalder

Prep Time:

15 Minutes

Cook Time:

75 Minutes*

Total Time:

28 minute

Yield:

8

-

10

Servings

1

x

Category:

Breakfast

Cuisine:

American
---
Description
A simple overnight egg, cheese and ham casserole made with English muffins, your favorite ham and Swiss and lots of eggs!
---
1 loaf of English muffin bread, sliced or 8 English Muffins
1 stick butter, softened
2 c shredded Swiss cheese
2 c shredded Cheddar cheese
3/4 lb thinly sliced ham or 8 slices
1 T fresh parsley, minced
1 T fresh dill, minced
1 t dried mustard or your favorite mustard (Amp this up if you want.)
Salt and fresh pepper
3 c milk
10 large eggs
Optional Topping:
1 1/2 c crushed cornflakes
3 T melted butter
---
Instructions
Coat a 9 x 13 baking dish with butter or non-stick cooking spray.
If using English muffins, poke lots of holes into the top and bottom of the muffin. Spread softened butter on the top of the bottom half of the English muffin and also on the top of the top of the muffin! Or just spread the butter on one side of each slice of bread.
Cover the bottom of the baking dish with the bottoms of the muffin or the slices of the bread. Top those with the Swiss chesse, ham and grated Cheddar cheese.
Combine your eggs, milk and seasonings in a large bowl and whisk vigorously. When nice and light, pour over the English muffins.
Cover the mixture with plastic wrap, pressing it into the surface so that everything gets nice and soaked.
To Bake:
Bring to room temperature while preheating the oven to 275. Remove plastic wrap and replace with foil. Bake covered with foil for 30 minutes. While the casserole is baking combine the cornflakes with the butter if using or grate a bit more cheese to sprinkle on.
After 30 minutes, increase oven temperature to 350. Remove foil and spread on cornflake topping or some extra cheese. Bake uncovered for 45 minutes. Let stand 15 minutes before serving.
---
Notes
Please see above post for additional tips.
*Does not include overnight soaking time or resting time when taken from oven.
Keywords: breakfast casserole with ham. egg bake with ham, ham and eggs casserole, egg cheese and ham casserole, ham and cheese breakfast casserole