These cinnamon and sugar churro bars are frosted with brown sugar penuche and then drizzled with chocolate glaze. Perfect after a spicy meal or instead of cinnamon toast for breakfast, these churro cookie bars are something you must try!
You might have noticed I'm entering a new chapter at This is How I Cook. I'll still be baking great things like these churro bars, but it's time to throw the pink and green spoons aside and start something new. This change has been in the works since mid February and I never thought this would get finished. Though it isn't quite done…I still have some aesthetics to complete, and a few pages need to be moved around; but it's almost there.  With many suggestions from fellow blogger friends I especially want to bow, throw  kisses and send churro bars to Tricia of Saving Room for Dessert, for  whipping me into shape.  More kudos go to Bobbi of HWC Magazine , Greg of Sippity Sup and Denise over at Easy and Delish, and last but not least, Shelley at Two Healthy Kitchens.
Changing this blog was something I wanted to do for a long time, but it required a capital expenditure and one I wasn't sure I wanted to make. On the other hand I've been writing This is How I Cook for 6 1/2 years and I'm not sure I've ever done anything that long, except for raising kids! I decided I'm worth the investment and decided to invest in myself. I don't know where this will lead, but so far my journey has been satisfying. Writing is something I like and I think you might even say my photography skills have improved. Right, Mr. Riffs? (You were my first supporter and that is something I won't forget!) Cooking is something I  love, and I believe that writing this blog makes me a better cook. Anyway, it's time I start thinking about me, and writing in this little space in the world just feels right. I hope it does to you, too.
So what does this mean to you, my  faithful followers? I now have a more searchable recipe index with better headings and food photos to help locate the recipes you might be searching for.  Yes, you will most likely see advertising popping up, but I figure by now ads are inescapable. The home page will show lots of recipes too, that you may have forgotten about. You can even see my Instagram feed which I hope you will follow me on too! Moving from Blogger to WordPress gives me more options in the future to keep this blog updated with the latest features, and now I also have a secure site. Everything isn't perfect, so I'd appreciate if you let me know of anything that needs fixing or improving.
Now it's time for something sweet. These churro bars are definitely that. Dense and chewy and sprinkled with cinnamon sugar on the top and bottom, then frosted with a brown sugar candy penuche and gilded with a drizzle of chocolate glaze, make these a winner in my book. Manservant has been eating these churro bars all week. It drives me crazy because I'm constantly wiping sugar off the counter and the worst part is that he forgets to seal the Zip-Lock bag they are stored in. I would have thought they'd become stale by now, but the truth is they've gone from chewy to a more dense kind of crispy, and he agrees that both are good!
These churro bars are super simple to make and the toppings are not necessary. Just make the cookie bar if that's all you have time for. In all honesty I'm not sure why these are called churro bars, because except for the cinnamon sugar, they really don't remind me of churros. I thought by adding the chocolate and penuche that I'd get closer to thinking churros, but no… I just got closer to a better cinnamon sugar bar. Whatever you call these,  they would make a good bite after a spicy meal, as the cinnamon and sugar helps cools your mouth. On the other hand I think Manservant thinks they are more like cinnamon toast, because the Zip-Lock bag is wide open every morning!
Print
Churro Bars with Brown Sugar Penuche Frosting and Chocolate Glaze
Author:

Prep Time:

15 Minutes

Cook Time:

20 - 30 Minutes

Total Time:

45 Minutes

Yield:

1

13 x 9" pan

1

x

Category:

Cookies
---
Description
These cinnamon sugar churro bars are topped with a brown sugar candy frosting and then gilded with chocolate glaze.
---
1 c unsalted butter
2 c brown sugar, light or dark
2 eggs
2 t vanilla
1 t coarse salt
2 1/2 c flour
1/4 c sugar  for topping
1 T cinnamon
Penuche Frosting
3 T butter
6 T half and half
1 c dark brown sugar
1 1/2 c confectioners sugar
Chocolate Glaze:
3/4 c chocolate chips
3 T butter
1 T light corn syrup
1/4 t vanilla
---
Instructions
In a medium sauce pan melt butter over medium heat. Bring to a boil as you are making browned butter. Swirl butter so it doesn't burn. It will hiss and sputter and then when it stops you can remove from heat. Let butter cool.
Preheat oven to 350. Line a 9 x 13″ pan with foil and coat with nonstick spray. Set aside.
Add brown sugar to butter in pot and stir to combine. Add eggs, vanilla and salt and stir until smooth. Now stir in flour and mix until incorporated. Set aside.
Whisk sugar and cinnamon together. Sprinkle half on bottom of pan. Spread dough on top of that. You may need to use your fingers to spread it. Sprinkle remaining cinnamon sugar on top of that.
Bake for 20-30 minutes, until edges are light golden. The interiors should still have a wet texture, similar to a fudgy brownie.
For Penuche Frosting:
In a saucepan melt butter. Add brown sugar and half and half and bring to a boil. Cook at boiling point for 1 minute. Remove from heat and stir in vanilla and confectioners sugar. If it hardens too quickly feel free to add a few more drops of half and half. Pour and spread quickly over bars. This hardens to a candy like consistency and doesn't stick like regular frosting…kind of an extra added treat.
Glaze:
Combine chocolate chips, butter and corn syrup in a glass measuring cup. Heat in microwave  and heat in intervals until chips are melted and mixture is smooth, stirring at each interval. Add vanilla. Drizzle over frosting!
---
A Few More Great Mexican Desserts: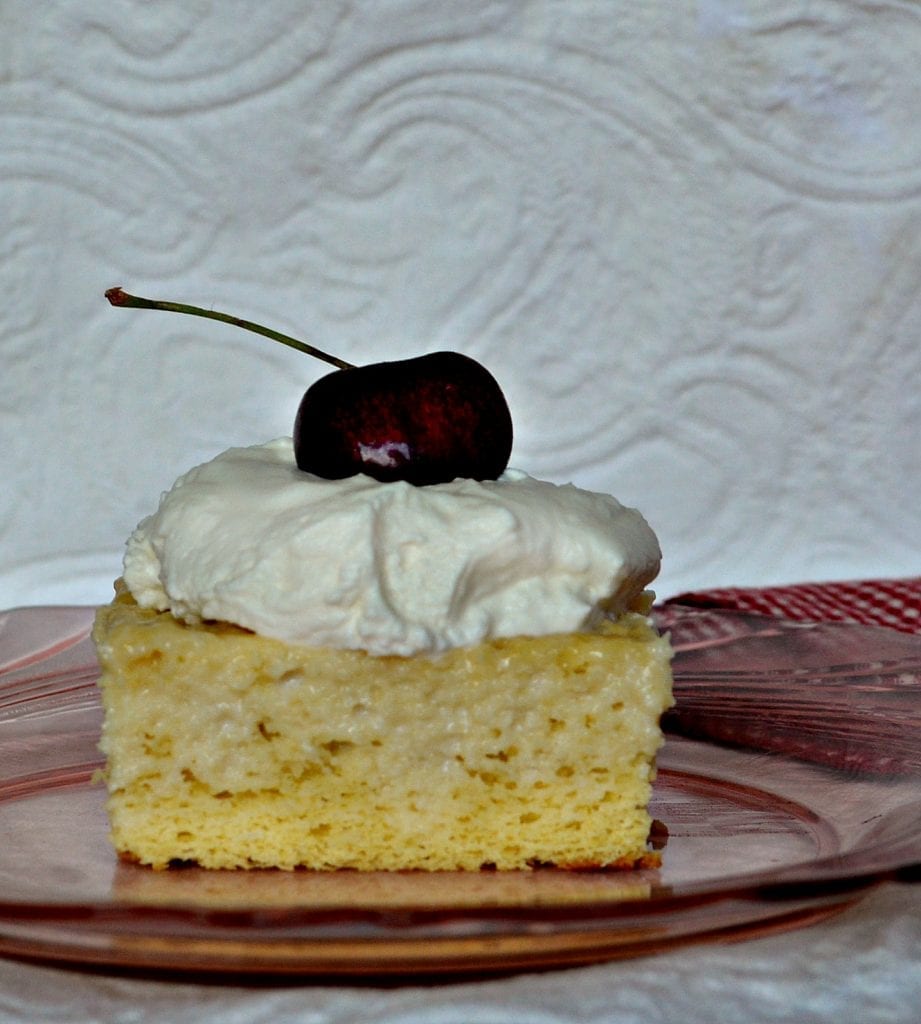 Please Pin and Share: Don't Lose This Recipe!