This challah round is perfect for any time of year, but filled with apples and made with honey, makes it perfect for the new year!
I love challah and this challah round is one of my favorites.
Redolent with the flavor of honey and filled with chunks of apples, this challah, I think, will become my go to challah.
I can't wait to try it with other fillings, but I believe it will be heavenly all on its own.
This challah recipe makes two stunning round loaves, but if you just aren't up to rounds, it will make perfect braided loaves also.
Yes, each strand takes a bit longer than usual to fill with apples, but if you don't want to fill it, that's OK, too!
This would be luscious with some raisins thrown in and no need to fit those into each strand.
The chopped apples, I am guessing, would probably be just fine mixed into the dough, which would save the step of rolling them into each strand.
No, I haven't tried it yet, but I will, I promise.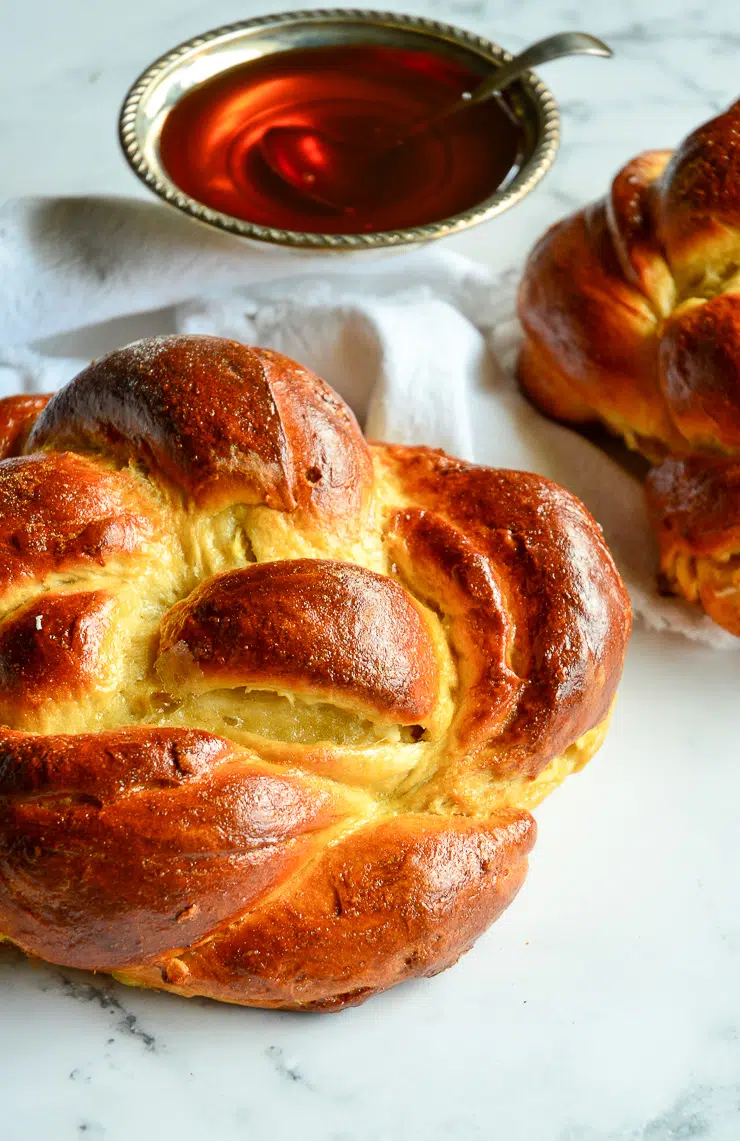 As I get ready for a wedding and the Jewish holidays, I was able to put one loaf into the freezer, to save for a full house.
The wedding countdown continues and I now have boxes piling up.
Everything from bridesmaid's gifts to cowboy hats to tissue paper. Yes, we must not forget the details, I am told repeatedly by the bride-to-be.
So as I try to get finished up with all my cooking to prepare for what's yet to come, I must admit I was happily surprised with this tasty challah.
I love my regular version and these maple glazed challah buns are also quite popular especially around Thanksgiving. However this slightly sweet challah round is outstanding!
How To Make this Challah Round:
Begin with your stand mixer and activating your active dry yeast.
From there it is time to add water, one egg and three egg yolks, 3.4 cup of honey, canola oil, vanilla extract and salt.
Yes, that is a bit of honey and that is one reason this challah tastes so good!
Then it's a matter of adding in 7 cups of flour and then letting the dough go through the first rise.
I find that preheating the oven to the lowest setting and then turning it off works well. Just be sure to keep the oven door open while it rises, so that it doesn't rise too fast.
It probably will not rise much during this first rise. Punch the dough down and preheat your oven and do this all over again for the second rise. I let mine rise for several hours the second time until the dough has doubled in size.
How to tell if yeast dough has risen enough:
One way to test if it has risen enough is to poke the dough gently with two fingers up until the second knuckle. If the indentations do not fill in, the dough is ready to shape.
While the dough is rising, you can prepare the apples by chopping them into small pieces. Place them in some water with a squirt of lemon juice so they don't brown before you need them.
When it's time to use them, drain well and toss with 1/4 c of sugar.
After the dough has done its part and risen to double its size, divide it in half. Cover the half you are now working with.
Divide the half into four equal portions. If you like you can weight it if you aren't good at eyeballing. It is important to make the strands about the same size as it is easier to braid that way.
Roll each quarter into a rectangle roughly about the size of 12″ by 4″. Then spread about 2 T of apples on the strand. Roll up and finish the other strands.
Once all four strands are finished go back and make sure each is about the same length. Roll and pull as you roll to shape each one about the same size.
The more you bake challah or any bread, the better and faster you will become!
Braiding into a challah round is not hard. It kind of reminds me of tic tac toe!
To see what to do, take a look here.
How To Tell When Bread is Done:
To test for doneness, the loaf should be golden brown. It should also sound hollow when tapping on the bottom of the loaf. Truthfully, I find the easiest way to test for doneness is to use a thermometer.
When a loaf is filled it is often hard to determine if it is fully baked inside, so when a thermometer is inserted into the center of the loaf and the temperature hits 190 degrees, it is done.
You will love this honey challah bread. I mean what's not to love about a loaf filled with apples and made with honey?
I plan on serving this for Rosh Hashanah with fresh sliced apples and a bowl of honey on the side.
Our year will be starting off very sweet and I can't wait! Wishing a L' Shanah Tova to my Jewish friends and a happy Fall to all!
Need a Few More?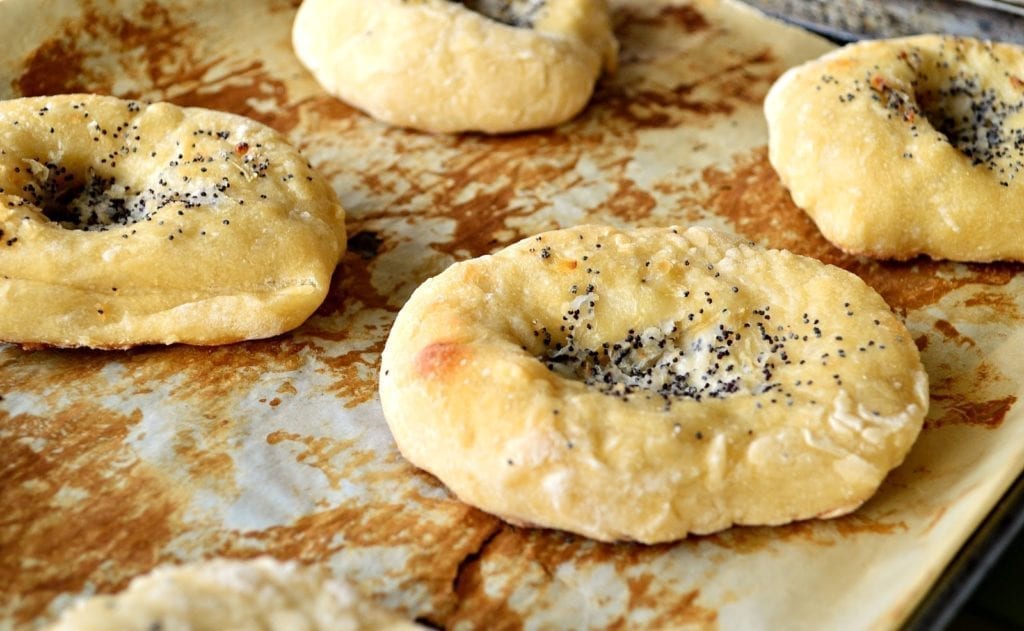 I'd Love it if You'd Follow Me and Pin and Share:
Print
A Challah Round with Apples and Honey
Author:

Abbe Odenwalder

Prep Time:

45 Minutes*

Cook Time:

60 Minutes

Total Time:

45 Minutes*

Yield:

2

Rounds

1

x

Category:

Bread

Method:

Baking

Cuisine:

Jewish
---
Description
This honey challah bread is filled with apples. Perfect for Fall and the high holidays, this is one spectacular loaf. With or without the apples, be sure to make this challah!
---
1/4 c, plus 1 1/4 c lukewarm water
1 packet of 1/4 oz active dry yeast or 2 1/4 t
1 t sugar
1 egg
3 egg yolks
3/4 c honey
2 T canola oil
2 t vanilla
2 t salt
7 c flour
3 Granny Smith or Honey crisp apples
1/4 c sugar
1 egg
1 T cold water
---
Instructions
In the bowl of a stand mixer with a paddle attachment, pour 1/4 c of the lukewarm water. Add 1 packet of active dry yeast and 1 t of sugar to the bowl and mix to dissolve. Wait 10 minutes for yeast to activate.
Add remaining 1 1/4 c lukewarm water to the bowl with the egg, egg yolks, honey, oil, vanilla and salt. Mix well.
Add four cups of the flour, one at a time, mixing with paddle attachment, between each cup. After you have added the four cups, switch to the dough hook attachment and add the remaining thee cups one at a time. The dough will be sticky.
Grease a large bowl and set dough ball inside. Cover with plastic wrap.
Preheat the oven to the lowest setting. When it is preheated, turn the oven off and set the bowl in the oven. Leave oven door ajar.
Let rise about an hour. Punch down dough and cover. Preheat oven again to the lowest setting then turn oven off. Place dough bowl inside and leave door ajar. Let dough rise until doubled in size. I let this go about two hours, but it may rise sooner than that. Use finger indentation test as described above to test to see if it has risen enough.
While dough is rising, chop apples into small pieces. Place in water with a squeeze of lemon to keep the apples from turning brown. When ready to use, drain and dry apples well. Toss with 1/4 of sugar.
After the second rise, flour a smooth surface and remove the dough from the ball. Punch down the dough and add flour as needed if dough is sticky. (I did not need to do this.)
Divide the dough into two equal halves. Put one half of the dough back into the bowl and cover with a damp towel.
Divide the dough into four equal portions and stretch or roll it into a rough rectangle about 1 foot long and 3-4″ wide. Sprinkle about 2 T of the sugared apples onto the rectangle. Gently roll the upper edge of the rectangle down to the lower edge and pinch to seal, creating a long strand of dough filled with apples.
Roll the stuffed strand, until it becomes smooth while applying gentle pressure with your hands and pulling outward as you roll. Repoke any apples into the dough if they poke out! Taper the ends of the strands and try to make sure that each strand is the same size.
Braid with your favorite method above or use the directions supplied with the link above.
Let the dough rise 30-45 minutes longer and then preheat oven to 350 degrees. While this loaf rises, prepare and braid the other half of dough.
When first loaf is ready to be baked, brush with egg wash made by beating the egg and water. Reserve the leftover egg wash as you will need it.
Bake this loaf for 20 minutes and then brush again with egg wash, coating the grooves of the challah bread well. Turn the challah around so the opposite side faces front and pace back in the oven. Bake for another 20 minutes or until a thermometer inserted into the loaf reaches 190 degrees. You may also turn the loaf over and tap it. If the loaf is golden brown and sounds hollow, it is done.
Let the challah loaf cool completely before serving.
Bake second loaf as described above.
---
Notes
Thanks to Miriinthe village.com for this great recipe.
Keywords: round challah, challah round, challah roll, braiding challah, challah, challah recipe, recipe for challah bread