Butter Pecan cookies are crisp on the edges and chewy and rich inside. Loaded with pecans and brown sugar, these cookies were a hit!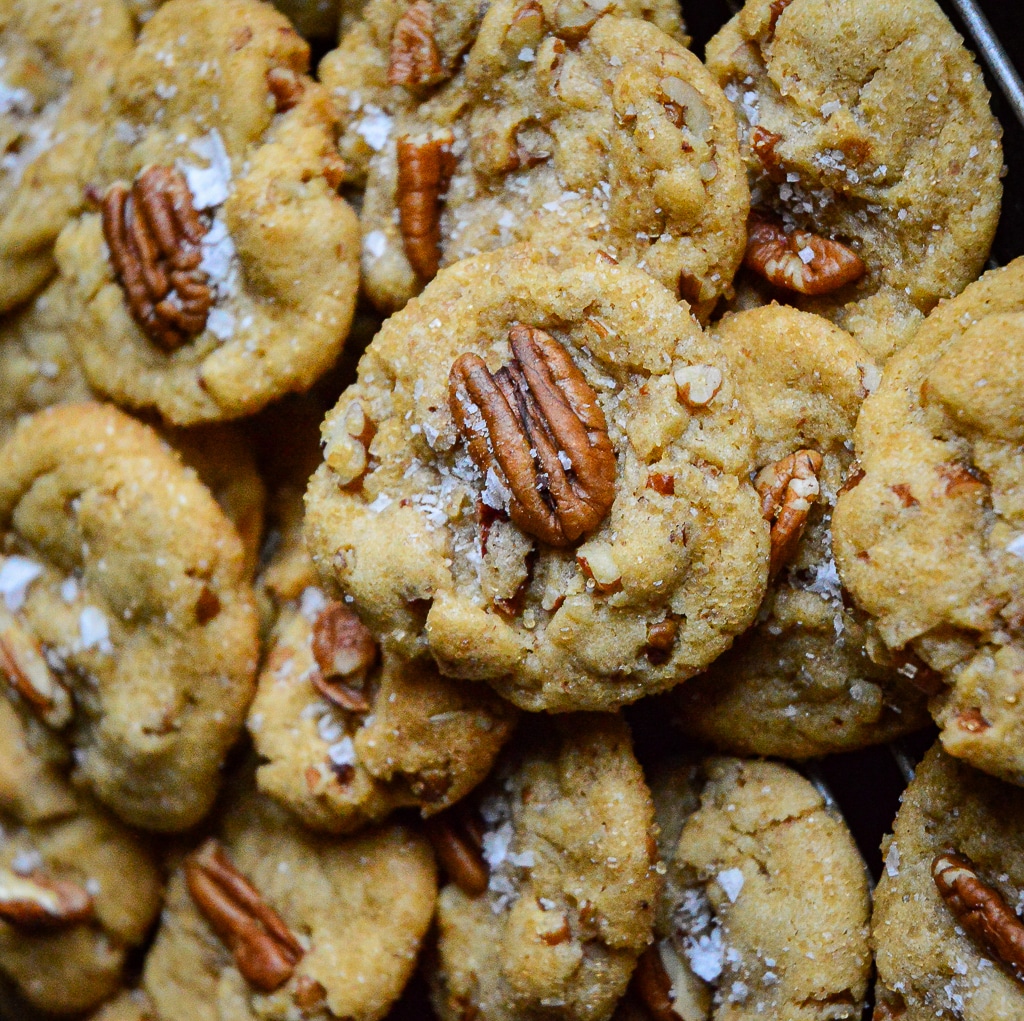 Butter pecan cookies were on our new cookie list last year.
They turned out to be a hit, so in honor of December, cookie month to me, I figured I'd best give you this recipe pronto.
My pecan bars have been a hit for like as long as I've known Manservant, and judging from the number of people that viewed them, I decided I must have a bunch of pecan lovers as dedicated readers. Well, I hope so!
These rich and slightly salty cookies are way better than butter pecan ice cream. I can't say they are way better than pecan bars, but they are definitely equal.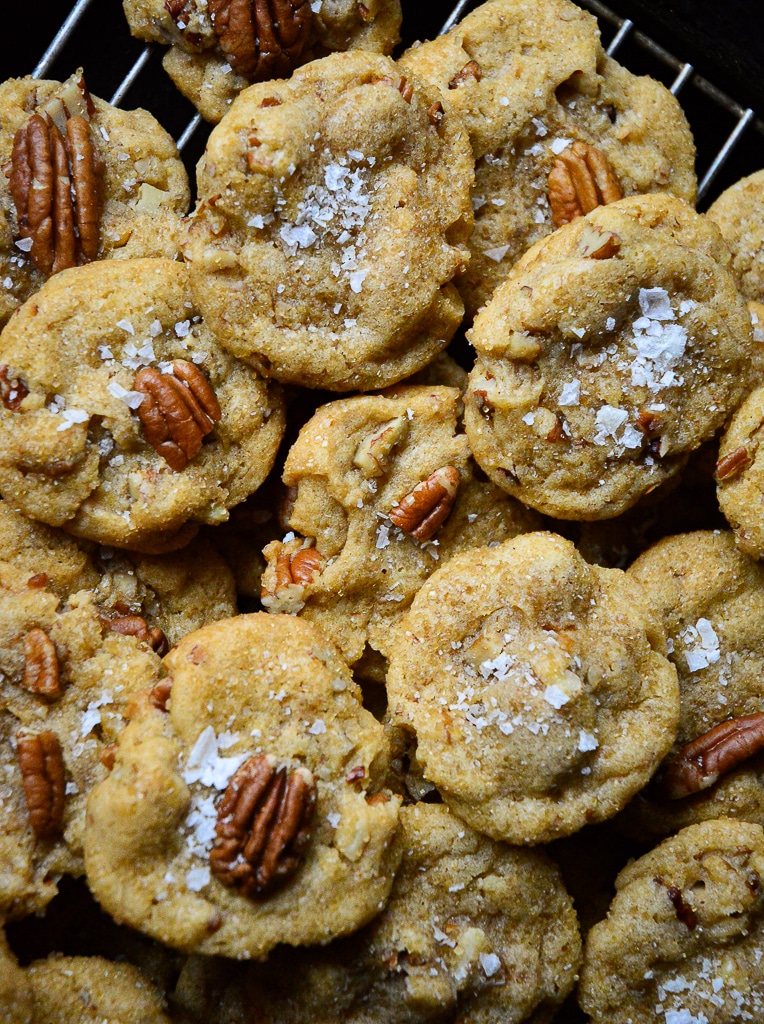 Chewy and rich and full of buttery goodness, they definitely will not get lost on the cookie platter.
I must admit, these pecan cookies taste superb even straight from the freezer.
This pecan cookie recipe also travels well and was a hit in Texas with my father in law.
If you love cookies with pecans, then you owe it to yourself to make these. AND no mixer required.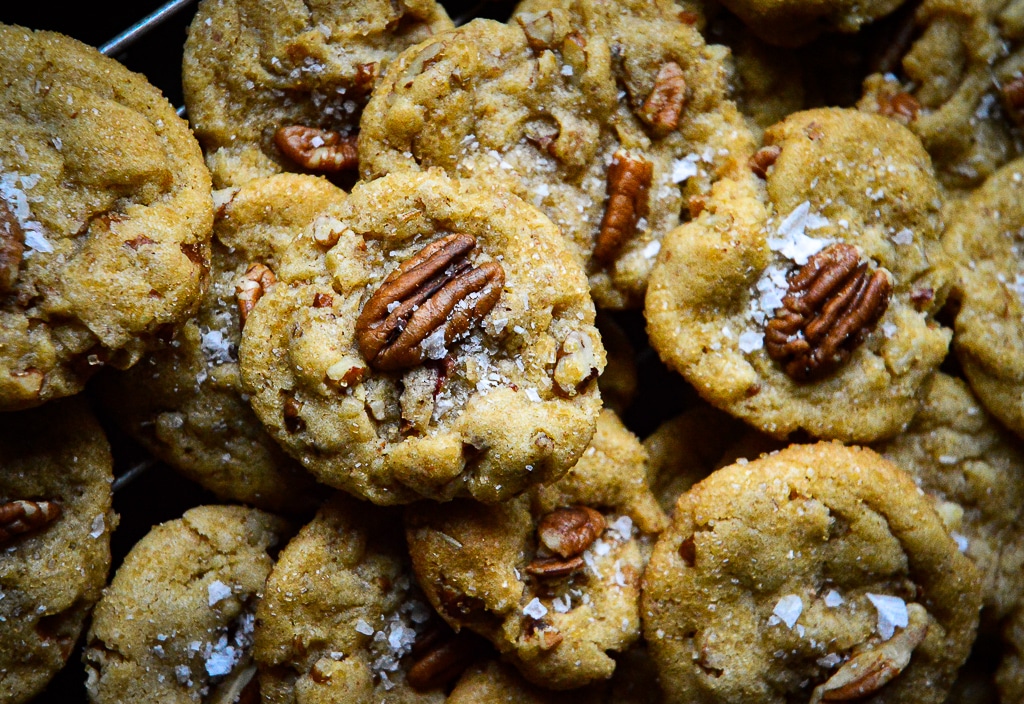 So yes, you do have to chop a few pecans. And then you toast them in BUTTER!
And then you brown MORE butter to use in the cookie dough.
You do like BUTTER, don't you?
Set that aside to cool while you are measuring out your dry ingredients.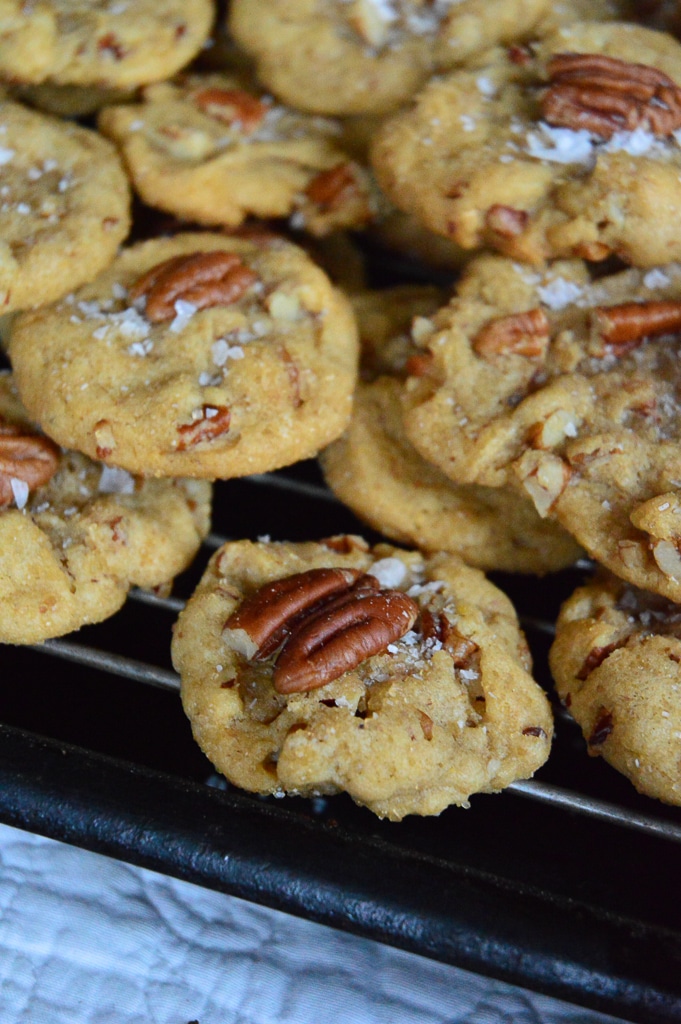 Brown butter lends an extra nutty, rich flavor to the cookie and also has everyone running to the kitchen wondering why it smells so good!
How do you brown butter?
I always use room temperature butter and a sauce pan or skillet with a light colored bottom, though that isn't necessary.
It just makes it easier to see if the particles at the bottom of the pan have turned golden.
On medium heat, place the sliced butter into melt. Stir it here and there so it doesn't burn. It will sputter and foam. This is angry butter.
But then magically the noise will stop and that's when you know it is just about browned. Take a spoon and if those particles at the bottom of your pan are brown, then you have successfully made brown butter.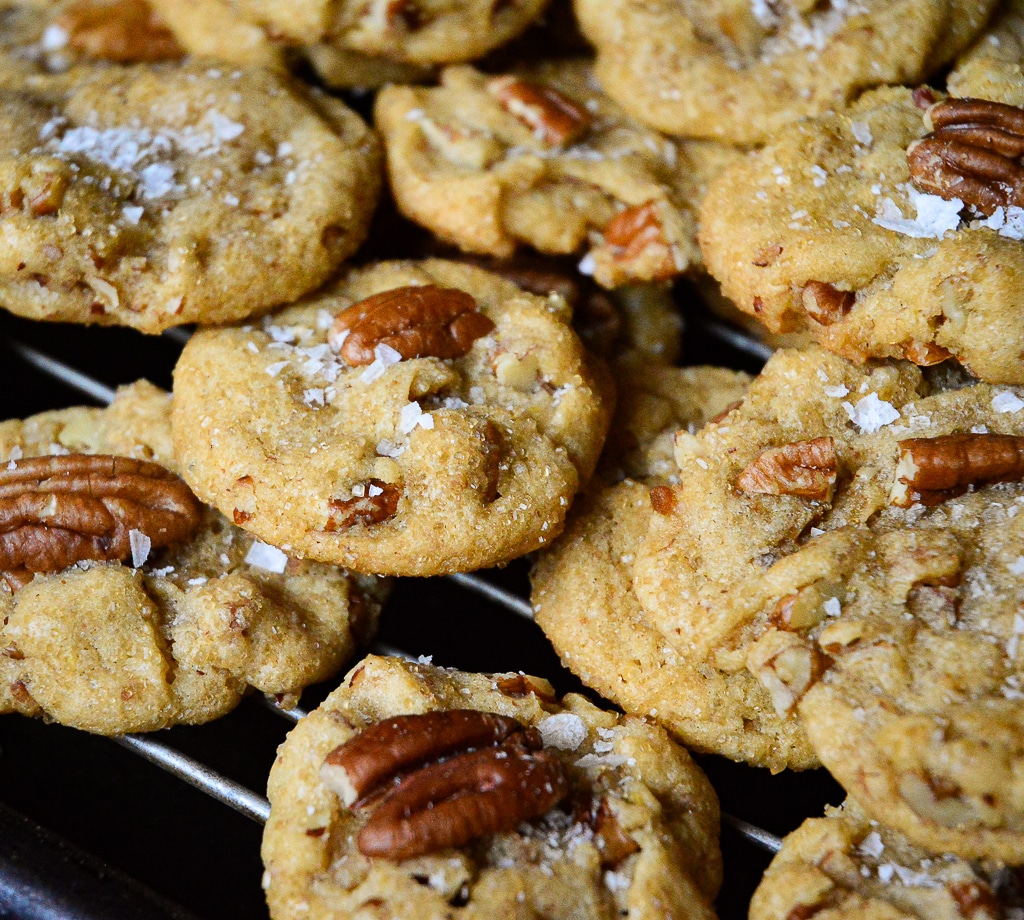 And yes, you want all those particles. Those are milk solids that have browned.
Do not let them burn.
Once finished browning remove from heat and place butter in another container to cool.
At this point you can also keep the brown butter for any recipe that requires brown butter. And even for those that don't.
Brown butter makes everything taste better. Just re-melt it if you want to drizzle it over fish or veggies or chicken. This is the easiest way I know of to make any dish extra special.
The French call this magical sauce buerre noisette.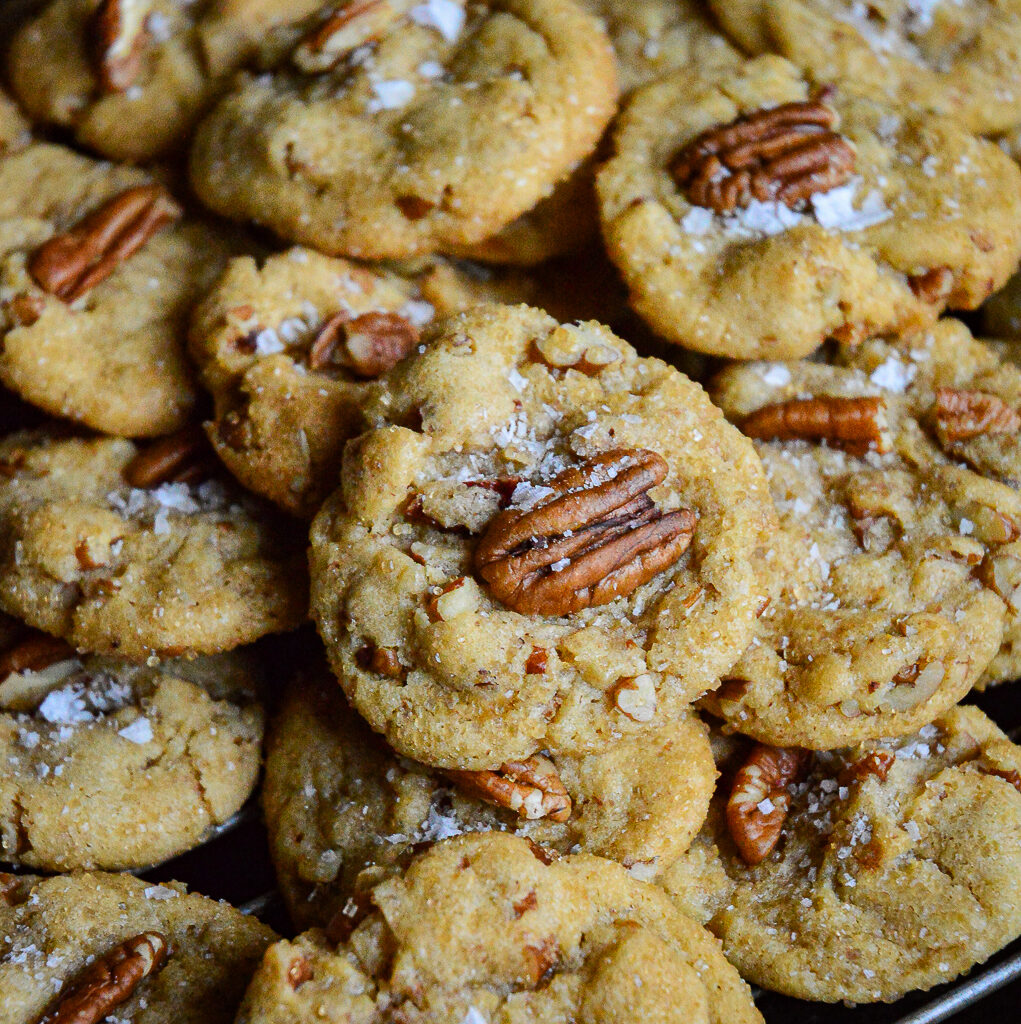 A few other things that might seem funny in a cookie…
Cornstarch is one dry ingredient you don't often see, but it is cornstarch that keeps these cookies so tender, almost as if you were using cake flour.
Regular sugar adds to the crisp, but brown sugar adds moisture and keeps the pecan cookies dense.
Can these cookies be made with other nuts? I am guessing they can, though I haven't tried it.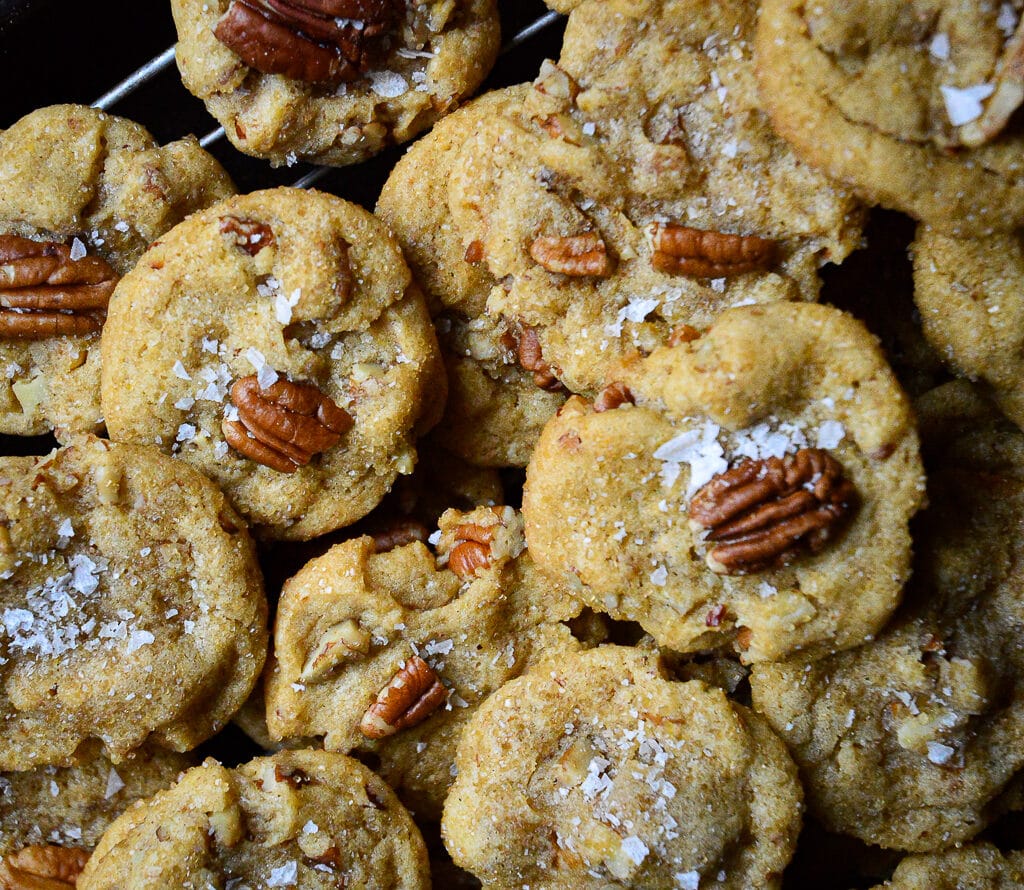 Is the salt on top critical? Well, we did love those flaky salt flakes. But that is up to you. As is the sparkling sugar I rolled some of these in.
Butter pecan cookies can be made in different sizes and so I chose a medium sized cookie. Double the portion of dough if you want them bigger.
My huge basement project is just about finished. I'm so ready to start baking again. Hoping you are, too!
More Cookies?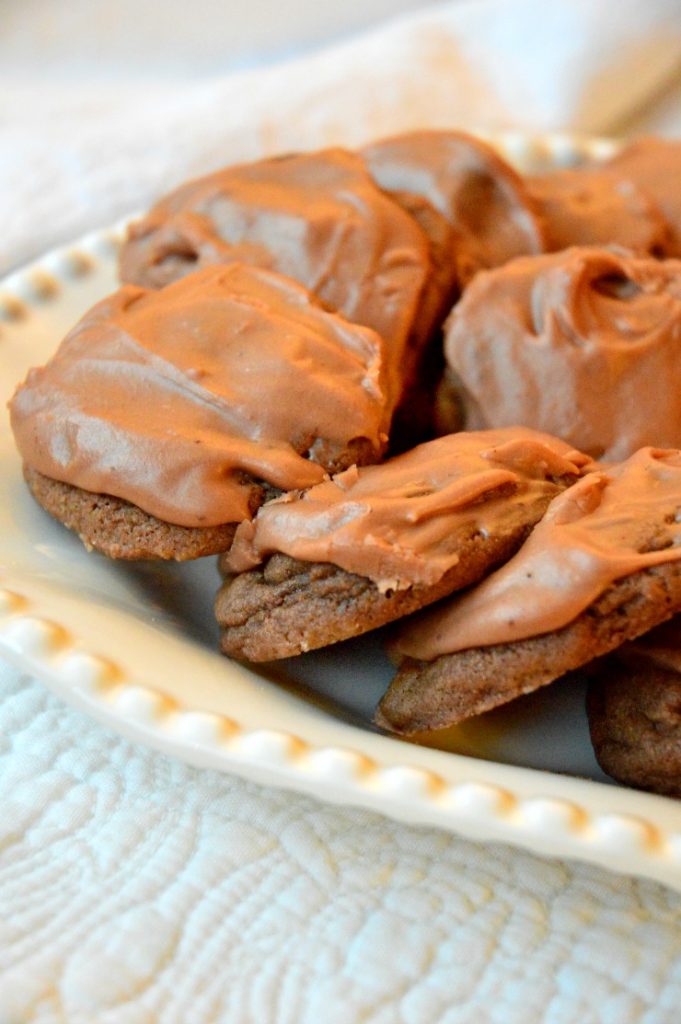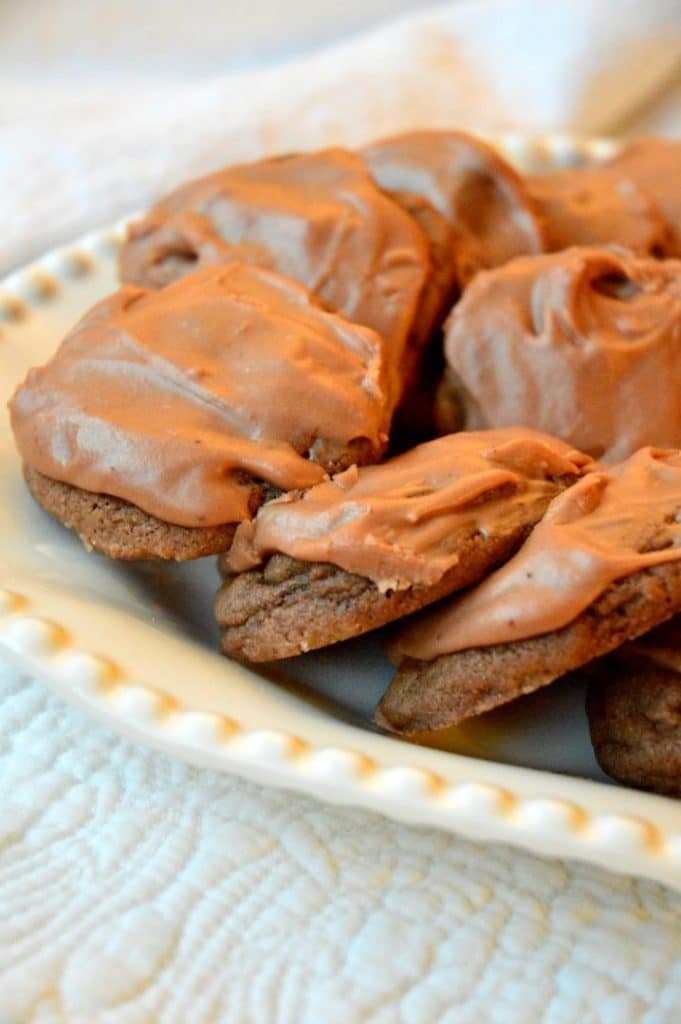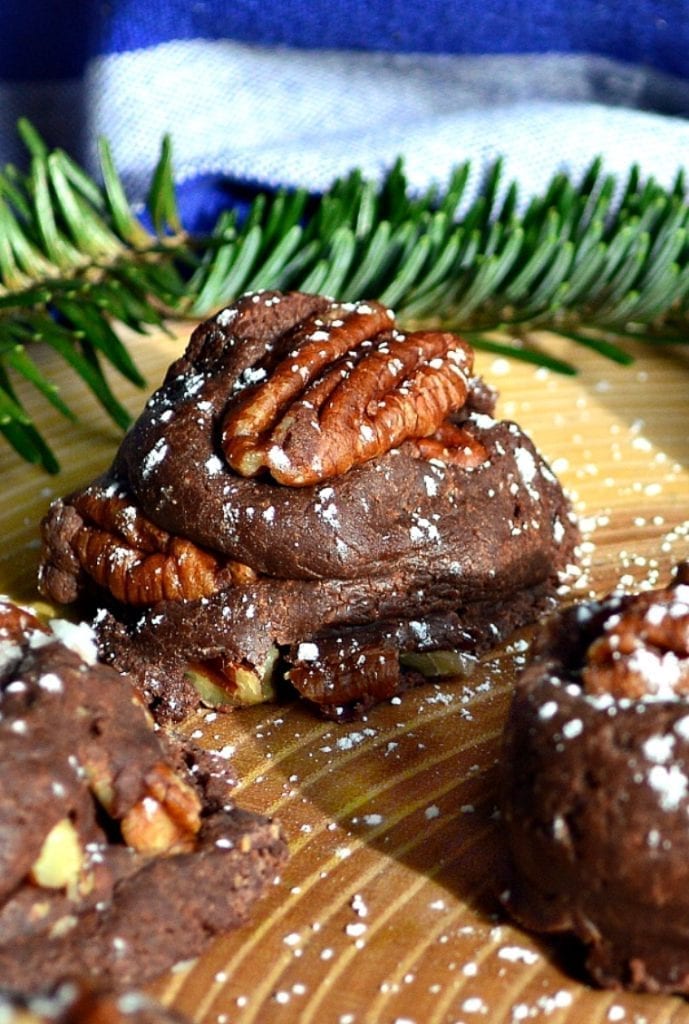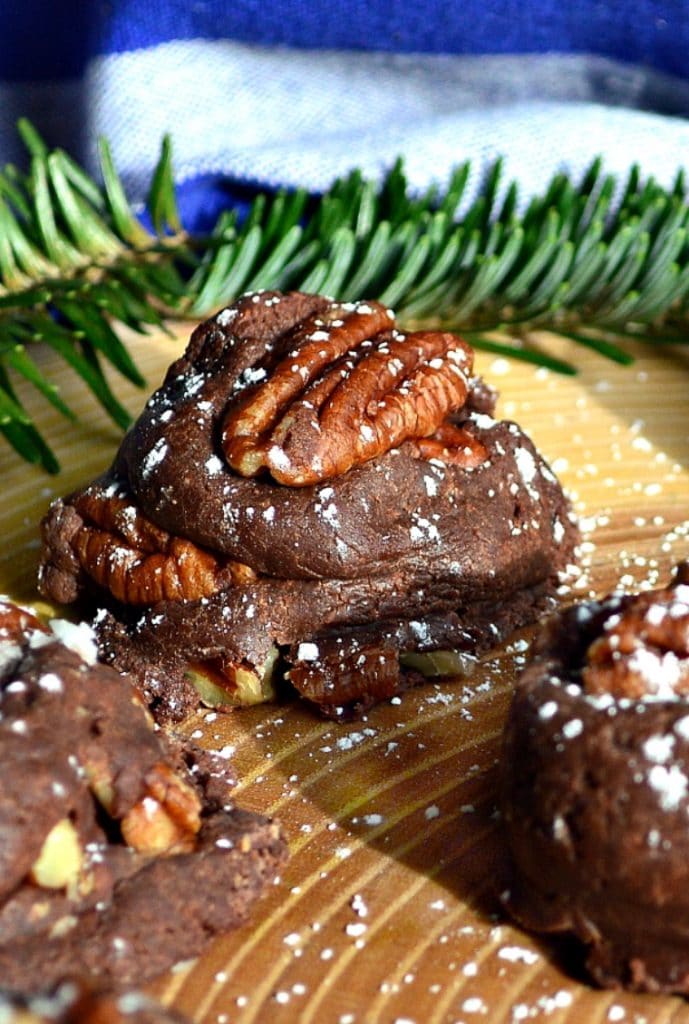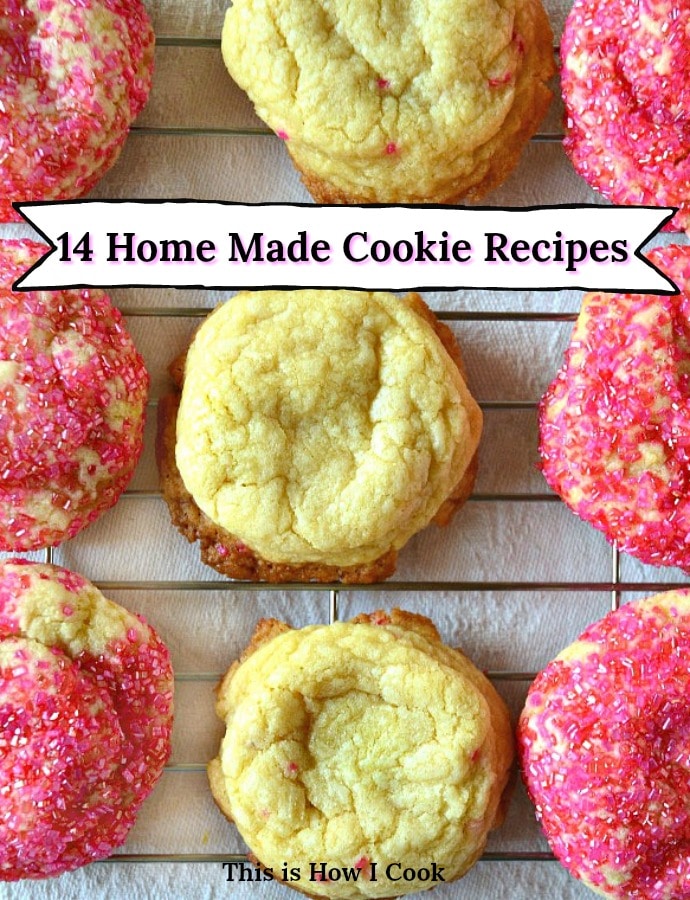 Print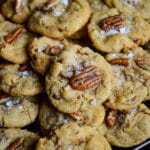 Butter Pecan Cookies
Author:

Abbe Odenwalder

Prep Time:

20 Minutes

Cook Time:

10 Minutes

Total Time:

30 Minutes

Yield:

36

cookies

1

x

Category:

Cookies/Bars

Method:

Baking

Cuisine:

American
---
Description
Butter Pecan cookies, made with toasted butter pecans and brown butter are a decadent holiday cookie. Chewy and tender and a little bit crisp, these cookies are for nut lovers!
---
1 1/2 c chopped pecans

1 1/2 T butter

Cookie Dough:
1 c unsalted butter

2 c plus 2 T flour

2 T cornstarch

1 t baking soda

1 t salt

1/2 c sugar

1 c packed dark brown sugar

2 large eggs at room temperature

2 t vanilla

Pecans for decorating

Coarse sugar for decorating

Maldon salt flakestogether

---
Instructions
Saute the chopped pecans and butter in a skillet over medium heat until fragrant and toasted, 3-4 minutes. Watch carefully and stir as needed, to avoid overbrowning! Set aside to cool.
For cookies:
Brown the butter. Heat butter in a skillet over medium high heat. It will boil. Continue cooking, stirring occasionally until the solid particles at the bottom turn golden. You will hear the butter sputtering. When it is quiet is when it is usually done. Do not let it burn! Pour into a large mixing bowl to stop the browning. Let cool about 10 minutes.
Whisk together flour, cornstarch, baking soda and salt in a large measuring cup.
Whisk sugars into the bowl with the brown butter. Whisk in vanilla and eggs until well combined.
Pour flour mixture into bowl and stir until no streaks remain.
Stir in buttered pecans.
Cover with plastic wrap, pressing the wrap down on the surface of the dough. Chill for at least three hours or up to three days. When ready to bake, remove dough from fridge and let come to room temperature.
Preheat oven to 350. Line baking sheet with parchment paper.
Roll dough into balls, about 1 1/2 tablespoons each. Place balls 2″ apart on baking sheet. If you wish to roll in sugar now is the time to do it. It is also the time to place pecan halves on top, if you are so inclined.
Bake on the middle rack until edges are set and just beginning to turn golden, about 9 – 12 minutes. The tops of the cookies will still be soft and these may appear under baked. They will firm up while cooling.
Sprinkle with salt flakes. Let rest on baking sheet for 5 minutes, then transfer to a cooling rack.
I store these in giant zip lock bags. They can also be kept in the freezer, as can the dough balls. Just let them come to room temperature before baking.
---
Notes
Adapted from Alice Medrich.
Keywords: cookies with pecans, cookies pecan, butter pecans, butter pecan cookies, pecan cookie recipe