This simple, marinate and bake za'atar chicken recipe, is a favorite of mine from Yotam Ottolenghi. Mediterranean flavors, combined with lots of red onions and lemon, make this simple dinner totally mouthwatering.
I don't know about you but I'm always looking for uncomplicated recipes.
Even though I write about food doesn't mean I always have dinner planned!
So when I find a good recipe that requires not much thought, I totally embrace it.
This succulent chicken is very interesting with the variety of herbs and spices that it contains.
No, not that many, but probably a combination that you wouldn't have thought to throw together.
I hope by now you've tried za'atar-the zesty thyme and sesame mixture that amazingly contains so much flavor.
Yes, I use it on everything from cream cheese to top my bagels, scrambled eggs, avocado toast, grilled fish and yes, this chicken.
Once you try it I guarantee there is no going back.
When it first became popular I bought it at Middle Eastern markets, but now you can find it at most grocery stores, including Trader Joe's.
What does zaatar taste like?
Well, I always told my kids that everyone has their own tastes and tastes change so it was important to keep trying things, because one day you might like it.
That always worked for them, because only two bites were needed to see if one's taste had changed.
In any case, I have no doubt that zaatar which tastes sometimes a little salty, a little woodsy, sometimes citrusy, or nutty and well, zaatar is a bit complicated because it really depends on who made the mixture.
The zaatar I buy at the Middle Eastern market is always greener in color, never contains salt, and is often labeled just thyme and sesame.
Other spice makers add everything from sumac to salt and often oregano or marjoram. SO, you can see, each zaatar mixture is a bit different.
The truth is I like them all!
What other spices are in this Za'atar chicken recipe?
Besides za'atar this zaatar chicken recipe contains allsipce and cinnamon.
I've never used allspice in many savory dishes but it totally makes the flavor of this chicken unique.
And since I'm sure many of you have a jar of allspice that needs to be used, this is a good place to use it.
No, I don't recommend using old spices so taste it first to see if there is any flavor left in it.
The same with your cinnamon. Honestly, good cinnamon is so worth it.
After I started buying the Saigon cinnamon from Savory Spice, there was no going back and that was years ago!
Sumac is another ingredient that is also starting to become popular and for good reason.
It tastes like lemon and who doesn't love lemon?
If you don't have any fresh lemons on hand just add a dash of sumac for that lemony taste.
Of course it does make things a bit pinky, but who doesn't love the color pink?
How do you make Za'atar Chicken?
Truly it doesn't get much simpler!
Take your favorite pieces of chicken and place them in a big zip lock bag along with 2 sliced red onions, olive oil, garlic, the seasonings and a slice lemon.
Add a little chicken stock and let this marinate for as long as you can stand it.
Overnight is good, but even a few hours is better than nothing.
When you are ready to bake this preheat your oven to 400 and place the chicken on a baking sheet with a rim or in a cast iron skillet, like I did.
The more space between the pieces, the more browning you will get. After all you don't want stewed chicken!
Sprinkle with the za'atar and place in the oven.
Let this roast for 45 – 60 minutes. How long it takes depends on how the chicken you used.
This za'atar chicken recipe works great with boneless, skinless chicken breasts or even a spatchcocked chicken.
Once it's baked it's ready to serve.
I love serving it with these Lebanese potatoes or this very pretty and tasty saffron rice.
You may want to add my favorite spinach salad made with za'atar croutons, pickled red onions and pieces of sweet dates.
Za'atar is one of my favorite seasonings so it's about time that I updated this post from 2015!
This is a great chicken and onions dish from Ottolenghi's book, Ottolenghi.
I am a fan and I know you know it.
Now bookmark or pin this zaatar chicken. It's a good one to have in your back pocket even if you have time to cook dinner!
Other Ottolenghi Recipes:
I'd Love it if You'd Follow Me and Pin and Share:
Print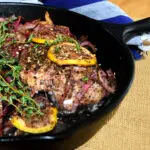 Za'atar Chicken with Lemon and Red Onions
Author:

Abbe Odenwalder

Prep Time:

15 Minutes

Cook Time:

60 Minutes

Total Time:

75 Minutes*

Yield:

4

-

6

Servings

1

x

Category:

Main Course

Method:

Baking

Cuisine:

Middle Eastern
---
Description
This za'atar chicken recipe from Yotam Ottolenghi is easily made by marinating the chicken and then baking. Made with lots of Middle Eastern spices, this is one delicious chicken recipe!
---
1 4-5 lb chicken cut as desired
2 red onions thinly sliced
3 cloves garlic, crushed
4 T olive oil
1 1/2 t ground allspice
1 t cinnamon
1 T sumac
1 lemon, thinly sliced
3/4 c water or chicken stock
1 1/2 t salt
1 t freshly ground pepper
2 T za'atar
To Garnish: (Optional)
Pine nuts sauteed in butter
Fresh chopped parsley
Drizzle of olive oil
More za'atar and sumac
---
Instructions
In a large zip lock bag mix chicken with onions, garlic, olive oil, spices, lemon, stock, salt and pepper, (not the za'atar).
Let marinate for a few hours or even overnight.
Preheat oven to 400. Transfer the chicken and marinade to a baking sheet large enough to accommodate all of the chicken lying flat and spaced apart, skin side up.
Sprinkle with za'atar and place in oven. Roast for 45-60 minutes, until the chicken is colored and cooked through.
Transfer the chicken and onions to a serving platter and finish with your chosen garnishes. I always sprinkle on more za'atar and sumac!
---
Notes
*Does not include time to marinate
Keywords: za'atar chicken, za atar chicken, za atar chicken recipe, chicken and onions,