Ultimate Sticky Buns must have soft insides that are tender and tear apart when pulled gently. The sticky brown sugar syrup should taste like buttery liquid caramel. The ultimate sticky bun will no doubt leave you wanting another.
Sticky Buns are something I haven't baked since college.
These caramel bites of brioche saturated with brown sugar syrup have been missing from my life for a long time.
I've had this recipe bookmarked and have been wanting to make it for like… forever.
It seemed like there was no better occasion than Alex coming home, so out came the flour and yeast and I got to work.
My intention was to have these for breakfast the first morning China Boy was home but my refrigerator was to cold and it took the dough a bit long to rise.
Let's just say they became an after lunch treat.
I'm not sure when I printed this recipe from Joanne Chang of Flour fame.
The Joanne Chang with a PHD in math who graduated from Harvard and ended up as a baker. A very successful baker.
My parents would have died had I gone to Harvard, received a PHD and then become a baker.
I'm sure glad Joanne's parents weren't like that, but then again I don't know what her parents were like, however I'm grateful for this recipe.
Each one of these 12 gooey ultimate sticky buns is so worth it.
I'm not going to lie. This recipe for the ultimate sticky buns takes time. But most of it is waiting for the dough to rise.
Most of it is torture. Torture waiting to sink your teeth into one of these swirled slices filled with sugar and nuts and covered with sticky gooey syrup.
You might say I'm obsessed. After all they do contain almost 1 pound of butter.
However in this recipe's defense, I did also end up with a loaf of brioche.
Yes 12 sticky buns and 1 loaf of brioche that is waiting for me in the freezer for the next time I want French toast or perhaps just an incredible sandwich.
There are four major steps involved in making these ultimate sticky buns.
After all they are ultimate sticky buns! I've said that a zillion times!
4 Steps to Making The Ultimate Sticky Buns:
The first is making the dough.
The second is making the filling.
The third is the sticky syrupy goo.
The fourth is rolling out the dough and shaping the buns. This is my favorite part next to eating them!
They are not hard, but please read all instructions carefully and read them through a few times before you begin.
It does help to have a stand mixer that can knead bread dough.
Last but not least, timing is important if you want these in the morning.
If you've never worked with yeast dough, there is no time like the present.
It isn't hard and once you make this or other yeast doughs, you start to get a feeling for the dough. Really.
It is pure comfort to me, as long as I have set aside the time.
Dough can't be rushed, so leave time for rising. Sometimes it takes longer than others depending on how cold your house is.
My house always seems cold to me so I have a few tricks up my sleeve to get the dough to rise. Read on and I'll fill you in!
I love bread to start my day and I love it in every shape of flavor.
Whether it's a cinnamon roll or a sticky bun, either will make me a very happy girl!
A few more of my faves: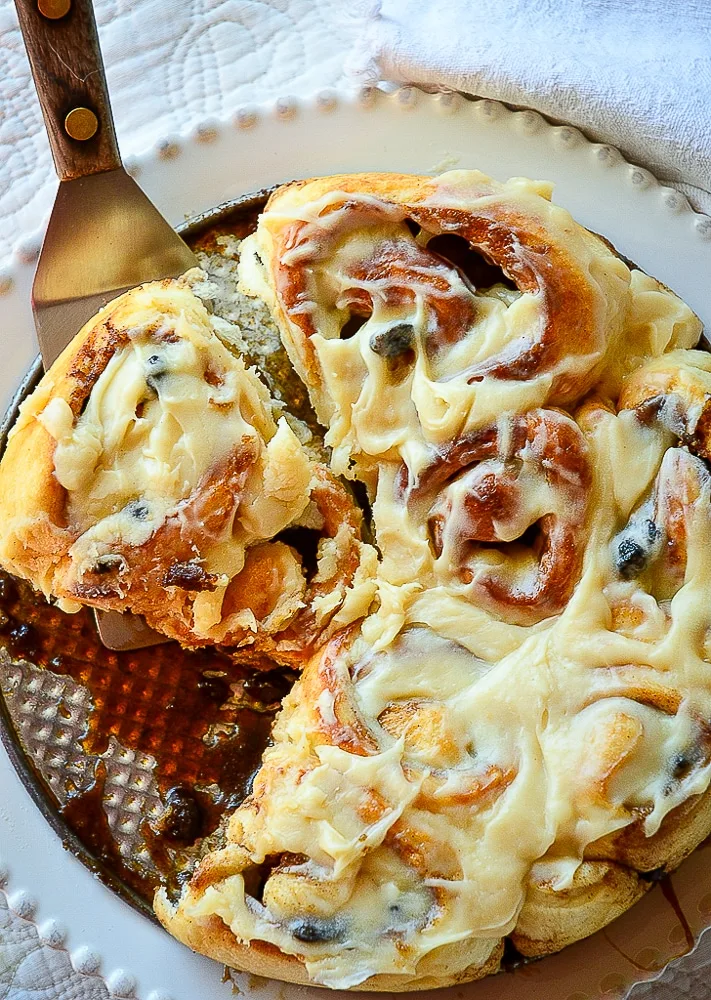 Print
Sticky Buns…The Ultimate
Author:

Abbe Odenwalder

Prep Time:

60

Cook Time:

45

Total Time:

2 hours*

Yield:

12

-

16

Buns

1

x

Category:

Breakfast

Method:

Baking

Cuisine:

American
---
Description
The Ultimate Sticky Bun must be sticky, syrupy, and gooey and taste like liquid caramel. This brown sugar syrup should contrast with the soft inside of the bun which should be tender and tear apart. The ultimate sticky bun will leave you wanting another.
---
Brioche Dough for Sticky Buns
2 1/2 c bread flour
2 1/2 c all purpose flour
3 1/4 t active dry yeast (check expiration date)
1/3 c plus 1 T sugar
1 T salt (I use Morton's Kosher salt)
1/2 c ice water
6 eggs (one is for egg wash)
2 3/4 sticks butter, softened (cut into 10 pieces)
Sticky Bun Filling
1/4 c brown sugar
1/4 c granulated sugar
1/4 to 1/2 t cinnamon (this is your preference)
1 c pecans or walnuts (toasted and then finely chopped) 1/2 of the nuts reserved for goo
Sticky Buns Syrup or Goo
1 1/2 sticks butter
1 1/2 c brown sugar
1/3 c honey
1/3 c heavy cream
1/3 c water
---
Instructions
Brioche Sticky Bun Dough
In a large bowl of a standing mixer, combine both flours, yeast, sugar, salt, ice water and 5 eggs. I realize this is not a traditional method of making yeast dough but it worked! Beat with a dough hook on low speed for 10 minutes. You may have to stir this up from the bottom and stir it down from the top. It will be very dry. Do not fret.
After about 10 minutes the dough should be somewhat combined. I took it out of the bowl and worked it with my hands for a few minutes and it is a tough dough until….You magically start adding the butter. With the dough hook, start adding 1 piece of butter one at a time until each chunk is mixed in. This will take about 20 minutes. Continue kneading until the dough starts to slap the sides of the bowl and it also starts to form a ball. Feel free to hand knead a bit at this point. If the dough still feels dry after adding the butter feel free to mix in a touch of water slowly. (Colorado is very dry so I often have to add a bit more water.)
When dough comes together and you have shaped it into a neat little ball, place in a buttered bowl. Cover the dough ball with plastic wrap and set aside to rise in the refrigerator for at least 6 hours. I left this overnight in the fridge without a problem except that it took longer to come to room temperature in the morning.
After removing from fridge, let dough warm up so that it can be rolled out. Depending on how cold the dough got will depend on how fast this happens. With your hands roll dough into a log cylinder. Divide that cylinder in half. To make a loaf of brioche roll dough into a 9″ square and then fold top third of dough to the center. Then fold bottom third of dough to the center. Press to join the layers, tuck ends in and place into a buttered 9 x 5 loaf pan. Cover lightly with plastic wrap and set in a warm place to rise for about two hours.(I like to use a sunny window or if the room is cold I often preheat my oven to the lowest temperature and then turn it off. I place the dough into the turned off oven with the oven door open.)
With the other half of the dough on a floured surface roll out dough approximately 1/4 inch thick into a rectangle about 16 x 12. Sprinkle with the filling. Roll up into a tight cylinder and slice off about 1/4 inch from each end to make perfect buns. Cut cylinder in half and cut each of those halves into 6 even slices.
Place each roll cut side down into a 13 x 9 pan evenly spaced. Cover with plastic wrap and place in a warm spot until buns are pillowy and have doubled in size. This will take up to two hours.
When buns and bread are ready to be baked, preheat oven to 350. Brush loaf with your remaining egg that has been beaten. Bake 35-45 minutes or until bread and buns are golden. Let buns cool in pan for at least 1/2 hour so you don't burn your mouth. I kept the leftover buns in the pan with the goo covered for about 4 days without any problems. They can be reheated at 325 for 6-8 minutes tented with foil. Make sure to spoon extra goo over the top.
The brioche loaf should cool for about 30 minutes and then can be turned out of the pan. Let cool fully. Mine is now wrapped and in the freezer for future use!
Sticky Goo
Melt 1 1/2 sticks of butter. Whisk in sugar and stir until it dissolves. Whisk in honey, cream and water and whisk until combined. I made this the day before and kept it in the measuring cup. The next day I stirred it and then poured it into the 9 x 13 pan. Sprinkle with half the nuts and this pan is ready for your buns!
Filling
Combine sugars, cinnamon and 1/2 c of the nuts and set aside until ready to use.
---
Notes
*Times above do not include rising times.
Keywords: best sticky buns, sticky buns recipe, ultimate sticky bun, sticky buns with pecans, joanne chang sticky buns, flour bakery sticky buns,