Cardamom Buns are to Sweden, what cinnamon rolls are to us. (Meaning those in the USA) Traditionally eaten in Sweden during coffee break or fika (as they call it), I made these Swedish cardamom buns to accompany our Swedish brunch. But to be honest, I made these because I really wanted to know what cardamom tastes like!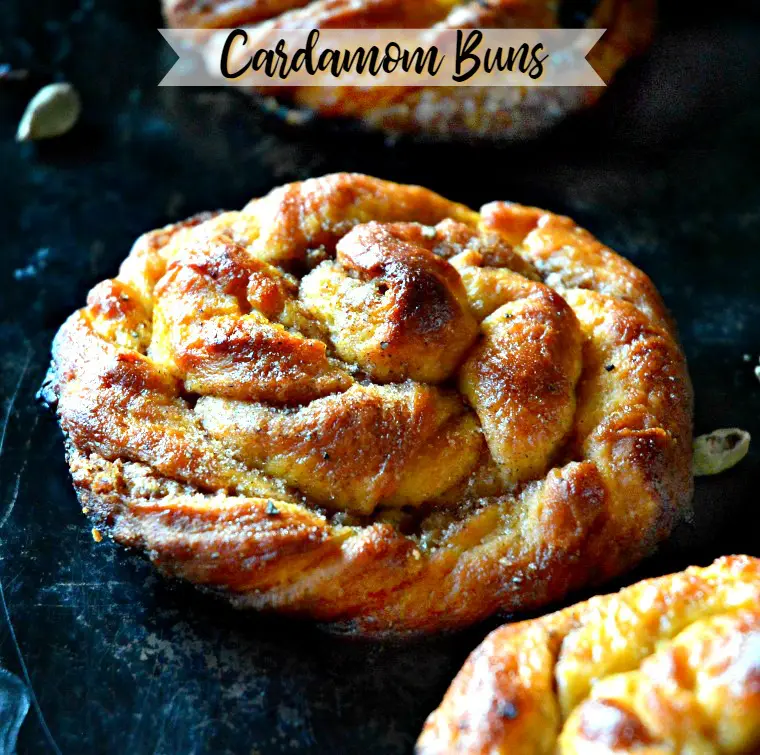 I grew up in a home with a father who had an aversion to spices.
In fact, he has improved as he ages, but he is still leary of cilantro and cumin and if I ever mention a particular spice, my mother always says, "your father doesn't like that."
I'm not really sure what he doesn't like, but my dad prefers simple food.
Cardamom was not in my repertoire growing up and it only recently became something I kept in my spice cabinet.
To truly discover what cardamom tastes like I figured these traditional cardamom buns would be worth trying.
So, what does cardamom taste like?
Good question. Quite aromatic, cardamom is a bit citrusy, with a hint of mint and pepper and unlike anything I can compare too. Because of the way it is used, one could substitute cinnamon for cardamom, though cinnamon and cardamom taste nothing alike. They do tend to compliment each other though, and are often used in the same dishes.
Well, how did cardamom get to Sweden?
Brought from Turkey by the Vikings, cardamom is used throughout Scandinavia. Per capita use of cardamom is 60% more in Sweden, than in the US. It's said that f you want to taste Sweden, add cardamom to whatever you are eating. And I always thought it should be lingonberry jam!
What is cardamom used for?
Indian and Middle Eastern foods often use cardamom. Besides flavoring baked goods, cardamom is used in syrup or other drinks.
My favorite tea from Sadaf has cardamom in it. I can only find it in Middle Eastern groceries, but of course Amazon has it!
Cardamom can be used as a breath freshener, by chewing its seeds. For other Swedish cardamom recipes from The Cooking Channel click here.
Saveur has another great assortment of international recipes using cardamom, if you want something besides Swedish food.
3 Types of Cardamom
Swedish recipes almost always use green cardamom,which comes in green or white pods.
The white pods are bleached green pods.
Apparently when green cardamom pods made their initial ocean crossing, the dryness, heat and salt air bleached the green pods, which turned them white. Now most think the green pods have more flavor because they are fresher. These are found in Scandinavia.
White and green pods are found in the US. I know, because I found them, but before researching I had already bought the white.
Black cardamom may be the same (my fact checking wasn't clear on this) as green cardamom, though harvested later.
It has a stronger flavor and also a smokier one, because they are dried over a fire pit. Black cardamom is often used in Indian and Middle Eastern cooking.
Uncommonly found is red cardamom, which is often called Chinese cardamom.
This cardamom is strong, resembles walnuts and often used in Chinese long braised stews.
Cardamom is the third most expensive spice in the world after saffron and vanilla.
Cardamom comes in a small seed pod that when broken open, looks like small black peppercorns. The seeds are easily ground up and their odor resembles pepper, at least to me.
You need about 6 pods to make one teaspoon.
Cardamom is one spice I try to buy in bulk or at the spice store. This way I can grind it myself and since I don't need much, I don't need an entire bottle to get old in my spice cabinet.
Not having a spice grinder, I used a meat mallet to pound my cardamom pods between two paper plates. It worked!
Where is cardamom grown?
Cardamom is grown in cool humid weather at a high altitude, and is a member of the ginger family.
Since 1980 Guatemala has been the world's leading producer, which is strange, because I can't name one food from Central America that uses cardamom.
Maybe you can! Cardamom thrives in Guatemala's cloud forests. But how did it get there?
In 1914, a German coffee farmer tried growing it to see if he could undercut Indian growers. Well, it must have worked because now Guatemala produces over half the global supply.
Cardamom Buns
So after all this, I hope you know a bit more about cardamom.
Rather than having my Swedish bun with coffee, I will have mine with cardamom tea.
At brunch Zoe, and her friends who are from Philly and New York, raved about how much they love cardamom.
Well, maybe I'm not in the right place because here in Denver a Swedish cardamom bun is hard to find.
I should probably say that with a question mark. because my guess is that if I ventured out of my little suburb, I'd have no trouble finding them downtown.
In any case, I now have a freezer of cardamom buns, because I forgot to send the extras back with Zoe.
Not that that's a bad thing because these buttery, rich and sugary buns are heavenly.
They are sprinkled with sugar, baked until golden and the aroma that emanates from the oven would send the neighbors running over…if the windows were open.
However right now it is about 17 degrees and the windows are closed.
Which means Swedish cardamom buns are residing in the freezer until Zoe returns, or Manservant finds them first!
Note: Saveur had a great post on cardamom in their global baking issue.
It is there I learned about the Guatemala connection and it is there I got this great recipe.
These buns are not hard to make, but please allow time because you are using yeast. To be honest I loved shaping these…that was a lot of fun. (I know; I'm easily entertained!) I love the rosette shape and couldn't believe I could figure it out!
I do also have a great BBQ sauce that has cardamom in it. Check it out!
Need some other winter baking projects?
Chocolate Krantz Cake or Babka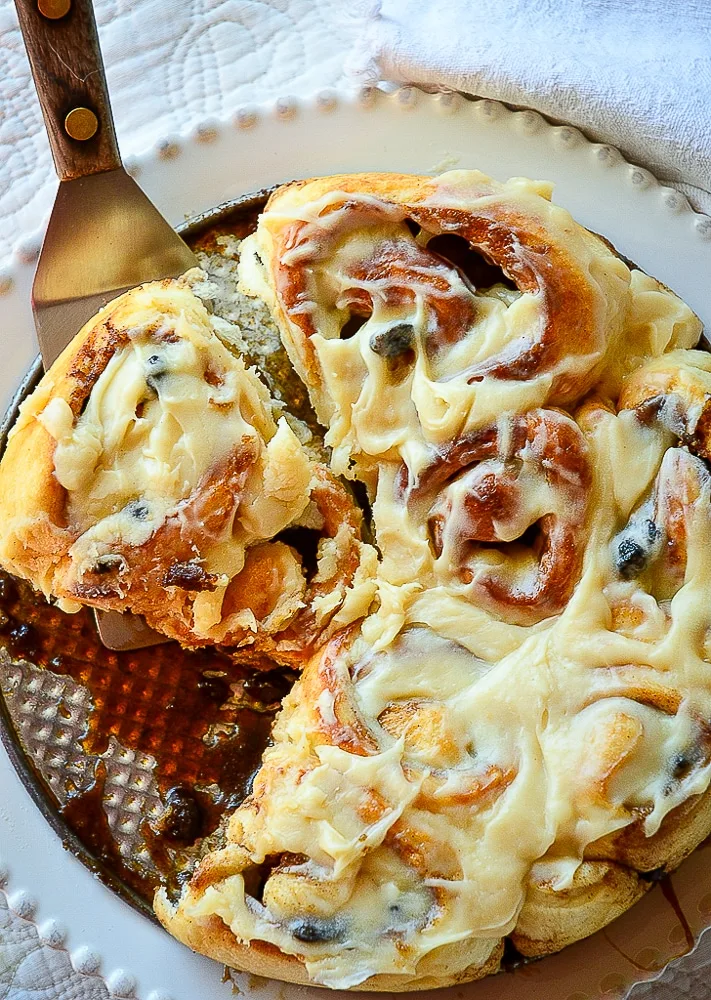 Please Pin and Share the Buns:
Print
Cardamom Buns and Cardamom
Author:

Abbe Odenwalder

Prep Time:

30 Minutes

Cook Time:

20-25 Minutes

Total Time:

1 hour active time

Yield:

12

buns

1

x

Category:

Brunch/Breakfast

Method:

Baking

Cuisine:

Swedish
---
Description
Cardamom Buns are to Sweden, what cinnamon rolls are to us. (Meaning those in the USA) Traditionally eaten in Sweden during coffee break or fika (as they call it), I made these Swedish cardamom buns to accompany our Swedish brunch. But to be honest, I made these because I really wanted to know what cardamom tastes like!
---
1/2 c cold milk

1 T rapid rise yeast

3 large eggs

1 t vanilla extract

3 1/4 c all purpose flour, plus more as needed

1/2 c sugar, divided

1 1/4 t kosher salt

16 T or 8 oz cold, unsalted butter, cut into cubes

1/4 c brown sugar

1 T coarsely ground cardamom seeds, with pods discarded

1 t ground cinnamon

4 T unsalted, softened butter
---
Instructions
In a small bowl, whisk the milk and yeast. Whisk in two of the eggs and vanilla and set aside.
In the bowl of a stand mixer fitted with the paddle attachment, mix the flour, 1/4 c of sugar and the salt. Add the cold butter cubes and mix on low speed until they are broken down to the size of small peas, about 1-2 minutes. With mixer running, drizzle in the milk mixture and mix just until a dough forms.
Lightly flour a work surface and turn out the dough onto it. Knead gently to form a ball, then flatten it into a disk about 1″ thick. Wrap tightly in plastic wrap and refrigerate until firm, about 6 hours or overnight. (I did overnight.)
About 2.5 hours before you plan to serve the buns, take the dough from the fridge. Line two baking sheets with parchment. In a 2 c measuring cup, combine the remaining sugars, cardamom and cinnamon. Mix well.
In a small bowl, beat the remaining egg with a splash of water and set it aside.
Lightly flour a clean work surface and rolling pin and roll out the dough into a 12×16″ rectangle. With the short side facing you, use a spatula or the back of a spoon to spread the softened butter in an even layer over the dough, leaving a 1″ border along the top and bottom edges of the rectangle. (If the butter is cold, I place it in the microwave in its paper wrapper and heat it for 10 seconds.) Sprinkle the sugar mixture over the butter, then brush the bare borders with the remaining beaten egg, reserving the rest for later. Fold the dough in half so the egg washed borders meet, then cut it perpendicular to the fold in 12 even strips. Press gently together.
Working one at a time, left each of the strips by their two short ends, and twist in opposite directions while pulling and stretching slightly to make a loose twist. Coil the strip around one of its own ends to make a circular bun, then tuck the outermost end beneath the dough.
Transfer to the baking sheet, leaving three inches between each bun. (At this point I refrigerated my buns, covered them and kept them overnight to bake before brunch. I then took them out to rise at room temperature for about 2 -3 hours before baking.) Cover with plastic wrap and set aside until the buns are puffed and soft, about 1.5 hours.
Preheat the oven to 400 and place two racks near the center with at least 5″ between them. Brush the surface of each bun with egg wash, then bake, rotating the sheets halfway through, until golden brown, 20-25 minutes. Remove and sprinkle with the leftover sugar that will fall from your coils. Let cool slightly before serving.
---
Notes
Times do not reflect rising times. Read my posts for tips on cardamom.
Keywords: cardamom buns, Swedish cardamom buns, finnish cardamom buns, cardamom buns recipe, traditional cardamom buns