A skillet to oven tri tip roast is so easy to make. Economical and tasty, a tri tri roast, can make an elegant meal.
Meat is something I don't make often, but given that Alex Odie-San is home and Manservant loves anything labeled beef, I thought I'd make them a roast.
Roast is something I grew up with. My grandfather was a butcher.
We had beef easily 6 nights a week, with chicken or pasta as a special treat.
My mother knew how to handle a good rump roast, a sirloin tip roast and a brisket.
Not to mention a prime rib or a tenderloin, a chuck roast or an eye of round, and a strip loin roast.
Let's face it. She was good with roast.
What a shame that when I actually went looking for a roast, I could only find a chuck roast or a prime rib.
Where are these roasts going? And that includes you Whole Foods. And you, Sprouts.
And even Tony's Meat Market, here in Denver.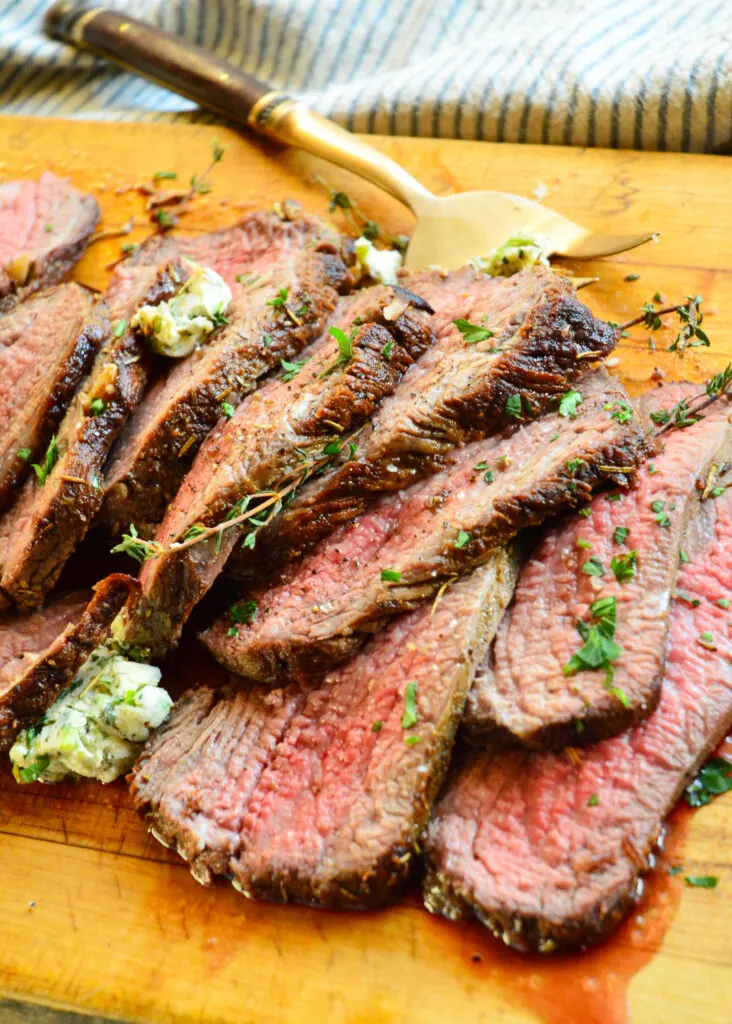 Honestly, where are the roasts?
Finally, at my local Kroger's, I located a whole tri-tip roast, so that is what I made.
Now mind you, I didn't eat it. I left that to my two men and Geordie.
They gave two thumbs up to this simple recipe.
This delicious roast, often seen as a Santa Maria steak, is started on the stove in a cast-iron skillet.
After it is seared, it finished in the oven.
What's so good about this roast?
Besides it being more economical than others, and because of the way it is shaped, it can satisfy those who like rare and those who like well-done.
It can also be made on a gas grill, but I chose to make this roast a bit more up-scale, given how close we are to the merriest of holidays!
I prepared my own dry rub consisting of rosemary, smoked salt and black pepper.
I cut little slits all over this triangle roast and shoved in slices of fresh garlic.
And I served it with a homemade compound butter.
Within 10 minutes this tri-tip roast was in the iron skillet and then into the oven, with dinner on the table in less than an hour.
I would say it doesn't get much better than that except according to my boys, it does.
Think steak sandwiches and tacos and scrambled eggs and roast!
The roast I found at Kroger's was in a plastic bag and weighed about 3.6 pounds.
I hate to tell you, that about 1.5 pounds was the fat cap. That didn't make me happy, but the fat did help keep the roast nice and juicy, but a little trimmed would have helped with the price!
Though it is not necessary to trim off all the fat-and you shouldn't- be sure to slice off the silver skin, which is a thin membrane of connective tissue that is found on various meat cuts
How To Cook a Skillet to Oven Tri Tip Roast
Begin by poking in fresh garlic slices all over the roast. If you want to skip that step, add 1 teaspoon of garlic powder to the rub.
Make the spice rub and be sure to cover the roast on all sides including the ends with the rub.
Let roast sit for a few hours before baking. If you have time, let it sit overnight in the fridge, but bring to room temperature before cooking.
If you want to make the compound butter, do it about three hours or longer, before you intend to use it.
That way it will be sliceable and melt easily when placed atop the tri tip roast.
Preheat the oven to 425 degrees f.
To cook, get out a large heavy skillet, such as a cast iron pan, and heat it on medium-high heat.
Add a tablespoon of olive oil and wait until it begins to smoke.
Add the tri-tip to the pan, fat side down and sear for about three minutes, including the edges which will only take about 20 to 30 seconds.
Turn the roast over, so that the uncooked side is on the bottom of the pan.
Place in the oven and roast about 12 minutes per pound.
I roasted mine until the internal temperature reached 130 degrees on an instant-read thermometer.
I then let the tri tip rest, lightly covered with aluminum foil, on a cutting board for 10-15 minutes until it reached 140, which is considered medium rare.
Serve it with or without the compound butter.
How to Slice a Tri-Tip Roast
Slicing this tri-tip steak, as some like to call it, is the trickiest part.
The tri-tip has muscle fibers that run different directions and one must remember to always slice against the grain, not with the grain!
This diagram will show you the correct way to slice this triangular cut.
After using a very sharp knife and slicing into thin slices, I served this delicious cut of beef with compound butter made with the same seasonings I used on the tri-tip in addition to some charred scallions.
What is a Tri-Tip Roast?
A tri-tip roast, or a triangle steak, or a bottom sirloin steak, comes from the bottom part of the sirloin, and is often called a Santa Maria steak.
This California cut became popular in California, at a local Safeway grocery store, when it was cooked outside over a rotisserie.
Hard to believe that happening anymore, but this was in the mid-50's!
The Santa Maria rub consists of garlic, pepper and salt and shows how just a few simple seasonings can make a flavorful cut of meat so good.
In the cold of winter this is the best way to make a tri-tip, if you don't want to heat up the charcoal grill.
Enjoy it and if you've never tried making one, now is the time.
They appear to be easy to find and this cooking method turns out a perfectly cooked cut of beef.
Serve this skillet to oven tri tip roast with some scalloped potatoes, mushrooms and a salad and you have a meal two men will always ask for!
You Need More?
Grilled Lamb with Mint Marinade
Print
Tri-Tip Roast
Author:

Abbe Odenwalder

Prep Time:

15 Minutes

Cook Time:

25 Minutes

Total Time:

45 Minutes

Yield:

4

to

6

Servings

1

x

Category:

Main course

Cuisine:

American
---
Description
A tri tip roast is a great way to serve beef. This easy to prepare and economical cut is quite delicious!
---
2 lb tri tip (I bought a 3.5 lb tri tip and trimmed it a bit, and it worked out to about 2 lbs!)
1 T olive oil
3 large garlic cloves, sliced thin
3 t dried or fresh rosemary
1 1/2 t smoked salt
1 1/2 t black pepper
1 1/4 t coarse salt
Compound Butter
1 stick unsalted butter, softened
1 minced or grated garlic clove
1 T chopped fresh thyme or rosemary
1 T chopped parsley
1 t fresh lime juice
1/4 t ground black pepper
1/4 t fine sea salt
4 charred scallions, charred and then chopped
---
Instructions
In a dry, hot skillet add the scallions and while watching carefully, allow them to turn black in spots. Don't burn, but do let them char. Remove and cool.
Compound Butter:
Blend the butter with the seasonings and the charred scallions until everything is minced well.
Spoon the butter onto a piece of parchment paper and form into a log. Wrap well and chill at least 3 hours before serving.
How to Cook Tri Tip:
Preheat oven to 425 degrees.
Make thin slits all over the tri tip and insert a garlic slice into each slit.
Make dry rub and roll the tri tip, top to bottom, side to side, in the seasoning mixture.
Let sit at room temperature for three hours before baking or refrigerate overnight.
Heat a large cast iron or heavy skillet over medium-high heat. Add olive oil and when it begins to smoke, add the tri tip, fat side down. If this is trimmed it will work also without it.) Sear for 3 minutes, without moving. Then sear each side briefly, until light brown. Place the raw flat side of the tri tip on the bottom of the skillet. Remove skillet from burner.
Transfer skillet to oven and bake about 12 minutes per pound for a medium rare steak/roast. Roast for 24 minutes or until a meat thermometer inserted into thickest part of roast registers 130 degrees. Remove roast from skillet to a cutting board and tent lightly with foil. Allow to rest for 10 to 15 minutes. Temperature will rise to 140 degrees during this time.
Slice thin and serve with the compound butter. Please see notes on how to slice! Make sure to slice against the grain!
---
Notes
It is not suggested to cook this meat until well done or it will be tough. You do not need a fat cap on this roast, but it does add to the juiciness of the roast. You could use bacon if yours was trimmed off.
For temperatures to cook meat to desired doneness see here.
Keywords: how to cook tri tip roast in skillet, cast iron tri tip, how to cook tri tip, how to cook tri tip in oven, how to cook a tri tip roast, tri tip medium rare,