This pork shoulder roast recipe became the main course for a lovely dinner party. Flavored with lots of seasoning and cooked low and slow, this great main course required almost no effort to make. And the rewards were great!
One of the easiest entrees, I've ever made, this roast pork shoulder is put in the oven early in the day and cooks slowly for about 8 – 10 hours.
After that it can be shredded as in pulled pork, or sliced, though it falls away into large succulent, juicy chunks.
After chilling the pork roast can easily be sliced and used for sandwiches or placed lovingly on a bed of polenta.
There are so many things one can do with a pork butt and with prices climbing way up, I love the thought of having one main entree that can be used in so many ways throughout the week.
Perfect for a holiday meal or a Super Bowl party, this pork shoulder recipe is one way to utilize your creativity.
Growing up I never ate pork, not even ham, so I have to admit I am not an expert when t comes to pork. However after my last time cooking carnitas, I thought I'd try it again after I spotted it on sale at Kroger's.
An 8 lb pork shoulder was marked down to about $15 which is a lot of meals for the two of us.
What a bargain and I don't know about you, but a bargain is always a good thing to me.
OK. Some are not!
But this pork shoulder roast was so good and as Manservant ate leftovers today, he commented on how he wouldn't get tired of it.
I took that as a sign, so I best pass this pork roast recipe on.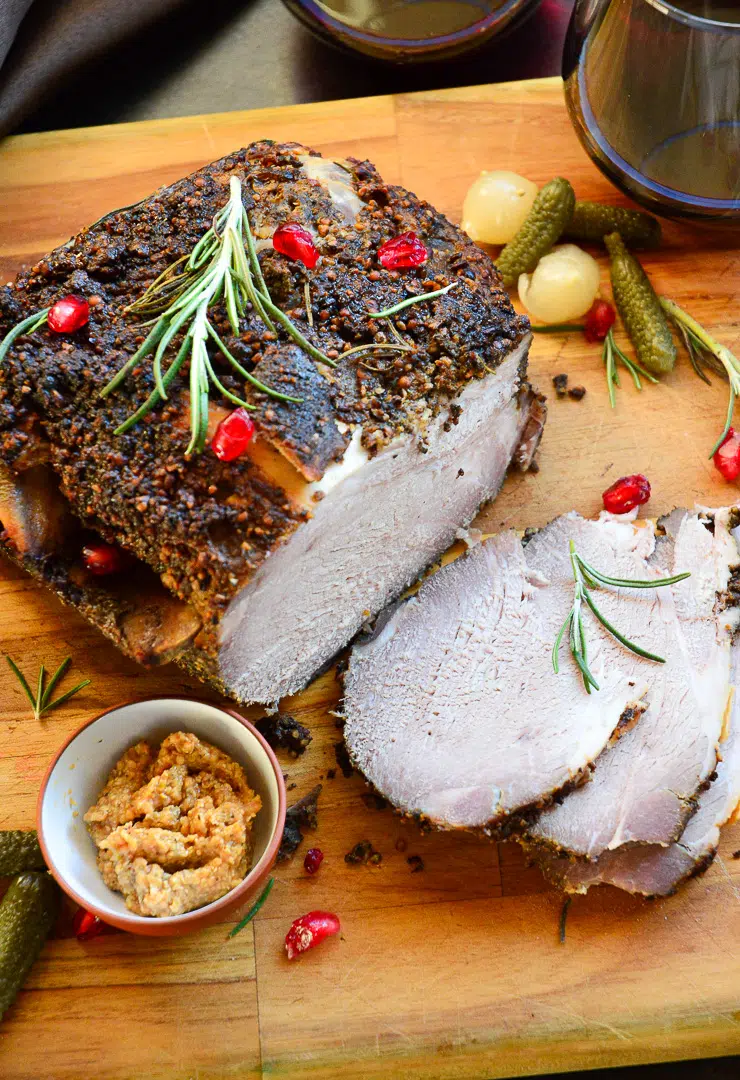 This Set it and Forget it Roast that I spotted in Bon Appetit takes minimal effort.
Cooked low and slow with a fun seasoning mixture that I've never tried before, sounded so good.
What To Serve With A Pork Shoulder Roast:
Serving suggestions from Bon Appetit are to serve the roast with cranberries, mustard and little cornichons pickles.
I'd probably add in some little slider buns if I served it like that, but for my dinner party I served it with soft polenta and roasted wild mushrooms.
Some mustard on the side was also good and I can't wait to pass that delicious recipe on too.
Mashed or roasted potatoes would also be great as would braised red cabbage with apples.
But let's take a few steps back to get to know our friend Mr. Pork Roast, shall we?
What part of the pig does the pork shoulder roast come from?
There are, well it seems like a million pork roasts, but this roast is a pork butt shoulder roast.
It comes from the upper shoulder of the pig and contains the blade bone. If you are lucky the meat is capped with a good amount of fat which keeps the meat moist as it roasts.
My Boston butt came in a bag and didn't have a lot of excess fat on it, but with this slow cook method, it still turned out perfect.
A pork butt comes from the top of the foreleg and the pork shoulder from the bottom. Both benefit from long, slow cooking methods.
Pork butt can be sold with or without the bone and is recommended if you want tender pull apart meat.
If you want crackling skin go for the pork shoulder.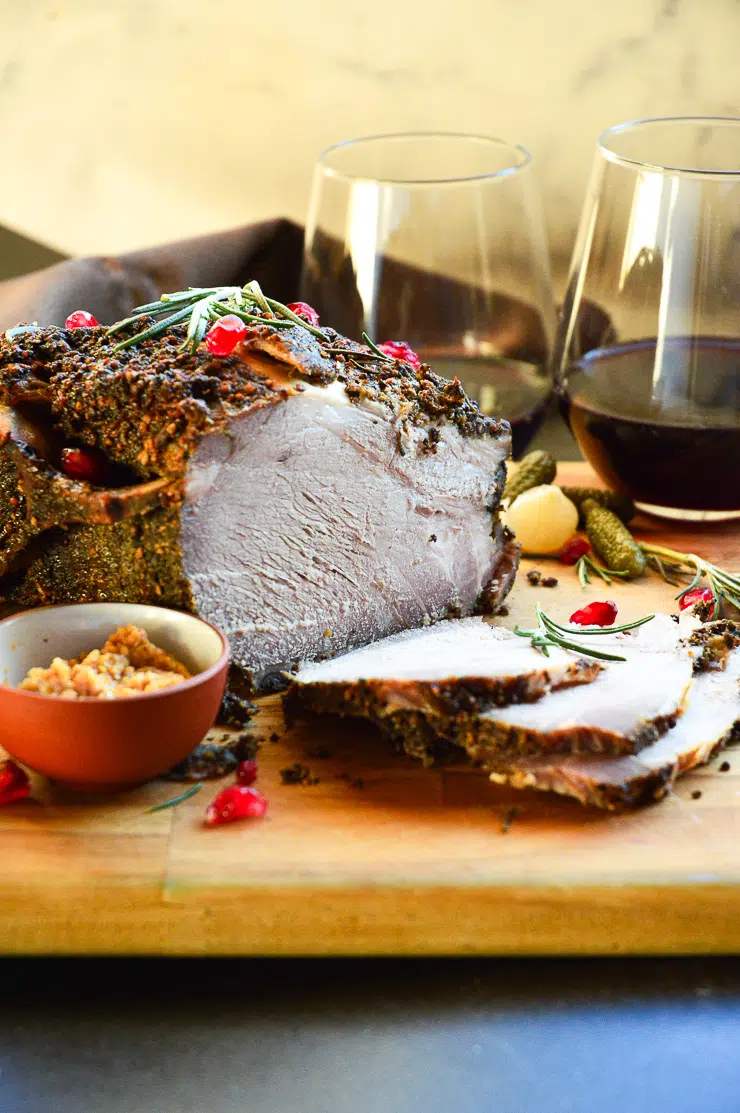 How should a pork roast be seasoned?
As for choice of seasonings the recipe I used called for coriander seeds, juniper berries and ground peppercorns. I also added in some zested fresh orange rind.
Yes, I know that juniper berries are not a standard ingredient that most of us keep in our spice cabinet, including me.
But with it being winter, it seemed that it might be a fun flavor combination to try. It was very good.
But if you don't want to spend a small fortune sourcing those ingredients, I'd stick with some garlic, paprika, brown sugar and other BBQ seasonings.
Or mustard, garlic and pepper, is good, too. Plus some chopped fresh sage.
The point with this recipe is the method of cooking. Use whatever your favorite flavors are and I guarantee you will have a great dinner-and one that requires very little effort.
The other added benefit of this recipe is the price. One can't go wrong with this roast in any way, but when you can get it at such a good price, well, perhaps it tastes better!
In any case, I hope you give it a try. I'd love to hear what you do with is. So many possibilities and in this case, it takes so little of your time!
Need a Few More?
Marinated Grilled Pork Tenderloin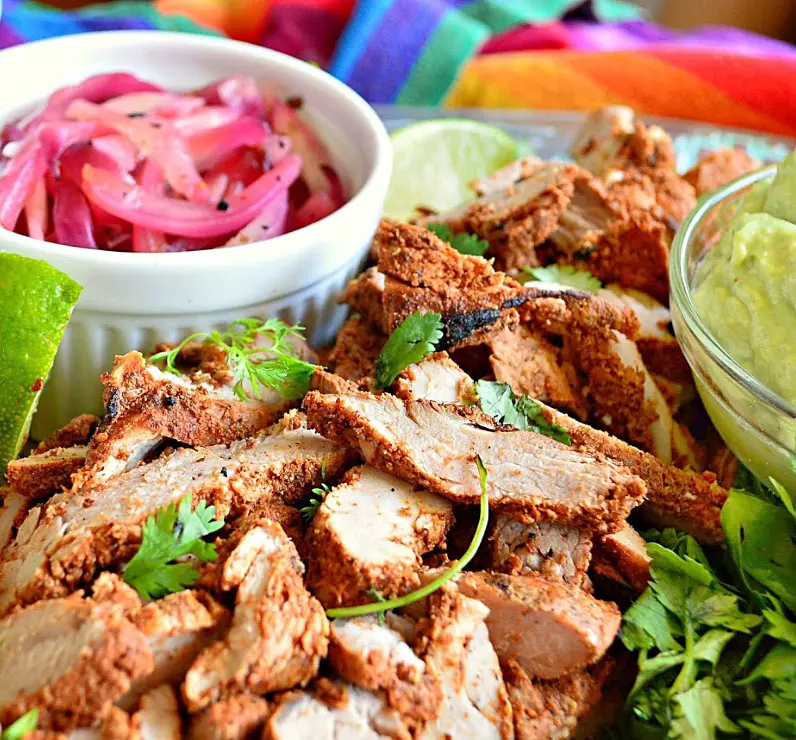 I'd Love it if You'd Follow Me and Pin and Share:
Print
Pork Shoulder Roast Recipe
Author:

Abbe Odenwalder

Prep Time:

15 Minutes

Cook Time:

8 - 9 hours

Total Time:

9 hours

Yield:

6

-

8

Servings

1

x

Category:

Main Course

Method:

Oven

Cuisine:

American
---
Description
A very simple pork roast shoulder recipe that cooks for a long time and turns out incredibly tasty and moist!
---
1/4 cup black peppercorns
3 tablespoons juniper berries
1 tablespoon coriander seeds
1/2 cup Diamond Crystal or 1/4 cup plus 1 1/2 teaspoons Morton kosher salt
3 tablespoons sugar
Zest of 1 orange
1 8-10-pound skin-on, bone-in pork shoulder (Boston butt) (Mine was only about 6 lbs, but I used all of the seasoning.)
5 sprigs rosemary
10 garlic cloves, unpeeled, lightly crushed
2 cups dry white wine
Cranberry sauce, cornichons, and whole grain mustard (for serving)
---
Instructions
Finely grind peppercorns, juniper berries, and coriander seeds in spice mill or with mortar and pestle; transfer to a small bowl and mix in salt, sugar and orange zest.
Rub entire shoulder with spice mixture, covering any exposed meat. Make sure to use all of the spices, even though it may seem like a lot. Wrap shoulder tightly with plastic and chill at least 3 hours and up to 3 days.
Place rack in lower third of oven and preheat to 225. Line a rimmed baking sheet with two layers of aluminum foil. Do this if you don't want to scrub after dinner! Place rosemary springs and garlic in the center of the baking sheer and set a wire rack on top of the sheet. Set roast on rack and place in oven. Then pour in wine and two cups of water and roast until meat is pulling from bone. This took about 8 – 9 hours. You can also do this overnight if you wake up early! It should look very brown!
Let roast sit uncovered from 30 minutes up to 5 hours until when you are ready to serve.
Just before serving reheat the roast in a 400 degree oven to soften and warm the fat for 5 – 10 minutes. Do not let it take on any more color.
Serve warm with cornichons, cranberries and mustard, along with slider rolls if you like.
---
Keywords: pork shoulder roast, roast pork shoulder, slow roasted pork shoulder, pork shoulder recipe, pork shoulder roast recipes,