Skillet Roast chicken from the Publican in Chicago, can be made on the grill, or in the oven. Juicy and lemony and full of garlic, oregano and smoked paprika, this chicken is succulent and ready to eat in about thirty minutes. (Not including time to marinate.)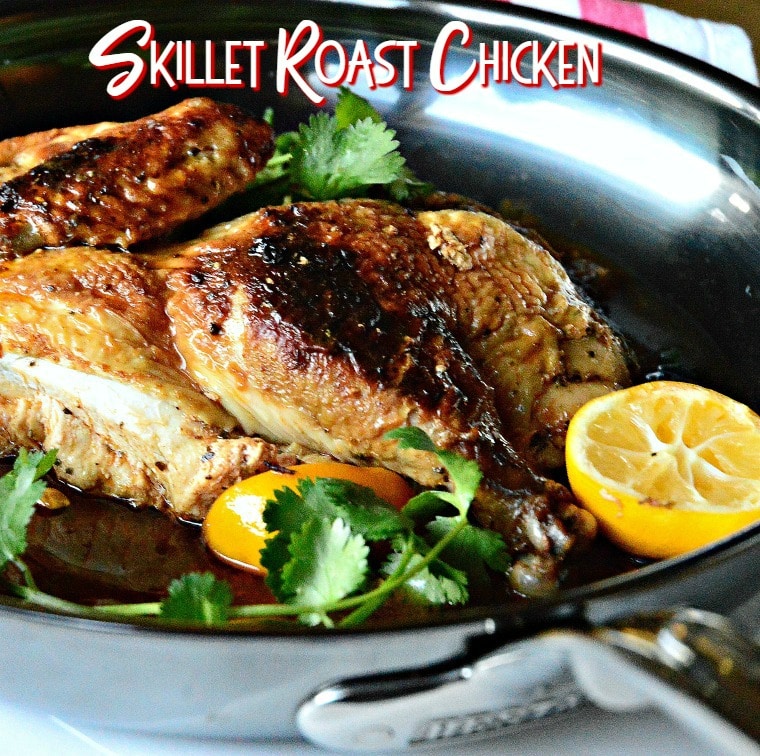 This skillet roast chicken infused with fresh lemon juice, smoked paprika, garlic and oregano is one of the best I've ever made.
Made famous by the Publican in Chicago, this flavorful chicken deserves its billing. Now honestly I've never had the roast chicken at the Publican because I've never been there for dinner.
Yes, I did eat brunch there and one day would love to go back and eat chicken, but in the meantime this skillet roast chicken recipe, will have to suffice. I discovered this gem online at this fun site that only reviews cookbooks. Would I love this job!
This chicken recipe follows the technique of Judy Rodgers who salts the chicken a full day ahead of roasting. I did not do this because I did not plan my time well so I salted the chicken in the morning, after spatchcocking and deboning the bird.
Spatchcocking saves so much baking time, that it is well worth it to learn how to do. It requires a great pair of kitchen shears which I couldn't live without.
Additionally, I also deboned this chicken… almost. Please read the directions to find out how.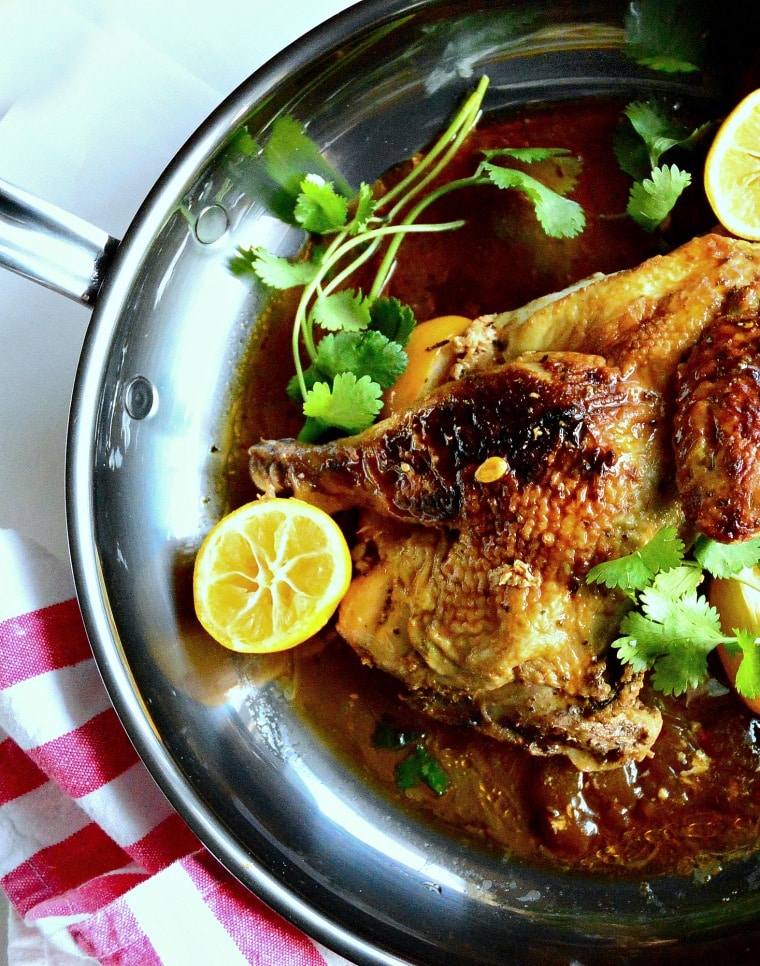 Skillet Roast Chicken Sauce
Though many skillet roasted chickens often have a lemon sauce, this one makes its own.
By marinading the bird in lemon, garlic and herbs this chicken shines simply.
If you would like more of a sauce, rather than just the juice that emerges from the skillet roasted chicken, just boil the marinade down a bit and you will have a deliciously flavored lemony sauce.
Personally I think you are fine without it.
Last but not least, I did not have piment d'Espelette so I subbed in smoked paprika.
A better choice would have been to use a hot paprika sans smoke.
I did like the smoked version as it reminded me a bit of BBQ chicken. No, it doesn't have a sugary sauce but it does contain several ingredients that are in bbq sauce. With so few ingredients this chicken truly shines.
Apparently the Publican serves this glorious bird over French fries.
I would venture there solely for this reason, but alas I am in Denver and The Publican is in Chicago.
In any case I did not fry French fries, but if you want to this French fry recipe is perfect. And so are the mussels.
No, I served this chicken with pappardelle. And that was just fine. But next time I promise there will be fries!
What skillet should I roast the chicken in?
This post would be incomplete if I didn't mention the skillet I cooked this bird in.
I actually won this 12″ pan in a Hestan sponsored contest. I love this big beautiful skillet even though it's shininess, makes it hard to get good photos!
I've mentioned Hestan before and their grand cookware makes cooking easy. From cooktop to oven, this skillet works!
However no need for a Hestan skillet. A cast iron skillet would be just fine!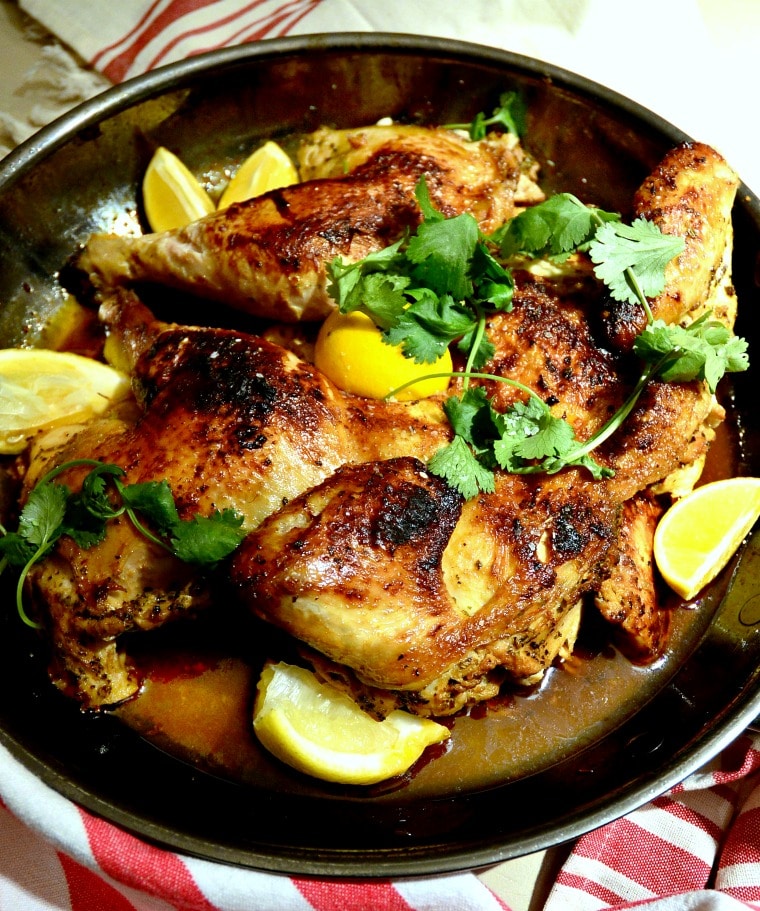 Believe it or not this chicken is ready in about 30 minutes.
Of course that doesn't include salting or marinating, but is the actual cook time.
I cooked this bird in the oven, though it can also be grilled. The chicken at the Publican is made in a wood fired oven.
I can't wait to try this on the grill with a hint of oak. I think the smoke would add even more flavor. But regardless. This is one fine skillet roasted chicken!
And A Few More: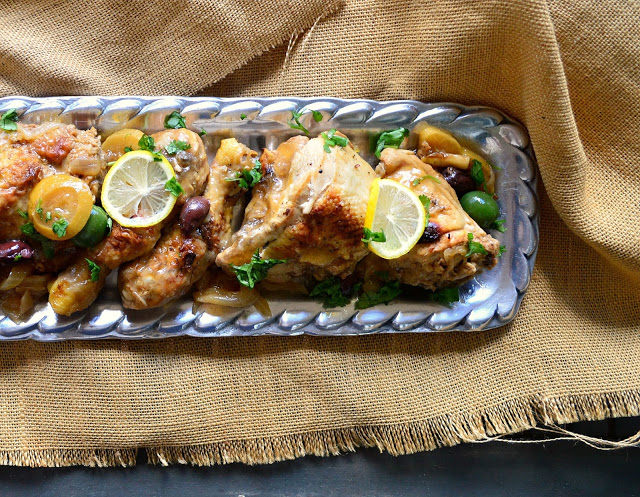 Please Pin and Share the Chicken!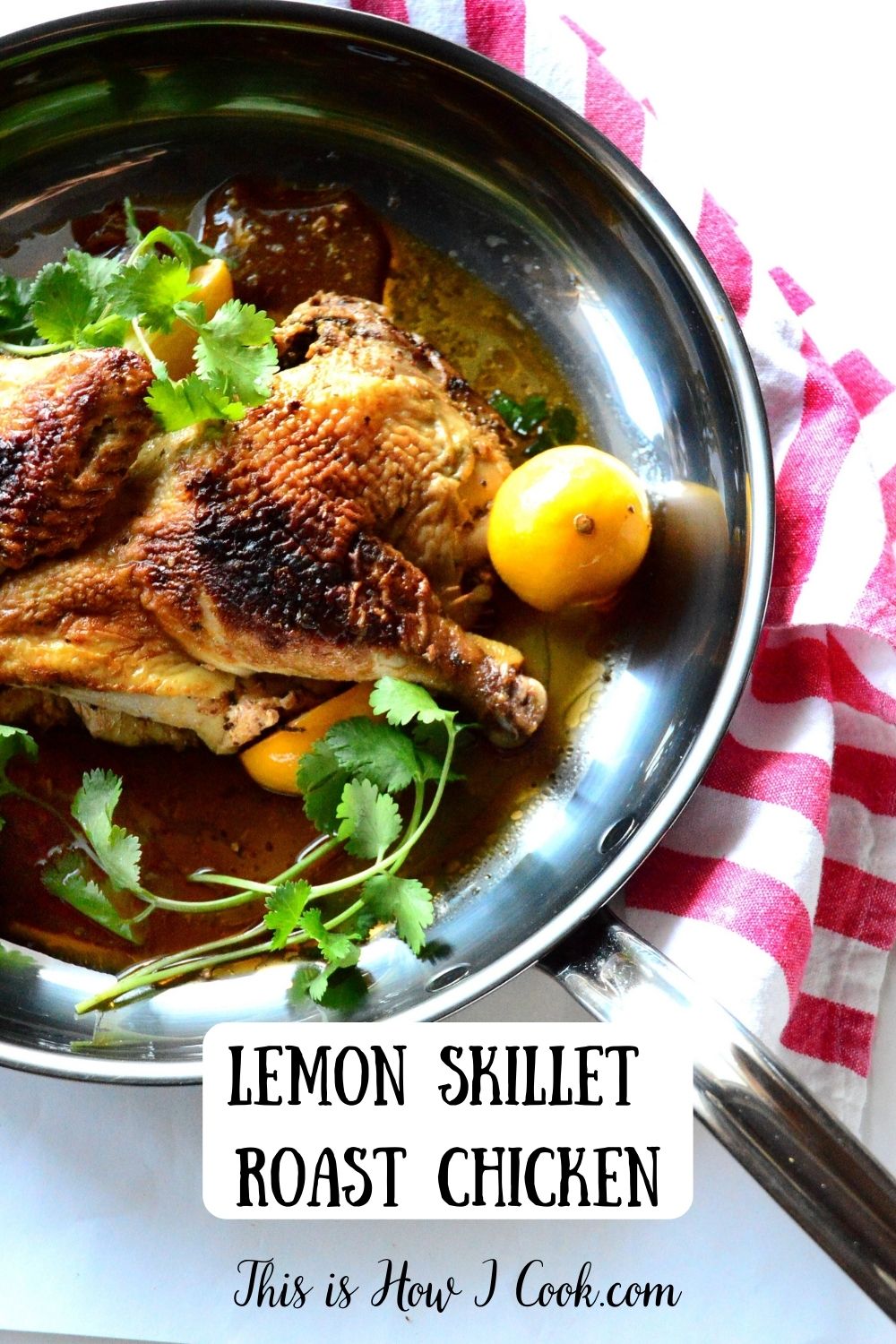 Print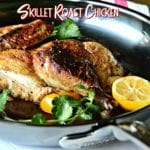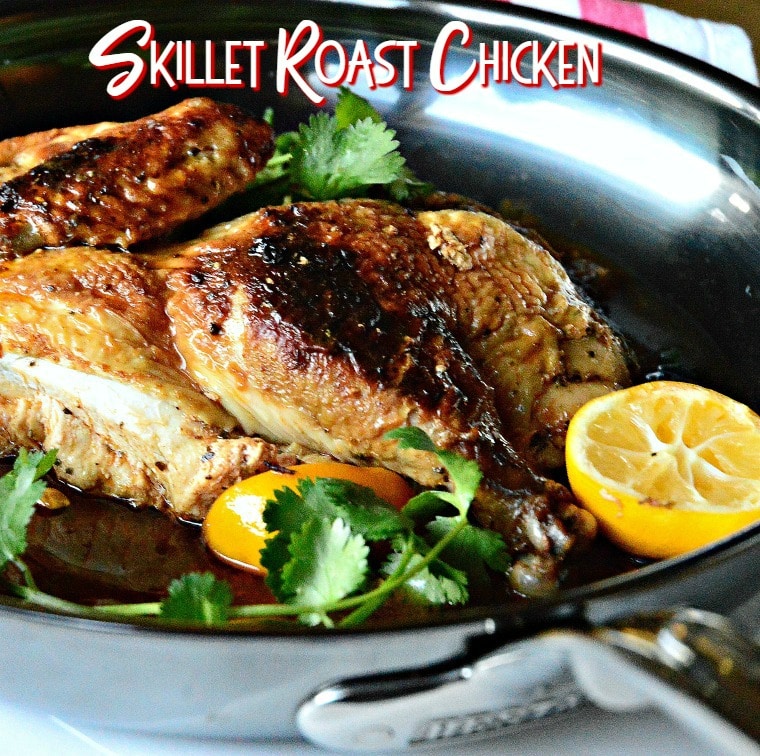 Skillet Roast Chicken
Author:

Abbe Odenwalder

Prep Time:

30 Minutes

Cook Time:

25 Minutes

Total Time:

55 Minutes

Yield:

2

-

4

Servings

1

x

Category:

Main Course

Method:

Stove Top/Baking

Cuisine:

American
---
Description
Skillet Roast chicken from the Publican, can be made on the grill or in the oven. Juicy, lemony and full of garlic, oregano and smoked paprika, this chicken is succulent and ready to eat in about thirty minutes. (Not including time to marinate.)
---
1

whole chicken (about

3

lbs)
Kosher Salt or Sea Salt

2 1/2

T fresh squeezed lemon juice

1/2

c

extra virgin olive oil

1

T piment d'Espelette or smoked paprika

1

T dried oregano

1 1/2

T brown sugar

2

cloves garlic, sliced

1/2

t salt

1/4

t fresh ground pepper

1

lemon, cut in half
---
Instructions
Wash and dry the chicken by running under cold water and then drying with a paper towel.
This chicken will be a butterflied chicken. Follow these steps and it will be easy peasy! First remove wing tips at the first joint. Now turn the chicken upside down so the breast is on the cutting board. Holding on to the tail and using kitchen shears cut on one side of the spine from top to bottom. Repeat on the other side and proceed to remove the backbone.
The bird should now be flat on the table and the legs should be pointing away. Make a small cut in the white cartilage that runs over the breastbone. Bend both halves of the chicken backward at the cut, which should make the breast bone pop through. Run your thumbs or index finger down both sides of the breastbone and pull to separate it from the meat. Pull the breast bone out or use your knife to loosen any remaining bone.
Finally with the tip of your knife, make a slit along each thighbone to the knee joint. Use your fingers to move the flesh away from the bone and pull the bone out. (I skipped this step.)
Season your chicken on both sides with salt. Cover with plastic wrap and let sit in the fridge overnight. I didn't have time for this overnight so I just let it sit for a few hours. However I have done this and it makes for a fine chicken.
The next morning combine all marinade ingredients except the whole lemon) in bowl. Toss the chicken and marinade together and rub the marinade into the flesh. Let sit for at least 1 hour and up to 12. If sitting for more than 1 hour, place back in fridge. Remove chicken from fridge about 1 hour before cooking.
When ready to cook, preheat oven to 450. In a large ovenproof skillet add enough olive oil to coat the bottom of the skillet. Heat over high heat until the oil smokes. Place the chicken skin side down in the pan and turn heat down to medium. Cook until a gold crust forms, about 5 minutes. Transfer the pan to the oven without flipping the chicken over and cook for 10 more minutes.
Flip the chicken and cook for about 8 minutes more. Total time should be about 25 minutes. Let chicken rest for 5 minutes in the pan.
To serve, slice chicken into 8 pieces. Pour escaped juices over chicken and squeeze the lemon over all. Serve over fries if you desire!
---
Notes
Times does not reflect marinating time.
Keywords: skillet roast chicken. chicken in cast iron, lemon roast chicken, iron skillet roast chicken,