This Shrimp burger recipe is my new best friend. Originally spotted on the NYTimes website, I seasoned these up, added a great Vietnamese style sauce, a slice of grilled pineapple, and Manservant came running.
This Asian-style shrimp burger recipe with Asian shrimp burger sauce is delish and perfect for grilling season.
Easy to make in the food processor, you will wonder why you haven't made these before.
Years ago when I stopped eating red meat, burgers were the hardest thing for me to give up.
I tried veggie burgers of which there are few good ones out there, but they never really sufficed.
I do like ground chicken burgers but have never been in love with turkey burgers.
Now I've found shrimp burgers and I am one happy gal!
I love burgers and these shrimp burgers totally satisfy!
I can't believe grilling season is upon us, though I must admit that Denver is pretty lucky when it comes to grilling.
There aren't many days where we can't, and that's a good thing.
These shrimp burgers are loaded with flavor and can be made ahead and kept chilled in the fridge until ready to grill.
I made these slider proportions because why stop at one…when you can have two.
These pretty grilled shrimp burgers would also be perfect topping a salad or even as appetizers, if you choose to make them mini sized.
How To Make this Shrimp Burger Recipe:
Begin by combining garlic, lemongrass, chile, ginger and pepper along with 1/3 of the shrimp in a food processor.
Blend until pureed. You might think of this as the glue that holds the burger together.
Now add the rest of the shrimp some fresh peppers, onions or shallots, cilantro and some fish sauce to the processor.
Combine with some on/off pulses as you still want texture in this.
Use a spatula to scrape down the bowl and then shape into patties.
Chill before grilling.
Make sure to spray the grill and the shrimp burgers with cooking spray so that you don't have a sticking problem.
Total grilling time is roughly 9 – 11 minutes.
I love the addition of a grilled pineapple round to compliment the burger, but pineapple salsa would work, too. So many variations with these!
Shrimp Burger Sauce:
These are lean burgers and therefore they need a bit of sauce.
I love using the seasonings that are already in the burgers, combined with mayonnaise.
Garlic, fish sauce, lime juice, sugar and black pepper are great seasonings to add to the mayonnaise.
Kind of your own Asian secret sauce.
Never used fish sauce? Think of it as adding salt, but it gives more umami flavor to your food.
You could add soy sauce, too.
Feel free to change up the seasonings.
These shrimp burgers are Asian style and I love the Vietnamese sauce I made to plop on top.
However if that just ain't your thing my Old Bay remoulade sauce would more than work.
If you just aren't feeling ginger, than add Old Bay to the shrimp burgers to season them up and skip the cilantro and add celery.
I love shrimp burgers served with a simple smashed cucumber salad but whatever you choose to serve with these; these babies will be a great new addition to your grill!
What's new on yours?
Here are some other great burgers from some of my friends:
Bacon, Onion and Cheese Stuffed Burgers from Wishes and Dishes
Grilled Tex Mex Chicken Burgers from A Farmgirl's Dabbles
The Ultimate Veggie Burger from The View from Great Island
Plus a Few More: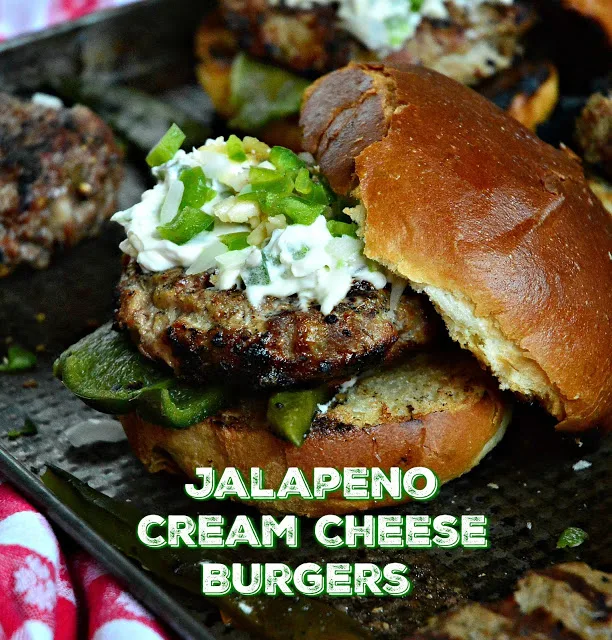 Spanish Style Burgers with Garlic Aioli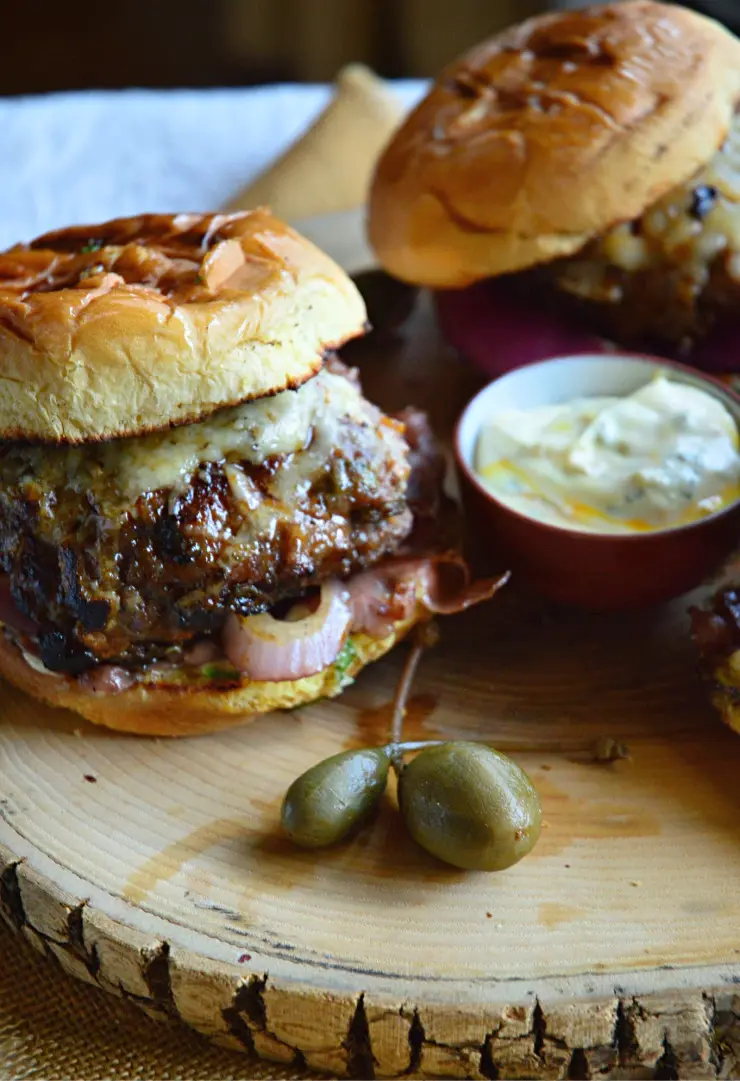 Print
Shrimp Burgers (Asian Style)
Author:

Abbe Odenwalder

Prep Time:

20 Minutes*

Cook Time:

10 Minutes

Total Time:

30 Minutes

Yield:

2

Servings

1

x

Category:

Dinner, Lunch, Appetizer

Method:

Grill

Cuisine:

American
---
Description
Shrimp burgers seasoned with garlic, ginger and chile are my favorite thing cooking on the grill right now. Filled with flavor and topped with a slice of grilled pineapple, these shrimp burgers are sensational!
---
2 cloves of garlic
1 jalapeno or a good sprinkle of dried chile flakes
1 1″ piece of ginger, peeled and rough chopped or a good squeeze of ginger paste
1 1/2 t lemongrass paste (This is easier for me to get than finding fresh lemongrass. Totally optional)
Several good grinds of fresh black pepper
1 lb peeled raw shrimp
1/4 c rough chopped shallots or onion
1/4 c rough chopped red or yellow pepper
1/4 c cilantro
1 –2 t fish sauce or to taste (optional)
Cooking Spray
Buns (optional)
Grilled Pineapple Rings (I used fresh pineapple but canned rings can also be grilled)
Asian Shrimp Burger Sauce
2 cloves garlic, rough chopped
1/2 c mayonaise
2 t fish sauce
1 T lime juice
1/2 t sugar
1/2 t fresh ground black pepper or more to taste
---
Instructions
Combine garlic, chile, ginger, lemongrass paste, ground pepper and 1/3 of the shrimp in a food processor and puree, stopping to scrape down sides of bowl as needed.
Add remaining shrimp, shallots, pepper, cilantro and fish sauce. Pulse to chop, but you still want chunks of shrimp. Shape mixture into 4 patties if you want slider sized. I used a 1/3 c measure and it made four. Chill for 20 minutes or longer.
Get pineapple ready to grill.
Make sauce by wiping out food processor and combining all ingredients in sauce recipe in food processor. Blend well until mixture is smooth, scraping sides of bowl as needed. Set aside.
When ready to grill preheat grill so that it is moderately hot with rack about 4″ from heat source. Spray patties and pineapple with cooking spray on each side or brush well with oil. Cook until a dark crust appears on bottom and they release easily with a spatula, about 5-7 minutes depending on how fast your grill cooks. Flip and cook approximately another 4 minutes. Pineapple will cook sooner. Flip as needed and set aside when grilled.
Serve on buns with a slice of grilled pineapple and a dollop of sauce.
---
Notes
These make 4 mini burgers or sliders or 2 regular sized burgers.
*Does not include chilling time
Keywords: shrimp burger recipe, grilled shrimp burgers, shrimp burger, how to make shrimp burgers, shrimp burger sauce