These Jalapeno Cream Cheese Burgers are sure to please anyone. Luscious cream cheese, mixed with spicy jalapenos and onions is an easy way to dress up any burger.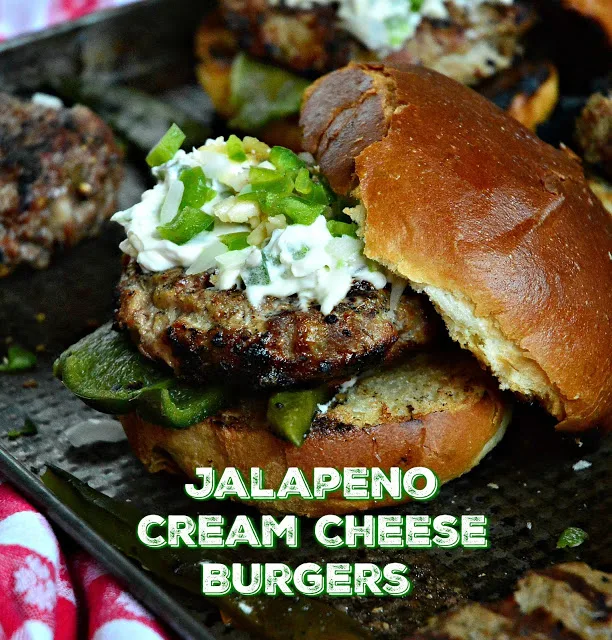 Jalapeno Cream Cheese Burgers are popular around here.
This cream cheese is loaded with jalapenos and to gild the lily I also added some slices of green chile.
Roasted poblanos are OK, too!
Chile is always a major component of Manservant's favorite foods (you might say they are his favorite vegetable) so I decided it was high time to serve him a chile burger.
We used to love going downtown to My Brother's Bar, our favorite dive, where they make the best cream cheese jalapeno burger.
The JCB, they call it.
Though this could not possibly be as good as their's, it still is pretty good.
Well, truthfully it is killer, unless you are not a fan of jalapenos and cream cheese and onions.
Call me crazy but this cream cheese spread makes any burger extra special.
This jalapeno cream cheese is mighty fine but for extra flavor throw some chopped jalapenos into the ground meat and add extra green chile slices on the burger.
Feel free to throw some roasted chopped green chiles on top too-I know Manservant would have, had I roasted some!
It isn't often I prepare beef, since I gave it up long ago.
However when I crave burgers-usually of the ground chicken variety-I always buy some beef for my man.
He's happy and so are the dogs, because I always make sure they get their beef in the form of baby burgers.
They love it when I fire up the grill.
This jalapeno cream cheese burger topping is also superb on my chicken burger, too!
Where else can I use jalapeno cream cheese?
Jalapeno cream cheese tastes great on bagels, or spread on a sandwich.
Shoot, I think stirred into mashed potatoes would be pretty awesome too.
Stir into scrambled eggs, use it as a dip for chips and one could even spread it on a tortilla and make a quesadilla.
Use it as a filling for stuffed peppers, or baby tomatoes.
It would also make a great enchilada filling mixed with shredded chicken.
My Manservant sure does love dinner but there aren't many things that make him as excited as the word, "chile".
This man loves his chile and in every form. Be it chile or chili, this man doesn't care.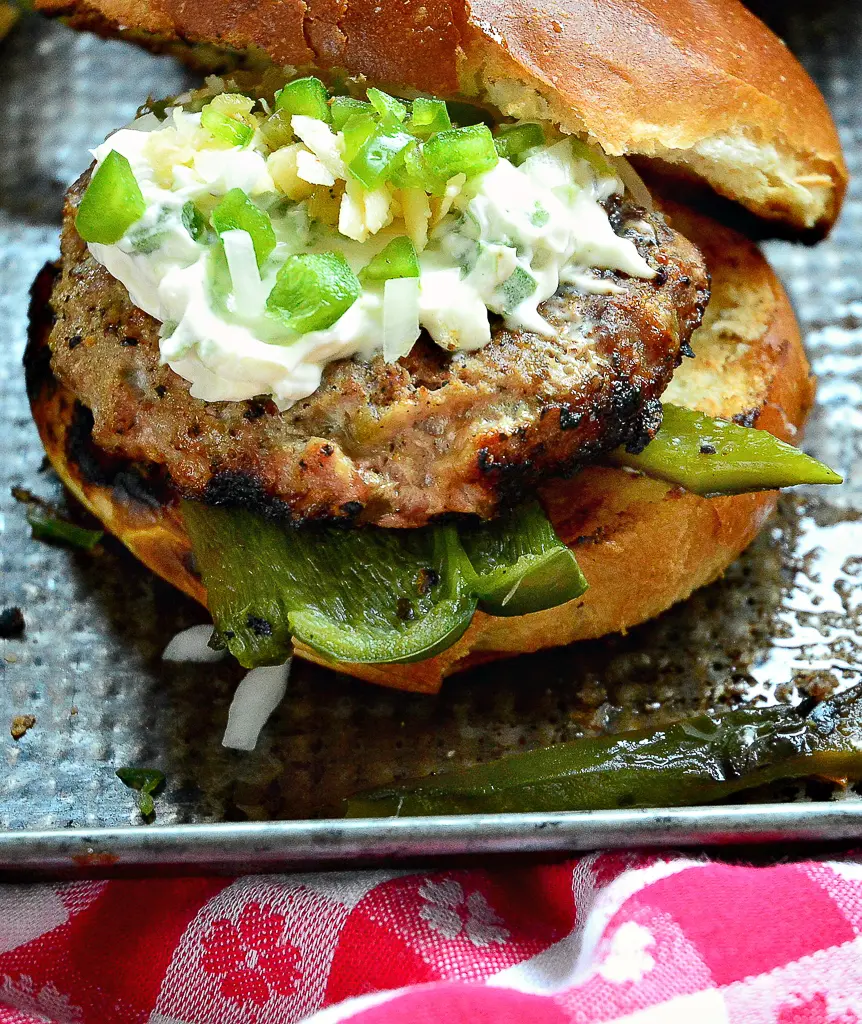 Bring on the chili topped enchiladas or burritos, eggs or chili cheese burgers.
Oh yeah-he loves chili on his hot dogs, too.
Chile is one way to my man's heart and these jalapeno cream cheese burgers with a jalapeno cream cheese topping satisfy both of us!
I've not had to plan Father's Day for the last few years because Manservant is always out travelling, so this year is all about making Manservant happy.
Actually I think he's very happy because he's home, and being the smart man he is, I don't think he'd mind if I served him cardboard on a plate!
However these jalapeno cream cheese burgers are much, much better!
Happy Father's Day to all the great dads out there!
More Food For Dad: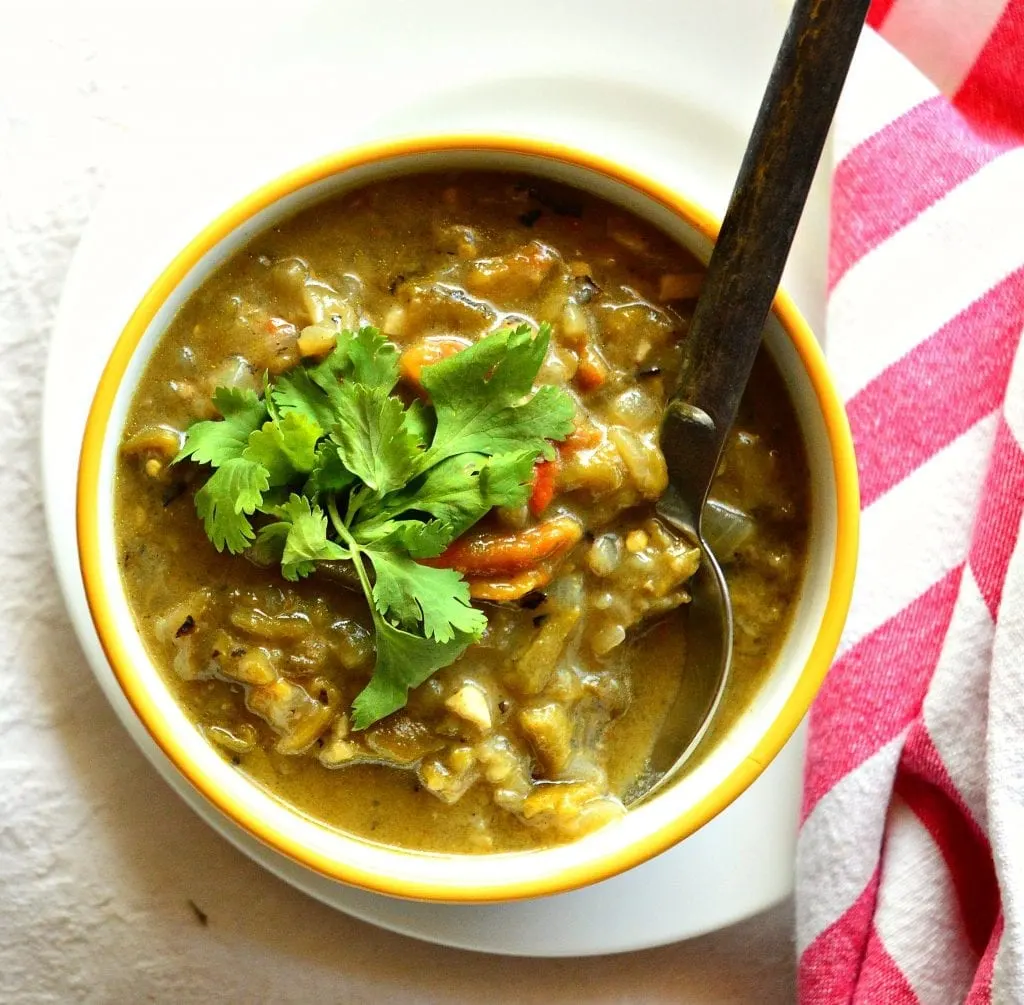 I'd love it if you'd Follow Me and Pin and Share:
Print
Jalapeno Cream Cheese Burger
Author:

Abbe Odenwalder

Prep Time:

15 Minutes

Cook Time:

15 Minutes

Total Time:

30 Minutes

Yield:

4

-

6

Servings

1

x

Category:

Main Course

Method:

Blending

Cuisine:

American
---
Description
These Jalapeno Cream Cheese Burgers are sure to please anyone. Luscious cream cheese, mixed with spicy jalapenos and onions is an easy way to dress up any burger!
---
2 Jalapenos, chopped (Seed them if you don't want them too spicy.)
8 oz cream cheese
1/4 c minced onion
1 T mayonnaise
1/2 t garlic powder
1/4 t salt or to taste
Fresh roasted green chiles if desired
1 to 1 1/2 lbs of ground meat such as beef, turkey or chicken
I use brioche buns but this is your choice.
---
Instructions
Using an immersion blender, cream the cream cheese until light and fluffy.
Stir in rest of ingredients and set aside until ready to use.
Prepare your burgers as you wish. Season them generously with salt, pepper, and garlic powder. Grill to desired temperature. Feel free to throw in some extra chilies with the meat. Sometimes I also grate some jalapeno cheese and hide it in the middle.
I always butter and toast my buns on the grill. Watch carefully so they don't burn.
When burgers are just about cooked, place a heaping tablespoon of jalapeno cream cheese on top of burger. Close grill and let heat briefly, then top with bun.
When ready to serve you may serve these with extra chile strips, some pickles, some chili and extra onion. We forego the ketchup and mustard, but that is up to you!
---
Notes
This cream cheese spread is also great on grilled chicken breasts or a bagel.
Keywords: jalapeno cream cheese, burgers with cream cheese, jalapeno cream cheese burger topping, jalapeno burgers recipe, cream cheese burger, cream cheese burger spread, cream cheese jalapeno burger
This post may contain affiliate links. Please read my disclosure policy.
I'm partnering with Amazon to help keep this site afloat. I may earn a small commission at no cost to you, which I use to help pay for costs of keeping this blog going.
One thing I've learned about grilling is to keep your grill clean. I always use a grill brush because I don't want my burgers tasting like fish…or vice versa!