French Onion Grilled Chicken Burgers are made with lots of grilled onions and a cream cheese topping made with onion soup mix. These are the best chicken burgers ever!
French Onion Grilled Chicken Burgers are made with lots of grilled onions and a cream cheese topping made with onion soup mix. Everyone needs a simple trick up their sleeve and resorting to onion soup mix is mine. Besides if you have too much topping it easily becomes a dip for potato chips! Just sayin'! I love the fact that just onions and an onion topping can replace ketchup, mustard, onion and pickle. Onions are essential in my kitchen and I always have them in my pantry or fridge.
I'm not a meat eater, but I can't go without burgers. In fact years ago when I gave up meat, not eating burgers was what I missed most. Chicken breasts are great, but just don't compare to a ground meat burger. And I don't care what anyone says but turkey burgers just don't cut it for me. It took me a long time to perfect the art of grilling ground chicken burgers. If you've ever tried it you will know that chicken meat doesn't come together the same way as ground beef. Once you season your chicken it is like throwing a ball of mush on the grill and I've even had to pry up the grill grates when the ground chicken slides beneath them.
Well, I think I've finally found the secret to grilling chicken burgers. It involves adding a few panko crumbs which seem to soak up some of the moisture in the chicken meat. That and a little seasoning and some chilling in the fridge does the trick. I know you have to plan ahead to allow for the chilling, but burgers are so worth it. So fair notice. If you want chicken burgers on the 4th of July, start chilling them on the 3rd!
These French Onion grilled chicken burgers are my newest concoction. I love making onion soup dip with Lipton's onion soup mix whenever I'm in a pinch, so having some on hand allowed me to make these patties up quickly. Making them ahead of time also allows the meat to absorb some of the flavors from the seasonings; similar to marinating. These are as simple as adding a bit of seasoning, some Panko crumbs and a dash of Worcestershire. I also sliced lots of onions and tossed them with a bit of oil and salt and pepper and threw them on the grill which made a great topping, in addition to the oniony cream cheese I dolloped on these burgers.
Check out this fun method for making chicken burgers. If you aren't a fan, just leave the onion soup mix out. I think you will still be happy with the result and as far as I'm concerned this chicken burger satisfies my burger craving. Maybe you have some folks coming over who aren't red meat eaters and maybe you just want a change…but whatever the reason check the French Onion Grilled Chicken burgers out!
Print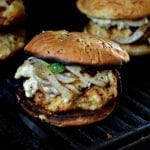 French Onion Grilled Chicken Burgers
Author:

Prep Time:

20 Minutes

Cook Time:

10 Minutes

Total Time:

30 Minutes

Category:

Main Course

Method:

Grill

Cuisine:

American
---
Description
French Onion Grilled Chicken Burgers are made with lots of grilled onions and a cream cheese topping made with onion soup mix. These are the best chicken burgers ever!
---
Ingredients
Chicken Burgers
1 lb ground chicken
1/2 envelope of Lipton's Onion soup mix
1/4 c Panko crumbs
1 1/2 T Worcestershire Sauce
1 egg
Several grinds of fresh black pepper
Cream Cheese Topping
4 oz softened cream cheese
1 T mayonnaise
1/2 envelope Lipton Onion Soup mix
2 minced scallions
Onion Topping
1/2 of Bermuda onion, sliced thin
1/2 of large sweet onion, sliced thin
1 T olive oil
Salt and Pepper
4 buns for serving
---
Instructions
To make chicken burger combine all burger ingredients and shape into 4 patties. Place on a plate and chill for about 24 hours.
To make cream cheese topping combine all softened ingredients and chill. When ready to place on burgers this will soften and melt on top. However if you choose to make this the day of keep this at room temperature and just dollop on the burgers before serving.
For onion topping, mix onions, oil, salt and pepper in a zip lock bag.
Preheat grill to medium high. Cook burger on a well oiled grill. I always spray my burgers on both sides with a cooking spray so they don't stick. Cook about 3-4 minutes per side but check for doneness, Chicken should NOT be pink inside.
While cooking burgers, dump onion mixture on a grill tray. While you are attending to the burgers, give them a stir now and then so they don't burn. I however like them more on the crispy side.
Before burgers are all the way done warm your buns on the grill. I wold spray them also with a little cooking spray. When burgers are done, place one on the bottom half of each bun and top with 1 T of cream cheese topping. Add a spoonful of onions and place the top half on the bun on the burger. Close the grill lid for a moment to let the topping warm up a bit. Enjoy!
---
Notes
Chicken Burgers should be chilled overnight for best results.
Keywords: burgers, chicken, onions
Please Pin and Share!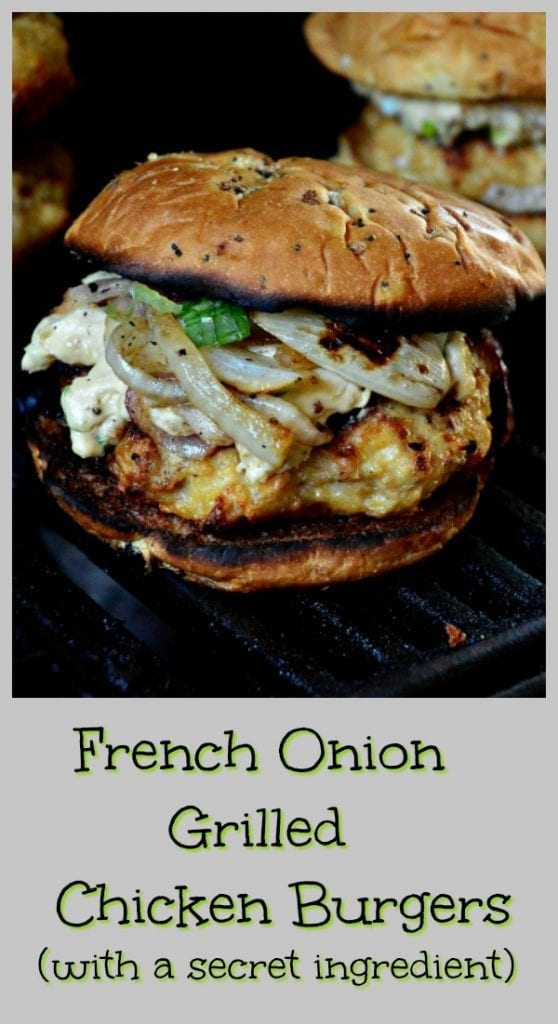 Last Chance to enter to win great prizes from Cookout Week!