"This old fashioned BBQ chicken with an easy BBQ rub and a no cook BBQ sauce will have the neighbors swooning when they smell it on your grill. A family classic recipe-I know you will love it!"
Growing up across the street from a popular park meant that our neighborhood always smelled good. Really. We were always able to catch the drift of what was cooking somewhere in our vicinity. Was it hot dogs or hamburgers, possibly steak or most likely, BBQ chicken. It was always fun scouting the park, looking for friends, while also checking out everyone's picnic table. The red checked tablecloths were topped with bags of chips and potato salad, cole slaw, watermelon, sodas and baked beans. It looked like fun, as our family was not big into picnics. I think we tried it once, but my dad preferred his meals at home.
Every now and then, my mom would BBQ chicken. We weren't like my husband's family from Texas, who did briskets and such. We did chicken and that was our BBQ. If my mom wasn't opening a blue and red jar (I can't remember the name) of BBQ sauce, she sometimes made her own. That was a special treat. I don't have the recipe, but I believe it was something like the one that we are doing today. I kept it simple but perused a few of my old cookbooks that soon might be labeled vintage. In any case, most old fashioned sauces contained butter, lemon juice and ketchup. Pretty consistent, they were.
I enjoyed this sauce and I enjoyed cooking on the grill. My dad probably would have used charcoal, at least until he got gas. And he probably would have been yelled at for burning the chicken. But really, that is what makes the chicken send out that great caramel smell through the neighborhood. This sauce contains sugar and sugar burns if cooked on too high of a heat, but burnt sugar has that certain taste – as long as it isn't too overdone.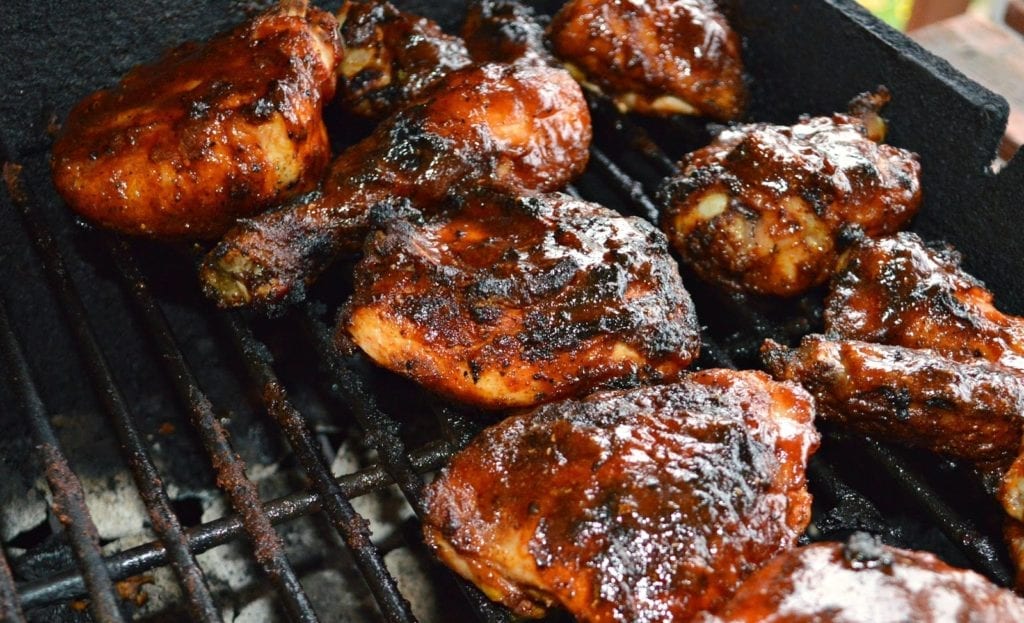 Buy a whole chicken and cut it into pieces. Chicken has more flavor if cooked still on the bone. And it is easier to pick up because there is more to grab! Cook it low and slow. Don't brush on the sauce until the end. Don't worry if it gets a little black. It is still good that way. And always serve with an ear of corn on the side and some watermelon. Potato salad, coleslaw, some garlic bread. Baked beans. Boy, you could almost skip the chicken, but then you don't get that great smell. That intoxicating aroma of grilling. Yes. You could do a potluck. I love summer food. Perhaps a beer would be good, too. Make that two.
And be prepared for your neighbors to be guessing what you are cooking. They will want to fire up their grill, too! Shoot-be a neighbor and invite them over. They will be very happy.
BBQ Chicken (serves 4)
1 cut up chicken (I usually cut each breast into two pieces)
Chicken Rub (Use this all)
Mix together and rub into chicken. Get it all over. Inside and out. Upside and downside. Let it sit all day if you can-or at least an hour.
2 T fresh squeezed lemon juice
1 t fresh ground black pepper
1/2 t celery seed (the secret ingredient)
Mix together and let sit to let flavors meld. (I have seen many recipes that first suggest sauteing onions and celery in the butter. This is good, but not necessary unless you really love onions.) Or love extra work!
Preheat grill to medium. Place chicken on grill. Cook low and slow. Total cooking time is about one hour. Drink your beer now. You can have the second with dinner. Turn as needed. Do not brush with sauce until chicken is almost cooked through. Brush with sauce, shut grill lid, and let it kind of melt in. This can take about 5 minutes. Then turn over and do the other side. Serve leftover sauce on the side. White meat usually cooks the fastest. If this happens, place it on the grill side that is turned off, to keep it warm.