This post may contain affiliate links. Please see our disclosure policy.
Nothing beats crispy, golden potato latkes! It's amazing how just a few simple ingredients become something so transcending!
Potato latkes can be made many ways. In fact, it seems everyone has their own special way. Frankly, I'm still looking for that one and only, tried and true recipe and really, I don't mind looking! It's hard to go wrong with the simple combination of shredded potatoes, eggs and onions.
When I came across this potato latke recipe in an Asian cookbook, I decided I had to try it. There is nothing too unusual about this recipe that makes it Asian, except for the sauce. And if you think Asians don't do potatoes, just check these out!
So what are the differences between a traditional potato latke and an Asian potato latke?
Both types call for Russet potatoes which is pretty standard. However Yotam Ottolenghi uses both. You decide.
Both use eggs and onions, except the Asian variety added scallions, which is alright by me. I also added a garlic clove!
Binders for Latkes?
Potato latkes also need a binder and usually that is in the form of flour or matzo meal or potato starch. All work well. The Asian potato latke recipe uses cornstarch.
Cornstarch works perfectly and held these potato pancakes together well. It also made them very crispy and allowed me to make perfectly flat and round latkes.
I could have adjusted the seasonings and added some 5 spice or even a touch of ginger, but I left the mixture alone because the sauce about covers it!
Shredding or Mush?
Many prefer shredding potatoes and others prefer grinding the potatoes until they are just about mush. Though the Asian recipe calls for shredding, I reverted to my tendency to use both.
First I shred a potato and then I grind the rest. That way there is still some texture in the latkes.
These Asian potato latkes have a bit more onion taste then other versions I've tried. I like both, but I do love lots of onion.
Applesauce or Soy Dipping Sauce?
I am a traditionalist, but I do love this sauce. It would also be outstanding on pot stickers.
Rather than applesauce, this soy dipping sauce is what is called for. One only needs a drip or a drizzle, otherwise you lose the taste of the potato.
As for soy sauce, I would use a Japanese version which is a touch lighter and sweeter than traditional Chinese soy sauce. Below I listed two of my favorite Asian cooking ingredients. Yes, they do make a difference.
And for the record, seek out an Asian grocery. Unless you can't find one, I can tell you that ingredient prices are a lot lower than Amazon's. But for some reason Amazon does great on utensils and such.
What oil should I use to fry potato latkes?
It is common to use olive oil, or peanut oil or canola. Many, if they have access, use chicken schmaltz. In this case I decided to use duck fat. Believe it or not I found Kroger's had duck fat in a jar on a shelf along the other oils. Yes, this worked well.
How do you flip a potato pancake…without making a splattering mess?
This is where two spatulas work well. I use the fish spatula shown below to lift and see if the bottom is golden. Then in the other hand I have a flat bottomed metal spatula. Using the fish spatula flip the latke onto the bottom of the other spatula and let it slide gently back into the oil. Works for me!
I fry my latkes in a well seasoned cast iron skillet. Many use a non-stick skillet but I rely on the cast iron.
A few things I used to make these:
Please Pin and Share: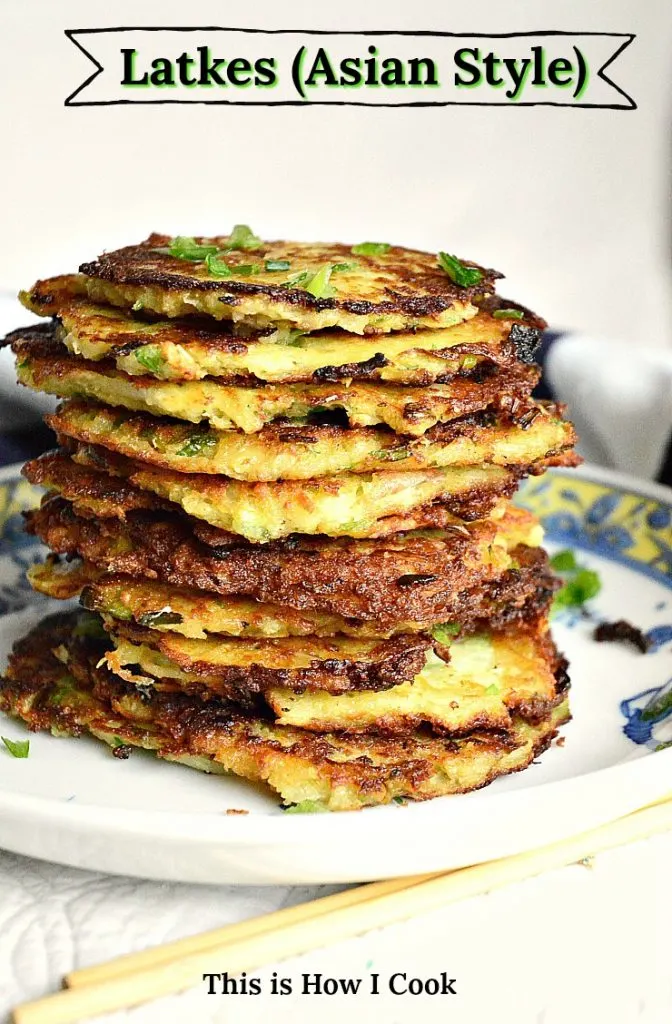 Print
Potato Latkes (Asian Style)
Author:

Abbe

Prep Time:

20 Minutes

Cook Time:

20-30 Minutes

Total Time:

50 Minutes

Yield:

12

-

16

Latkes

1

x

Category:

Side Dish

Method:

Fry

Cuisine:

Asian/American
---
Description
Nothing beats crispy, golden potato latkes! It's amazing how just a few simple ingredients become something so transcending!
---
1 lb Russet potatoes, peeled

1 large onion

1 garlic clove

4 scallions

1 t salt

Pepper to taste

2 eggs, beaten

2 T cornstarch

1/4 canola oil or duck fat or schmaltz

Sauce:

2 cloves finely chopped garlic

4 scallions, minced

1/4 c soy sauce

1 T Shao Tsing wine or sherry

1/2 T chinkiang

1 T sesame oil

2 t sugar

1 t red chili sauce with garlic
---
Instructions
To make the sauce:
Combine all sauce ingredients together and whisk well.
For Latkes:
There are several ways to do this. I take one potato part of the onion and shred it in a food processor. Then empty that mixture into a fine sieve. Let this drain while you get the other potatoes finished. Take the other two potatoes and with the steel blade in place, add the potatoes and the rest of the onion and garlic. With on and off motions, puree the potatoes. This should almost be mush. Place this mixture into the sieve also.
In a large bowl, combine the eggs, cornstarch, salt and pepper.
Now press as much potato water out of the potato mixture. Try to get this as dry as possible. You could even tie this into a tea towel and after twisting the top, let the liquid drain out. After the mixture is sufficiently dry, mix into the bowl containing the eggs and cornstarch. Mix well.
Using a large cast iron skillet, heat 1/4 c duck fat and 2 T canola oil until a shred of potato sizzles when held in the oil.
Drop 1 rounded tablespoon of potato mixture into the oil. Using a spoon or spatula, spread the mixture into a thin circle. Fry for about 2 -3 minutes until golden on the bottom. Using two spatulas flip the latke over onto the back of one spatula and then let it slide back into the oil. Cook until golden.
Let drain on a paper towel lined cookie sheet with a rack placed on top. Keep warm in a 300 degree oven, while cooking the rest of the latkes.
Serve with the Asian sauce. Or just enjoy on their own or with applesauce.
---
Keywords: potato latkes, potato latkes recipe, recipe for potato latkes, potato pancakes korean