These muffin cup Pommes Anna are really just crisp and golden potatoes on the outside, while creamy and tender within. Impress everyone with this easily made side dish and have them begging for more.
So summer is officially over and that means Manservant's building season is coming to an end. We just had our first snowfall and I'm happy to report that there are no leaks!
Of course, just because building season is over, doesn't mean that he is finished building. He is 90% finished but somehow keeps finding more things to do.
Painting is still not complete which means my decorating isn't either, but that leaves me all winter to shop. So without further adieu….
First I had to choose my bear!
All opened up and ready for visitors!
Someone is more interested in his frisbee!
Come on in!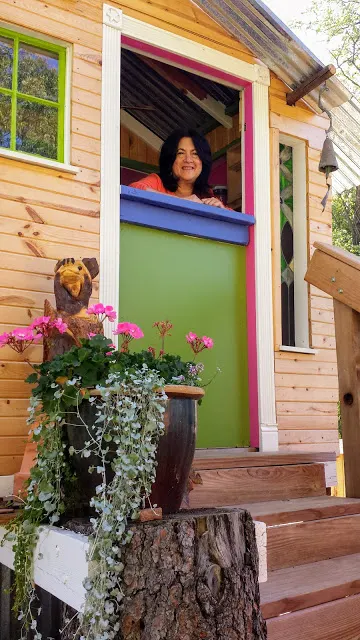 Next year I will put a desk where the white table is.
Notice Manservant's windows! He made the stained glass in college!
He put a bowl for washing hands and a wine glass rack. That goes without saying!
And notice the cute little spoon on my push out window. I didn't show you up above, but there is more storage!
The South wall with opening window and my cute folding Costa Rican rocker that I found on Craig's List for $35!
I like to sit in it, but don't get to do it very often!
If I stand up and someone is taking my photo, it looks like this!
This is my view!
And when I serve dinner it looks like this!
I guess we will have to wait until next year to see the final results, but at least it is very close! And I love it! A lot! With lots of exclamation points!!!!!!!!
How To Make Pommes Anna in Muffin Cups:
And now it is on to these cute little Pommes Anna. Such a fancy name for someone named Anna who must have loved potatoes.
I think the name should be changed to Pommes Abbe, because I believe I love potatoes more than Anna, but then I didn't know Anna, so maybe it's a tie.
This is an easy way to make Pommes Anna/Abbe.
Much easier than making it in a giant cast iron skillet and then having to flip it over to brown the other side.
Trust me on this because I have done it and now there is no going back.
This recipe is your reason to conquer this dish, because now you don't have to flip a heavy hot cast iron skillet upside down.
You only have to flip a muffin pan onto a cookie sheet and that is a WHOLE lot easier.
Serving little individual rounds is like WAY better than serving someone a slice.
This way no one fights about who got the larger slice…everyone gets the same sized serving.
And trust me, these potatoes are worth fighting over. Golden and crisp on the outside and creamy and tender on the inside; I'm so glad there are some leftover for me! (Thanks to Seasons and Suppers for turning me onto these!)
I make these beauties in deep dish muffin cups. I like them to fill me up.
I find if they are made in a regular muffin pan they are much skinnier, so to speak.
They become almost a really thick potato chip. Not there is anything wrong with that! However on a dinner plate I like something more substantial, so take your pick on what size you prefer.
And if you want to use sweet potatoes, those work well, too!
The variations on these are incredible. Next time I will do these with duck fat.
And maybe the time after that I will use truffle oil and truffle salt.
And then there are those baked with Parmesan cheese. Oh My!
Feel free to embellish these, as they are just waiting to be made up.
Perfect for fall, these potatoes loved by Anna and Abbe, make the house smell grand.
But of course, they also taste pretty, pretty grand, too!
Print
Pommes Anna Muffin Cups
Author:

Abbe Odenwalder

Prep Time:

25 Minutes

Cook Time:

60 Minutes

Total Time:

1 hour 25 minutes

Yield:

6

Servings

1

x

Category:

Side Dish

Method:

Baking

Cuisine:

American
---
Description
These muffin cup Pommes Anna are really just crisp and golden potatoes on the outside, while creamy and tender within. Impress everyone with this easily made side dish and have them begging for more.
---
1/2

c unsalted butter
Fresh thyme sprigs

2

t chopped thyme leaves

2

cloves garlic, finely chopped

1 1/2

lbs Yukon Gold potatoes

2

t kosher salt
Fresh ground pepper

1/2

c fresh grated parmesan (optional)
---
Instructions
Preheat oven to 350.
Melt butter and brush 6 large muffin cups with a bit of it. Place one thyme sprig in each cup. Stir in chopped thyme and garlic to the rest of it. Cook over low heat until fragrant. (I often do this in the microwave but be careful it doesn't sputter out of control. Set aside.
Using a mandoline, slice potatoes (no need to peel), into very thin, even rounds. (This is the reason to use a mandoline.) Place in a large bowl and toss with garlic herb butter, salt and pepper.
Start placing potato slices into each cup. Remember the bottom of the cup will be the top. Try to do this in a circular fashion. If using parmesan sprinkle a little between each layer. When the cup is filled to the rim, press down lightly to compact. Drizzle any remaining butter on top.
Cover muffin tin with foil. Place on a baking sheet and bake until potatoes are easily pierced with a knife. This took me about 40 minutes, but this will vary base on the thickness of the potatoes and the size of your muffin cups. Remove foil.
While these are baking place a piece of parchment on a baking sheet with a rim that is large enough to hold your potatoes when they are flipped. When potatoes are ready to be flipped, remove foil. Loose stacks with a butter knife and place parchment covered pan on top of your muffin pan. Now holding one hand on the bottom of the muffin pan and one on the top of the baking sheet, carefully flip these over.
Increase oven temperature to 425. Place potatoes in oven and bake for about 10 minutes. Now using two spatulas, carefully flip them over again. (I use the back of one spatula to slide the potatoes on and the other as a flipper. Hope that makes sense.)
Bake for an additional 10-15 minutes until the bottom is crisp and golden. Remove from oven and flip thyme side up. Serve and enjoy!
---
Notes
Note: I have had great success reheating these in a convection oven straight from the fridge. Bring them to room temperature. Place on parchment and bake at 350 for about 10 minutes.
Keywords: pommes anna, potato anna, potato anna