Making this microwave pecan pralines recipe may not be as good as going to New Orleans, but it's close! If you've ever been to New Orleans, I'll bet you ate a pecan praline, or at least grabbed a sample off the street. Manservant loves these sugary, nutty treats because they remind him of his childhood. If you love brown sugar and pecans, I bet you will love pecan pralines, too!
I made these pecan pralines last August when Alex was actually home for his birthday.
It was his idea to make this ice cream cake from the New York Times and pralines were required.
They even supplied a microwave pralines recipe so since we were going all in, we had to make the pralines.
Not that there's anywhere in Denver to buy them that I know of.
In any case I think we loved the praline more than the actual ice cream cake, though that was pretty good, too.
If you love sugar and pecans, and especially brown sugar, then I know you will love a praline.
Often chopped up and used as fillings in various recipes, pecan pralines are crunchy and creamy and totally will give you a sugar high.
But hey-it's a good high!
Where did pralines come from?
Pralines were brought to Louisiana by the French. In France, almonds were often sugar coated and called pralines.
In Louisiana, pecans were the most common nut and with the addition of cream, the new Orleans praline was born.
Good for us, right?
How is praline pronounced?
Well, you can pronounce it however you want, but if you want them in new Orleans, they are pronounced prah-lines.
Now that we've got that out of the way!
Pecan pralines are a fudge-like candy where as praline pecans are ore of a sugary glazed pecan.
Candy making has always been something I never thought myself very good at, but lately my luck has been changing.
Perhaps it's the new candy thermometer I bought. Well actually Manservant bought it for me.
He told me his Grandma from Mississippi was a very skilled candy maker. I only met her once and I don't imagine I'll ever be a great candy maker but a thermometer really does help-especially when it's accurate.
Use a Candy Thermometer!
So my first tip is to test your candy thermometer. Merely boil some water and take the temperature while it's boiling It should register about 212 degrees.
Here in Denver it is 202 degrees which means I need to adjust all candy recipes by 10 degrees.
And who knew I was so good at math?
This recipe for pralines, made in the microwave is pretty straight forward.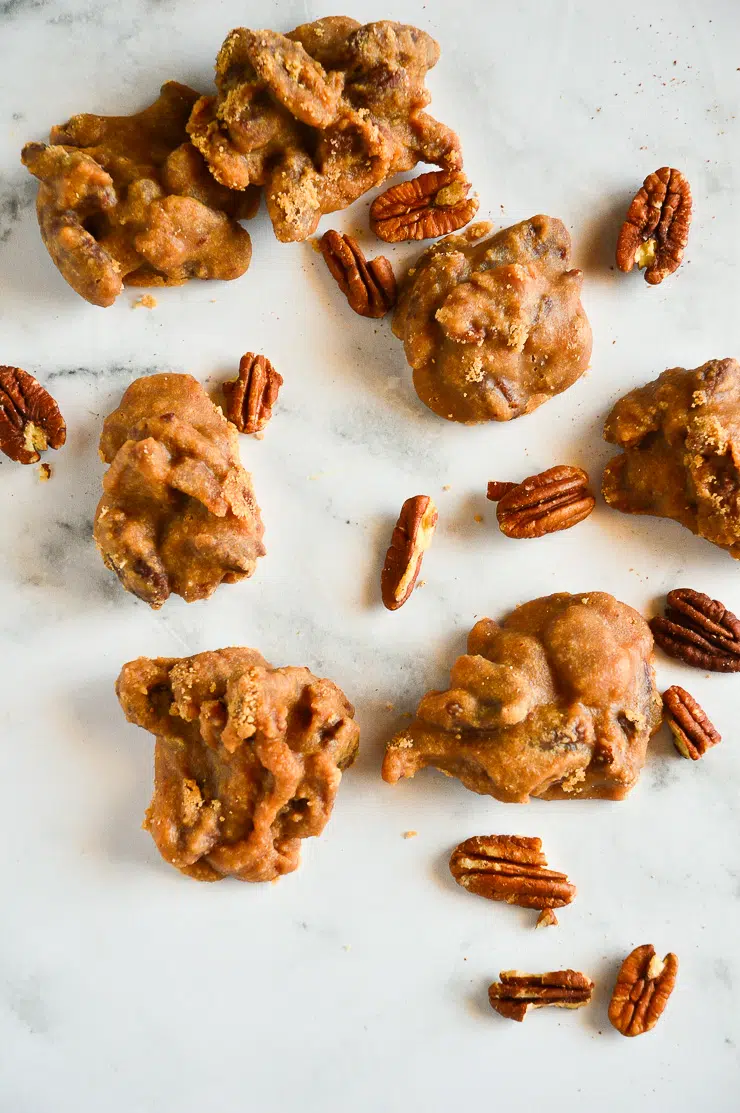 How To Make This Microwave Pecan Pralines Recipe:
You must have a large glass bowl to begin. And hot pads. Because that bowl gets hot!
Then toast your pecans-it really does make a difference in flavor.
From there it's a matter of adding cream and milk, sugar and brown sugar, and of course butter, to the bowl.
Then it's a matter of stirring after heating for 5 minutes and then heating 5 minutes more.
At that point stir in the toasted pecans and heat for 5 more minutes.
Now bring out your thermometer and check the temperature.
If it's not where it's supposed to be, add another minute to the clock.
Once it reached the temperature you want remove from the microwave and let sit for twenty minutes without stirring.
Why shouldn't you stir candy before it has cooled down?
If you do the sugars may crystallize and you will end up with crystal candy-not creamy candy!
Now add the vanilla and stir until the mixture is not glossy. It should look cloudy and you want to stop at that point.
If you feel tiny sugar crystals while stirring, that is the time to stop.
And should your praline mixture seize up and crystallize, add a tablespoon of cream and place it back in the microwave for one minute. Stir until the mixture loosens up. You may have to do this several times.
Then cool it all over again!
Needless to say the pralines didn't last long in our house.
Perfect for gifting, I thought you might want to try your hand at this simple microwave pecan pralines recipe.
So go buy some fresh pecans and get this holiday started!
Need a Few More?
I'd Love it if You'd Follow Me and Pin and Share!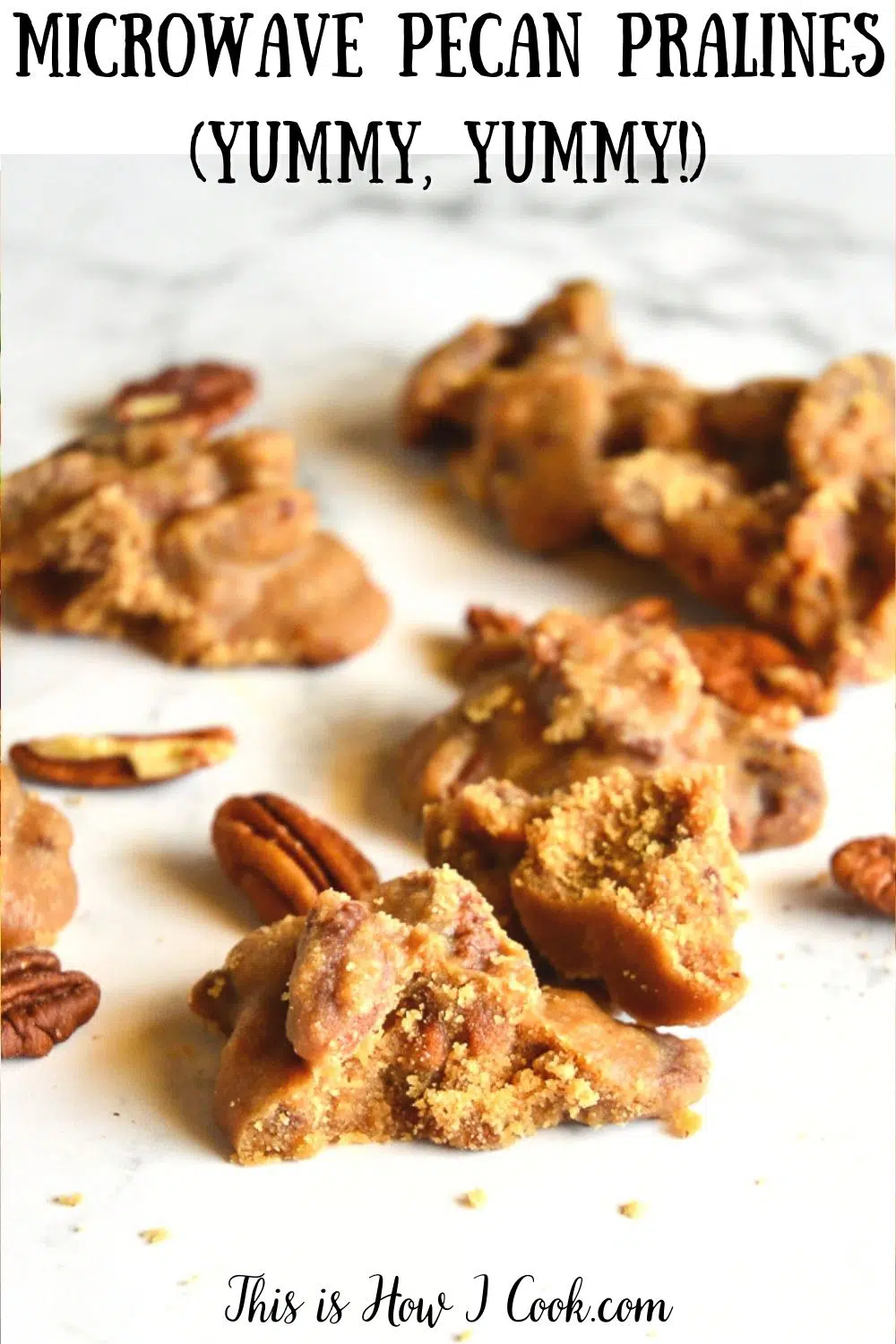 Print
Microwave Pecan Pralines Recipe
Author:

Abbe Odenwalder

Prep Time:

25 Minutes

Cook Time:

20 Minutes Rest Time

Total Time:

45 Minutes

Yield:

About

3

0

1

x

Category:

Candy

Method:

Microwvave

Cuisine:

American
---
Description
These decadent pecan pralines are perfect for gifting. Easy to make in the microwave; easy clean up and easy to eat. These sugary, nutty, pralines are my husband's favorite treat!
---
3 cups pecans
1 1/2 cups granulated sugar
1 1/2 cups light brown sugar
3/4 cup heavy cream
1/3 cup milk
1/3 cup butter
3/4 teaspoon salt
1 teaspoon vanilla extract
---
Instructions
Spread the pecans on a baking sheet and bake in a 350-degree oven until lightly toasted, 10 to 15 minutes.
Combine all the ingredients except the pecans and vanilla extract in a 4-quart glass bowl. Heat in a microwave oven on high power for 5 minutes. Using oven mitts or potholders, carefully transfer the bowl to a countertop and stir with a heat-resistant spatula. Return to microwave and heat for 5 more minutes.
Stir in the pecans and heat for another 5 minutes. Stir and check the temperature with a digital or candy thermometer. If it reads 240 degrees, proceed to Step 4. (At high altitude, adjust accordingly. In Denver, this would be 230 degrees.) If not, continue heating on high power, stirring and checking the temperature every minute until it does.
Remove from oven and let the mix sit undisturbed. After 20 minutes, add the vanilla extract and stir vigorously until it becomes cloudy and creamy. Using 2 spoons, scoop and shape into 2-inch-diameter mounds on a baking sheet lined with foil, parchment paper or a silicone mat.
If the mix becomes too hard to shape, reheat for 15 seconds. Let the pralines rest for 30 minutes. Keep stored in an airtight container.
---
Notes
Keep in an airtight container after cooling.
Keywords: pecan pralines, pecan pralines recipe, recipe for pralines, pralines recipe, what are pralines, New Orleans pralines, pralines pronounciation, easy pralines recipe