Overnight Matzoh Brei is my new best friend. She reminds me a bit of a Dutch Pancake with sauteed apples. But then again she is a bit like bread pudding except she's made with matzoh. And the best part is I make this brei the night before I want to serve her!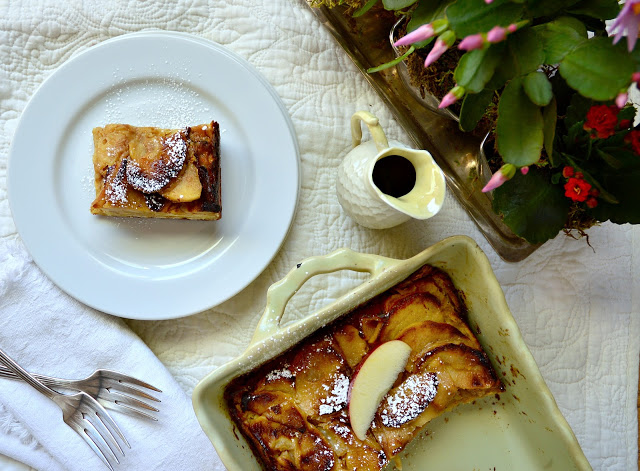 It isn't Passover unless one makes matzoh brei. It isn't a Passover unless one argues on what kind of matzoh brie to make. Sweet or savory? Crispy or soft? So what the heck is matzoh brei? So many questions… Matzoh Brei is a dish of Eastern European origin. Basically it is scrambled eggs with matzoh that has been softened in water or milk. Break up the softened matzoh, mix it with beaten eggs, and fry in butter, oil or schmaltz. That's it in a nutshell, however there are so many variations. I've soaked my matzoh in milk or water, sweetened the eggs with sugar or even sauteed some onions, thrown in lox or mushrooms or even green chiles and that just gives you an idea about how many ways you can go with this. A very uncomplicated dish it is and not unlike Mexican migas which is primarily crispy tortilla chips with scrambled eggs.
Many folks swoon for matzoh brei. I am not one of them. Don't get me wrong. I like matzoh brei. I like the jam and/or the sugar that I sprinkle on top. Matzoh brei is good comfort food but I can make it anytime of the year so I'm not sure why some think it only exists at Passover. To be sure it is the perfect way to dispose of all the matzoh that doesn't get eaten…so on the last day of Passover it is great to have a brunch and use up all the remaining matzoh for matzoh brei. But shoot…the stuff does keep like FOREVER! And for the record it is pronounced bry with the y being a long i!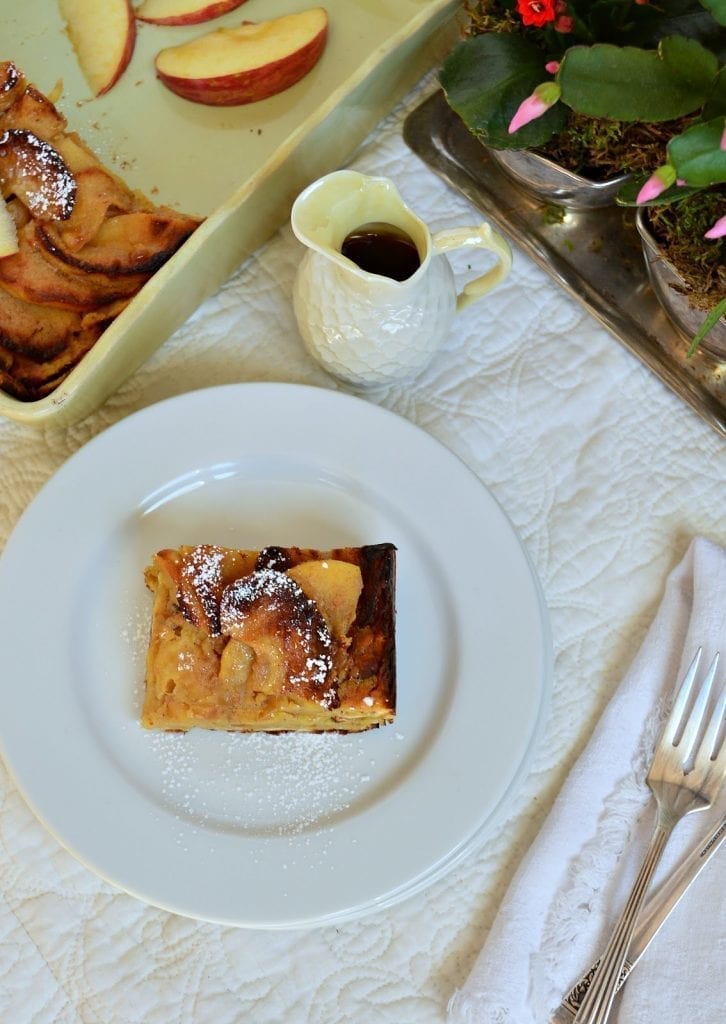 This year I decided to try an overnight matzoh brei and this…this I could become very good friends with. Not unlike an apple pancake except in place of the pancake there is matzoh. It is not unlike a bread pudding except there is matzoh in place of bread. Perhaps it is the sauteed apples with maple syrup that I love or the fact that is made ahead and saturated in eggs, vanilla and cream overnight. Perhaps it is the sweet cinnamon smell that emanates from the oven while it is baking. Perhaps it's the extra syrup I pour over or the brown sugar sweetened sour cream that is a great addition. Whatever the case, this matzoh brei is one I can now swoon over each year.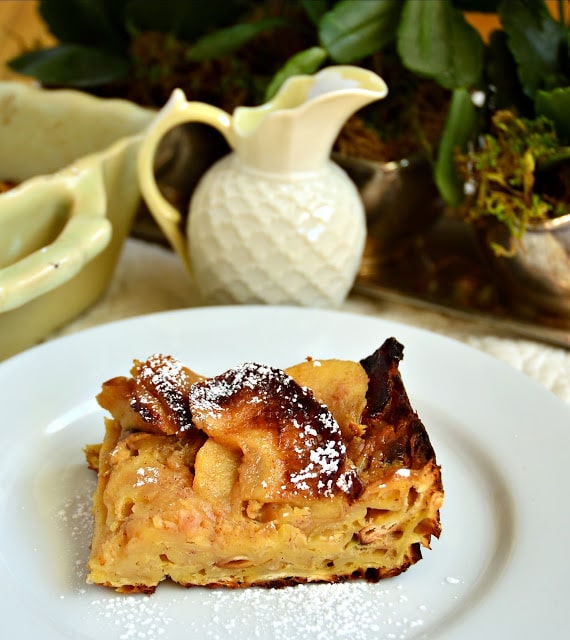 A Few Other Matzoh Recipes: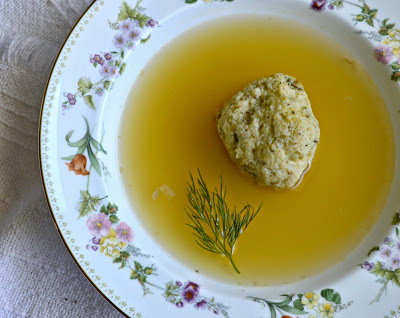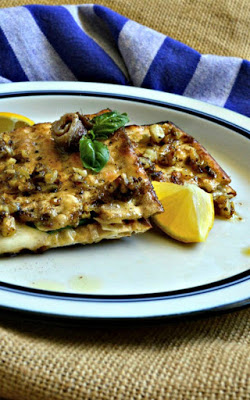 Don't Lose This Recipe!
Please Pin and Share!!!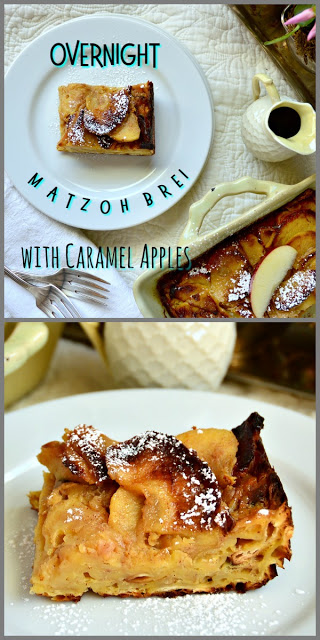 Yield: 6 ServingsAuthor: Abbe OdenwalderPrint Recipe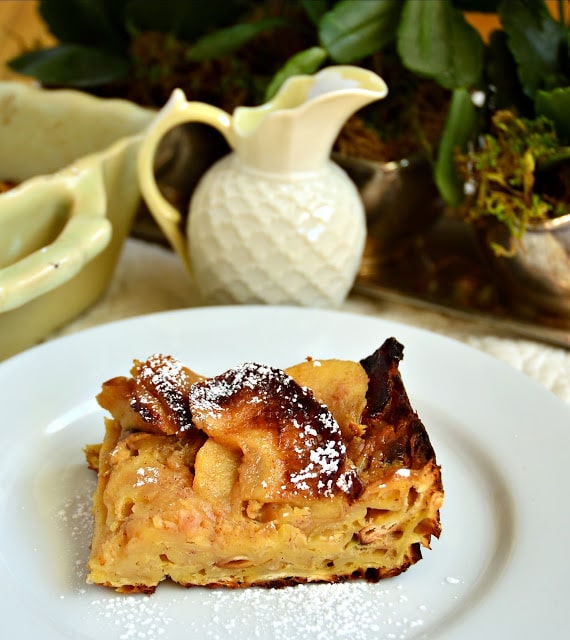 Caramel and Cinnamon Apple Overnight Matzoh Brie
This caramel and cinnamon apple matzoh brie is perfect for dessert or brunch! It might even be called a Passover bread pudding. Whatever you call it…I just call it good!
prep time: 25 MINScook time: 25 MINStotal time: 50 mins
ingredients:
Caramel Apples
4 Large apples, about 2 lbs, combo sweet and tart
3 T butter
1/3 c maple syrup
1/2 t cinnamon
1/3 c Half and Half or cream or evaporated milk
2 t fresh lemon juice
1/4 t salt
Matzoh Brie
Butter for greasing pan plus 2 T melted butter
4 plain or egg matzoh
1/2 c evaporated milk, half and half or cream
4 large eggs
3/4 t vanilla or Kosher for Passover vanilla
1/8 t salt
1 t brown or white sugar
instructions
Caramel Apples
Peel, core and cut each apple into slices or small chunks. In a large skillet, melt the butter over medium high heat. Add the apples and cook, flipping as necessary, for abut 3 minutes. Add the syrup and cinnamon and cook until the apples are just tender, about 6 minutes, depending on the variety and size of the slices/chunks. using a slotted spoon, transfer the apples to a bowl and set aside.
Boil the syrup remaining in the skillet. (In my case I didn't have much so I added 2 T more to the pan. It also depends on the variety of apple you use and how much juice it makes.) Boil until it become a thick caramel but don't let this burn. Stir a lot! Off the heat add the milk or cream, lemon juice , salt and whisk well. Return skillet to heat and simmer the sauce until smooth and somewhat thickened. Return the apples to the skillet and stir until they are well coated. Set aside to cool.
Matzoh Brie
Generously butter the bottom and sides of a large shallow baking pan, 13 x 9 or I used an 11x 8 which made this a bit thicker.
Break the matzohs into small pieces and spread them evenly in the buttered pan.
In a large mixing bowl or a 4 cup measure, whisk together milk or half and half, eggs, vanilla, salt and sugar. Beat in the cooled melted butter. Pour this mixture over the matzoh and let this soak for about 15 minutes. I covered this with plastic wrap and pressed the matzoh well into the milk. (Matzoh have a tendency to float until they are saturated.)
Now smooth out the matzoh and spread the apples and sauce over the top as best you can. Cover the pan with wrap and refrigerate overnight.
Remove pan from fridge and bring the dish to room temperature. Preheat the oven to 425. Bake uncovered for about 20-25 minutes, until cooked and the top is light golden brown. To finish the matzoh brie, [lae under a hot broiler and briefly brown the apple topping, rotating as necessary until everything is evenly golden.
.recipe-inner{text-align:left;max-width:620px;border:6px double #009BFF;padding:20px;background:#f2f2f2;margin: 40px auto;font-family:Lato, sans-serif;}.recipe-inner a{color: #4193f0;}#recipe .recipe-name{font-size: 21px;}#recipe .info{position:relative;font-size:13px;text-transform:capitalize;border-bottom:2px solid #000;padding-bottom:7px;margin-bottom:20px}.info:after{content:";display:table;clear:both}#recipe .info span:first-child{margin-right:30px}#printbutton{border:0;margin:0;color:#fff;float:right;background:#555; padding:5px;border-radius:3px;cursor:pointer}#recipe .time{text-transform:uppercase;font-size:12px;text-align:center;background:#fff;padding:15px 0;margin-bottom:20px}#recipe .time span:not(:last-child){margin-right:12px}#recipe .time span:not(:last-child):after{content:";display:inline-block;height:10px;width:1px;background:#000;vertical-align:middle;margin-left:12px}#recipe .summary{line-height:1.7;font-style:italic}.ingredients{line-height:1.7;clear:both}.ingredients h3,.instructions h3,.notes h3{font-size:20px !important;font-weight:400 !important;margin-bottom:0;color:#000;text-transform: uppercase;}.ingredients ul{margin:0!important;margin-top:5px !important;}.instructions li{margin-bottom:15px !important;line-height:1.6;text-align:left;}.ingredients li{text-align:left}#recipe .instructions{margin-top: 30px;}#recipe .instructions ol,#recipe .instructions ol li {list-style:decimal !important;}#recipe .instructions ol{padding-left:39px;margin:0!important;margin-top:6px !important;}.posturl{border-top:1px solid #ccc;padding-top:10px;}.ing-section{padding-left:20px;margin: 10px 0;}.ing-section > span{font-weight:700}.recipe-credit{font-size:13px;border-top: 1px solid #ccc;padding:10px;text-align:center;background:#ffffff;margin:-20px;margin-top:15px;}.recipe-credit a{color:blue;text-decoration:none;}.copyright-statement{font-size: 13px;font-style:italic;border-top: 1px solid #ccc;margin-top:15px;padding-top:15px;line-height:1.6;}.notes pre{font-size: 15px;margin: 10px 0;padding-left: 20px;font-family: inherit;line-height: 1.7;white-space: pre-line;}.notes h3{margin: 0}.nutrition-info{font-size: 0;margin: 20px 0;padding: 10px;background: #fff;}.nutrition-info>div {display: inline-block;font-size: 14px;width: 20%;text-align: center;}.nutrition-info>div:nth-child(5) ~ div{margin-top: 20px;}.nutrition-info>div p{margin-top: 0;margin-bottom: 7px;}.print-options {display:none;position: absolute; top: 0; right: 0; background: #fff; border: 1px solid #ccc;z-index: 1;}.show-print-options{display:block}.print-options button { display: block; background: transparent; border: 0; cursor: pointer; padding: 10px; width: 100%; text-align: left; } .print-options button:hover { background: #555; color: #fff;}#recipe .image{width:auto;text-align:center;margin-bottom:25px;margin-right:20px;float:left}#recipe .image img{max-width:250px}#recipe .recipe-name{margin-bottom:10px;line-height:1.6;text-transform:uppercase;margin-top:0;letter-spacing:1px;text-align:left}#recipe .summary{line-height:1.7;font-style:italic}#recipe .time{background:#fff;clear:both;border:1px solid #d7d7d7}function printDiv(a,printOption){if(printOption === 'printWithOptions' || printOption === 'printWithImage') {document.querySelector('.print-options').className='print-options';}var b=document.getElementById(a);newWin=window.open(",'printwin');var c=newWin.document.createElement('style');c.innerHTML='html{font-family:sans-serif}.print-options{display:none}img{visibility:hidden;display:none;}#recipe-pinit,#printbutton,.recipe-credit{visibility:hidden;display:none;}.info{text-align:center;text-transform:capitalize}.recipe-name{text-align:center}.info span{margin-right:20px}.time{text-align:center;padding:10px;border-top:1px dashed #000;border-bottom:1px dashed #000;}.time span{margin-right:20px}.adunit,.adunitlabel,.adunitwrapper,.adunitwrapper,.chicory-order-ingredients{display:none!important}.nutrition-info{font-size: 0;margin: 20px 0;padding: 10px;background: #fff;}.nutrition-info>div {display: inline-block;font-size: 14px;width: 20%;text-align: center;}.nutrition-info>div p{margin-top: 0;margin-bottom: 7px;}.ingredients h3, .instructions h3{text-transform:uppercase !important;}';if(printOption === 'printWithImage') {c.innerHTML = c.innerHTML.replace('img{visibility:hidden;display:none;}', 'img{display:block;margin: 20px auto;width: auto;max-width:100%;}');}newWin.document.getElementsByTagName('head')[0].appendChild(c);newWin.document.getElementsByTagName('body')[0].innerHTML = b.innerHTML;newWin.print();}