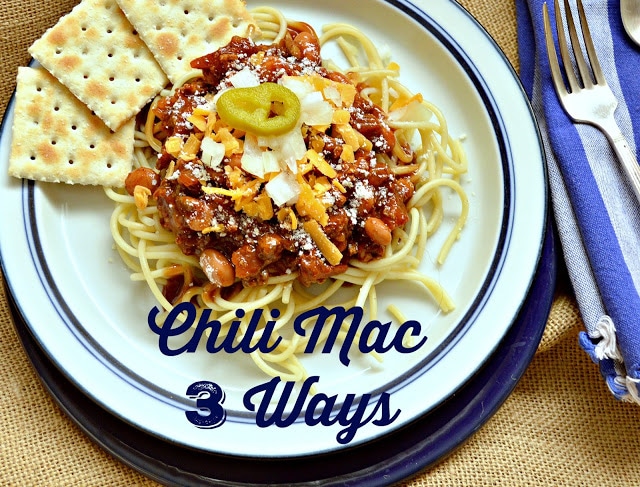 My husband grew up in Texas. He loves chili. (I don't know if this is a Teyxas thing or not but I suspect it could be.) He loves chili however many ways he can get it. He loves chili for breakfast, lunch or dinner.
He loves it with eggs. He loves it with burgers. He loves it in a bowl sprinkled with cheese and onions and jalapenos. He loves Texas chili; the kind with hunks of meat and deep, dark chipotle, ancho seasoning. He loves it made with hamburger meat, too. And chorizo.
He loves it with beer in the recipe and beer on the side. He loves it with football games or on a snowy day. He loves it with pintos, but he'll eat it with black beans. He loves it green. He loves it red. He loves it over cornbread and especially over Fritos. He adores it over hot dogs. I've never seen him eat it over tuna fish but I suspect he might… Well, maybe not, but he does love tuna fish with green chiles. Yes, my husband loves chili.
I, on the other hand, grew up in Illinois. We didn't eat chili like THAT. We ate chili with red kidney beans and I do not like red kidney beans. No. I do not. I do not remember cheese or onions served on the side. But I do remember my mother ordering chili mac three ways whenever we went to Kankakee's version of Steak and Shake – Wally's.
This diner was named Wally's. I don't know who Wally was but Wally had very good taste in all things diner. I liked their thin, crispy burgers and my brother loved the pork tenderloin. We all liked their shakes and fries. My father probably had the jello that was always on the counter cut into neat little red or green cubes with a squirt of probably fake whipped cream.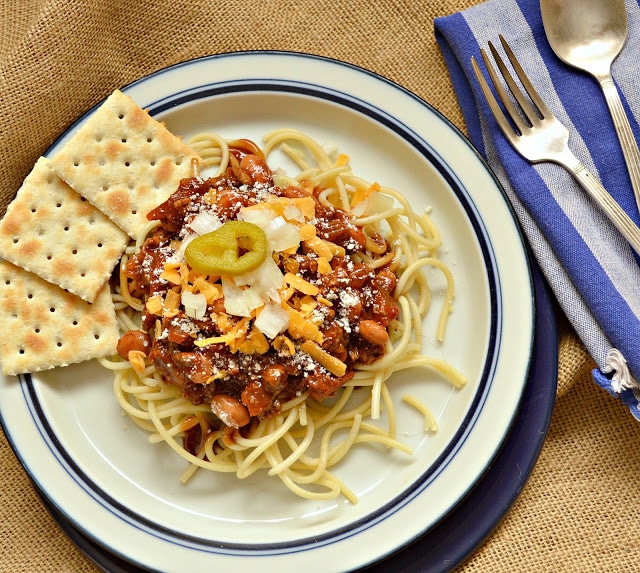 Whatever. I remember this chili mac. I never ate it. Never had a bite that I can remember. But I did eat the saltines. It always came with a lot of saltines. And my mother gave us each a package. But back to chili. I get tired of chili. I wanted a new way to make chili. One that wouldn't burn my mouth with heat. Well, Midwest chili is not known for its heat at least that I know of. And that is when I remembered my mom's chili mac. She always ordered it so I figured it must be good.
In any case what is featured below is probably not my mama's chili mac. But I will tell you that it is really, really good. And I like this better than Texas chili but let's not start a fight or anything.
Print
Not My Mama's Chili Mac or Chili Three, Four or Five Ways
Author:

Prep Time:

20 Minutes

Cook Time:

20 Minutes

Total Time:

40 Minutes

Yield:

4

-

6

Servings

1

x

Category:

Soups and Chili

Method:

Stove Top

Cuisine:

American
---
1 lb ground turkey or chicken or beef
½ c diced onion plus ½ c more for topping
2 minced cloves of garlic
1 T ancho chili powder or just use your favorite chile powder
1 T rojo chili powder
1 t oregano
¼ t allspice
½ t smoked paprika
1 t cocoa
1 14 oz can diced tomatoes
½ envelope Lipton's onion soup mix
½ c ketchup
1 T yellow mustard
1 t Frank's hot sauce
1 c water or beef bouillon
1 can pintos, drained and rinsed
1 ½ c grated cheddar cheese
Canned Parmesan cheese at your discretion
½ lb cooked spaghetti or elbows
BBQ Sauce
1/4 c ketchup (I'm a Heinz girl)
2 T Worcestershire
2 T brown sugar
---
Instructions
Brown turkey over medium heat and crumble it as it cooks.
Add onion and garlic and cook for about 2 minutes. Push to side and add chili powders, oregano, allspice, and paprika. Cook for a minute or so until spices are toasted. You will smell them.
Add can of tomatoes, cocoa, onion soup mix, ketchup, mustard and Frank's hot sauce. Let simmer a few minutes until liquid has disappeared by about half.
Stir in can of beans. Now stir in water and let simmer about 10 minutes. It should still look like a thick gravy but not be so thick as to not have liquid. If you let it sit a bit too long and it gets too thick just add a little more water. It can take it!
BBQ Sauce
Mix ingredients together and shake or stir until sugar dissolves.
Assembly
Place a serving of pasta on a plate. Top with several spoonfuls of chili. Spread the chili with 1 T of BBQ sauce or to taste.
Top with some spoonfuls of diced onion and then the grated cheddar. Feel free to use the Parmesan out of a can. And just for good measure I topped my chili off with a few pepperoncini slices, but you could use jalapenos. If you like saltines-go for it! Crumble a package of oyster crackers on top or some Saltines straight from the cellophane!
---
Keywords: Recipe for Chili Mac, Chili Mac, Chili Mac recipe, Chili 5 Ways, Cincinnati Chili
More to Try:
Green Chile
Corn and Green Chile Chowder
Red Chile
Cincinnati Chili
Please Pin and Save for Future use: