King Ranch casserole is a Texas version of lasagna. If you love chicken and chiles, cheese and peppers, you will love this casserole. My family sure did!
With a man from Texas in the house, it seemed about time that I should try the esteemed King Ranch casserole.
My guess is it became popular with the introduction of canned soup some time around the turn of the century.
This casserole is named after the famous King Ranch, the largest in the country. Perhaps the world.
Problem is they raised cattle and not chickens, and this is definitely a chicken casserole. No one is quite sure where the name came from.
No worries. You could call this dog food and both the dogs and Manservant would come running.
What is King Ranch Casserole?
This classic casserole is layered with crisp corn tortillas instead of pasta.
It is layered with a variety of peppers mixed into a smoky white sauce instead of a tomato sauce. But have no fear. It still contains tomatoes.
With layers of cheese, but no mozzarella, this crowd pleasing casserole can be used as a side dish or a main course.
Not grilling for Father's Day? This crispy, creamy, smoky casserole will fill in.
Actually it doesn't just fill in. It stands in quite proudly and will have everyone asking for the recipe.
It just so happens I've made this three times since the end of March and each time everyone is hoping to get the last bite. Zoe. Whitney. Manservant? Here is the recipe!
I'm not going to tell you that this is quickly made. However, it can be made in stages over a few days if necessary.
I'm not going to tell you that this version contains condensed soup, because frankly I am not a fan.
If you want a quick recipe just head for Mr. Google and I promise you will find many.
But good things come to those who wait and I assure you that this humble casserole is SO worth waiting for.
Though it is best straight from the oven, it is great for reheating in the microwave, too.
It's hard to believe, but the corn tortillas retain their crispness during the first bake. I am not a fan of mushy and this is one reason I love this King Ranch casserole.
I have seen some recipes that just call for tortillas straight from the package, but not this one. Think of it as a good thing!
Why yes, you can use a rotisserie chicken or any leftover chicken. 5 cups of shredded cooked chicken should do it!
Next time I may try using tostada shells that are already fried or baked or whatever it is they do to those sold in the store. However I will tell you, that it really isn't hard to make your own.
Merely placing cooking sprayed corn tortillas on a baking sheet into a 400 degree oven for about 5 minutes produces pretty good tostada shells.
And yes you can buy pre-shredded cheese, but honestly, the real thing is like WAY better.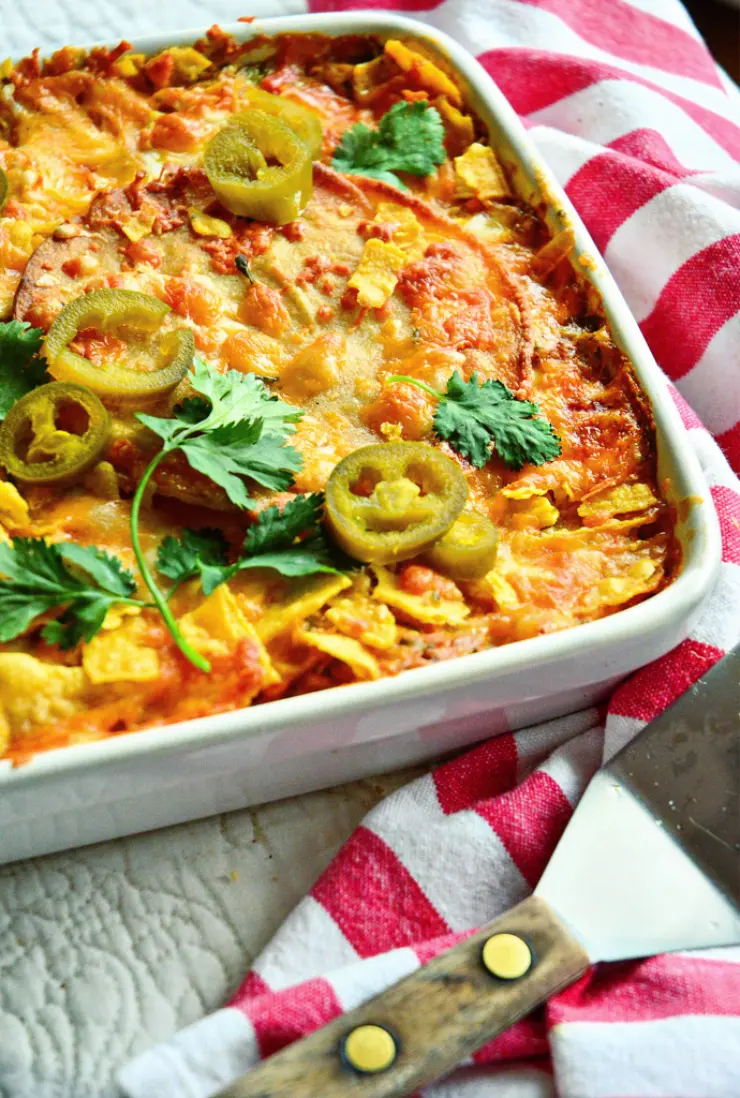 I love garnishing this with my pickled jalapenos. In fact, I love garnishing most anything with my pickled jalapenos!
Manservant says he never ate this as a child so he is making up for it now. Stand back.
Do not get in the way of this man's food.
Need a Few More?
Please Pin and Share:
Print
King Ranch Casserole (A New Family Favorite!)
Author:

Abbe Odenwalder

Prep Time:

50 Minutes

Cook Time:

45 Minutes

Total Time:

95 Minutes

Yield:

6

-

8

Servings

1

x

Category:

Casserole

Method:

Baking

Cuisine:

American
---
Description
King Ranch casserole is a Texas version of lasagna. If you love chicken and chiles, cheese and peppers, you will love this casserole. My family sure did!
---
6 T butter or olive oil, plus more to grease the pan
1 1/2 c chopped onion
1 c chopped red bell pepper
1 jalapeno pepper, seeded and chopped
1 can green chilies, drained OR 1 c chopped poblanos OR BOTH!
2 chopped garlic cloves
1 T chile powder (I like ancho)
1 T ground cumin
1 t kosher salt
1 /2 t fresh ground black pepper or more to taste
3/4 t smoked paprika
1/4 c flour
1 3/4 c chicken stock (I use Better Than Bouillion and make my own)
1 t liquid hickory smoke or more to taste
1 10 oz can Ro-Tel tomatoes with green chiles, drained OR 1 14 oz can diced tomatoes, drained, and 1 4 oz can of green chiles
1 1/2 c sour cream
5 c shopped or shredded cooked chicken
1 c fresh cilantro, chopped
2 c shredded Monterey Jack cheese (I like the Jalapeno Jack version)
2 c shredded sharp Cheddar cheese
18 corn tortillas, cooked until crisp or tostada shells from the grocery
Cooking Spray for the tortillas
---
Instructions
Melt the butter or oil in a large skillet over medium high heat. Add the onions and peppers and cook until lightly browned, 8 to 10 minutes.
Add the garlic, chile powder, cumin, salt, pepper and smoked paprika. Stir for 1 minute.
Sprinkle the flour over the veggie mixture and cook stirring constantly for 1 minute. Slowly whisk in the stock and bring to a boil. Boil until mixture thickens, which could take 1 – 2 minutes. Remove from heat and stir in liquid smoke, drained tomatoes and sour cream. Add chicken and cilantro and stir until blended. (Feel free to make this the day before if you want to do this in stages.)
Combine cheeses together in a large mixing cup.
Spray corn tortillas with cooking spray and bake in a 400 degree oven for about 5 minutes. You will have to do this in two batches. (Or try buying tostada shells and let me know how they work!) when finished baking, turn the oven temperature down to 375.
Grease the bottom of a 13 x 9 baking dish. Cover with 6 tortillas, overlapping slightly. Top with 1/2 the chicken mixture and 1/3 of the cheese mixture. Repeat the layers once, adding 6 more tortillas, the chicken and the cheese. Top with remaining tortillas and the cheese.
Coat a sheet of aluminum foil with cooking spray or oil and cover the baking dish. Bake for 20 minutes.
Uncover the casserole and bake for 10 to 15 minutes more or until golden and bubbly.
Let casserole stand for 10 minutes to cool slightly. Garnish with more cilantro or pickled jalapenos!
---
Notes
Slightly adapted from Leite's Culinaria.
Keywords: King Ranch casserole, recipe for king ranch chicken, recipe for king ranch chicken casserole, king ranch chicken recipe, chicken casserole, king ranch casserole recipe