A Grilled Lamb Chops Recipe is so easy to make you may wonder why you never grilled lamb before. Served with a simple mint chimichurri, these lamb chops with sauce are incredible!
Manservant was astounded when I agreed to writing a Whole Foods post on grilled Icelandic lamb chops.
After all, I stopped eating red meat 8 years ago.
Why did I stop? The short answer is that after viewing a movie about large scale production "factory farms", I decided that as a child I had eaten enough meat to last a life time.
And so I just stopped. I am not usually so decisive about such important matters, but for some reason that movie resonated with me.
And I don't even remember the name of it!
The rest of my family continued to eat their beef and their lamb, but I never really missed it.
Well, I did miss eating burgers but even that desire has been erased, as there are so many other choices one has when it comes to burgers.
And really; aren't burgers all about the fries and ketchup? I continue to cook with beef, but over the years it has become less and less.
I do grill the occasional steak when they all come home, and if I am eating a chicken burger, I'll buy them beef, but that's about it!
When I made my decision there weren't a lot of choices when it came to eating beef. Or lamb.
Now there are smaller ranches and grass fed, hormone free cows and frankly, if I had had those choices then I may have never given up eating meat.
But I did and I see no reason to turn back as I've come to live with it.
However I must admit that my family hopes I never see a movie about chickens or pigs because when I really think about it, I could probably take those off my list, too.
So why then did I decide to write about grilled lamb chops?
Well, I knew Manservant would be very happy to eat some and this kitchen aims to please.
It wasn't that long ago that I used to make lamb for dinner parties.
Lamb is a great dish for entertaining because many folks just don't know how to cook it and many aren't familiar with it.
That is a shame, because lamb used to be one of my favorites.
Lamb on the Grill?
There are three things that I can tell you now.
Lamb on the grill is incredible!
And… Colorado has great lamb and Iceland has outstanding lamb.
Unless they were sampled side by side, I don't know if one could tell the difference, but from what I remember lamb always had a somewhat mild, but gamey taste that was always enhanced by making a sauce for lamb.
I did sample a bite of the Icelandic lamb, but even if I had wanted more, I don't think Manservant would have allowed me one more morsel.
It was that good. (This is from a man who eats around the world at 5 star restaurants and 5 star holes in the wall, while I sit home with eggs and toast!)
These chops were easily grilled, about 3 minutes per side.
Lamb should be served with a pink interior, for the best flavor.
I served this lamb on the grill with a simple chimichurri type sauce composed of cilantro, red onion and mint with a touch of honey.
The honey really made this! I drizzled it over the chops while they were warm.
You will love this simple honey herb chimichurri, not just on lamb, but also on chicken or fish or honestly, whatever you can think of!
Nothing else was needed because this lamb and its simple sauce were glorious all on their own!
Icelandic lamb is special. The sheep are allowed to graze freely for 5 months, eating herbs and berries through the mountains, with 24 hours of sunshine to keep them happy.
Think no pesticides there! They are then rounded up each fall in true Viking tradition.
The lamb is sent fresh to Whole Foods and is only sold in the fall.
It is mild and delicate and requires very little seasoning or preparation.
It is tender, with such a delicate taste; I almost didn't know I was eating meat.
Lamb makes a perfectly elegant meal for a party or yourself.
It isn't available at all Whole Foods stores, so get it while you can.
Need a Few More?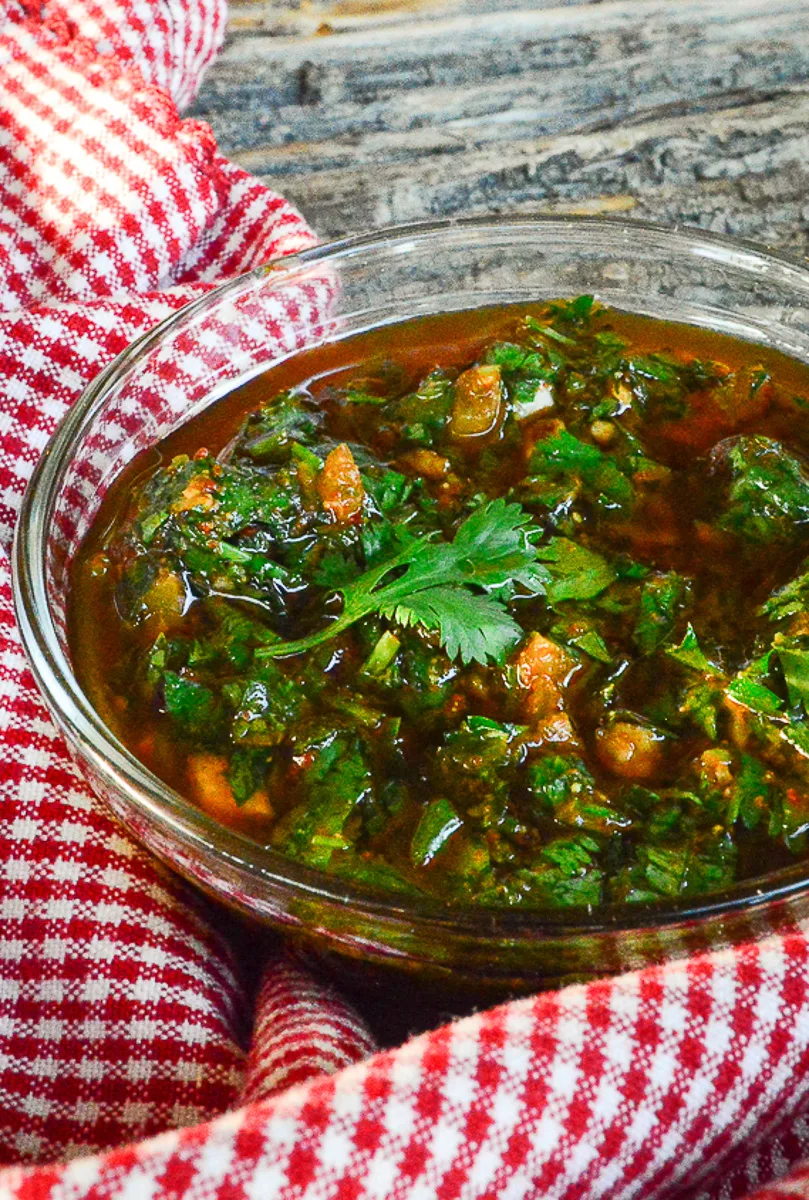 Grilled Lamb with Mint Marinade
Print
Grilled Lamb Chops with Honey Herb Chimichurri
Author:

Abbe Odenwalder

Prep Time:

5 Minutes

Cook Time:

4 - 6 Minutes/side

Total Time:

3 minute

Yield:

2

Servings

1

x

Category:

Main Course

Method:

Grill

Cuisine:

American
---
Description
Grilled Lamb Chops are outstanding as is this honey herb chimichurri with mint, cilantro and red onion which is a perfect sauce for lamb. Or chicken. Or even shrimp or fish!
---
2–3 Lamb loin chops per serving
Salt and Pepper
Honey Herb Chimichurri
2 1/2 T chopped cilantro
2 1/2 T c chopped mint
2 T finely diced red onion
Pinch of salt
Pinch of chile flakes
1/2 to 3/4 t of honey
3 T olive oil
1 t red wine vinegar
---
Instructions
Bring lamb chops to room temperature, about 20 minutes before placing on medium high preheated grill. Season with coarse salt and freshly ground pepper on each side.
While grill is heating, combine ingredients for the honey herb chimichurri.
Make sure grill is oiled and place lamb chops on grate for about 3 minutes per side.
I lost my meat thermometer but lamb should be cooked from 145 to 160 degrees and until just pink inside for the best flavor. Over cooked lamb is not good so do not cook to medium well.
Let rest, lightly tented with foil for about 5 minutes before serving which means one should take it off the grill about 10 degrees before desired doneness.
Drizzle with chimichurri before serving.
---
Notes
Figure 2 – 3 Loin Lamb Chops per person
Sauce serves 2 people
Keywords: grilled lamb chop, suace for lamb, grilled lamb chops recipe, lamb on the grill, lamb chops with sauce