Royal chicken, Thai style is made with lots of black pepper and cashews. Served with stir fried veggies, this is a meal for royalty.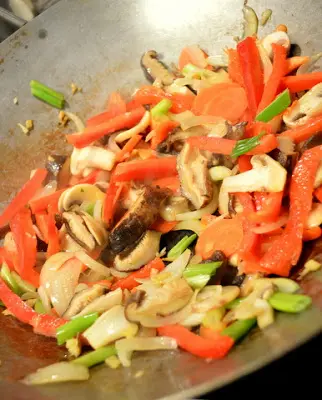 Stir Fried Vegetables
My husband informed me that it is a new year. I mean-like I didn't know.
He informed me that the sugar has to go. I mean really –like I didn't know.
Well it is always hard to let something you love slip away, but I do feel a bit sluggish. It is time to get back on a path of healthier eating.
I'm going to give it the old one two. Let's see how hard I punch.
Not that I'm committing to letting it all go but I'm definitely going to cut way back. I still have some sweet things to share but I'm going to try to kill that sweet tooth for a little while.
Well, at least until Valentine's Day… I guess salt here I come. Just kidding. Maybe not really.
So last night for dinner I made this royal chicken. It is a good start though I know the healthy crew (whoever they are) will pick it apart.
OK! I know. Rice, salty sauce, nuts. Jeez. But hey! I got my 5 servings of veggies in. A girl has to start somewhere.
I love Asian food-my favorite is Vietnamese. But today it is Thai.
I believe they stole this recipe from the Chinese. Well, they did add fish sauce instead of oyster sauce and cashews instead of peanuts.
And being a girl who isn't that big on peanuts I prefer the cashews. Just don't use too many.
This is a quick dish. Lots of fun slicing with the new knife my mom sent.
A Global Chef knife. Expensive but worth it. You will feel like a pro, I promise. So get to work-just don't cut yourself.
And please add broccoli. I would have but the person in my life who is complaining about sugar hates broccoli.
Next time I'm going to ignore him. In fact I think I'll give him broccoli instead of rice. That will show him!
Happy New Year!
Royal Thai Chicken with Cashews
Print
Royal Thai Cashew Chicken with Stir Fry Veggies
Author:

Abbe Odenwalder

Prep Time:

20 Minutes

Cook Time:

15 Minutes

Total Time:

35 minutes

Yield:

4

Servings

1

x

Category:

Main Course

Cuisine:

Asian
---
Description
This royal chicken, Thai style, is made with cashews and a simple sauce with lots of black pepper. Serve with stir fried veggies and you have a meal fit for royalty.
---
1 lb boneless, skinless chicken breasts
Black Pepper freshly ground
2 T canola oil or peanut oil
1/3 c cashews
1 small onion sliced
3 garlic cloves minced
1/2 to 1 t chili paste
3 green onions cut on the diagonal in 1 inch pieces
4 t fish sauce
1 T dark soy sauce
1/2 to 1 t brown sugar
1 fresh red chile sliced and seeded
Stir Fried Veggies
1 large onion sliced
1 medium carrot peeled and sliced thinly on the diagonal
2 garlic cloves chopped
1 inch piece of fresh ginger peeled and cut in slices (if you don't have it you don't need it)
1/2 c dried shitake mushrooms reconstituted or substitute fresh or regular mushrooms in which case I would use a cup
1 red pepper seeded and cut into strips
1 stalk of broccoli cut into florets (if you have a broccoli hater add other vegetables of your choice)
3 green onions cut in 1 inch slices
2 T canola or peanut oil
Sauce
3 T chicken stock
2 T fish sauce
2 T light soy sauce
1 T lime juice
1 T honey or brown sugar
2 t cornstarch mixed with 3 T water until smooth
1 t chili paste if you want these spicier
---
Instructions
Cut the chicken into bite sized pieces and mix with black pepper. (I use about 4 really good grinds of the mill.)
Heat the oil in wok or a wide skillet.
Add the cashews and stir over medium heat until roasted and golden. Do not let them burn. Remove from wok with a slotted spoon.
Add onion and garlic to wok and stir fry for about 3 minutes. Add chicken pieces. Stir fry until chicken is opaque-about 2-3 minutes.
Add green onions, fish sauce, soy sauce and chili paste plus the sugar. Stir about another minute.
Then stir in toasted cashews.
Serve with jasmine rice and the stir fried vegetables below.
Stir Fried Veggies
Before you start cooking have everything ready and sliced and your sauce mixed in a cup. (I make these before I do the chicken. You can reheat in microwave but you can keep them warm in the oven also OR just tent with foil.)
Place wok over medium high heat. Add oil and swirl it around wok. Add onion and cook 1 minute. Add carrot, garlic, ginger and stir fry for another minute. Now add the mushrooms and stir until the carrot begins to soften.
Add red pepper, broccoli and green onions, then pour in the sauce. Stir until vegetables are cooked to your liking but I prefer them crisp.
Add more sour, spicy or sweet if you want it.
---
Keywords: royal chicken, stir freid veggies
The chicken.