A Coffee cake recipe without sour cream? You betcha! And it's just as moist and tender as one made with sour cream. Bake this adaptable, King Arthur cake of the year, and enjoy!
You could say my formative years were shaped by Sara Lee.
Yes, literally and figuratively.
As kids we always knew something special was happening if Sara Lee was on the counter.
The brownies were my fave and the poundcake was extra special when it was strawberry season.
But the coffee cake in its aluminum pan? With the swirly icing?
Oh, be still my heart.
​I was too young to have the coffee cake with coffee, but no matter.
Coffee cake is just fine with a glass of cold milk.
I love having a coffee cake in the house.
Perfect for waking up to and perfect for putting someone to bed.
I think my mom always bought hers when the ladies were coming for a bridge game.
Well, that and Brach's chocolate bridge mix.
I don't remember what I didn't like in the mix, but I do remember the chocolate covered raisins.
And yes. I searched for those!
But coffee cake it is today. And not a sour cream coffee cake recipe today. If you want that, click here!
This coffee cake recipe without sour cream from King Arthur flour, was their recipe of the year.
I knew I just had to try it.
Moist and covered with streusel, along with a ribbon of cinamon zigzagging through the middle, makes this one a keeper.
It may not be Sara Lee, but heck, I don't think anyone will mind.
There are 4 main steps in making this coffee cake without sour cream.
1. Make the filling
2. Make the streusel topping.
3. Make the coffee cake batter.
4. Make the Glaze.
How to Make this Cinnamon Crumb Coffee Cake Recipe without Sour Cream:
Sour cream helps a coffee cake stay moist. It gives it a tender crumb and a velvety texture and also makes it last longer.
But what if you don't have sour cream?
Well, that's what yogurt is for! OR buttermilk. Or even cream cheese or mayo.
This coffee cake contains no sour cream, though it does contain buttermilk.
Don't have buttermilk? Just add 1 T vinegar to 1 cup of milk, stir, and let it thicken a few minutes.
This makes the perfect substitute for buttermilk. And if you are out of vinegar, lemon juice works too.
Greek yogurt can also be used, in which case, mix the yogurt in in its entirety.
Begin by making the filling for the cake.
Combine the cocoa, cinnamon and white sugar. Stir it up and set aside.
Now make the cinnamon streusel by combining the flour, sugar, powdered sugar, cinnamon and salt.
Mix up and add the cold butter and vanilla extract.
Using a pastry blender or the tips of your fingers, pinch the butter into the dry ingredients so you have large and small crumbs.
Set this aside, being sure not to eat it all.
Line an 8 or 9″ square pan with parchment sling and then grease the sides of the parchment paper.
If you want a round cake, like Sara Lee, feel free to use a round, but deep cake pan.
Do not use a bundt pan, as there is not enough batter to fill it.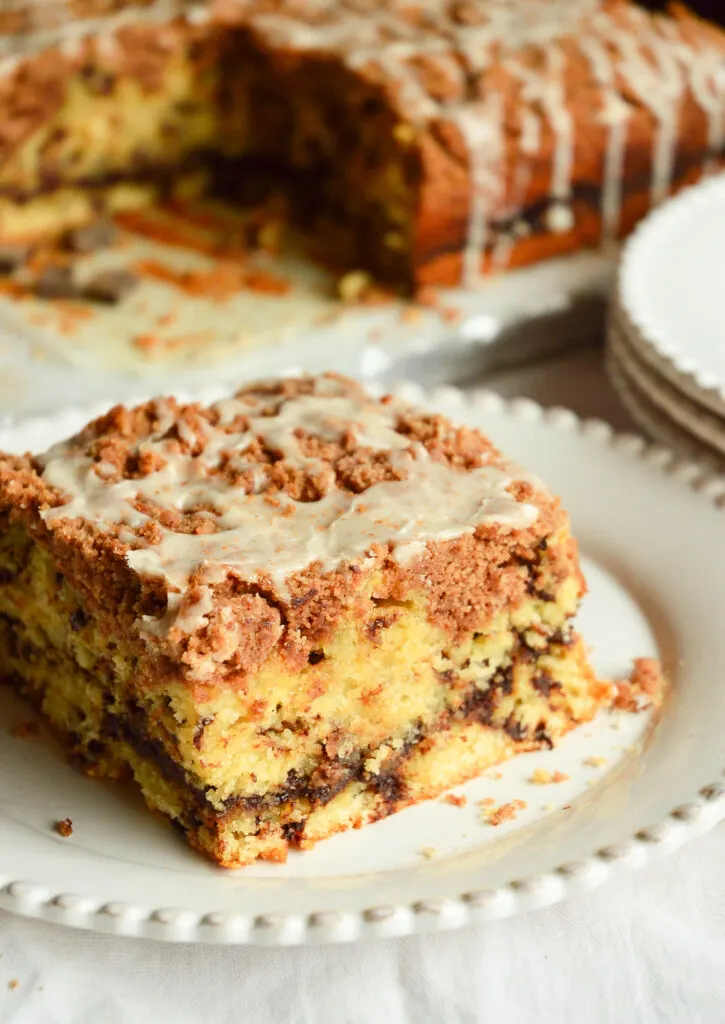 Make the cake batter in the bowl of a stand mixer fitted with the paddle attachment.
Add the dry ingredients: all purpose flour, sugar, baking powder, baking soda and salt.
Beat in the room temperature unsalted butter until the mixture looks sandy and resembles somewhat coarse crumbs
This will take 1 to 2 minutes, scraping the sides and bottom of the bowl as needed.
Beat in the vanilla extract, or almond extract, and room temperature eggs, again scraping the bowl as needed.
Scraping is important and King Arthur just did an article about it, in case you want to read it.
Slowly stir in the buttermilk while mixing on low speed.
Assembling the Coffee Cake Before Baking:
Transfer half the batter into the prepared pan.
Sprinkle the filling in an even layer over the batter and then pour in the remaining batter using a rubber spatula to scrape the sides of the bowl.
Now sprinkle the crumb topping over the top of the batter, pressing down gently so the streusel adheres.
Bake the cake in a preheated oven for 45 to 50 minutes until the sides are light golden and a toothpick or cake tester inserted into the center of the cake comes out with just a few moist crumbs attached.
Cool cake in the pan on a wire rack for 20 minutes.
Make a glaze while the cake is baking or cooling by combining powdered sugar with milk or water and a pinch of ground cinnamon.
Using your best artistic skills, when the cake has cooled, drizzle the glaze over the top of the cake.
Pretend you are Sara Lee.
This cinnamon coffee cake is easily adaptable.
Don't want cocoa in the filling? Just add some brown sugar instead, or leave it out.
Want cocoa in the streusel, be my guest.
Take out 2 T of flour and add in cocoa instead.
Want a few chopped pecans on this fluffy cake?
I don't see why not!
No need for glaze unless you want it.
And that streusel? Well, I suppose you could just forget it and then drizzle the glaze on top of the cake.
But I do love streusel, so I'm not sure I'd advise that!
My most important point here is just keep it simple.
Cake is not worth stressing over.
It is worth eating though, and makes every day special.
So indulge-but just now and then!
This classic coffee cake goes perfect with a hot cup of coffee. Or even tea. Or perhaps a scoop of ice cream.
You may think breakfast or brunch, but this sweet cake makes an amazing afternoon snack.
If you need to store this cinnamon coffee cake, cover it with plastic wrap or aluminum foil or store in an airtight container.
My guess is this will disappear fast.
I'm not going to tell you if this is the best coffee cake recipe I know of.
Bake it and see for yourself!
Still Hungry?
This post contains affiliate links from which I may or may not be paid a small commission at no cost to you.
Print
Cinnamon Crisp Coffee Cake
Author:

Abbe Odenwalder

Prep Time:

30 Minutes

Cook Time:

45 Minutes

Total Time:

1 hour 15 minutes

Yield:

6

-

8

Servings

1

x

Category:

Breakfast/Snacks/Dessert

Cuisine:

American
---
Description
This King Arthur coffee cake was their cake of the year. Made without sour cream, this moist cake with cinnamon streusel, filling and glaze is one great coffee cake!
---
Filling
1/3 c sugar
2 t Vietnamese cinnamon
2 T unsweetened cocoa, Dutch process or natural
Streusel:
1 c all-purpose flour (I prefer unbleached)
6 T sugar
2 T powdered sugar or confectioner's (sifted if necessary)
2 t cinnamon
1/4 t salt
6 T unsalted butter, cut into 1/2" cubes, at room temperature
1 t vanilla extract
Cake Batter
2 c all-purpose flour
3/4 c sugar
1 t baking powder
3/4 t salt
1/4 t baking soda
8 T unsalted butter, cut into 1/2" cubes at room temperature
2 t vanilla extract
2 large eggs
1 c buttermilk of plain Greek yogurt
Glaze:
3/4 c powdered confectioners' sugar
pinch of cinnamon
2 to 3 t water
---
Instructions
Preheat oven to 350 degrees.
Prepare an 8 or 9″ square pan with a parchment sling, then lightly grease the sides of the pan.
Make the filling: In a small measuring cup or bowl, combine the sugar, cinnamon and cocoa. Set aside.
Make the streusel:
Measure flour by fluffing it up in the bag and then spoon into a cup, sweeping off any excess. In a medium bowl whisk together the flour, sugars, cinnamon and salt. Add the butter and vanilla, toss to combine. Using your fingers, work in the butter until crumbs form and no dry spots remain. You should have little crumbs and big crumbs. I actually added 2 more T of butter because my mixture was dry.
Make the cake:
In the bowl of a stand mixer, combine the flour, sugar, baking powder, salt and baking soda. Add the butter and mix at low speed, until the mixture looks sandy, about 1 to 2 minutes. (This is known as reverse creaming.)
Beat in the vanilla and eggs, then mix until no dry spots of flour remain. Stop the mixer and scrape the bowl as needed because the mixture will be thick.
Slowly pour in the buttermilk while the mixer is running on low speed. If using yogurt, add all at once before starting to mix. Continue to stir until the batter is smooth. Stop to scrape the bowl and mix again at low speed for 30 seconds.
Transfer half the batter into the prepared pan-about 1.5 cups, spreading it all the way to the edges using an offset spatula.
Sprinkle all the filling evenly over the batter taking care that it reaches the corners.
Scrape the rest of the batter over the top of the filling using a rubber spatula. Smooth the batter over the filling.
Sprinkle the streusel evenly over the batter and gently press them to adhere to the batter.
Bake the cake for 45 to 50 minutes until it's set in the middle and light brown on the edges. Check with a toothpick inserted into the center. Only a few moist crumbs should be clinging to it.
Remove the cake from the oven and allow it to cool in the pan for 20 minutes.
Prepare the glaze now if using. Stir together the glaze ingredients until smooth, starting with the smallest amount of water. Add additional water as needed until the glaze is the consistency of molasses.
Remove the cake from the pan using the overhanging edges as handles to gently lift it to a wire rack. Let it cool.
After the cake has cooled, drizzle the glaze over the cake or dust with powdered sugar.
Transfer the cake to a serving dish. I cut around the edges to remove the parchment paper.
---
Notes
Cake is highly adaptable. Add chocolate chips? Nuts? More Cocoa? Different Flavorings? Check on all of them!
Keywords: cinnamon coffee cake recipe, cinnamon streusel coffee cake,coffee cake recipe no sour cream, coffee cake recipe without sour cream, king arthur coffee cake. coffee cake no sour cream,