I've never been to Coney Island but I've been searching for how to make a Coney Island hot dogs sauce recipe for years. As a child I used to love a frosty mug of cold root beer along with what I later learned was a Coney Island hot dog; only I skipped the hot dog and ate mine as a sauce bun!
Growing up in Kankakee, Illinois, our summer entertainment was riding our bike to the A and W hot dog stand, located on the Kankakee River.
We thought we were so cool riding the entire 9 blocks past Cobb Park, past the Yesteryear (which was a Frank Lloyd Wright house), past our Temple, past my Uncle Art's grocery store, and then finally arriving at the home of the frosty root beers.
Complete with a big orange and black sign, this drive in was our special summer treat.
I still remember the frosty mugs, but as I grew, those quickly disappeared.
One thing I've never forgotten were the sauce buns with onions, that at that time were 25 cents! Add the cheese and I think they were 35 cents.
Can you hear me swooning?
This simple sauce was spooned into squishy white hot dog buns and topped with tiny minced onions and shredded cheese.
A few years ago I went back to Kankakee and I can tell you they still tasted as good then, as they did many moons ago.
I've searched over the years for this hot dog recipe and never could quite find the right one.
And though I will never know for sure if this recipe is the right one, it is close enough for me.
I'm not joking when I tell you that I've searched a lot of recipes.
One was made with ground beef heart which made my stomach kind of jump a beat.
Others were loaded with spices that I knew weren't in my beloved sauce bun.
And then I came across this:
It said to make this special coney island sauce using only minced dried onions in the sauce.
Well, that was my spark. Up until this point I had only used fresh chopped white onion in my sauce and this statement assured me that my Coney Island hot dogs wouldn't taste the same made with fresh onion.
And happily this is right!
My hot dog sauce made the perfect chili dog. The perfect sauce bun.
I can now say my Midwest heart is satisfied.
(Now if I could just figure out the recipe for Monical's pizza!)
This simple recipe is a real winner in my book, but first you must know what makes an authentic Coney Island hot dog.
What is a classic Coney Island hotdog?
It is believed that coney sauce derives from Greek immigrants.
After looking at many versions of sauce, some with cinnamon, I can believe this.
(Which also makes me think that there must be somewhere a connection to Cincinnati chili.)
True coney island dogs are made with hot dogs with natural casings and became famous after an immigrant named Nathan (of Nathan's hotdog fame) started selling them on Coney Island.
The plain hot dog is topped with a ground meat, beanless chili sauce and then topped with grated cheddar cheese and minced onions and placed in soft buns.
Depending on where you eat them, they may also add a stripe of yellow mustard.
If you want the true classic Coney Island hot dog you will have to go there, but my version is the one I remember from Kankakee, Illinois and even then I am just making a stab at this childhood memory.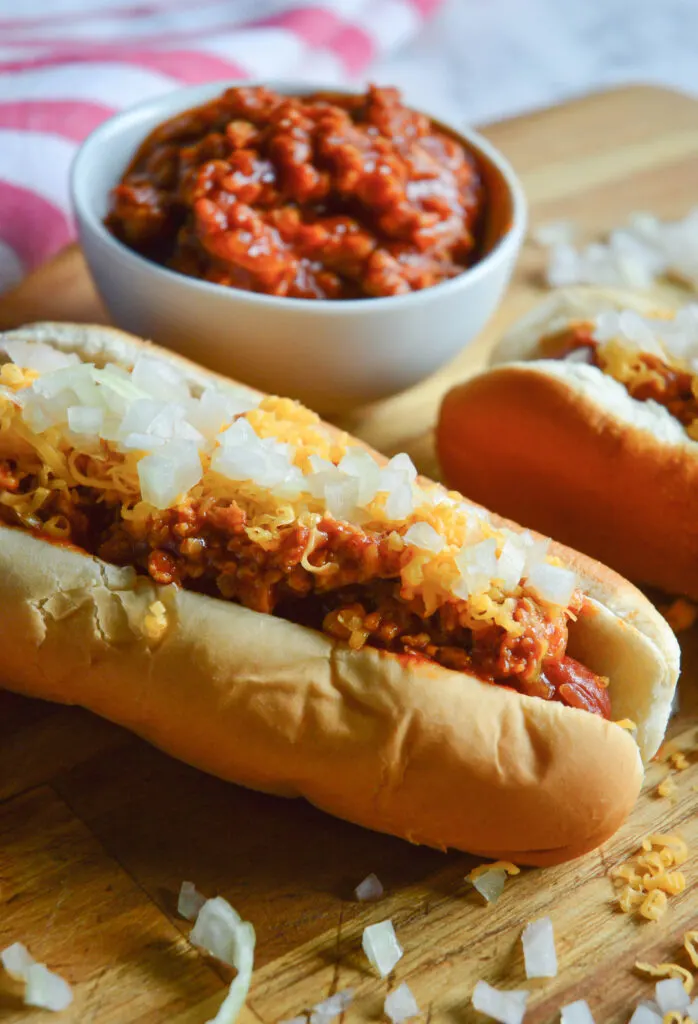 What type of hot dog should be used to make this Coney Island hot dogs sauce recipe?
Some people recommend Sabrett's, and Nathan's would have also been a good bet, but I used Hebrew National's.
​I steam my hot dogs in the microwave by placing them in a shallow bowl with a few tablespoons of water and then cover the dish with plastic wrap.
I cook one hot dog for a minute and if doing two, I increase the time for 30 seconds. That should do it, unless your hot dogs start out very cold.
Make the traditional Coney dogs sauce:
Most people would use ground beef in this recipe but I used ground chicken, because I don't eat beef.
Use what you prefer.
In a 2 quart saucepan, or a large skillet, brown your choice of meat, over medium heat, while breaking it into small pieces.
If using ground chicken, use a tablespoon of oil so the meat doesn't stick.
Smash it into one layer and let it brown on the bottom side.
Flip it over to brown on the other side.
My pro tip is to use a pastry blender to break the browned meat into small pieces.
Add tomato paste, not tomato sauce, brown sugar, prepared yellow mustard, minced dried onion that has been soaked in one cup of water to rehydrate, chili powder-the version with cumin and salt and chili, Worcestershire sauce, salt, celery seed, ground cumin and black pepper.
If you used ground chicken and want a beefier flavor, add in 1 to 2 T of onion soup mix.
Simmer on low heat for about 30 minutes.
When ready to serve, I microwave two hotdog buns in a damp paper towel for about 30 seconds on power level seven.
Then add the hot dog, a few spoonfuls of meat sauce, grated cheddar cheese and chopped yellow onions.
Add a stripe of mustard if you want.
If you are just making a sauce bun, which for me is plenty of heaven, skip the hot dog!
Serve this Coney Island hot dog recipe with potato chips, potato salad, or French fries and add a pickle spear on the side for good measure.
Kids love this mild Coney sauce recipe, and so do I!
Don't forget the giant frosty mug of A and W root beer and especially don't forget to call me because I will be right over!
This easy recipe is one way to elevate regular hot dogs.
It may or may not be the real thing, but to me it is as close as I'm going to get to a Coney Island hot dogs sauce recipe!
Need Some More?
Chili Mac Three, Four or Five Ways
Print
Best Coney Island Hot Dogs Recipes
Author:

Abbe Odenwalder

Prep Time:

15 Minutes

Cook Time:

30 Minutes

Total Time:

45 minutes

Yield:

6

Servings

1

x

Category:

Main Course

Cuisine:

American
---
Description
This Coney Island hot dog sauce recipe is one I've been looking for for many years. I eat it sans hot dog, just on a bun by itself, topped with cheese and onions!
---
1 lb ground meat: beef, chicken or pork
1 6 oz can Hunt's tomato paste
2 T minced dried onions soaked in 1 c water
1 T brown sugar
1 T yellow mustard
2 t chili powder
1 t Worcestershire sauce
1 t salt to taste
1/2 t celery seed
1/2 t ground cumin (add more to taste-this depends on the chili powder you are using)
1/4 t fresh ground black pepper
6 Hot Dogs
6 hot dog buns
1/2 c minced fresh onion
1 c grated sharp Cheddar cheese
Mustard optional.
---
Instructions
In a 2 qt saucepan or a large skillet brown the meat. If using lean meat you should add 1 T oil to pan. Press meat into pan and brown on one side. Flip and brown on the other and then use a pastry blender to break the meat into small crumbly pieces. Do not drain unless it looks like there is way too much fat.
Add the remaining ingredients. Stir well. Simmer uncovered, about 30 minutes. If this thickens too much, stir in water, a tablespoon at a time until this reaches desired consistency.
Cook the hot dogs in a shallow bowl with a few tablespoons of water, covered with plastic wrap. Cook about 1 minute per hot dog adding 30 seconds for each additional. (However microwaves do vary.)
Place 4 buns on a microwaveable plate and cover with a damp paper towel. Microwave about 1 minute. They should come out steaming.
Place 1 hot dog in each bun. Top with a few spoonfuls of chili. Sprinkle on 1 T grated cheese and then top with freshly minced, chopped onion. Mustard is optional.
---
Notes
If you are using chicken or turkey and want this to taste a bit beefier, stir in 1 to 2 tablespoons of dry onion soup mix.
Keywords: coney island hot dogs recipes, coney island hot dog sauce recipe, coney dog, sauce for hot dogs, coney sauce, coney island dogs,