This Christmas white trash recipe is a sweet and salty based Chex mix that is perfect for gifting. My version contains not just the cereal mix, but dried cranberries and cashews, too!
It's been a long time and many happy memories ago since we received White Trash snack mix in the mail from my Mother-in-law.
Every year we used to receive an old metal cookie container labeled with a masking tape label on which was written, "White Trash".
She'd also send white chocolate dipped pretzels and an instant tea mix, all made by Peggy.
Those days have been gone for awhile, but this year I thought I'd try my hand at the White Trash Mix part.
It's so easy to make this great sweet and salty treat that I thought instead of baking more cookies, I'd use up all my odds and ends in the pantry to make this simple recipe.
I don't often make a Christmas snack mix but this Christmas trash so reminded me of Peggy-well, how could I not?
There are a lot of recipes out there for a Christmas white trash recipe, but like I said, I decided to use the Chex cereal I had on hand to make my own Christmas crack.
As should you!
How to Make This Christmas White Trash Recipe:
The base of this great treat is a cereal mixture.
I used 3 cups of rice chex and 3 cups of maple shredded wheat from Trader Joes.
If I had had golden grahams or Cheerios, I would have used those, too.
In a large bowl I combined those simple ingredients with my leftover M&M candies from Halloween, and stirred in some cashews and pistachios.
From there it was a matter of adding small pretzels, dried cranberries, cashews and some shredded coconut to the bowl to create white trash candy.
I also added a good dose of Christmas sprinkles and even made a batch with Hanukkah sprinkles!
This holiday season we want to cover all the bases!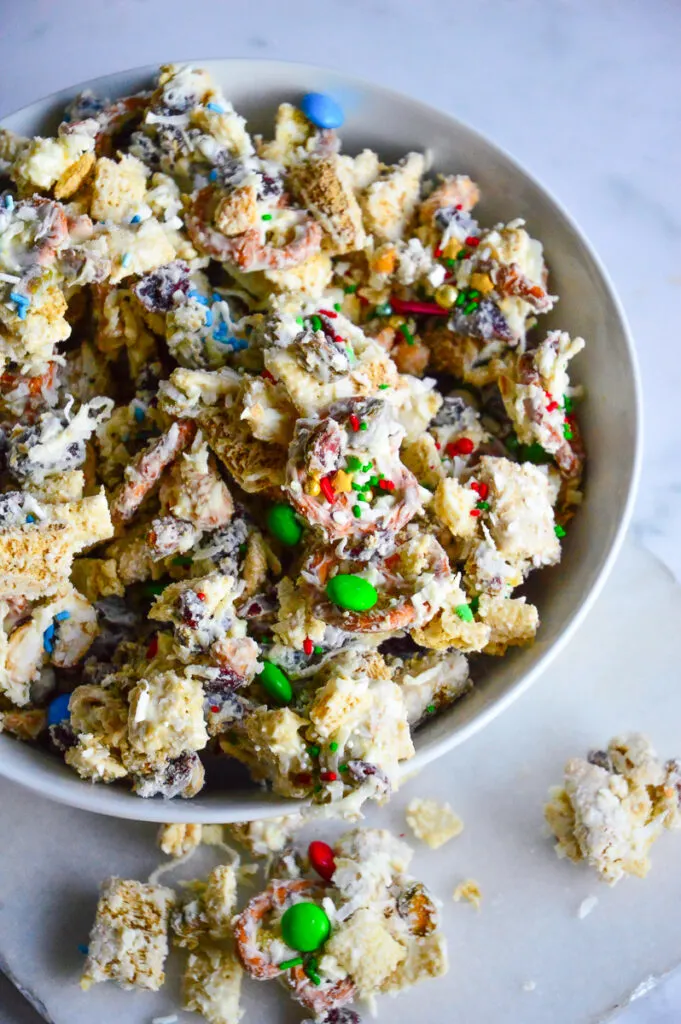 Make sure to line two large baking sheets with wax paper or parchment paper.
Melt white almond bark or white chocolate chips slowly in the microwave.
Not familiar with almond bark? It is just meltable chocolate to assist in making your own almond bark.
I do prefer using white chocolate chips though!
In this case though we are making white trash chex mix, not almond bark, though this is a fabulous recipe for homemade mocha almond bark.
In a microwave-safe bowl place 2 eleven ounce bags of Ghirardeli or Trader Joes white chocolate chips.
In 15 second intervals, begin to melt the white chocolate, stirring each time with a flexible spatula.
White chocolate burns easily so take it slow.
I've never tried candy coating and perhaps that works better, but I don't know.
Make sure your chosen dry ingredients are mixed together well in a large mixing bowl before stirring in the melted white chocolate.
After the white chocolate chex mix is mixed well, scrape it with a large spatula onto the prepared baking sheets.
Try to pat it into one layer and then sprinkle it with coarse or flaked salt before it hardens.
I've also seen many sprinkle this with powdered sugar but trust me this is plenty sweet!
And it hardens fast!
Yes, the salt is optional, but I find this sweet treat is much better when it is turned into a sweet, salty snack mix.
And apparently Alex Odie-San and Manservant do not disagree!
I'm getting ready to package this white chocolate snack mix in clear plastic treat bags and pretty ribbons, just to make sure they stop breaking into the plastic bag that currently holds this great idea!
Keep in mind the beauty of this recipe is that you can achieve your own perfect balance by using your favorite cereals and candy mix.
I do like adding in the dried fruit and salty nuts to make this a bit more decadent, which also makes this a very tasty snack.
A word of caution from my two boys: Don't have a bite, if you don't want another!
This great recipe will keep in an airtight container at room temperature for quite awhile.
Yes, this white trash recipe does make great holiday gifts or teacher gifts, if you don't eat it all first!
Need Some More?
Spicy Sweet Oyster Cracker Snacks
Chocolate Chai Spicy Cashews with Dried Cherries
This post contains affiliate links from which I may earn a small commission, or not, at no additional cost to you.
I love these sprinkles that come in every color!
I am really liking the Caraway pans. This baking sheet may be pricey, but it will last forever.
Print
Christmas White Trash Recipe
Author:

Abbe Odenwalder

Prep Time:

20 Minutes

Total Time:

20 Minutes

Yield:

12

-

16

Servings

1

x

Category:

Snacks

Cuisine:

American
---
Description
This sweet and salty snack is made with cereal and the addition of dried fruit and nuts. Coated with white chocolate and sprinkled with flasky salt, it is quite addictive!
---
3 c Rice Chex
3 c Shredded Maple Wheat
1 c salted pistachios, shelled
1 c salted cashews
2 c small Pretzels
2 c dried sweetened cranberries
2 c sweet shredded coconut
1 c or more of holiday sprinkles (not colored sugar)
M and M's (optional)
2 11 oz packages of Ghiradelli white chocolate chips or Trader Joes
Flaky salt, such as Maldon for sprinkling on top
---
Instructions
Line two large baking sheets with parchment or wax paper and set aside.
Combine all ingredients in a large bowl, except the white chocolate, sprinkles and salt.
Melt the white chocolate in the microwave very slowly in 15 second intervals, stirring each time. White chocolate burns easily so don't try to speed up the process.
When it is melted pour over the ingredients in the bowl and fold well until everything is well coated.
Quickly stir in the holiday sprinkles or you may just pour them on top while the mixture cools.
Spread the concoction on the parchment lined baking sheets and sprinkle with flaky salt, if using. Let trash cool until it sets, then break into pieces.
Stor in big zip lock bags.
---
Keywords: white trash recipe, Christmas white trash recipe, Christmas trash recipe, christmas white trash recipe, white trash mix, best white trash recipe