Chicken made with Pumpkin Seeds and Popcorn begins with a divine nut and chile based paste that is turned into a delectable gravy. After sauteing my chicken in my Hestan skillet, I simmered this simple sauce, added back the chicken and simmered it in the sauce until done. Can't get much easier than this comforting one skillet dish made in a skillet that pulled triple duty as a saute pan, a simmering skillet and last but not least, I managed to reheat this perfectly in my oven. My company was pleased!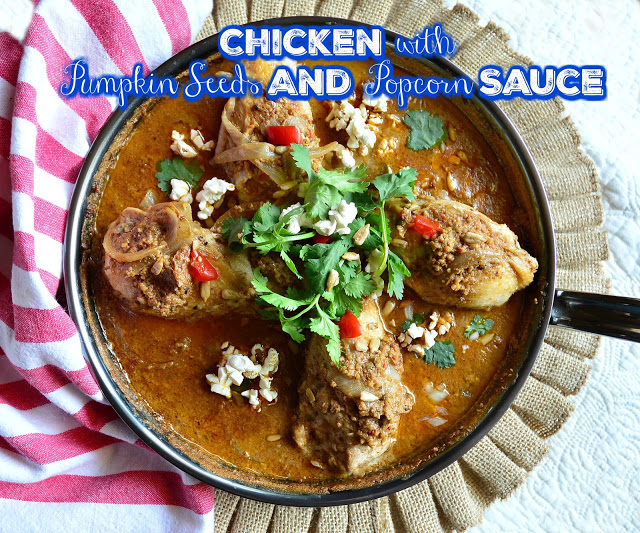 Grilling weather is quickly coming to a close in Colorado. That means moving my cooking back inside where the range is the big attraction. That's OK. I've got my favorite skillet to cook in and that sure makes things easy. Hestan put us Hestan ambassadors to the test by challenging us to come up with a skillet dinner. Frankly when I cook inside most everything is cooked in my sturdy, gorgeous skillet. This month's contest involves winning a wok and since you all know how much China is on my brain, well, a wok would look might fine in my kitchen.
I've had this recipe on the brain for awhile and never quite found the time to work it out. Don't know why because it is simple to prepare and involves lots of my favorite flavors. With pumpkin seeds it sure does remind me that Fall is in the air and with the added but subtle heat of cumin and chilies, it is perfect for cooling temps. In fact it made so much gravy that I should have also added some potatoes to simmer, but I chose rice instead. Potatoes would have made this a one pan meal and we all love those, don't we?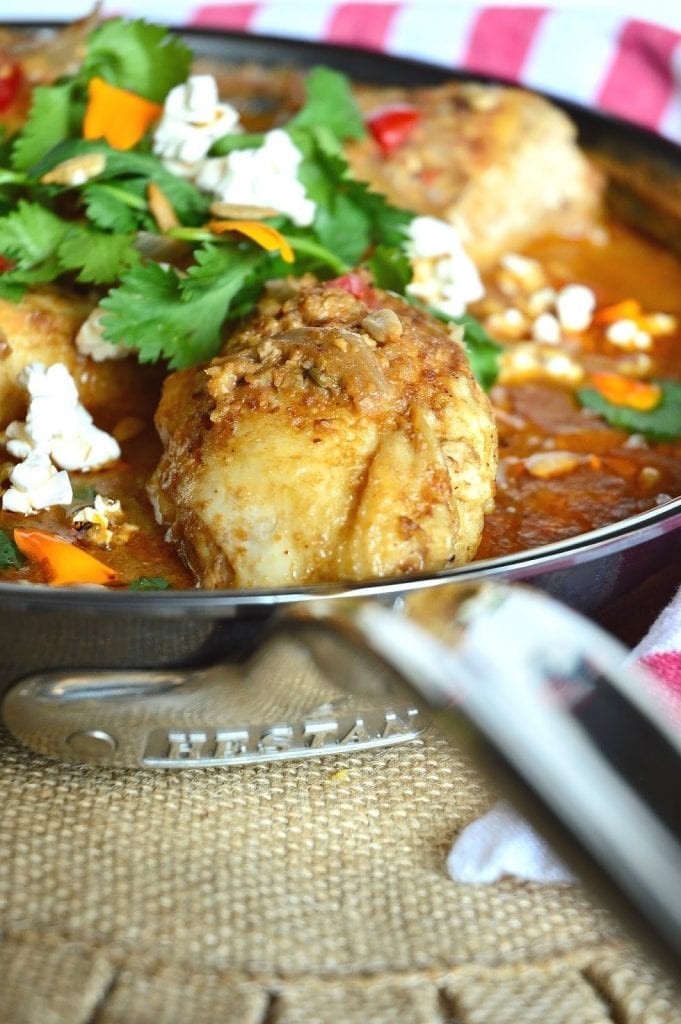 Check out this recipe. It certainly pleased Manservant and our neighbor friend. Manservant said it reminded him of a roux based sauce but this is thickened with nuts and not flour. It is soothing and comforting and some might even think it's creamy, but no cream in this. Just some wholesome ingredients that manage to make ordinary chicken extraordinary.
A Few More Dishes to Try: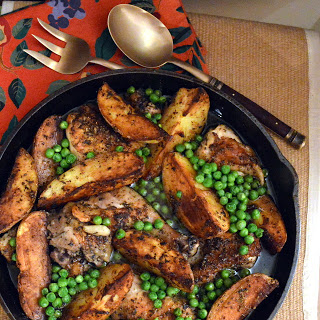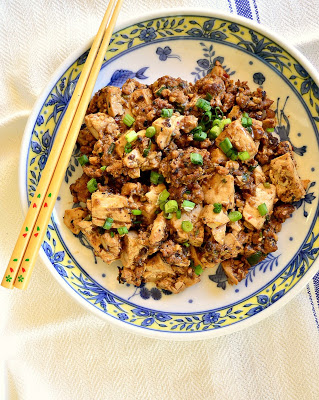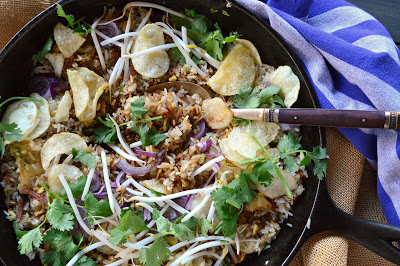 Please Pin and Share:
Chicken with Pumpkin Seeds and Popcorn
This simple nut based chile sauce manages to take chicken from ordinary to extraordinary. The gravy has some spice, some nuttiness and all around goodness!
Ingredients
1/2 c slivered almonds
1/4 c hulled pumpkin seeds
3/4 t ground cumin
1 c popped popcorn
2 garlic cloves
4 fresh jalapenos or serranos
1 t salt
1 t ancho chile powder
1 t cocoa
1 t ground coriander
1 t black pepper
1 sliced medium sized onion
3 c chicken broth
4 bone in chicken breasts with skin or 8 bone in thighs with skin
3 T sunflower oil
Directions
Toast almonds in a dry skillet over low heat, shaking until golden. Add pumpkin seeds and toast for a few minutes but don't burn. Place nuts and seeds in a food processor with popcorn, garlic, chilies, salt, chile powder, cocoa, coriander and pepper. Grind to a fine textured paste.
In skillet, heat 3 T sunflower oil over medium high heat. (In the Hestan, I only use medium heat.) Add chicken that has been seasoned with salt and pepper. Brown chicken and remove from skillet.
Add sliced onion to pan and chicken broth. Heat to boiling and slowly whisk in nut paste to make a gravy. Simmer for 5-10 minutes until thickened and reduced. Whisk from time to time so that the nut paste does not stick to the bottom of the pan.
Add chicken pieces back to pan and simmer over low heat for 20-40 minutes until cooked. I left this in the skillet, covered it with foil and refrigerated it. I then brought this back to room temperature, and reheated it covered in a 350 degree oven for about 30 minutes until gravy was bubbly. If you do want to reheat it, err on the side of chicken being touch undercooked when you remove it from the stovetop.
Notes: To make popcorn, I merely took 1/4 c popcorn kernels, placed them in a brown paper lunch bag that I rolled down the top of twice. I then placed this in the microwave for 2minutes, 30 seconds on high. My popcorn popped just fine and I had leftovers to eat as I cooked!
.recipe-inner{text-align:left;max-width:620px;border:6px double #009BFF;padding:20px;background:#f2f2f2;margin: 40px auto;font-family:Lato, sans-serif;}#recipe .recipe-name{font-size: 21px;}#recipe .info{font-size:13px;text-transform:capitalize;border-bottom:2px solid #000;padding-bottom:7px;margin-bottom:20px}.info:after{content:";display:table;clear:both}#recipe .info span:first-child{margin-right:30px}#printbutton{border:0;margin:0;color:#fff;float:right;background:#555; padding:5px;border-radius:3px;cursor:pointer}#recipe .time{text-transform:uppercase;font-size:12px;text-align:center;background:#fff;padding:15px 0;margin-bottom:20px}#recipe .time span:not(:last-child){margin-right:12px}#recipe .time span:not(:last-child):after{content:";display:inline-block;height:10px;width:1px;background:#000;vertical-align:middle;margin-left:12px}#recipe .summary{line-height:1.7;font-style:italic}.ingredients{line-height:1.7}.ingredients h3,.instructions h3{font-size:20px !important;margin-bottom:0;color:#000}.ingredients ul{margin:0!important;margin-top:5px !important;}.instructions li{margin-bottom:15px !important;line-height:1.6;text-align:left;}.ingredients li{text-align:left}#recipe .instructions{margin-top: 30px;}#recipe .instructions ol{padding-left:39px;margin:0!important;margin-top:6px !important;}.posturl{border-top:1px solid #ccc;padding-top:10px;}.ing-section{padding-left:20px;margin: 10px 0;}.ing-section > span{font-weight:700}.recipe-credit{display:none;font-size:13px;border-top: 1px solid #ccc;padding:10px;text-align:center;background:#ffffff;margin:-20px;margin-top:15px;}.recipe-credit a{color:blue;text-decoration:none;}.copyright-statement{ font-size: 13px;font-style:italic;border-top: 1px solid #ccc;margin-top:15px;padding-top:15px;line-height:1.6;}#recipe .image{text-align:center;margin-bottom:25px;margin-right:20px;float:left}#recipe .image img{max-width:250px}#recipe .recipe-name{line-height:1.6;text-transform:uppercase;margin-top:0;letter-spacing:1px;text-align:left}#recipe .summary{line-height:1.7;font-style:italic}#recipe .time{background:#fff;clear:both;border:1px solid #d7d7d7}function printDiv(a){var b=document.getElementById(a);newWin=window.open(",'printwin');var c=newWin.document.createElement('style');c.innerHTML='html{font-family:sans-serif}img{display:none;}#printbutton,.recipe-credit{visibility:hidden;display:none;}.info{text-align:center;text-transform:capitalize}.recipe-name{text-align:center}.info span{margin-right:20px}.time{text-align:center;padding:10px;border-top:1px dashed #000;border-bottom:1px dashed #000;}.time span{margin-right:20px}.adunit,.adunitlabel,.adunitwrapper{display:none!important}';newWin.document.getElementsByTagName('head')[0].appendChild(c);newWin.document.getElementsByTagName('body')[0].innerHTML = b.innerHTML;newWin.print();}