This sultry Mexican chicken skillet recipe with the chocolatey richness of ancho chilies and the sweetness of prunes is a crowd pleaser. And a man pleaser. And it makes the house smell heavenly. What are you waiting for?
A good chicken skillet recipe is worth its weight in gold.
This easy, Mexican style chicken Marbella comes together fast and in only one skillet.
When this old world starts getting me down and people are just to much for me to face, I look for recipes. Yes, it would be nice if Carole King was playing in the background.
I suppose I should look her up on Spotify, but I'm not very good at that. I could drag out my music and sing my heart out on my out of tune piano, but that might scare the dogs.
Good thing cooking often helps brighten my mood and get me back on track.
I have a plethora of cookbooks, but sometimes it is easier to just look online. I read a lot of blogs and the last few weeks I have been slow on commenting. I apologize, my friends.
I get lots of ideas from all of the good cooks out there, but this recipe is from the New York Times. I can't say I like reading the New York Times, except for maybe the weekend version, but I really do love their cooking section.
Yes, you too should subscribe. Every day they send emails about what to cook for the week or the weekend or the upcoming holidays. Sometimes they miss the mark and other times I think they know just what I want.
This recipe wasn't a featured recipe, but somehow I stumbled onto the chicken page and while browsing I hit upon it.
Maybe it sounded like the perfect Sunday night dinner or maybe I knew the house would smell terribly good and I was right-this Mexican chicken skillet recipe delivered!
Mexican Chicken Skillet Ingredients
I did know I could leave it on the stove with no worries if Manservant was running late or even nonexistent.
I also could serve it with polenta or mashed potatoes, rice or quinoa, and I love those. Preferably the mashers, but in this case I chose blue corn polenta, because the recipe suggested it.
I love polenta, but won't do it again. This sauce was made for rice or mashers. Trust me on this.
You can also trust me on this recipe. It's as simple as browning the chicken, chopping some onions and garlic and soaking the chilies.
What are Ancho chiles?
Ancho chiles or Ancho peppers are dried poblanos and I love poblanos, too.
The poblano pepper is left on the plant until it becomes red and dries. No time in Denver's growing season for that, but I did get some good poblanos!
When poblanos are dried they become rich and mellow and are often used in moles.
Miso? In Mexican food?
This healthy Mexican chicken also contains miso. Now I know miso is a Japanese ingredient made from fermented soybeans and that not everyone keeps miso in their fridge.
So stand by! Substitute soy sauce. It helps add the saltiness and the savory flavor that this recipe needs. Yes, it is so much more than adding plain old salt.
Prunes are great and they remind me of my old stand by chicken Marbella. No prunes? Figs or dates would taste great also!
Chicken Marbella also contains olives and this braised chicken recipe would do very well with olives, if you'd like to add a few. And lots of oregano in chicken Marbella, too. Want to add some to this? Be my guest!
Add in some sherry for a bit of a kick, and last but not least, some sherry vinegar, and you have a meal that Manservant actually showed up for. That should tell you something.
The truth is that this one pot chicken recipe contains limited ingredients. And they all come together in a rich and satisfying dish that is very simple to make.
Perfect for a Sunday supper or a weeknight dinner, or even if company's' coming-this Mexican chicken skillet recipe is so good.
No, this isn't a spicy recipe but it does have spice. The soothing kind of spice.
The kind that makes you come down from the roof and still dream of paradise. Or ask for seconds.
More Chicken Skillet Recipes: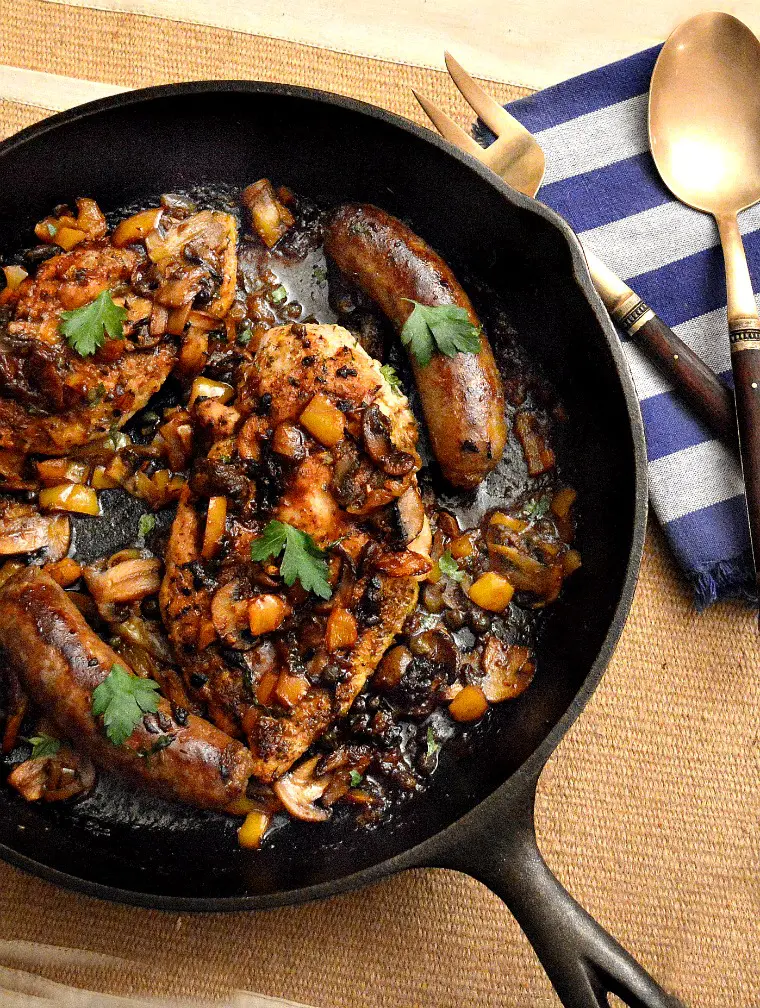 This is an updated recipe from March, 2017.
Print
Chicken with Ancho Chiles and Prunes
Author:

Abbe Odenwalder

Prep Time:

15 Minutes

Cook Time:

45 Minutes

Total Time:

60 Minutes

Yield:

4

Servings

1

x

Category:

Main Course

Method:

Stove Top

Cuisine:

Mexican/American
---
Description
This quick to make Mexican chicken skillet recipe is mellow with Ancho chiles and sweet with prunes. So good, so simple!
---
3 Dried Ancho chilies
1 T extra virgin olive oil
1 cut up chicken into 10 pieces
Salt, Pepper, Garlic Powder, Ancho chile powder
1 small red onion, chopped
3 garlic cloves, sliced thin
1 1/2 t ground cumin
3/4 c chicken stock
1/4 c fino sherry
1 T red miso or I used umami paste
16 pitted prunes
2 T sherry or sweet vinegar
Cilantro, radishes, chives, for garnish
---
Instructions
Place dried Ancho chilies in a small bowl and cover with boiling water. Set aside to soften.
Heat oil over medium high heat in a large saute pan that has a lid. Dry chicken pieces and sprinkle well with salt, pepper, garlic and chile powder on all sides. Place in hot pan. Sear until golden on one side and turn over and brown on the other side. Remove pieces to platter. Reduce heat to low.
Add onions and garlic and saute until soft. Dust with cumin powder, stir and then add stock and sherry while scraping residue from pan. Stir in miso and remove from heat.
Drain chilies, cut in half and remove seeds and cores. Chop and add to sauce with prunes. Stir.
Return chicken and any juices to pan, basting with sauce. Cover and simmer on low 20 minutes or until done, basting occasionally, until chicken is cooked. Remove chicken to platter. Add vinegar to pan, bring to a simmer and stir. Check for salt and add if needed. If sauce has reduced to much add more chicken broth or water, though I had plenty of sauce. Spoon sauce and prunes over chicken. Scatter garnishes on top.
---
Notes
A Florence Fabricant recipe.
Keywords: chicken skillet recipes, braised chicken recipes, healthy Mexican chicken, one pot chicken recipes,