I love these crispy quinoa cakes topped with grilled lemon chicken, and served with Burrata and roasted tomatoes. Easy enough for supper and perfect for company, this Caprese style chicken on lemony quinoa cakes is one you will make over and over!
Quinoa cakes are one thing I haven't made, until now.
I've seen many recipes for a chocolate quinoa cake, but this quinoa cake recipe is for a savory cake.
Crispy on the outside and moist and soft on the inside; this quinoa recipe is a great side dish to most anything.
Perfect with a fried or poached egg or even as a bed for sauteed vegetables these savory cakes are also great for appetizers.
Top these little patties with a bit of smoked salmon and a drizzle of aioli and you have a fun way to use leftover cooke quinoa patties.
I've made quinoa as a side dish, like I would make rice, but I've never tried it in other forms.
So… I looked up the ingredients in the quinoa cakes that I sampled when Liz of That Skinny Chick Can Bake and I went to breakfast.
I had a simple breakfast sandwich and Liz ordered quinoa cakes with a poached egg.
She kindly offered me a bite and it was one memorable bite. Didn't you think so, Liz?
Well, that bite stuck in my mind and though I didn't duplicate that quinoa cake, I did make one that is quite good.
You see, I am a refrigerator cook.
I take whatever I can find in my pantry and fridge and generally turn out a respectable dinner.
The fridge held leftover quinoa, so I went with it.
The quinoa cake that Liz ate had lemon ricotta and zucchini in it, according to the menu, and mine just has lemon zest, but for one layer of a dinner entree it really worked out well.
Using the quinoa cake as a base for Chicken Caprese really was a great way to amp up the chicken and also a perfect way to soak up the wonderful juice from the roasted tomatoes.
Lately, I've also been admiring the gorgeous tomatoes that are showing up in the market and trying to make good use of them.
Manservant is not a tomato fiend so I have to disguise them in ways that usually require me to mash them to bits or cook the hell out of them.
He will eat a caprese salad if the tomatoes are full of flavor and not mushy.
However quartering them and adding them to a salad, just means I'll find tomatoes resting on the side of the plate when he is finished eating.
It does appear though that fresh basil, syrupy balsamic vinegar, and fresh, creamy cheese work their magic on him.
Thank goodness something does.
Well, one thing led to another and these ingredients led to this perfect summer entree.
Manservant even declared its virtues and gave it rave reviews, so it was a good thing I wrote out a recipe card as dinner while making dinner!
And then Zoe called and I realized that this is a perfect dish to fit her needs.
She has been living in a temporary apartment until her new one becomes available in September.
Seems this has thrown her into a rut when it comes to eating, but the daily 4 flights of stair climbing have increased her muscle mass!
I don't think I'd want to be lugging groceries up four flights, but I guess that is part of the joy of city living.
How to Make Quinoa Cakes With Caprese Chicken:
Begin by marinating the chicken with lemon juice, oregano, salt, pepper, garlic and olive oil.
Then slice up some small tomatoes and marinate with olive oil, garlic, balsamic vinegar and salt and pepper.
Roast in a preheated oven until the balsamic vinegar has thickened.
Remove from oven and set aside until ready to use.
Making quinoa cakes is easy, especially if you have leftover quinoa in the fridge.
However if you are starting from scratch I love to add more flavor to the quinoa by sauteing a bit of onions or shallots in olive oil before adding the quinoa.
Then instead of water, I cook the quinoa in chicken broth to add more flavor.
To begin this recipe for crispy quinoa patties I started with cold quinoa.
Then in a large bowl, I stirred in the shallots, lemon zest, one room temperature egg and some fresh basil and parmesan cheese.
Form into 4 to 8 cakes, depending on the size you want.
Heat oven to 350.
Brush both sides with olive oil and place on a baking sheet to bake about 20 to 30 minutes or unil crispy and golden brown.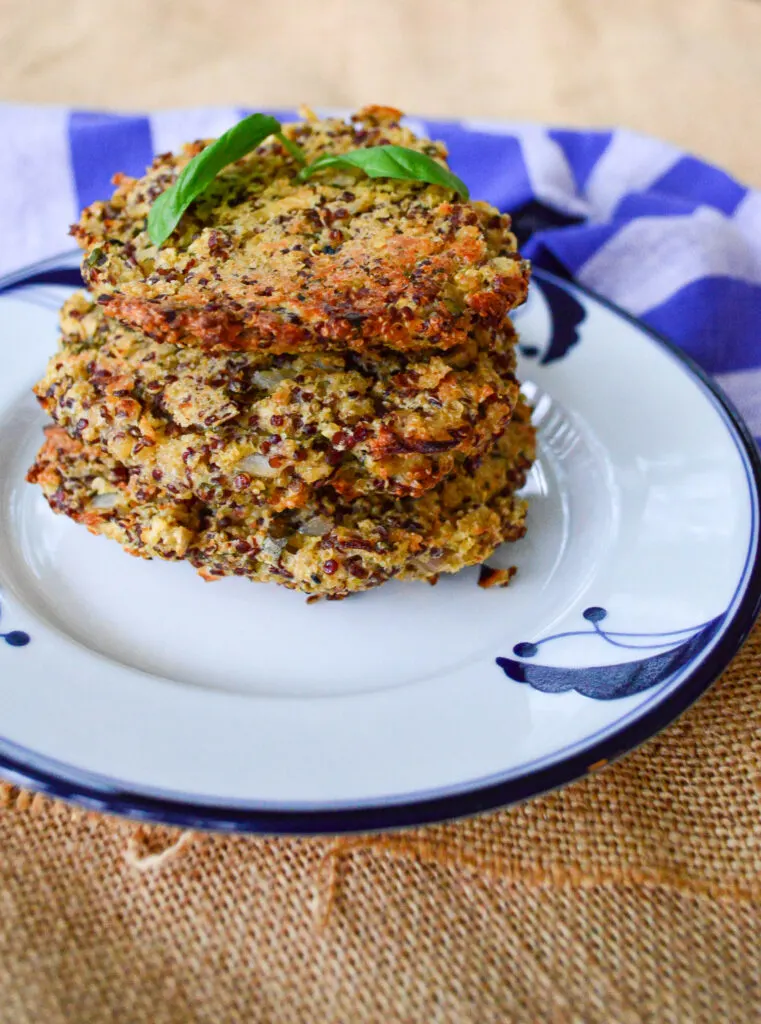 One can make a lot of adaptations to the original recipe.
Feel free to create a few new recipes by using different seasonings such as Mexican or Italian.
Don't want to roast tomatoes? Use salsa. Or make the roasted tomatoes into salsa!
While the quinoa cakes are baking, it's time to grill the chicken.
Preheat grill to high and spray with olive oil or cooking spray before placing the chicken on the grates.
Then turn down to medium high heat, however every grill is different and you don't want you chicken to come out dry.
Grill chicken for 5 to 8 minutes on each side.
How to Serve Quinoa Cakes with Chicken Caprese:
When ready to serve place a quinoa cake on a dinner plate.
Top with a piece of grilled chicken and top that with a spoonful of roasted tomatoes.
Then add 1/2 of a burrata ball and drizzle with a spoonful of juice from the roasted tomatoes or just add a splash of vinegar.
Top with fresh herbs, such as fresh basil, orgeano or parsley,
Sprinkle on a pinch of salt and a grind of fresh black pepper.
The next time I make this it will probably be for company.
This dish could quickly become of my favorite recipes.
I don't like to toot my own horn, but it is a great recipe.
Give this zesty lemon grilled chicken with roasted balsamic tomatoes placed on a lemony quinoa cake and topped with creamy, lush burrata cheese a try.
It contains all of summer's favorite flavors in one main dish and comes together fast especially if you have leftover quinoa in the fridge!
Feel free to add a few grilled vegetables. but honestly, this meal with all its healthy ingredients is perfect as is.
There is always a first time to try quinoa but I know not everyone is in love with this seedy grain.
However if you have never had it before, making this for your first time is a great way to experience quinoa.
So that the second time you may even be ready to move up to a roasted squash quinoa salad!
Summer Stuff:
Corn Pudding Recipe with Green Chiles
Summer Corn Pasta with Burrata
This is an updated post from 2014.
Print
Lemony Quinoa Cakes with Chicken Caprese
Author:

Abbe Odenwalder

Prep Time:

20 Minutes

Cook Time:

30 Minutes

Total Time:

50 minutes

Yield:

4

Servings

1

x

Category:

Main Course

Cuisine:

American
---
Description
Jazz up your chicken caprese by serving them on crispy quinoa cakes. This summer recipe is so good you will find yourself making it over and over again!
---
Marinade for Chicken:
2 lemons, juiced
1 t oregano
1/2 t salt
1/4 t fresh ground black pepper
2 minced garlic cloves
1 T olive oil
2 large chicken breasts, cut into 4 slices, slightly pounded to even thickness
Roasted Tomatoes
16 small tomatoes
2 T olive oil
2 cloves garlic, thinly sliced
2 T balsamic vinegar
1 t salt
1/4 t black pepper
Quinoa Cakes
2 c quinoa cooked ( I saute 2 T of onion in 1 T olive oil. I then follow package directions but use chicken broth instead of water.)
1 diced shallot
1 egg
1 lemon zested
1 T fresh basil
3 T parmesan cheese
2 t olive oil
2 balls of Burrata
---
Instructions
Pound chicken breasts until thin and even and divide into 4 portions.
Combine lemon juice, all seasonings and olive oil for marinade. Marinate chicken while preparing other components.
When ready to grill, preheat grill to high and brush grates with olive oil or spray with cooking spray. Place chicken breasts on grate and turn heat down to medium high. Cook about 5-8 minutes on each side depending on thickness.
Preheat oven to 350.
Prepare tomatoes by slicing into quarters or slices. Place with all marinade ingredients in an 8″ dish. Roast for about thirty minutes or until vinegar has thickened and turned a bit syrupy. Remove from oven and set aside. These are OK kept at room temperature.
In a medium or large bowl, combine cooked quinoa with shallot, egg, zested lemon, fresh basil, and Parmesan cheese.
Form into 4-8 cakes. Brush both sides with olive oil and bake for 20-30 minutes at 350. The outsides will be crispy and the insides creamy.
To assemble: Place one quinoa cake on a dinner plate. Top with one serving of a grilled chicken breast. Top with a spoonful of tomatoes and some fresh basil leaves. Top with burrata. Drizzle with syrup from the baked tomatoes. Be prepared for compliments!
---
Notes
This recipe is a wonderful summer recipe to showcase your best tomatoes and herbs. It also is a great recipe to introduce to those who think they may not like quinoa.
Keywords: quinoa cakes, chicken caprese, quinoa patties, baked quinoa patties, crispy quinoa cakes, grilled chicken caprese,