When it comes to Boursin Cheese Appetizer Recipes…they always seem to be the most popular appetizer on the table!
When it comes to charcuterie platters with cheese, I am always happy to see Boursin cheese on the cheese board.
Boursin cheese is a Gournay cheese, made in France.
It's a soft, spreadable cheese made of cream.
It is a bit crumbly, making it different than cream cheese, but that means that in savory recipes it can often be used in place of cream cheese.
Yes, creamy Boursin cheese flavored with garlic and fine herbs, makes a great appetizer all on its own with your favorite cracker, or spread on a French baguette slice.
But that folks, is just the beginning.
Boursin Cheese Appetizer Recipes:
I love this creamy cheese that is amazing on crackers, rolled into salty prosciutto, spread on apple slices, wonderful mixed into pasta, stirred into scrambled eggs and even spread on a bagel!
I love having a few rounds on hand for unexpected moments when friends drop in, especially during the holiday season.
But having a package of Boursin cheese on hand during Super Bowl weekend wasn't a bad idea either!
What are your favorite Boursin cheese recipes for appetizers?
Yes, we've all stuffed it into tiny cherry tomatoes or mini peppers, but have you stirred it into hot onion dip in place of the cream cheese?
Must say it's pretty good scooped up with pita chips.
Make a BLT crostini by spreading some cheese on a crostini and topping it off with some candied crispy bacon and a round of tomato sprinkled with salt and black pepper.
Watch those disappear!
Mix any of the herb cheese blends with some warm caramelized onions, a splash of balsamic vinegar, and top off with crispy fried onions.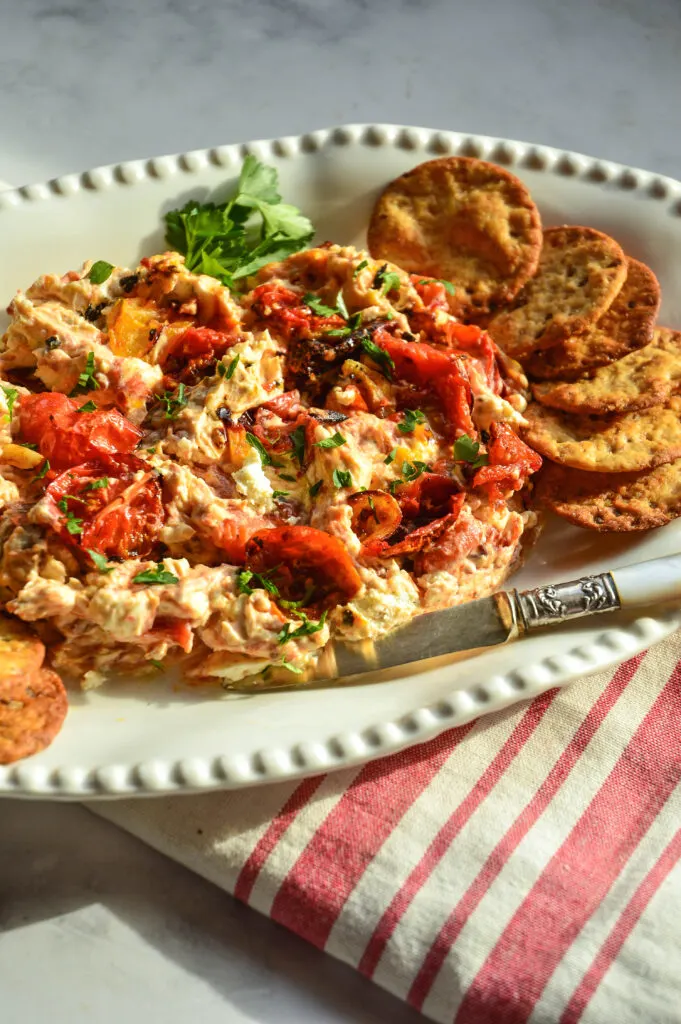 How To Make Boursin Cheese Dip with Roasted Tomatoes:
My newest discovery is basically a two ingredient appetizer easy recipe.
Get out one of your favorite sheet pans and prepare to make the perfect appetizer.
Slice a pint of cherry or grape tomatoes into halves or quarters, and use the convection setting on the toaster oven if you have one.
If not-regular oven is fine, but it may take longer.
Drizzle with extra-virgin olive oil, some kosher salt and pepper, and place on a parchment lined baking sheet.
After about 20 to 30 minutes, flipping in the middle, the tomatoes caramelize and while they are warm the roasted tomatoes are stirred into a round of room temperature Boursin garlic and herb cheese.
But if you want a Boursin pasta recipe, stir this into some fresh-cooked pasta and you have an amazing creamy sauce!
With either, some fresh herbs always add punch and a sprinkle of parmesan cheese is a delicious addition.
Whether using onions, tomatoes or peppers, roasting the veggies is the best way to make this easy appetizer recipe.
I think, because this appetizer is so simple, sticking with one veggie is the best.
But of course, one could also stir in some sun-dried tomatoes, as they make everything taste great.
Sprinkle with green onions and red pepper flakes before serving and be sure to add this roasted tomato recipe to your appetizer table.
With the variety of flavors that Boursin produces, I'm guessing one of them may be at the next party I have.
I'm also guessing the whole family will stand behind this creamy dip watching it disappear. You may want to double this recipe!
If you like tangy appetizers be sure to drizzle with hot honey, which is one of my favorite ways to serve this fresh cheese.
And next summer go ahead and plant that prolific cherry tomato plant because this is good stuff.
I'm guessing this Boursin cheese appetizer will be a great addition to your appetizer collection-at least I hope it will be!
Where do you find Boursin cheese?
I buy mine at Trader Joe's where the price is lower but my regular Kroger's grocery store sells it, as does Costco where it is found in a three variety package.
Whatever variety you buy, should be perfect when making any of these savory treats, but especially this Boursin cheese dip!
Just be sure to hide it from the kids or any Boursin cheese appetizer recipes may become their perfect snack!
Want Some More?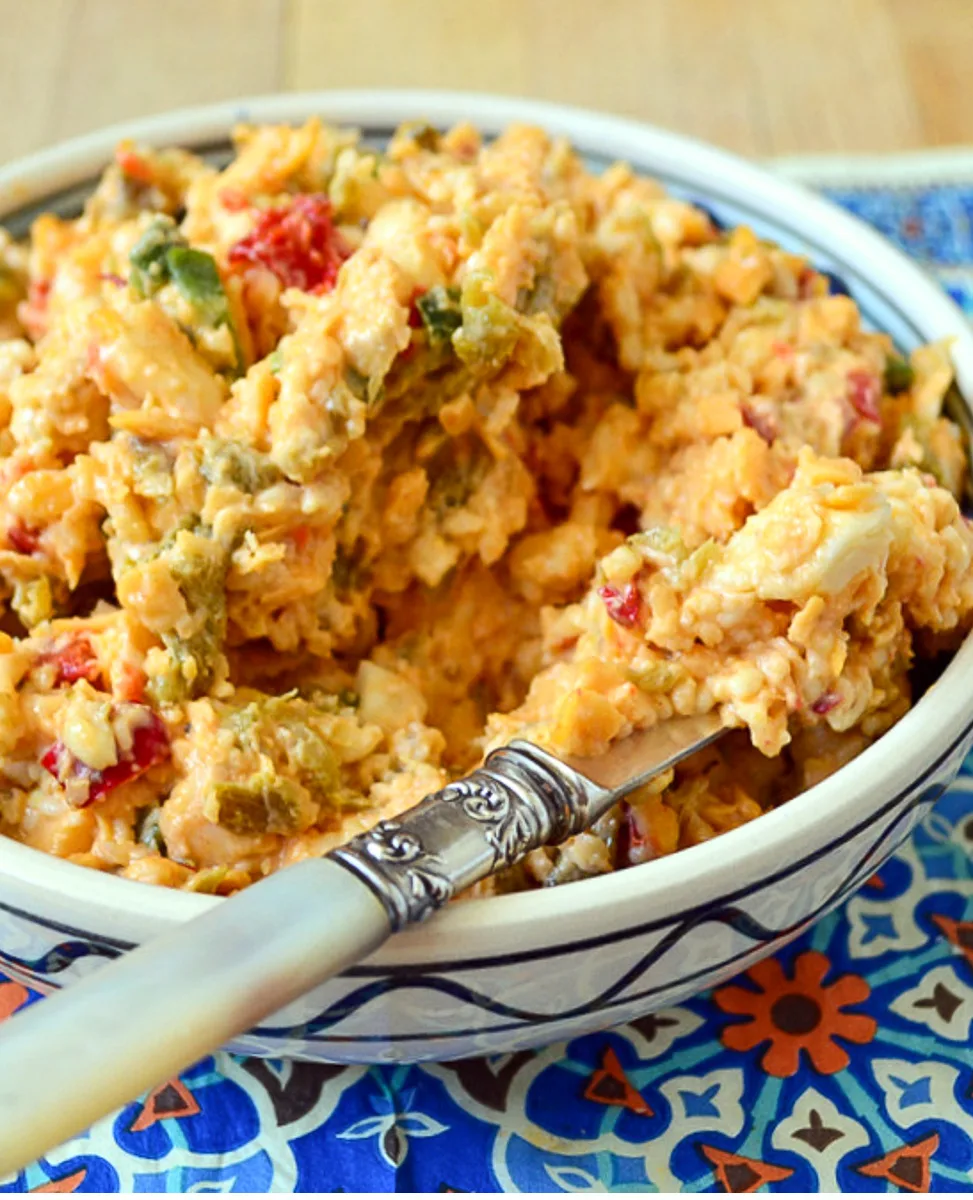 Radish Crostini with Lemon Cream
Print
Boursin Cheese Appetizer Recipes
Author:

Abbe Odenwalder

Prep Time:

10 Minutes

Cook Time:

20 - 30 Minutes

Total Time:

23 minute

Yield:

4

to

6

Servings

1

x

Category:

Appetizers

Cuisine:

American
---
Description
This easy, almost two ingredient, Boursin cheese roasted tomato dip is irresistable!
---
1 pint cherry or grape tomatoes, sliced in half
2 T olive oil
Salt and Fresh Pepper and Pepper Flakes
2 thinly sliced cloves garlic (optional)
1 round Boursin garlic and herbs cheese at room temperature
Your choice of dippers-crackers, baguette slices, potato chips, etc.
---
Instructions
Preheat oven to 375.
Line a small baking sheet with parchment paper.
Slice tomatoes in half and place on baking sheet. Add garlic if you'd like. Drizzle with 1 – 2 T of olive oil. Sprinkle with kosher salt and fresh ground black pepper and perhaps a pinch of red pepper flakes.
Bake about 15 minutes or until caramelized. Turn over and bake that side until caramelized.
In small-ish pieces stir the cheese into the warm tomatoes until it has melted and is creamy.
Drizzle with more olive oil or even with hot honey before serving.
Serve with pita chips, baguette slices, potato chips or crackers.
---
Keywords: recipes with Boursin cheese, Boursin cheese dip, Boursin pasta, Boursin cheese appetizers