Blistered Green Beans are similar to Chinese dry fried green beans, only much easier to prepare. Charred, but not burnt, these green beans taste rich and flavorful, and there isn't much hassle or oil involved! These were the perfect way to use my garden green beans!
Blistered green beans are very similar to roasted green beans. I've made both.
In all honesty, roasted green beans, tossed with oil and salt and thrown on to a sheet pan are very easy to do. But these blistered green beans with a few different steps turn out a moister green bean in my opinion.
They are similar to Chinese fried green beans, but without all the mess and oil splatters that invariably land all over the cook top!
By first cooking the green beans in the microwave it helps plump them up, which keeps them moist. From there it is a matter of tossing them in a skillet with 2 tablespoons of oil and letting them fester a bit until they blister.
Toss them and let the other side blacken and then add some flavored salt for a good charred and very flavorful green bean.
Manservant likes beans. He adores refried beans and black beans and baked beans. And he used to enjoy the green beans that came out of the can and were made into the famous, condensed soup Thanksgiving casserole with the crispy onions on top.
He also loves red beans and rice and lima beans and kidney beans. The man really does love beans.
I, on the other hand, came from a family that didn't eat a lot of beans. To my family, beans were something that sent one running to the bathroom. Luckily, I didn't inherit that gene!
So blistered green beans? Well, green beans are one of those veggies that fall into his consideration category.
He does like Chinese green beans with pork and garlic, so this recipe, even though it contains no pork or garlic, tastes just like dry fried green beans. And it is way simpler.
No need to use a lot of oil; no need to make a huge mess of the stove top; and what a quick way to achieve such great results. I had lots of green beans in my garden this year and now they are flowering again. I am so excited…More blistered green beans in my future!
It isn't easy to get Manservant to eat his vegetables. It is only this year that I saw him eat a slice of a garden fresh tomato…and from our garden. I think he knew I would kill him if he didn't at least try it.
He will eat salsa fresca as long as it's on a tortilla chip and he will eat gazpacho. Caesar salad is his salad of choice and carrots are only good for dipping.
To Manservant, veggies are something that are ingredients. They are meant to be chopped up and go unnoticed. So a plain tomato with salt…that was a first. In fact every veggie, including salad, is always the last thing left on his plate.
I have tried to explain to him that other than salad, he might prefer veggies more if he ate them while they were hot.
However when it came to these green beans, that tasted like roasted green beans, that tasted like dry fried Chinese green beans, he was just fine. In fact, he asked for more!
Red Beans and Rice Cajun Style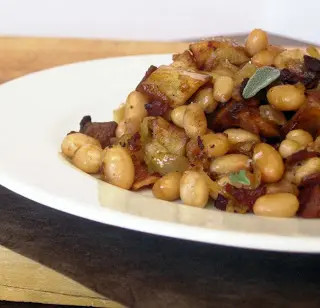 Please Pin and Share!
Print
Blistered Green Beans
Author:

Abbe Odenwalder

Prep Time:

10 Minutes

Cook Time:

20 minutes

Total Time:

30 Minutes

Yield:

4

Servings

1

x

Category:

Vegetables

Method:

Stir Fry

Cuisine:

American
---
Description
Blistered Green Beans are similar to Chinese dry fried green beans, but much easier to prepare. Charred, but not burnt, these green beans are delicious.
---
1/2 t grated lemon zest

1 t lemon juice

1/2 t kosher salt

1/4 t pepper or Sichuan pepper

1 lb green beans, trimmed

2 T vegetable oil
---
Instructions
Combine lemon zest, salt and your choice of pepper in a small bowl and set aside.
Rinse green beans, but do not dry. Place in a medium bowl. cover and microwave until fully tender, about 6 – 12 minutes, stirring every three minutes. (Mine took only about 6 minutes.) Transfer green beans to a paper lined plate and let drain.
Heat oil in 12″ nonstick skillet over high heat until just smoking. Add green beans in a single layer. Cook, without stirring, until green beans begin to blister and char, 4 to 5 minutes.
Toss green beans and continue to cook, stirring occasionally, until beans are softened and charred, 4-5 minutes longer. Transfer green beans to a serving bowl and sprinkle with lemon salt mixture, lemon juice and toss to coat.
---
Notes
Thank you Cook's Illustrated.
Keywords: green beans recipe, Asian green beans recipe, Roasted Green Beans,