Zucchini bread with walnuts and raisins is summer to me. I'm always on the lookout for a great recipe and I think this is it! Studded with toasted walnuts and golden raisins, this hearty loaf is sprinkled with sugar and gets better as it sits overnight!
I don't know about you but I love zucchini bread, especially when it's loaded with toasted walnuts and some raisins for extra sweetness and texture.
This simple one bowl recipe makes one giant 9 x 5″ loaf and is easily freezable in case you don't want to eat the whole thing right away.
So how many zucchini have you harvested? Did you pick them when they became huge or did you manage to get them while they were narrow and pretty?
I haven't had such good luck with zucchini this year. My plants were loaded with flowers early on, but maybe the bees were to busy in my lavender and missed the pretty yellow flowers of my zucchini.
Whatever the case, I still managed to bake a great loaf of zucchini bread and since TIHIC has never had a recipe in its index for zucchini bread, I thought I'd pass this one on.
Manservant and his buddies managed to make a dent in this giant loaf several Sunday mornings and all proclaimed it to be quite good!
Yes, I did freeze it in between Sunday mornings which makes this loaf a perfect keeper.
Not overly sweet, this zucchini bread does get better with age and still stays tender and moist.
Made in one large bowl, this dense loaf is quick to put together.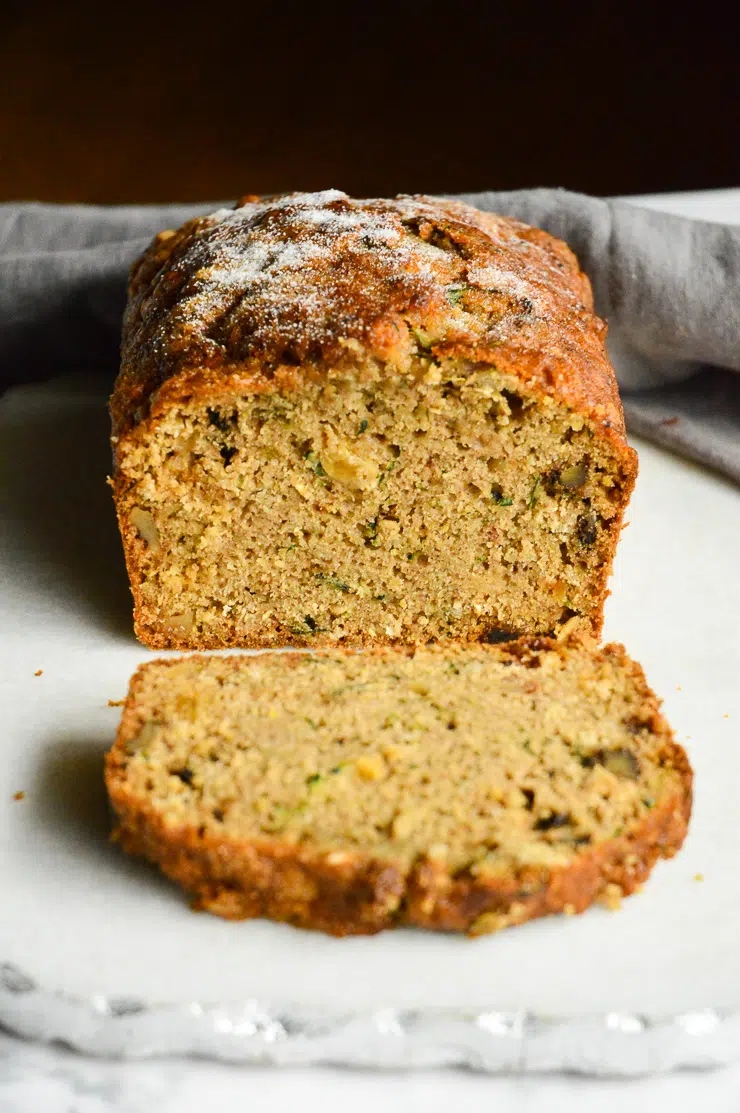 Tips on Making Zucchini Bread with Walnuts:
First you need zucchini. Though I have used large zucchini I prefer the smaller ones, because they are seem to have less water and definitely not as many seeds.
For this easy zucchini bread, I grate them by hand. It really isn't hard and doesn't take but a minute and this way I don't need to wash my food processor.
No need to peel your zucchini!
In your mixing bowl, combine the zucchini, oil, eggs, sugars, zucchini and salt. I use canola oil, because it has no flavor, but if you prefer the taste of olive oil, that works also. As does butter that has been melted and cooled.
Now it's time to add in some flavor. Zucchini on its own doesn't have much. I think that is actually it's redeeming quality. You can make it be whatever you want.
In the case of this zucchini bread, the zucchini adds moisture and texture. And of course a touch of fiber.
I love cinnamon in this recipe, but cardamom, can be substituted as can pumpkin pie spice. And if you aren't a cinnamon fan, no need to use it at all. The same goes for nutmeg.
All purpose flour is then stirred in, and whole wheat flour can be substituted for one cup of the all purpose.
Now is the time to stir in the toasted walnuts and raisins. I love the flavor and texture both give to this loaf, but they are totally unnecessary if you just want a straight up zucchini bread!
Sprinkle liberally with sugar, raw, turbinado or white. Even cinnamon sugar would be great!
Spoiler: This easy zucchini bread does taste better the longer it sits. I liked it more after I had frozen it and then thawed it. So don't be tempted to slice into it until the next day!
This not too sweet bread, may be my best zucchini bread ever. Except of course for those I add chocolate chips, too.
Yes, you can add chocolate morsels if you'd like, but I was trying to keep this on the healthier side-after all wedding day is approaching.
Alex Odie-san China Boy has arrived and promised me he will have all of his stuff cleaned out of Zoe's room by the time she arrives.
August 29th is the day she arrives cross country with "still" fiance and dog in tow. My quiet house of two will become five, complete with an extra dog.
Alex wonders how he will handle it. HE WONDERS HOW HE WILL HANDLE IT? I had to laugh at that!
To be quite honest, Manservant and I are looking quite forward to it. It might be chaos, but it will be family chaos!
My linen closet is filling with goods for the goodie bags. I am resisting Justin's peanut butter cups that are hiding out next to my sheets! That is not easy.
She/me has ordered all Colorado products to fill them with.
Next week is their 31st birthday which totally blows me away. And oh yeah! She finally passed her 3rd CFA test and we all are breathing sighs of relief.
It is official and she has earned it and now she can take a honeymoon if they so choose. Yes, she can burn those books!
Guess that means it's time to celebrate. And we are all so ready!
Need A Few More?
Print
Zucchini Bread with Walnuts and Raisins
Author:

Abbe Odenwalder

Prep Time:

15 Minutes

Cook Time:

60 Minutes

Total Time:

75 Minutes

Yield:

1

9 x 5" Loaf Pan

1

x

Category:

Bread

Method:

Bake

Cuisine:

American
---
Description
Zucchini bread with walnuts and raisins is summer to me. I'm always on the lookout for a great recipe and I think this is it! Studded with toasted walnuts and golden raisins, this hearty loaf is sprinkled with sugar and gets better as it sits overnight!
---
2 cups grated, packed zucchini, not wrung out, grated on the large holes of a box grater

2 large eggs

2/3 cup of a neutral oil (I use canola)melted unsalted butter

1/2 cup packed dark brown sugar

1/2 cup granulated sugar

1 teaspoon vanilla extract

1 teaspoon fine sea or table salt

1 1/4 teaspoons ground cinnamon

1/8 teaspoon ground or freshly grated nutmeg – optional

3/4 teaspoon baking soda

1/2 teaspoon baking powder

2 cups all-purpose flour

1 c toasted walnuts

1/2 c raisins (I used golden raisins) (optional)

2 tablespoons raw or turbinado sugar or white sugar
---
Instructions
Heat oven to 350 degrees F.
Place walnuts in a small pie pan and let them toast while the oven is preheating. This usually takes about 10 minutes. Let your nose be your guide. When you smell them, they are done! After cooling, coarsely chop them into large pieces.
Lightly coat a 6-cup or 9×5-inch loaf pan with nonstick spray.
Place grated zucchini in a large bowl and add oil, eggs, sugars, vanilla, and salt. Use a fork to mix until combined.
Sprinkle cinnamon, nutmeg, baking soda, and baking powder over surface of batter and mix until combined. Add flour, walnuts and raisins and mix until just combined.
Pour into prepared loaf pan and smooth the top. Sprinkle with the raw or turbinado sugar — don't skimp. Bake for 55 to 60 minutes, until a toothpick or tester inserted into the middle cake but also into the top of the cake, closer to the dome, comes out batter-free.
Let cool completely in the pan. Leave in pan, unwrapped, overnight or 24 hours, until removing (carefully!) and serving in slices. Zucchini bread keeps for 4 to 5 days at room temperature and longer in the fridge.
---
Notes
Adapted from Smitten Kitchen.
Keywords: best zucchini bread, zucchini bread with walnuts, zucchini bread with walnuts and raisins, easy zucchini bread