You put 'da lime in 'da coconut and mix um both together… and you almost have tom kha soup. Well, not quite, but it is a good song!
I am guessing there are as many versions of Tom Kha Soup as there are of matzo ball soup. Tom Kha Soup is a common menu item in many Thai restaurants, most often being served with chicken and not shrimp. Well, I was told this was Mama's recipe and it contains shrimp, though Aloy Modern Thai – the delicious, (Aloy means delicious) new Thai restaurant in LoDo, served it with chicken. Go figure! Truthfully, I know you won't go wrong with either! I've been slurping this soup all week and am very happy.
So who is this Mama and what is tom kha soup? Mama is a bubbly, tiny woman from Thailand who came to the U.S. 10 years ago. She brought her two daughters and proceeded to open a Thai restaurant in Boulder to critical acclaim. Building on that success, her two daughters opened a dynamic new spot in Denver that features new, light recipes from Thailand. Mama Kim started out cooking cherished family recipes. Well, the daughters now feature a modern version of  the recipes that they love to eat when they go back to visit Bangkok. Their fare is lighter, fresher and healthier than the dishes found in most Denver Thai restaurants. This food has flavor and punch, tastes fresh and I can even plant the menu! Really.
Aloy Modern Thai is focusing not only on sustainability, but working and building relationships with local purveyors. Community is important to them and they actively support local food related non-profits. (Check out Monday night's community night with a fixed price meal and 20% of the proceeds goes to a local non-profit.) We were transfixed with such dishes as the smoked verlasso salmon that is served in a sealed mason jar. When you pop the lid, the smoke erupts and that salmon is phenomenal and blended well with the bright orange zest, crunchy yucca chips and Asian pear. With drinks that match up perfectly to each small plate, this is a place that manages to do both food and drink well. Who would have thought a Mexican Chocolate Stout would pair so well with Pad Thai? Certainly not me, but I wouldn't order pad thai again without ordering this with it! And the pad thai? A delectable large plate with the noodles cooked just right!
And there were other dishes such as alligator with a spicy black pepper sauce and wicked wings with a caramelized sauce. The pomelo salad was outstanding and I just bought a pomelo so I could make one myself! A shout out to all the awesome servers, too! Any questions about anything and these folks know their stuff. Manservant was thrilled with the final drink. Let's see if I get this right… I believe it was a scotch that was served in a covered snifter with Cabernet smoke. When you opened the top, the smoke came out! I have heard of this before but it was really fun to see it in action!
But what about that Tom Kha – that I have been so happily slurping all week. Yes, it is a standard dish on many Thai menus. But I'm guessing they don't have Mama's recipe. It is comfort food at its best. Tom kha contains chicken or shrimp, herbs such as galangal or ginger in my case, mushrooms, tomatoes, and the lime and the coconut! This sweet and spicy, tart soup with a hint of spice from a favorite chili sauce, satisfies all my inner desires-which is a good thing since Valentine's Day is right around the corner. It is a satisfying and divine soup that is simple to make. Check out Aloy Modern Thai's version and tell me what you think. I know what I think… Yep. I think two girls did their Mama proud.
Notes: This recipe calls for some common Thai ingredients. Sometimes I have these on hand, but this time I didn't. I didn't have Kaffir lime leaves so I did substitute. The soup still turned out awesome. Next time I visit an Asian market I will buy some lime leaves. They can be stored in the freezer and taken out as needed. Palm sugar can be substituted with brown sugar, though I used palm sugar. I substituted galangal with ginger without any problem, though I am sure there would be some minor changes in taste with the galangal. Feel free to use chicken or shrimp or both in the recipe.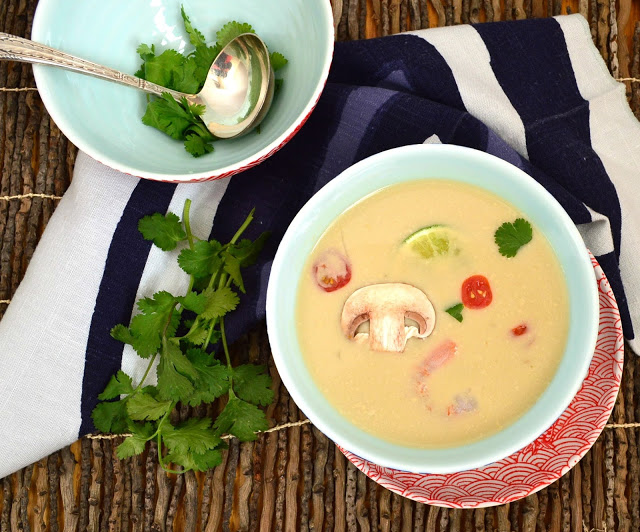 Mama Kim's Tom Kha Soup
Serves: About 6
Time To Make: About 30 minutes
Ingredients:
4 c chicken stock (I used two cans of low sodium broth.)
5 c of coconut milk (I used two cans.)
4 Kaffir lime leaves (I used 1 bay leaf, and zest of one lime.)
Galangal – 8 pieces (I used 1.7 oz of ginger cut in thick slices)
1 T lemongrass paste
2 tomatoes – cut in wedges
6-10 oz of mushrooms (I used button mushrooms, but next time would probably try some oyster mushrooms)
2 oz red onion or 1 small onion sliced thin
16 large shrimp or 2 poached chicken breasts, sliced thinly into strips
6 T Thai fish sauce
6 t palm or brown sugar
4 T fresh lime juice
Chili oil to taste
Cilantro to garnish
Directions:
Combine chicken stock, coconut milk, kaffir lime or substitutions and ginger or galangal and lemongrass paste in a medium sized pot. Simmer uncovered about 15 minutes until the broth is nice and infused and you can smell it. Add tomato, mushrooms, and red onion and wait until the vegetables are almost cooked. Add protein of choice, or some of both, fish sauce and palm sugar. Add a squeeze of lime to each bowl.Feel free to make it your own by adding some chili oil and cilantro.
Pin and Share! Thanks!
More to Try: