This post many contain affiliate links. Please see my disclosure policy.
Panforte is an Italian fruitcake/confection that is commonly made with fruits and nuts, and lots of spices. We love this chocolate version made with hazelnuts and dried cherries and of course, chocolate!
What is Panforte?
Panforte, pronounced pan-for-tay, is an Italian fruit cake that hails from the region of Siena, Italy where Florence and Pisa lie. This Italian fruit cake dates back to 1205 which gives this dessert quite a legacy. Made with honey, panforte was used as a tax to pay local monastaries on the 7th of February.
Honey was quite scarce in those days and hence it was a prized commodity. Soldiers often carried this confection with them as it traveled well. Meaning "strong bread", you will see just how strong it is if you make this chewy cake.
I made this last year as it is a great substitute for a fruit cake. Fruit cake made with dried fruits is a favorite of mine and I wanted to give this Italian version a try.
Feel free to slice this 9″ cake into 4 wedges for shipping. You could even make them smaller as just a thin sliver of this honey cake is usually enough to satisfy. This rich and chewy cake is made that way by boiling honey with brown sugar.
There are many versions of panforte so feel free to create your own family specialty. Often flavored with citrus and pepper this version is simply chocolate, hazelnuts, cherries and cinnamon. In Siena it is often made with 17 different ingredients as there are 17 districts in the region of Siena. This version is much simpler than that!
Don't want cherries? Use figs, or apricots or dates or prunes! Well, you get the idea, right? Want this spicier? Add in nutmeg, pepper, cloves or ginger. This really is up to you.
I've also read that panforte pans were often lined with communion wafers, which apparently makes this confection easier to remove from the pan. Not having access to communion wafers, I was not able to test this! However I hear rice paper makes a great substitution!
How long does panforte keep? Well, honestly I wasn't able to test this either, because it disappeared quite fast in our home. However, with honey as an ingredient, it could keep quite a long time just wrapped and stored on the counter. No need to even freeze.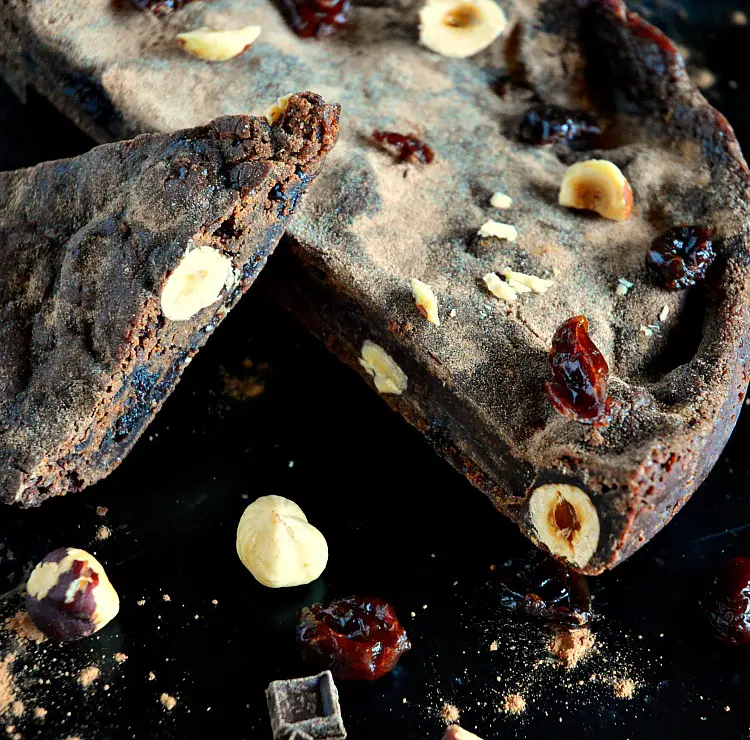 Panforte can easily be made gluten free by subbing in gluten free flour and with no eggs, panforte is totally vegan! I've heard panforte referred to as an Italian Power Bar and that description is quite apt.
How do you make panforte?
Whatever nut you choose to use, I would first recommend toasting them for the most flavor.
Chop the chocolate fine so that it will easily melt as your cake bakes. Soak the fruit in brandy or rum or even coffee along with the chocolate.
Combine the flour with the spices of your choice.
Now mix the honey and brown sugar in a pot and place over medium heat and bring to a boil. Boil for two minutes and then combine everything together and pour into your prepared pan. Dust with a combo of flour and cocoa before baking. After baking you can sprinkle with powdered sugar if you choose. I however, love the look of just cocoa.
This cake is easily enjoyed with coffee, espresso, or even port. It is easily transportable and makes a great gift. Plus it keeps a long time…if you let it!
Things I Cook With:
I bake this cake in a spring form pan. Everyone should have a spring form pan so if you need a gift for a cook, this is a good idea. Personally, I would love a set like this.
As for pots…I've never told you that I'm an All Clad girl. In fact my mother gifted me her old set at least 20 years ago and they still look like new and conduct heat very well. I prefer a matte finish because I think a shiny finish is much harder to keep clean. There are many varieties of All Clad and though I don't see the set I have, it is similar to these.
To be frank, I hate sets of things and prefer to buy pots open stock.Owning three different size sauce pans is enough for me. I use the smallest one the least. My other pots like a Dutch oven and a pasta pot are not All Clad, but more on them in a different post.
Cookware is a big investment but my pots are worth every penny. They have been banged on many New Years Eve's and still have flat bottoms!
Please Pin and Share!
Print
Panforte with Chocolate, Hazelnuts and Cherries
Author:

Abbe

Prep Time:

25 Minutes

Cook Time:

30 Minutes

Total Time:

55 Minutes

Yield:

1

9" cake

1

x

Category:

Dessert/Confection

Method:

Baking

Cuisine:

Italian
---
Description
This panforte fruit and nut cake hails from Italy. Feel free to play with your own spices and flavorings, but I love this cherry, chocolate and hazelnut version.
---
4 oz (3/4 c) whole hazelnuts

Butter for Greasing pan

1/2 c dried cherries (I use Montmorency from Costco)

2 T brandy

3 oz (3/4 c) high quality unsweetened chocolate, finely chopped

1 1/4 oz (1/2 c) high quality bittersweet chocolate, finely chopped

1 c plus 1/2 T all purpose flour

1 1/2 t ground cinnamon

2/3 c honey

2/3 c light brown sugar, firmly packed

1/2 t high quality cocoa powder
---
Instructions
Heat oven to 350. Spread hazelnuts on a baking pan. Bake until fragrant, about 10 minutes. Rub nuts in a clean kitchen towel to remove skins. Set aside.
Reduce oven heat to 300. Brush a 9″ spring form pan with soft butter. Fit with a circle of parchment paper, brush parchment with butter and set aside.
Combine cherries, hazelnuts, brandy, and chocolates in a medium bowl; set aside.
Sift 1 cup flour and 1/2 teaspoon cinnamon in a bowl.
Combine honey and brown sugar in a saucepan. Stirring, bring sugar to a boil; reduce heat. Simmer for 2 minutes. Combine with dried-fruit mixture, stirring until combined. Fold in flour; mix to combine. Pour into prepared pan.
With wet hands or a small metal spatula, press the mixture to form a level layer. Combine the remaining 1/2 tablespoon flour, 1 teaspoon cinnamon, and cocoa. Sift over unbaked cake. Bake until set, about 30 minutes. Remove from oven, and cool. Gently brush off flour coating before serving.
---
Notes
This fruit cake does not require aging though I find its flavor improves if it does.
Keywords: panforte, panforte recipes, recipe for panforte, siena panforte
Need a few more gift ideas?
Chocolate Covered Orange Peels