This oatmeal raisin walnut cookie recipe is from Mrs. Fields. No, Mrs. Fields did not have walnuts in her oatmeal cookies, but I just couldn't help myself!
Oatmeal raisin walnut cookies are a classic loved by many.
I know for many that they are your favorite cookies.
Yes, I always seem to prefer chocolate chip cookies, but this chewy oatmeal cookie surpassed all my expectations!
I recently made a batch to take to a baby naming.
Oatmeal cookies were requested and I found them in this book.
Needless to say, I had to stop myself from eating all the oatmeal raisin cookie dough before I baked them.
I do love a good oatmeal cookie recipe and I had no doubt that Mrs. Fields would deliver.
Mrs. Fields and I became good friends ever since I discovered her at the Lincoln Mall near Kankakee.
I though I'd died and gone to heaven when I discovered there was more in this world than Tollhouse cookies.
Honestly, besides Oreos and the special Milanos that my mom would buy for special occasions, I'm not sure I knew that a cookie could be soft and chewy.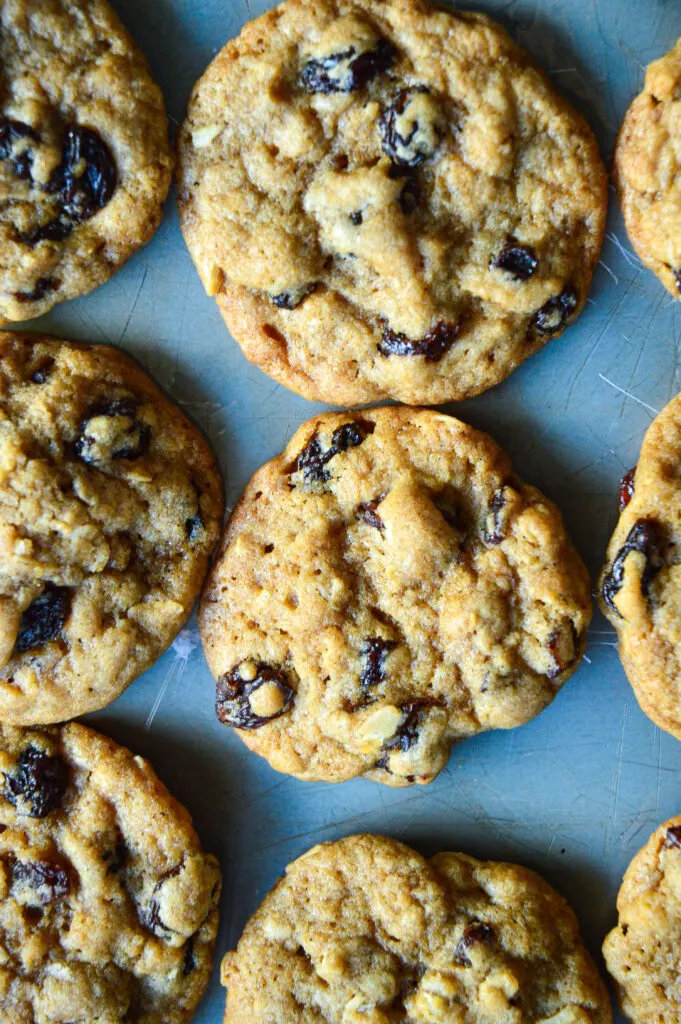 Though I have another great oatmeal cookie here at TIHIC, I would be hard-pressed to tell you which recipe produces the best oatmeal raisin cookies.
Let's face it. I must admit that I was not disappointed in the slightest when I tasted this chewy cookie.
In fact, I was sorry I gave them all away!
These easy oatmeal raisin cookies are easy to make and require simple ingredients found in most kitchens.
This is a great recipe for chewy oatmeal raisin cookies, walnuts or not, and I am sure they will become your new favorite.
Swap out the raisins for golden raisins or dried cranberries and even add some chocolate chips for a chocolate lover's twist, but whatever you do, just make these cookies!
Just a note: Like many Mrs. Fields cookie recipes these are baked at a low temperature.
They are chilled but only for an hour so the dough can set up.
Ingredients for this Oatmeal Raisin Walnut Cookie Recipe:
All-purpose flour
Baking soda
Salt
Quick Oats (Quick oats are old fashioned oats cut into smaller pieces and old-fashioned oats are whole oats that have been flattened.)
Unsalted butter, at room temperature
Brown sugar (I prefer dark, but use what you like)
2 large eggs at room temperature
2 T of vanilla extract (I think this is why the cookies are so good!)
Raisins
Toasted Walnuts
How To Make This Oatmeal Raisin Walnut Cookie Recipe:
In a large bowl, whisk together the dry ingredients of flour, baking soda, oats and salt. Set aside.
In the bowl of a stand mixer add the brown sugar and a few tablespoons of room temperature butter. Cream together the butter, and brown sugar, adding all butter as it is creamed in. On medium speed beat until light and fluffy, about 2-3 minutes.
Whisk together the eggs and vanilla extract and add to the butter/sugar mixture and beat until incorporated.
Slowly add the flour mixture to the wet ingredients, mixing on low speed until just combined. Some flour streaks are OK.
Add the raisins, and walnuts if using, to the bowl and mix on low speed until evenly distributed throughout the dough.
Chill the dough for an hour or until firm.
When ready to bake preheat the oven to 300 degrees and line a baking sheet with parchment paper or just use an ungreased cookie sheet.
Using a cookie scoop or spoon, drop rounded teaspoon sized balls of dough onto the prepared baking sheets, leaving about 2″ of room between each cookie.
Bake the cookies for 22 minutes, or until they are slightly golden brown and still a bit soft in the center.
Remove the cookies from the oven and let them cool on the baking sheets for 5 minutes before transferring them to a wire rack to cool completely.
Store the cookies in an airtight container at room temperature for a few days, or freeze them in a freezer bag for longer storage.
Oatmeal raisin cookies, with or without walnuts, are the ultimate comfort food when it comes to cookies.
And who knows? Maybe a few extra oats make these healthy. I'm not sure about that butter though!
Enjoy this easy to make oatmeal raisin walnut cookie recipe made with simple ingredients.
With its chewy texture and sweet raisins, this oatmeal raisin cookie recipe is sure to satisfy your cravings for a delicious treat.
I know it did mine!
Other Oatmeal Recipes:
Peanut Butter Oatmeal Chocolate Chip Cookies
Print
Oatmeal Raisin Cookies
Author:

Abbe Odenwalder

Prep Time:

20 Minutes

Cook Time:

20 Minutes

Total Time:

40 minutes

Yield:

40

cookies

1

x

Category:

Cookies/Bars

Cuisine:

American
---
Description
This oatmeal cookie recipe may have more raisins and toasted walnuts than oatmeal, but I think that's a good thing!
---
2 1/2 c all-purpose flour
1/2 c quick oats
3/4 t baking soda (1/2 t at high altitude)
1/2 t salt
1 1/2 c firmly packed brown sugar
2 sticks unsalted butter cut into 16 tablespoons at room temperature (8 ounces )
2 large eggs at room temperature
1 T vanilla extract
1 1/2 c raisins
3/4 c rough chopped toasted walnuts
---
Instructions
In a large bowl whisk together the flour, oats, baking soda and salt.
In the bowl of a stand mixer add the sugar and butter a few pieces at a time beating until all butter is creamed in and mixture is light and fluffy-about 2 minutes.
in a measuring cup whisk together the eggs and vanilla. Add to butter mixture and beat until smooth on low speed. Scrape down bowl and add the dry ingredients and beat until just combined and a bit of flour still shows. Stir in the raisins and toasted walnuts until evenly distributed and chill the dough for an hour or until firm.
Preheat oven to 300 degrees.
Drop rounded teaspoons of dough onto an ungreased or parchment lined baking sheet about 2″ apart. I usually get 18 cookies to a sheet.
Bake for 20-22 minutes or until the cookie is slightly golden and slighty soft in center. Remove cookies from sheet and cool on rack. Store in layers separated by wax paper in an airtight container or in the freezer.
---
Notes
Make sure walnuts have cooled when mixed in.
Keywords: oatmeal raisin walnut cookie recipe, best oatmeal raisn cookie, soft and chewy oatmeal raisin cookie, homemade oatmeal raisin cookies, mrs fields cookie recipe oatmeal raisin, oatmeal raisin walnut cookies, chewy oatmeal raisin cookies,