This gluten free oatcakes recipe can be made with oat flour or all-purpose flour. Whatever you choose, this salty sweet crunchy, crispy biscuit always disappears fast!
Since I discovered Effie's oatcakes at the grocery, I've been baking regular oat cakes and this gluten free oat cakes recipe quite regularly.
If you've never tasted these salty, sweet, crispy and crunchy, oat cakes, I can understand.
At the grocery they are about $8/box, so these crunchy treats are a real splurge.
Perfect with cheese or eaten as a cookie, oat cakes are something I recently discovered.
I could eat them every morning with my coffee and yogurt!
Last week I had a friend over so I made a cocoa version of oat cakes that were gluten free.
Though I am not worried about gluten, these are a perfect snack for those that have to watch.
Luckily, this recipe makes a big batch, because a few days later a neighbor stopped over and I offered up some more.
She texted me later that day asking for the recipe!
They are good and though they aren't the prettiest cookie or biscuit, they are easy to become addicted to!
Traditional Scottish oatcakes originated in the 1400's.
They are a savory oatcake often made with bacon grease or even goose fat and often cut into a round shape.
Today olive oil might make a good substitute.
Triangular oatcakes or farls are also popular, but this recipe requires no cookie cutter, just a large baking sheet.
Oatcakes are then baked on a griddle or in the oven.
Eaten at breakfast with a hearty cheese, oatcakes are often eaten instead of toast.
However, that is not the oatcake we are making today!
Oatcakes travelled to Nova Scotia with Scottish immigrants in the 1800's.
It was there that sugar was added to the recipe and these became Nova Scotia oatcakes.
In Nova Scotia, they are often cut into rectangles or squares.
Just think-I would have never known of oatcakes without Effie and her delectable biscuits, unless I had spotted them at the grocery store next to the cheese!
Yes, these are divine on your next cheese board.
In any case, Effie has made lots of varieties of oatcakes.
Some are made with ginger, others with pecans, but my favorite, after the regular version, is the cocoa. Go figure!
So today I'm giving you both varieties because I'm just kind of rolling that way!
The next time I make these my future oatcakes might include adding chocolate chips, raisins, or white chocolate to the mix!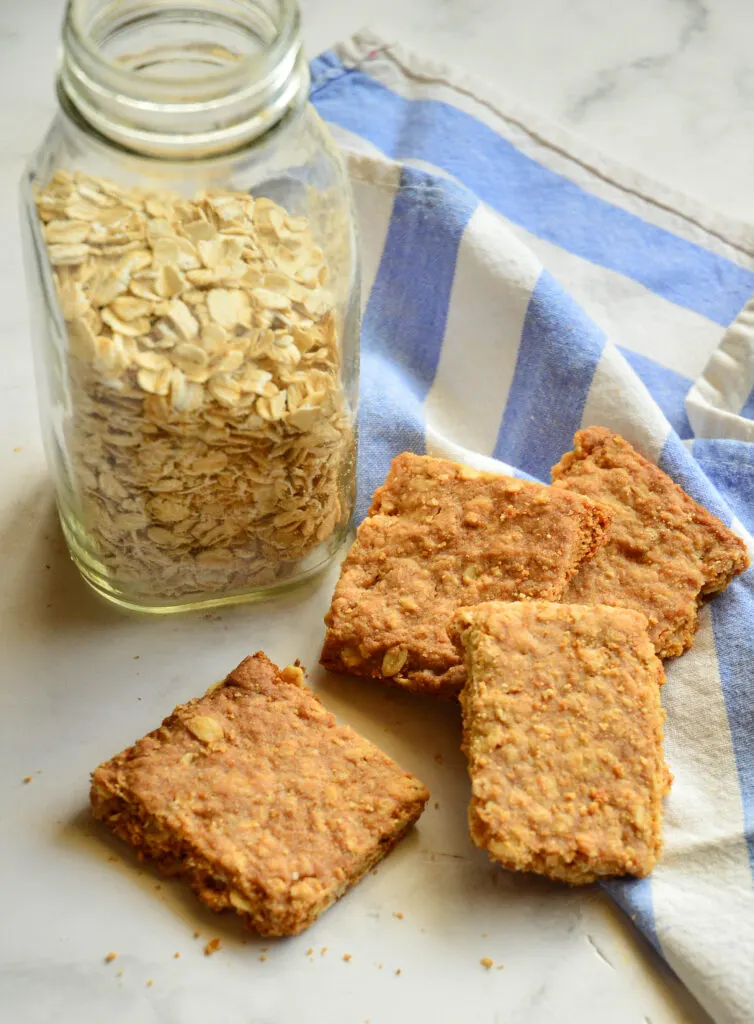 Oats to use when making this gluten free oatcakes recipe?
Old Fashioned oats are best.
Quick and instant oats are cut smaller which means they cook faster and I think the texture would be different.
However, give them a try if that's all you have!
The basic ingredients list is simple:
Rolled Oats-the old-fashioned kind
Oat flour OR regual all purpose flour
Brown sugar
Fine sea salt
Baking Soda
Unsalted Butter or Shortening at room temperature I think coconut oil would work!
Hot Water that has boiled
For the cocoa variety:
Unsweetened cocoa powder
Sweetened Coconut flakes
How To Make This Nova Scotia Gluten Free Oatcakes Recipe:
No food processor needed!
Just a large bowl, a measuring cup and perhaps a pastry blended along with a baking sheet!
Preheat the oven to 375 F.
In a large bowl, combine the oats, oat flour or all purpose flour, brown sugar, salt and baking soda. (If making the cocoa variety, add the oats and coconut in with the dry ingredients.)
Add the room temperature butter and cut in the butter using a pastry cutter or a fork, or just your fingers!
After the fat is worked in, pour in the hot boiling water and stir until everything comes together into a thick, sticky dough.
Here in Denver I needed to add a bit more water because it is so dry. Do this one tablespoon at a time until it sticks together.
For a thin oatcake use a 10 x 15 baking sheet or for a bit thicker biscuit, use a 13 x 9 pan.
The hardest part about this recipe is pressing this stiff dough into the pan.
Use the back of an off-set spatula or wet fingers to evenly press the dough into the pan.
No need for parchment paper or a lined baking tray!
Score the biscuits into approximately 1 3/4″ squares. This will help to separate them after they have baked.
Bake until golden brown about 12 minutes, but if you want a crunchier biscuit, continue to bake them another 10 minutes after reducing the oven temperature to 325.
I like this crispy version, so that's what I did!
After removing from the oven, score the oatcakes again while warm, and remove them to a wire rack to finish cooling.
However I strongly recommend eating a warm biscuit, perhaps with a cup of afternoon tea!
Add a slice of brie and a spot of jam if you must.
Or just pour yourself a big glass of milk, grab a good book and sit back and enjoy.
Store these in an airtight container and though I know these will keep a long time, I bet they disappear fast!
Need Some More?
Print
Gluten Free Oat Cakes
Author:

Abbe Odenwalder

Prep Time:

15 Minutes

Cook Time:

12 to 22 minutes

Total Time:

47 minute

Yield:

About

40

squares

1

x

Category:

Cookies/Bars

Cuisine:

American
---
Description
This crispy crunchy, salty sweet, oatcakes recipe can't be beat! (Sorry, I couldn't help myself!)
---
2 c rolled oats (old-fashioned)
1 c oat flour or all-purpose flour
3/4 c brown sugar
1 1/4 t fine sea salt
1/4 t baking soda
3/4 c shortening or unsalted butter (room temperature)
1/4 c boiling water
Cocoa variety-
1/3 c shredded coconut
3 T cocoa
---
Instructions
Preheat oven to 375 F. In a large bowl combine the oats, flour, sugar, salt and baking soda. (If you are making the cocoa version add the cocoa and coconut here)
Add the butter and using a large fork, pastry blender or your fingers, work the fat into the dry ingredients.
Pour in the boiling water and stir until everything comes together into a thick, sticky dough.
On a large baking sheet, like a 15 x 10 or a 13 x 9 pan, press the dough directly onto the sheet using a metal spatula to flatten the dough into an even 1/4″ layer. Score into small squares. They will blend together when baking, but will be easier to cut if you do this before baking.
Bake until golden, about 12 minutes. You can take them out of the oven now but if you prefer a chewier oatcake reduce the temperature to 325 and bake until lightly browned, about 10 more minutes.
Remove from oven and cut them apart while warm. Place on a rack to finish cooling.
---
Keywords: nova scotia oatcakes, gluten free oatcakes recipe, gluten-free oatcakes, Effie's oatcakes, oatcakes, oat cakes, oat cakes recipe, oatcakes recipe, gluten free oatcakes recipe