I love this simple giardiniera recipe! This Chicago style, Italian vegetable relish is a great accompaniment to most everything!
Thank goodness for this simple giardiniera recipe! With a garden that was prolific in the jalapeno area, I needed something besides pickled jalapenos in my fridge!
Salsa is great, but the world does not live on salsa and chips, I keep telling Manservant.
Growing up South of Chicago meant eating lots of Vienna Red Hots. Just the sound of them makes me giddy! I loved them prepared Chicago style, with lots of giardiniera. Oh, so good to have a greasy lip!
But perhaps they don't have this great Italian relish near you. It can be bought in a jar and is quite good, but when it's this easy to make your own, you really should go for it.
Not that long ago I followed a blogger named Chicago John. He fed us incredible Italian recipes from his aunt and mother. He also left great comments on all the blogs he followed!
His blog, "From the Bartolini Kitchens" is still out there but I don't believe he is posting anymore. Lucky me though, I bought the cookbook he published with all his favorite family recipes. It was there I discovered how easy this Italian vegetable relish is to make.
Honestly, this word is a pain to spell! But to put it simply, giardiniera is just Italian pickled veggies that can be kept in vinegar or oil.
Now a little pronounciation lesson: Repeat after me: Jar-din-air-ah! Yes, that's how this crazy word is said.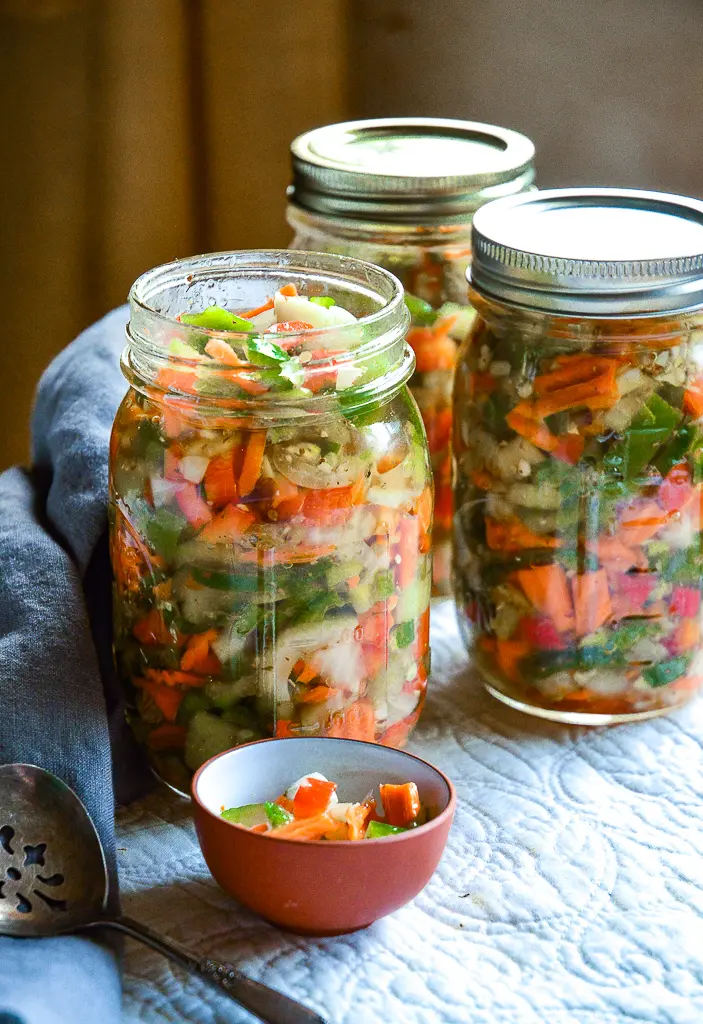 It actually means mixed pickles, and this condiment was an Italian way to preserve garden vegetables for the winter.
Apparently in Northern Italy the vegetables were just pickled with vinegar, but in Sicily, they were kept in oil.
No canning required, because of the oil in this, which meant I could make this. I am not a canner! Which also means my refrigerator is very full!
This crunchy relish is so versatile and is easily served as an appetizer with crackers and cheese or is fabulous on sandwiches or even mixed into pasta!
Being from the Chicago area, I can tell you it is great on subs, Italian beef and pizza! Tonight I made myself a grilled cheese with this giardiniera and pepperoni, and yes, it was so good, I might have to recreate it for you!
When eating a red hot, I often piled on this hot mix veggie relish, but it can easily be made to suit your own tastes!
This condiment often contains spicy sport peppers, cauliflower, green beans and olives. I used what I had, which meant lots of jalapenos, onions, celery, red and green peppers and carrots. What a gorgeous medley!
If you have lots of vegetables still awaiting use in your garden, I heartily recommend this. Perfect kept in the fridge and I imagine it would also make a fabulous gift for any food lover.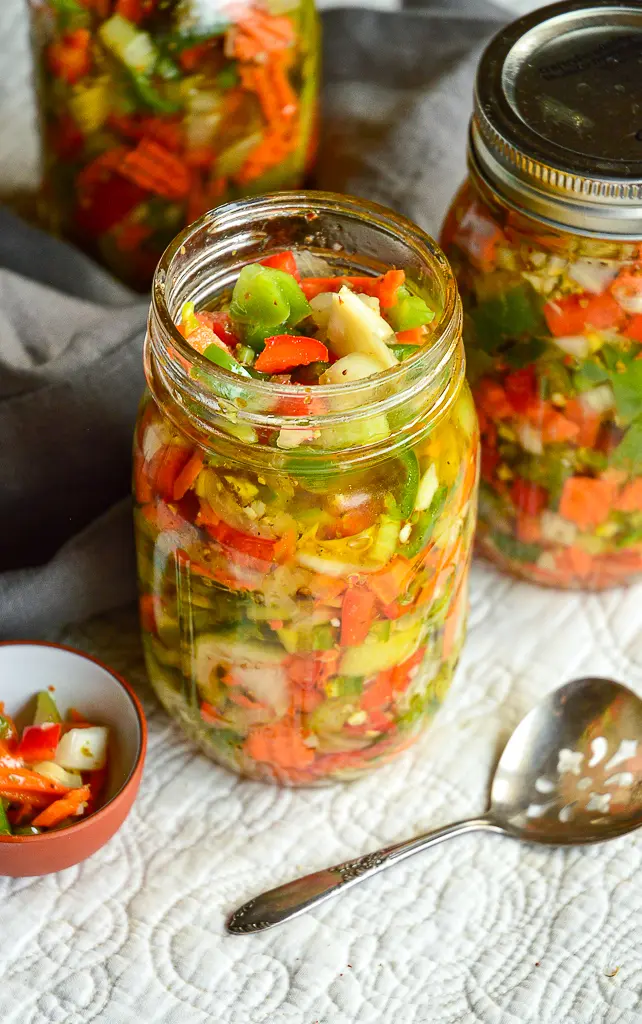 Harvest time is here and it feels good knowing I'll have plenty to rely on all winter long.
A Few More Delicacies I've Made Recently:
Pickled Jalapenos
(Raspberries were just 88 cents at Sprouts!)
Please Pin and Share:
This post may contain affiliate links. Please see my disclosure policy.
If you don't want to make your own giardiniera, this is what was in the fridge growing up:
No, I can not tell you why it comes with dental flossers. Does anyone know?
Print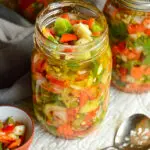 Giardiniera Recipe (Chicago Style)
Author:

Abbe Odenwalder

Prep Time:

30 Minutes

Total Time:

30 Minutes

Yield:

3

-

16

oz jars

1

x

Category:

Condiment

Cuisine:

Italian
---
Description
This spicy, tangy condiment is a workhorse in the kitchen. Easy to make, you need this vegetable relish on your food!
---
8 – 10 jalapenos chopped or sliced (I left the seeds in, but if you want this condiment less spicy, take them out!)

1/2 large cauliflower, cut into florets (I didn't use this.)

2 carrots diced or sliced (I used 4 since I didn't use cauliflower)

2 celery stalks diced (I used 4 since I didn't use cauliflower)

1 green bell pepper, diced

1 red bell pepper, diced

2 sweet banana peppers, diced (I didn't use these, but I did add 2 more jalapenos)

1 large sweet onion, diced

1/2 c kosher salt

4 minced cloves of garlic

2 1/2 t dried oregano

1 t red pepper flakes or to taste

1/2 t celery seeds

Fresh ground black pepper to taste

1/2 c apple cider vinegar

1/2 c white vinegar

1/2 c extra virgin olive oil

1/2 c canola oil

---
Instructions
Combine vegetables and salt in a large container. Add enough water to cover. Stir, cover and refrigerate for at least 12 hours. I forgot about mine and left them in the fridge for 48 hours and they were just fine!
Strain vegetables from brine, rinse and set aside.
In the same bowl that you brined the vegetables in, add garlic and remaining seasonings.
To that bowl, add the vinegars and stir until well whisked. Whisk the solution while adding the oils. (At this point you havea whole lot of very good Italian dressing!)
Add back the strained vegetables and mix with the dressing until well coated.
At this point the giardiniera can be transferred to clean jars. Refrigerate for 48 hours before serving so flavors have time to meld together.
---
Notes
Feel free to try your own combination of vegetables. Next time I'm going to add in some olives.
Seasonings can also be played with. I think I might add some Bay leaf or fennel, but this is superb just the way it is!
Keywords: giardiniera, girardiniera recipe, giardiniera Chicago, recipe for giardiniera, how to make giardiniera,