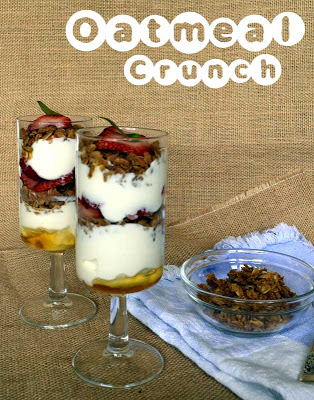 Friday is upon us. So let's make this fast. I need to finish cleaning my house and  run to the grocery and buy some ingredients for my Vietnamese chicken salad dinner.  I've been on a Vietnamese kick this week probably because of my visit to the Asian grocery. Visiting there means I get to buy such wonderful produce at such inexpensive prices. OK-cheap. I wish it was closer. All this so I can be ready for the exciting weekend activities. NOT! But maybe I will see my yard get back in shape or is that just wishful thinking?
Last weekend we gave a bridal shower. You already know this if you read my blog and don't just look at the recipes. But, that's OK if you do. I sometimes do the same. In any case for the shower I made some oatmeal scones that I really liked. The topping was this oatmeal crunch. Truthfully, I liked it better than the scones. Just sayin'.
This is a quick topping that is perfect in these yogurt parfaits that I gave the rabbit catcher for breakfast. (Aren't I nice?) It would also be great sprinkled into pancake batter or as part of a streusel topping on muffins or scones. And last but not least, it is killer on top of ice cream. Don't ask how I know. All right, one more last but not least… Don't stir it to much after you take it out of the oven. Let it dry in one big sheet and then you will be able to break off big, giant pieces of buttery,caramel, oatmeal crunch and eat them whole. So much better than a granola bar. I promise!
Let me know if you have any other ideas for the stuff. I love it!


Oatmeal Crunch (from The Breakfast Book by Marion Cunningham)
8 T butter
1 c dark brown sugar
1 t vanilla
1/4 t salt
2 c uncooked oatmeal
Preheat oven to 325. Mix butter, brown sugar, vanilla and salt in a small saucepan over low heat stirring constantly until the sugar has dissolved. (This doesn't take long.)
Put the oatmeal in a bowl, pour the melted caramel sauce over and toss the mixture until the oatmeal is coated with sauce. On a parchment lined baking sheet, spread the oatmeal in a thin layer. Bake for about 20 minutes, stirring once or twice. Remove from oven and cool. Store in an airtight container.
Have a great weekend!
Other things to try for the weekend:
Breakfast Burritos
Belgian Liege Waffles
Mexican Quinoa
Magic Cookie Bars