Alton Brown's chewy chocolate chip cookies recipe is one of the best chocolate chip cookies I've ever had! This soft, gooey cookie is delish!I love chocolate chip cookies and Alton Brown's chocolate chip cookies more than satisfy.
Chocolate chip cookies are my favorite. Growing up my mom made the kind on the back of the Nestle's wrapper, the Tollhouse version.
They turned out thin and crispy and never lasted more than two days in our house.
Over the years thanks to Mrs. Field's, I've decided I prefer the thick and chewy kind.
After trying many recipes I've decided my favorite is Alton Brown's.
I'm not sure how many cookies he tried to get to this one, but this recipe has my vote.
Every time I try a different version I am always disappointed.
But not so disappointed that I wouldn't eat the entire batch!
I really need to change my mindset and never try a new recipe if I am happy with the one I have.
But I guess that's human nature, isn't it?
What Makes This Chewy Chocolate Chip Cookies Recipe Chewy?
Alton's recipe calls for bread flour.
I won't give you a chemistry lesson but it has higher protein and is made from a hard winter wheat.
With the switch in flour, the cookies become chewier.
Well, that and the addition of milk in place of a whole egg.
Brown sugar also helps and besides I love the extra caramel flavor that brown sugar adds to the this chewy chocolate chip cookies recipe.
It also calls for melting the butter and chilling the dough.
Other than that it is pretty basic.
The hardest part is the chilling of the dough because you have to wait so long to eat them.
If you can't wait 24 hours, then at least try to wait an hour.
It allows the dough to hydrate and become more flavorful.
And yes, I think it does make a difference in the taste and texture.
The dough will also be very hard when you take it out of the fridge so use a metal spoon to loosen it.
Or perhaps you can try scooping them before you chill them.
So go ahead. Try them. You know you want to. I won't tell you how good they are.
See for yourself. After all, a little cookie therapy never hurt anybody.
Today my husband left. He went to South Africa – for business.
He used to travel to China but he decided that wasn't far enough so he decided to go further. That wasn't nice, was it?
I am already missing him. After a great weekend in Phoenix for a family wedding he had one day to get ready to go.
It was VERY last minute but his trips usually are. (In case you are wondering, South Africa doesn't require a visa for 90 days or less. Good thing for him.)
I am bummed. So I decided I needed therapy. Cookie therapy.
Now don't start thinking what is she going to do with all those cookies. My son is still around, but he is skiing.
When he comes back I will give some to him to take back to school and he will also drop some off with my daughter.
I may have one – or maybe two. Three? Anyone's guess.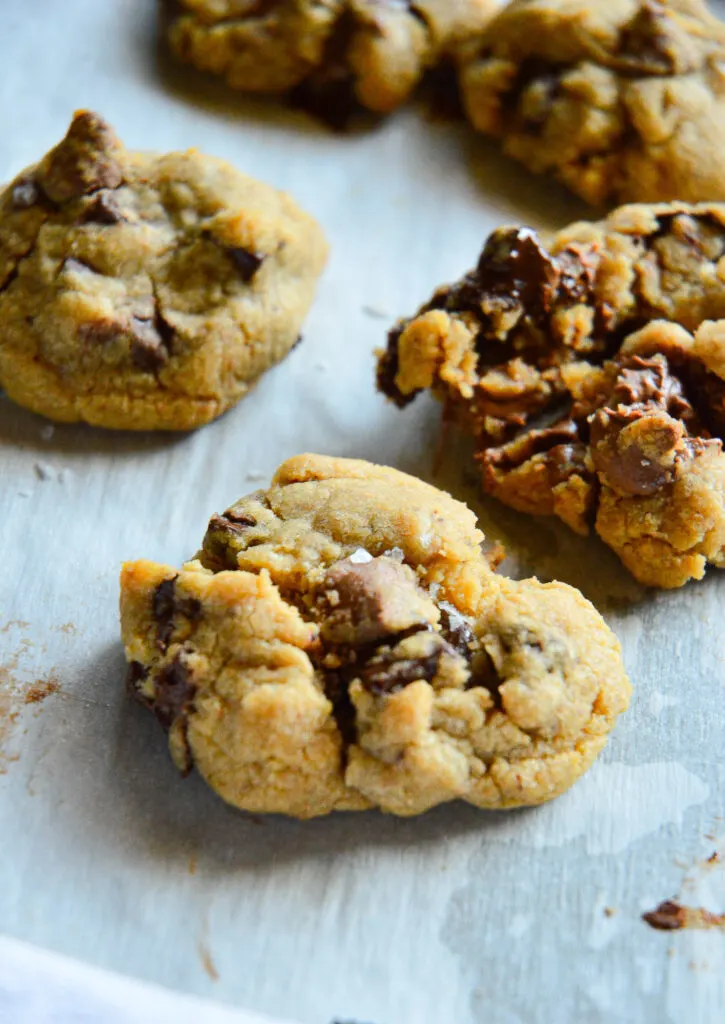 But I have a challenge with my mom that we both can lose 10 pounds for the kid's graduation in May.
It is public now Mom, so that makes it official. Can we do it? Stay tuned…. I better take a long walk tomorrow.
(This post was originally published in 2012 and has been updated.)
Need More of Alton Brown? Click here to get his Good Eats Cookbook from The Early Years.
Need Some More?
Peanut Butter Chocolate Chip Cookies
7 Ingredient Chocolate Chip Cookies
This post contains affiliate links from which I may or may not earn a small commission at no cost to you.
Print
Alton Brown's Chocolate Chip Cookies
Author:

Abbe Odenwalder

Prep Time:

15 Minutes

Cook Time:

10 Minutes

Total Time:

25 minutes

Yield:

5

dozen

1

x

Category:

Cookies/Bars

Cuisine:

American
---
Description
Almost every chocolate chip cookie recipe is my favorite, but this one from Alton Brown, with its chewy, soft texture is a true winner!
---
2 sticks unsalted butter, melted
1/4 c sugar
1 1/4 c brown sugar
1 egg
1 egg yolk
2 T milk
1 1/2 t vanilla extract
2 1/4 c bread flour
1 t kosher salt
1 t baking soda
2 c semisweet chocolate chips
1/2 c chopped toasted walnuts or pecans
---
Instructions
Pour melted, cooled-down butter and both sugars into the bowl of your mixer. Cream on medium speed about 2 minutes, until mixture looks a bit like thin peanut butter.
Add room temperature large egg, egg yolk and vanilla and beat until combined.
Slowly stir in flour that has been combined with baking soda and salt.
Add chocolate chips and nuts and mix well.
Cover and chill for 24 hours which is the hardest part of this recipe.
When ready to bake, remove dough from fridge and let come to room temperature until it is scoopable.
Preheat oven to 350. Using a tablespoon drop dough balls onto a parchment lined cookie sheet. Do not crowd.
Bake 10-11 minutes. Slide parchment onto a wire rack so cookies can cool.
---
Notes
I decrease baking soda to about 3/4 t for high altitude.
Cookies may be made larger in which case you may need to increase baking time to 15 minutes.
Keywords: chewy chocolate chip cookies recipe,