Can you freeze spaghetti squash casserole? Without a doubt, this comforting Southwest style spaghetti squash casserole makes a great meal to have on hand when taken straight from the freezer!
The good news is that a spaghetti squash casserole can be frozen, so if you have a bumper crop of spaghetti squash, make this easy Southwest style casserole and everyone will reap the benefits.
My gardener friend has a bumper crop of spaghetti squash this year, so I greedily said yes last week when he asked if I wanted a couple.
Many spaghetti squash recipes are prepared with a tomato sauce or a meat sauce, just like the Italian spaghetti dish.
I wanted something different. Perusing a cookbook about restaurants that are now nonexistent, I discovered this chile rellano type casserole.
What attracted me to it was that it was loaded with green chiles or roasted poblanos, making this Southwest in flavors.
As I've mentioned; Manservant is not big on veggies, so I thought disguising the veggies might be the best way to go.
Hence, this cheesy spaghetti squash casserole that makes an awesome vegetarian main course and also a great side dish to most anything.
When did you discover spaghetti squash?
I actually remember my first time.
As a teenager, acorn squash was the only squash in my repertoire and usually it was frozen.
I always liked it, but when my Mom discovered a spaghetti squash at the grocery store, we were all enchanted.
She served it as a pasta substitute and though we thought it was good, I actually remember my father saying he didn't think it was for him.
I also believe this was probably when we were all on Weight Watchers and my mother was cutting out those bad carbs and trying to make a more healthy meal.
This would be perfect for low carb diets, but I am not sure they had that diet way back then!
Personally, I think it's better to recognize the poor spaghetti squash as a squash and not spaghetti.
How To Cook Spaghetti Squash:
Need an easy way to cook raw spaghetti squash?
Begin by slicing off both ends with a very sharp knife.
Using a fork, stab the squash all over and place in the microwave for 2 to 3 minutes, depending on how large the squash is.
​Hopefully this softens the squash enough so that you can now slice it in half vertically.
If it is not soft enough to slice, put it back in the microwave for a few minutes more.
Why slice the squash vertically?
This produces longer spaghetti strands as the strands circle the interior of the squash horizontally.
Now scoop out the seeds and brush the interior flesh of the squash with olive oil.
Pro Tip: The seeds can be roasted just like pumpkin seeds!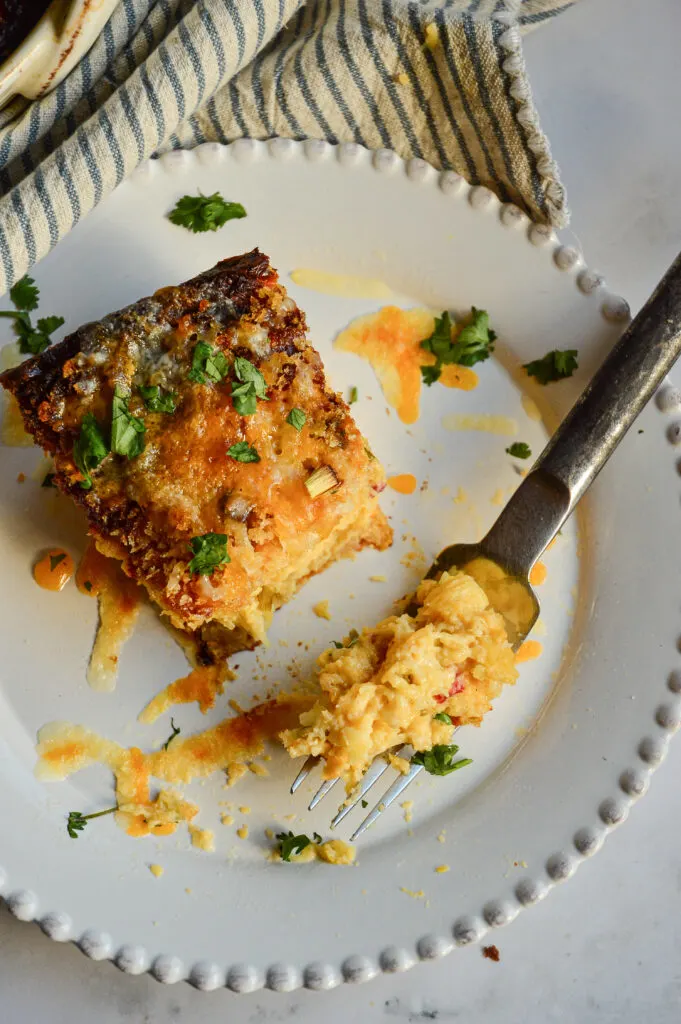 Place squash cut side down in a large roasting pan lined with parchment paper, to which you've added about 1/4″ water.
Bake at 400 degrees for about 30 minutes.
Turn over, lower temperature to 375 and let top brown a bit and caramelize for another 10 minutes. If the strands are too crunchy, bake a bit longer.
Remove from oven and let cool. I stored the entire halves in and airtight container in the fridge for a few days before making this recipe.
Squash does not have to be cooked until soft. As long as you can scrape the strands from the shell, it will be fine for this recipe.
Remember, the squash will be baking more in casserole form!
Spaghetti Squash can also be baked in the microwave and cooked in an instant pot.
Can You Freeze Spaghetti Squash Casserole?
Absolutely. This spaghetti squash casserole can be frozen for future use up to 6 months.
The baked spaghetti squash casserole should be made in a freezer proof baking dish or in an aluminum pan.
Let the casserole cool before freezing to prevent freezer burn.
Wrap the casserole well with plastic wrap and then with aluminum foil.
When ready to bake remove the foil and plastic wrap and then recover with foil and bake at 375 for 30 to 40 minutes.
Remove the foil the last 10 minutes of baking and scatter some fresh shredded cheese over the top to make this extra cheesy.
Spaghetti squash strands, after being drained in a colander overnight in the fridge to get rid of excess moisture, can be placed into a freezer bag and frozen.
Make sure to get out as much air as possible before saving these for future freezer meals.
Use these thawed as you would spaghetti or saute them and use as a side dish on a later date.
The shelf life of an uncooked spaghetti squash stored in a cool room is up to 6 months.
​This recipe is a good reason to go get a spaghetti squash.
Loaded with cilantro and pimentos and lots of cheese, this is meal prep at its finest.
It is one great way to get everyone to eat their veggies and could easily be made with added ground turkey or ground beef, or even chorizo, if you want a more substantial meal.
​So let's get started on my new favorite spaghetti squash recipe!
Preheat oven to 350. (This is assuming you have cooked spaghetti squash ready to go.)
In a large bowl combine 4 eggs slightly beaten, milk, salt, pepper, smoked paprika, baking powder, flour and cilantro.
Stir to remove lumps.
Add the green chiles, pimentos and cheddar cheese or a mixture of shredded Mexican cheese and stir well.
Stir in the prepared spaghetti squash. This does not need to be measured.
I used one good-sized squash in this recipe. If you feel your mixture is too dry, just add another egg or some milk.
Honestly, I think you won't have this issue!
Butter your baking dish and then dust with half of the bread crumbs. I used Panko crumbs.
Pour this simple recipe into your baking dish and top with the remaining bread crumbs that have been mixed well with the butter.
Bake for about an hour until golden brown.
Cool, and then freeze, but I bet you can't resist diving in.
This recipe is easily adaptable so if you'd like it Italian style try using Italian sausage, Italian seasoning, Parmesan cheese and lots of fresh basil.
This is exactly what I might try the next time I make this great recipe.
So the answer is yes to can you freeze spaghetti squash casserole!
Start early, because I think this squash would also be perfect on my Thanksgiving table.
I think it would be a good idea to put one in the freezer now.
After all-he did give me two!
Still Hungry?
Chili Coconut Chicken with Squash
Roasted Pumpkin, Dates and Quinoa
Squash with Brown Butter and Sage
Print
Southwest Spaghetti Squash Casserole (Freezer Friendly)
Author:

Abbe Odenwalder

Prep Time:

20 Minutes

Cook Time:

45 Minutes

Total Time:

1 hour 5 minutes

Yield:

4

to

6

Servings

1

x

Category:

Side dish

Cuisine:

American
---
Description
This Southwest style spaghetti squash casserole can be made and eaten right away. It can be frozen and eaten when needed. This chile rellano type casserole is superb either way!
---
1 spaghetti squash cooked and scraped
4 eggs slightly beaten
1/2 c milk
1 t salt
Dash of hot sauce
3/4 t smoked paprika
2 T baking powder
3 T flour
1/3 c chopped fresh cilantro
1/2 to 3/4 c roasted chopped green chiles or poblanos
4 oz drained jar of pimentos
8 oz shredded Cheddar cheese or I used a Mexican blend of cheeses
1 1/2 T melted butter (divided)
1/2 c bread crumbs or Panko (divided)
---
Instructions
Preheat oven to 350.
In a large mixing bowl combine eggs, milk, seasonings, baking powder, flour and cilantro. Stir to combine and remove lumps.
Add the peppers, pimentos and cheese. Stir well.
Stir in the cooked spaghetti squash.
Lightly butter a 2 quart casserole dish. Lightly dust with half of the bread crumbs. Pour in the spaghetti squash mixture. Mix the remaining bread crumbs with the rest of the melted butter and sprinkle those evenly on top of the casserole.
Bake for 45 minutes to an hour or until golden brown. Serve immediately OR let cool and then wrap in plastic wrap and then aluminum foil. Freeze for up to 6 months.
To bake frozen: Remove aluminum foil and plastic wrap. Recover with foil. Place in a preheated 375 oven for about 40 minutes. Remove foil, sprinkle with some extra shredded cheese and bake for another 10 to 15 minutes. Do not let the top burn!
---
Keywords: can you freeze spaghetti squash casserole, can you freeze spaghetti squash, how to cook spaghetti squash in the oven, spaghetti squash casserole recipes, how to make spaghetti squash, easy spaghetti squash recipes,