This banana bread with streusel topping always turns out perfect. I love the cinnamon sugar crumb topping on this very banana-y bread!
With the addition of a streusel topping to my favorite banana bread recipe, I now have the best of both worlds.
I love banana bread and I love streusel so oh my, this recipe certainly works!
And it's an easy banana bread recipe, too. Not that many are very difficult, but this one with limited ingredients is loaded with lots of banana flavor and its crumbly streusel-like topping is so good.
This moist banana bread recipe requires 5 overripe bananas. Yes. 5 brown bananas. Yes, those with lots of brown spots!
Now I know what you are thinking because I don't ususally have 5 extremely ripe bananas.
So, this is what you do. Unless of course you want to wait for those bananas to ripen in a brown paper bag!
How to Ripen Bananas in the Microwave:
Just poke those bananas with a fork on all sides. Place on a paper plate or wrap in a paper towel and nuke those babies for 30 seconds until desired softness is reached!
Nope, it's not perfect, but it is perfect if you want banana bread TODAY!
You do, don't you?
This banana bread with streusel topping isn't a coffee cake, but it sure does suffice for that morning welcome and I am all about starting the morning right.
How do you make mashed bananas?
Mash your bananas by stirring well with a fork or place them in a plastic bag and smush them up with your hands.
I do love that word smushed!
Varieties of banana bread
Want a banana nut bread? Feel free to stir in a cup of chopped nuts. I love walnuts or pecans in banana bread.
But then again I love chocolate chips more. So make this your best banana bread recipe and do it your way.
After all, a banana chocolate chip nut bread wouldn't be bad either!
Another idea is to spoon half the batter into the pan, sprinkle the entire bread with cinnamon and sugar, then pour remaining batter on top and man-I must try this cinnamon swirl banana bread one day!
This banana streusel bread just rocks and though this isn't a true streusel because it doesn't have flour or butter mixed in, you could do that also, if you want!
Don't like cinnamon? Try cardamom or ginger. The banana bread topping can be made with any of your favorite flavors. Pumpkin pie spice would work great, too.
How to Make Banana Bread with Streusel Topping:
Begin by preheating the oven to 350 and lightly grease a 9 x 5-inch loaf pan. Don't make the mistake of using an 8 x 4, unless you want two loaves of banana bread.
I know it doesn't seem like it but a 9 x 5 pan holds 8 cups of batter and an 8 x 4 holds 4 cups.
Yes, the difference of two inches really changes things!
Using an electric mixer cream 1/2 cup butter (1 stick) until smooth, light in color and fluffy.
It really does help to have your butter at room temperature.
Creaming will keep your banana bread from being too dense. Now add the brown sugar and cream together for two minutes more.
Mix in room temperature eggs one at a time and then add 1 teaspoon vanilla extract and the smushed banana mixture and beat until just small lumps remain.
Stir dry ingredients, (all-purpose flour, baking soda and salt) and then combine flour mixture into the wet ingredients.
Pour batter-you may need to scrape-into the prepared pan.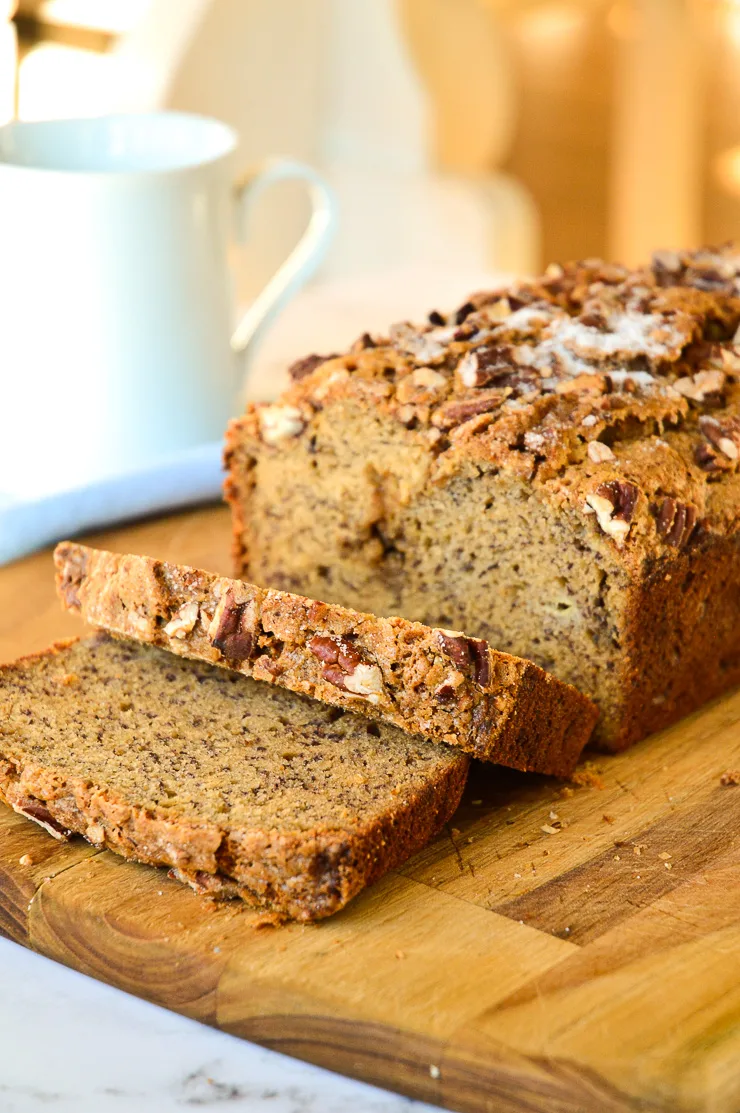 In a small bowl make your crumb topping by combining the chopped nuts, sugar and cinnamon.
Sprinkle cinnamon streusel on top and you are on your way to the perfect banana bread.
Bake until a toothpick or skewer inserted into center comes out clean, about 60 minutes.
Don't let this delicious banana bread overbake, because you want it nice and moist.
Let this quick bread recipe cool in the pan for 10 minutes and then turn out onto a wire rack to cool completely.
Once cool, this bread can be wrapped well with plastic wrap and kept for about a week on the kitchen counter, but I guarantee it won't last that long.
Yes, it can be frozen and thawed when needed.
I also have another banana bread I make with oil, yogurt and banana chips.
It's good, too. And with both recipes make sure for best results to eat immediately!
Well, how can you resist?
Don't have bananas? Well, these might work.
Zucchini Bread with Raisins and Walnuts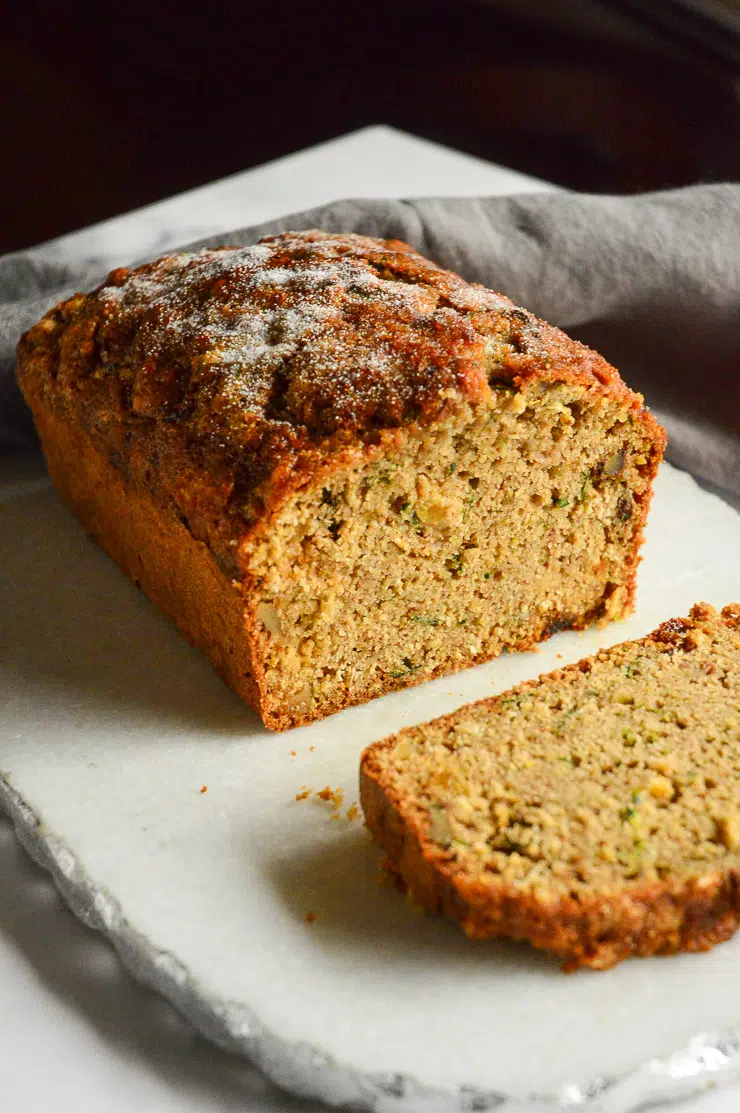 I'd Love it if You'd Follow Me and Pin and Share:
Print
Banana Bread with Streusel Topping
Author:

Abbe Odenwalder

Prep Time:

15 Minutes

Cook Time:

60 Minutes

Total Time:

75 Minutes

Yield:

1

9 x 5 loaf

1

x

Category:

Bread

Cuisine:

American
---
Description
Thise banana bread with streusel recipe is easy to make and always turns out perfect!
---
1 stick butter at room temperature, plus more for greasing pan
3/4 c dark brown sugar
2 eggs
2 1/3 c very ripe bananas (about 5)
1 t vanilla
2 c flour
1 t baking soda
1/4 t salt
Topping:
3 T chopped pecans
1 T granulated or coarse sugar
1/2 t cinnamon
---
Instructions
Heat oven to 350.
Lightly grease a 9 x 5″ loaf pan. Using a stand mixer, cream butter until fluffy.
Add sugar and cream together two minutes more. Beat in eggs, one at a time. Mix in bananas and vanilla until just small lumps remain.
Stir dry ingredients together and stir into banana mixture until just combined.
Scrape into prepared pan. If using topping, stir streusel togehter and sprinkle over batter.
Bake about 55 to 60 minutes or until a toothpick inserted into the center comes out clean. Let cool in pan 10 minutes, then turn out onto a wire rack and let cool completely.
---
Keywords: banana bread, best banana bread, moist banana bread, easy moist banana bread recipe, banan bread with crumb topping