Tahini dip with whipped cream cheese is topped with an olive oil, sesame seed mixture, laced with the flavor of turmeric. There were no leftovers!
This creamy dreamy tahini dip disappeared in record time with only four mouths slurping it up. Was it the golden turmeric olive oil that made this dip so addicting? Or was it the contrasting crunch of sesame seeds combined with the silky cream cheese that sent us over the top?
Maybe it's because we were just hungry! In any case this super simple tahini dip satisfied all of us.
It took me awhile to like tahini. I love foods that use tahini but I could never quite get used to spreading tahini naked on toast, much like some do with peanut butter. (For that matter, I have to be in the mood to eat peanut butter where as Manservant eats it every day. I can only eat mine with jelly.)
But this isn't a post on peanut butter. Tahini is used in baba ganoush, and hummus and even Dan Dan noodles. (At least my version.) And don't forget halvah, that amazing candy like confection made with sesame seeds. One might call it the fudge of the Middle East! I even use it in these gluten free cookies and they are amazing!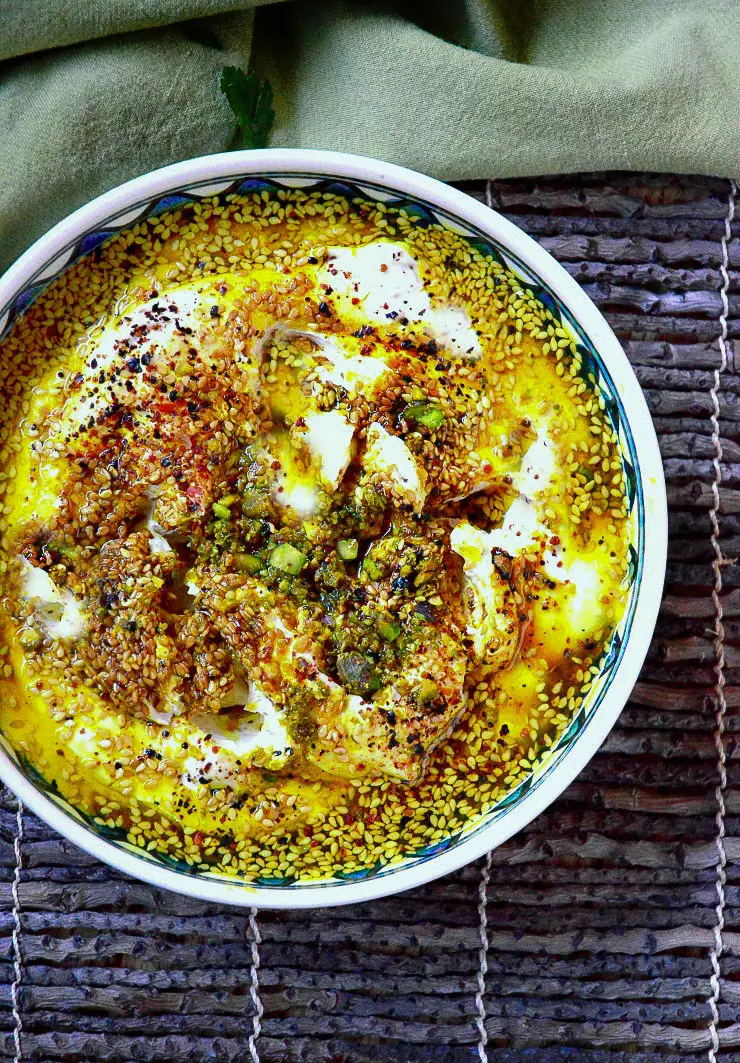 Tahini is everywhere in the Middle East. Clearly tahini has a very strong following!
Made with sesame seeds and tahini, this tahini dip when blended with cream cheese and doused in fragrant turmeric olive oil takes on a whole new look. This dip may just be my new go too even though it's hard to escape my love affair with onion dip.
But what exactly is tahini?
Toasted, ground and hulled sesame seeds magically become tahini. When ground the sesame seeds make a thick oily paste, but oil is often added when making tahini to give it a smoother texture. I refrigerate mine because the high fat content can cause it to go rancid and I don't eat enough tahini to keep it at room temperature. Refrigeration does make tahini more of a solid mass so it must be brought to room temperature before using.
Don't confuse tahini with tahini sauce. Tahini sauce is made with tahini and lemon juice and salt and garlic are often mixed in. There are lots of versions of tahini sauce. It can be drizzled on most anything.
When making this nutty, creamy dip make sure you use tahini. Not tahini sauce. I use Trader Joe's organic tahini. It comes at the right price and in a small jar so I can use it before it goes bad.
I was trying out Alison Roman's new cookbook titles, "nothing fancy" which is where I found this recipe. Sunday dinner found me making quite a few recipes from this book and I can't wait to share more with you. This dip though is a great place to start.
Satisfyingly simple, mighty tasty, it's hard not to get a spoon and just start slurping the stuff. Is it the tahini that makes this so addicting or is it the golden flavor of turmeric that gives this that little something extra? Honestly, I don't think we need to dwell much on that. In the time you've spent dwelling, you could have this dip made and in your mouth.
Get to work.
Please Pin and Share:
This post may contain affiliate links. Please see my disclosure policy.
Print
Tahini Dip
Author:

Abbe Odenwalder

Prep Time:

10 Minutes

Cook Time:

5 Minutes

Total Time:

15 Minutes

Yield:

4

-

6

Servings

1

x

Category:

Appetizer

Method:

Stove Top

Cuisine:

American
---
Description
Tahini dip with whipped cream cheese is topped with an olive oil, sesame seed mixture, laced with the flavor of turmeric. There were no leftovers!
---
8 oz whipped cream cheese

3/4 c sour cream or labne

1/4 c tahini

2 T water

Salt and fresh ground pepper

1/4 c olive oil

2 T white sesame seeds

1 t ground turmeric

Flaky sea salt such as Maldon

Optional: Chile flakes such as Aleppo or Urfa and herbs of your choice
---
Instructions
Combine whipped cream cheese, sour cream, tahini and water in a bowl. Using an immersion blender, blend the mixture. If it is cold you can use a food processor. A fork may also work!
Season with salt and pepper.
Heat olive oil and sesame seeds over medium heat. Cook for 3 to 5 minutes until sesame seeds are toasted and fragrant. Remove from heat and stir in turmeric.
Place tahini dip in a shallow bowl or on a large plate and top with the sesame seed oil. Garnish with sea salt and chile flakes and herbs if desired.
---
Notes
From Alison Roman: Nothing Fancy
Keywords: tahini dip, tahini sauce trader joe's, tahini sauce ingredients,
Try a few more?