This chocolate Swiss roll is the perfect dessert. I know it will impress your guests, but the best part is how good it tastes. Rich but not heavy, this cake will quickly become a favorite!
This is an updated post from 2017.
Swiss rolls aren't hard to bake as long as you follow the directions. I baked two. One vanilla and one chocolate. The chocolate had a whipped cream filling and the vanilla; a buttercream. I preferred the butter cream, but whipped cream is more traditional.
A few things to know about Swiss rolls:
A Swiss roll is made with a sponge cake batter. They are baked on a wide jelly roll pan with 1″ sides. Because they are so thin they do not take long to bake. In this case, just 6-7 minutes.
A Swiss roll needs to be rolled when it comes right out of the oven. This prevents it from cracking when you unroll it in order to fill it. Honestly, it's like magic!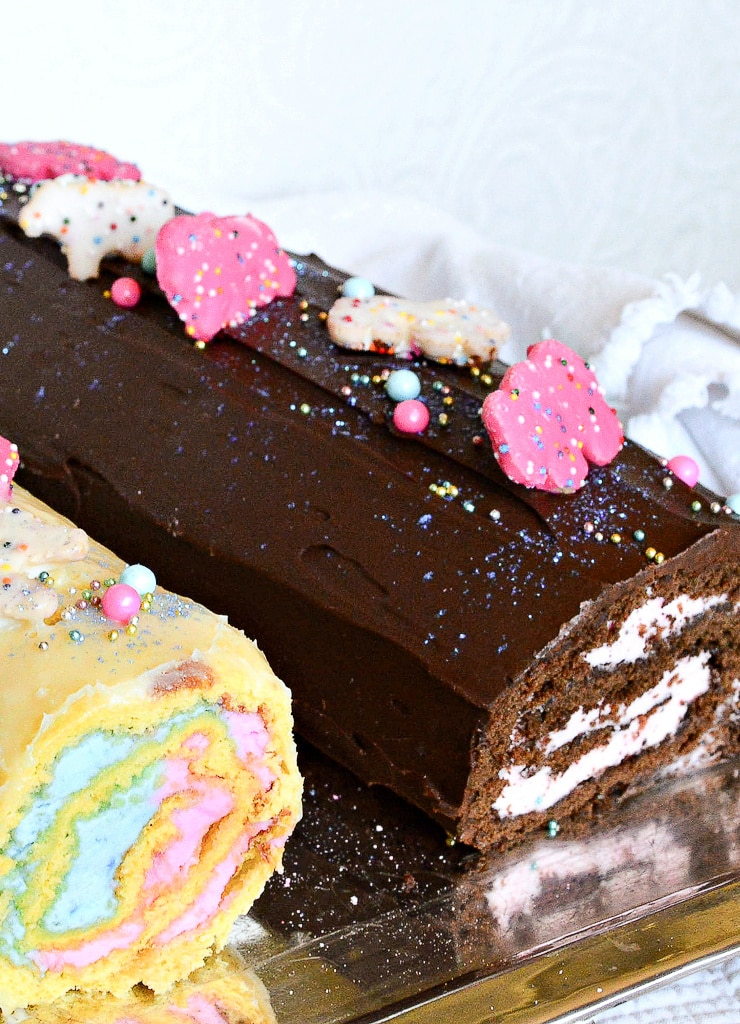 Dye each filling if you want to make them festive. One could even stir some jam into the cream for a fruit filling. Because I am a chocolate lover that is what I'm sharing. One may find the vanilla version at some point in time, but right now chocolate is where it's at! Similar to a Hostess Hoho, but way better, this Swiss roll will have you wondering why you haven't made one sooner.
You don't know what a Hostess Hoho is? Oh my. Shame on you. A Hostess Hoho was my childhood friend. On my walk to school, I stopped off at my grandfather's grocery where I always pocketed a Hostess Hoho. They came two to a package and I adored them. I also adored Susie Q's but I haven't figured out how to make those yet!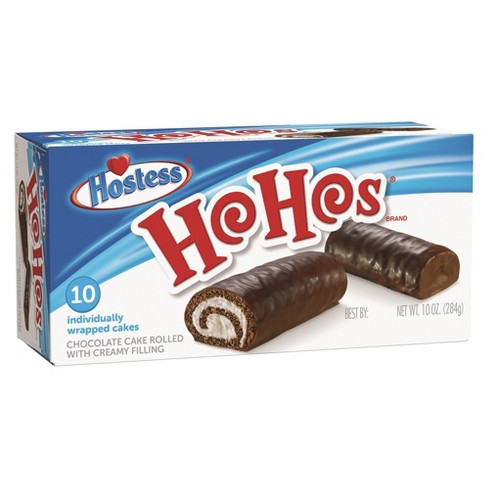 Since I already supplied you with plenty of great Passover recipes, I decided to share a Swiss roll cake that I made last year for a baby shower. It looks kind of Easter-ish to me with the lovely pink and blue colors, so I thought no better time to share this delectable cake. I made these for a baby shower and the sex of the baby was still a mystery so I figured I better cover all the bases.
Topped with cute circus cookies for an animal themed shower, this cake could also be topped with chocolate "Robin's Eggs." (I love those, too!)
It seems I last left you on my way to re-grouting a shower. If there is one thing I want you to take away from this post it is, "Never. I repeat. Never…attempt this without a professional." I have done many jobs, but this is by far, without a doubt, the worst.
I thought for sure this might be the turning point in my 35 year marriage. However Manservant is still here and though I am missing 5 fingertips, the shower is done.
A second noteworthy point to remember is never take on a large, messy project less than a week before Passover, when you have guests arriving.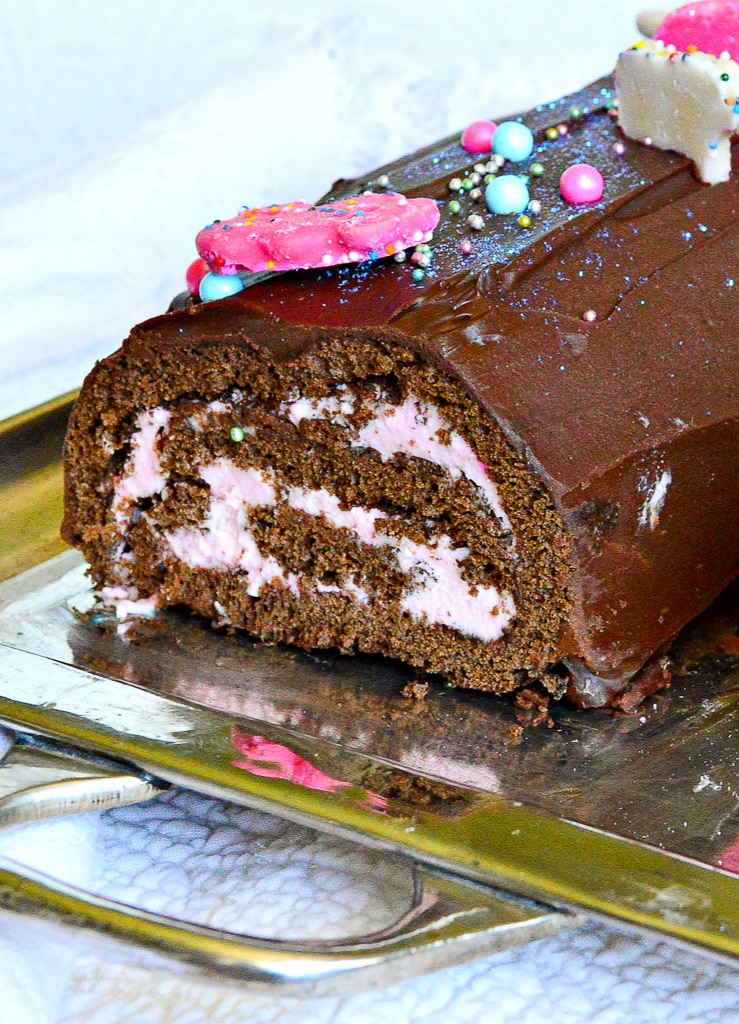 Dust covered everything. The ceilings, the floors, inside every drawer, into the living room, through the woods, I am sure all the way to grandmother's house. During this lovely project we also discovered that the tile person that put in this shower knew nothing about evenly spaced grout lines. We had 1/16th grout lines. We had 1/2″ grout lines and then we had 1/8th grout lines.
This may not mean anything to you, but when using a dremel to grind out grout, it is next to impossible to have the right bit on the end of the dremel, which means possible scratches on the tile.
The shmuck former tile setter also put silicone on everything which made getting the grout out even harder. We lost track of how many times we went to the hardware store.
OK. Enough said. I will never, EVER, do this again without hiring somebody. It is worth the expense. Please trust me. Do not attempt this at home.
So after being sufficiently worn out and no moment to rest, it was on to the cooking marathon of Passover. I might have been a bit grumpy this year, but all is now well.
We had a lovely Seder-even if things were a bit out of order. Yes, the word seder does mean order, because a seder follows a specific order during the service, before and after the meal. My order will no longer include grouting a shower less than a week before company arrives.
I hope your holiday finds you relaxed and enjoying your cake. Because after all this one is meant to be enjoyed!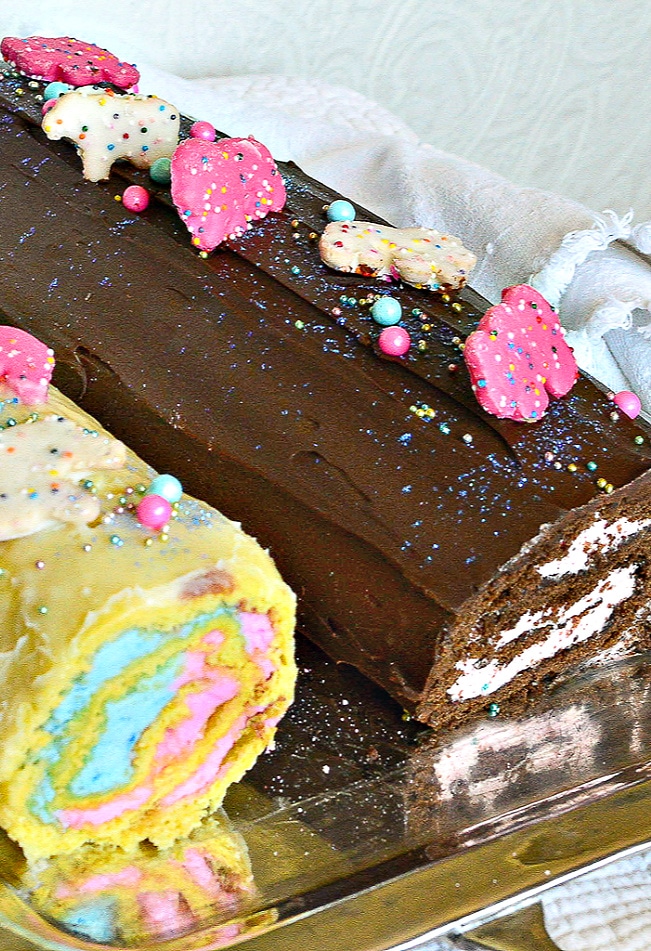 Please Pin and Share: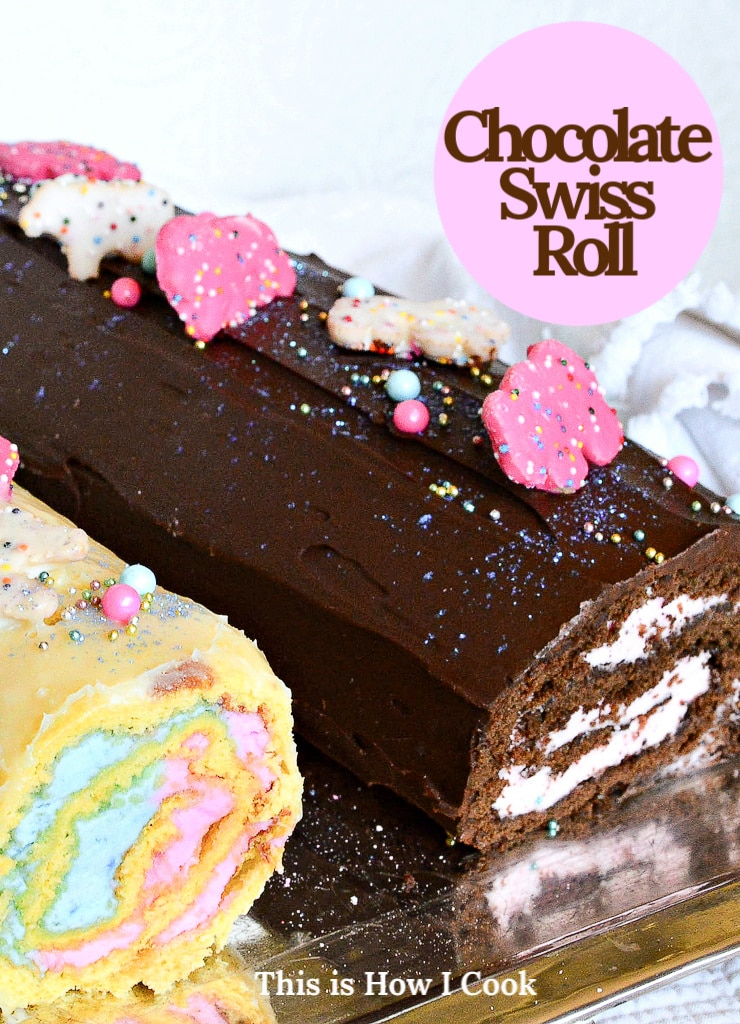 Print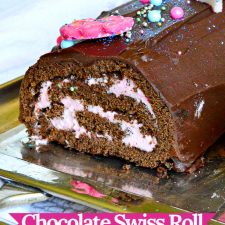 Swiss Roll (Better than Hostess Hoho's!)
Author:

Prep Time:

60 Minutes

Cook Time:

6-7 Minutes

Total Time:

66 Minutes

Yield:

12

Servings

1

x

Category:

Dessert

Method:

Baking

Cuisine:

American
---
Description
A chocolate Swiss roll is a great way to celebrate. This easy dessert is rich and light, and totally special.
---
1/4 c sifted unsweetened Dutch process cocoa, plus more for pan
1/3 c plus 2 T sifted cake flour with a pinch of salt
3 large whole eggs plus 2 large egg yolks
1/2 c sugar
4 T or 1/2 stick unsalted butter, melted and cooled
Filling:
1 c heavy cream
2 T powdered sugar
1 t vanilla
Food Coloring if wanted
Butter Cream Filling if you don't want a whipped cream filling
Chocolate Glaze
1/2 lb bittersweet chocolate, chopped
3/4 c heavy cream
1/4 c milk
1/4 c sugar
4 T unsalted butter, at room temperature, cut into 1 T slices
---
Instructions
Preheat oven to 450. Spray a 12 x 17 rimmed baking sheet with cooking spray. Line with parchment paper and coat with more cooking spray. Dust with cocoa powder and tap out excess.
Combine cocoa, flour and salt in a bowl.
Combine eggs and sugar in a heat proof bowl. Bring about 2″ of water to a simmer in a medium saucepan. Set egg mixture over saucepan and whisk until sugar has dissolved and mixture is just warm to the touch.
Transfer mixture to the bowl of a stand mixer and beat on medium speed for two minutes. Raise speed to high and beat until pale and thick, about 4 minutes more.
Add dry ingredients by sifting cocoa mixture over egg mixture and using a large rubber spatula, fold dry ingredients into eggs. When almost incorporated, pour butter down side of bowl and gently fold to combine.
Using an offset spatula, spread batter onto prepared pan. Bake cake until golden brown and springy to the touch, 6-7 minutes.
While cake is baking, dust a clean kitchen towel with cocoa. When cake is finished baking run a knife along the sides of the cake. Invert onto prepared towel and remove parchment.
Starting from a long side, roll up cake into a log with the towel inside. This gives the cake a memory, so it is easier to roll up the cake when the filling is added.
Make filling:
Beat cream, powdered sugar and vanilla until soft peaks form. Unroll cake and remove towel. Spread filling evenly over cake, leaving a 1″ border around the edges. Tightly roll up starting from the long side. Twist sides of towel tightly to secure cake inside. Chill for at least 6 hours or overnight.
When ready to glaze, transfer cake to a rack and pour half of the glaze over the top and sides and spread evenly. Now spread remaining glaze over the entire cake and refrigerate until set, at least two hours. Decorate as desired.
Glaze:
Put the chopped chocolate in a bowl. In a saucepan stir the cream, milk, and sugar over moderate heat until the sugar dissolves. Pour the hot cream over the chocolate and let stand until the chocolate is melted, about 3 minutes. Whisk until smooth, then whisk in the butter, piece by piece and cool slightly.
---
Notes
*Times do not reflect chilling time for cake or after the ganache has been spread.
Keywords: swiss roll, swiss roll recipe, cake roll, chocolate swiss roll, swiss roll recipes,
A Few More Easter Ideas: